Year of the cocktail 🍹
April 5, 2021
In 2020 we started making cocktails.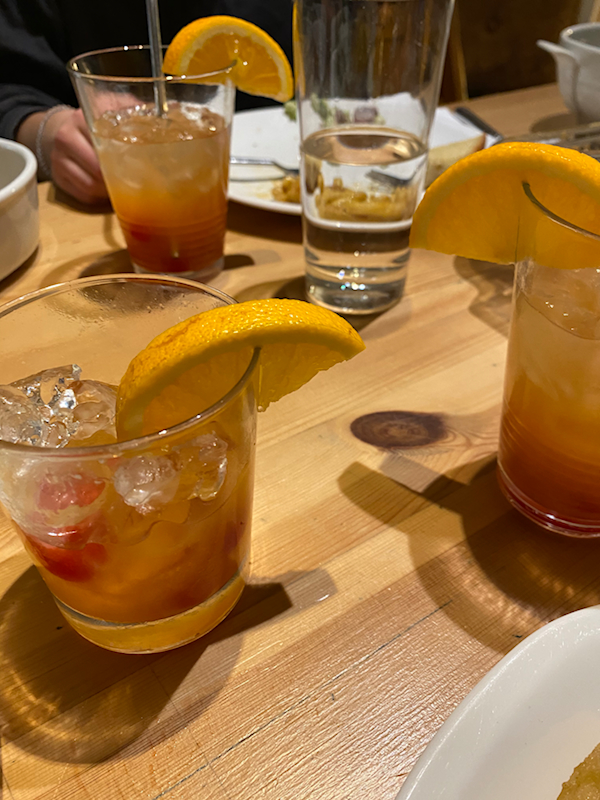 It's really sad to say, but fancy drinks had to substitute for the joy of adding other people to our family gatherings and celebrations.
I don't know what pandemic restrictions have been like where you live but we live in one of the most restrictive cities in one of the most restrictive provinces for Covid-related lockdowns and preventative measures. Compared to the rest of the country there are lots of cases here and hospitals are struggling, hence all the measures.
At the beginning of the pandemic in March 2020 our family traveled to Nova Scotia and stayed with my parents for 6 weeks. When we returned at the end of April things were loosening up a bit in Montreal. Since that time we have not legally been allowed to have anyone "in" our home, nor have we legally been allowed to "be in" other people's homes in Montreal.
People follow these rules according to their own convictions and perceived level of risk. I don't have a strong personal conviction to follow these regulations to the letter of the law, but because hosting people and being hosted by other people does not simply hinge on "my personal convictions" our in-home interactions with people have been limited.
All the Montreal people I want to hang out with, either in their home or at my home, are following the rules (or someone in their home is). Or they are following the rules with people at our level of relationship (non-family) and making their concessions elsewhere. I don't speak here for my young adult children who make their own choices and have spent (limited) time in other people's homes over the last year.
There have been windows of opportunity, both in our schedule and regulations, where we have stayed with friends in Ontario at their cottage. And a handful of days in the Laurentians last August with my family. Brienne and I visited my cousin for an overnight trip to Kingston in September.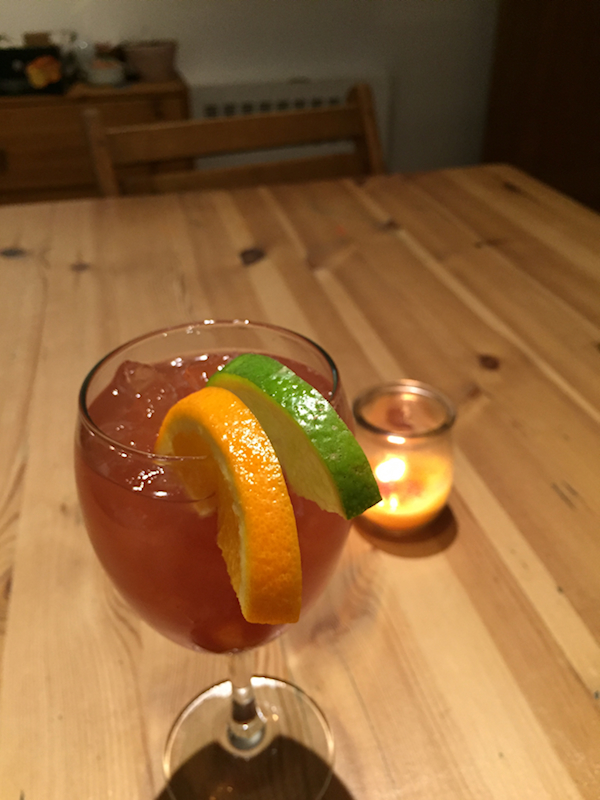 Things were more open then, cases were down and we had more freedom.
Last fall I even visited two friends indoors in Montreal.
And there was that lunch-date with another friend, indoors at a restaurant in her neighbourhood, where we apparently talked so loud (about our kids and woes of homeschooling them) that we were chastised by a older patron a few tables over. God, please don't let me that old person. We left shortly after and moved our loud conversation to my friend's backyard where I had to wrap myself in a blanket to stay warm.
In late October Montreal went back into harsher lockdown and the doors (literally) of opportunity were closed once again, and have remain closed for 5 plus months.
Other than hosting small, legal, backyard gatherings with friends last summer of no more than 10 people, no one has come into our home for a meal or hanging out in the last year.
So we make fancy drinks instead.
Trust me, alcohol is a poor substitute for extra warm-bodied humans in our home but something we are enjoying nonetheless.
We started making cocktails in early summer to add some festivity to Damien's birthday. We enjoyed it, maybe a little too much* so we tried another recipe for Brienne's 18th, then my 45th, and most recently Laurent's 20th birthday.
*(Being newbie cocktail makers the ratio of alcohol to mixer was rather strong and I will neither confirm nor deny that a couple of us may have gotten drunk.)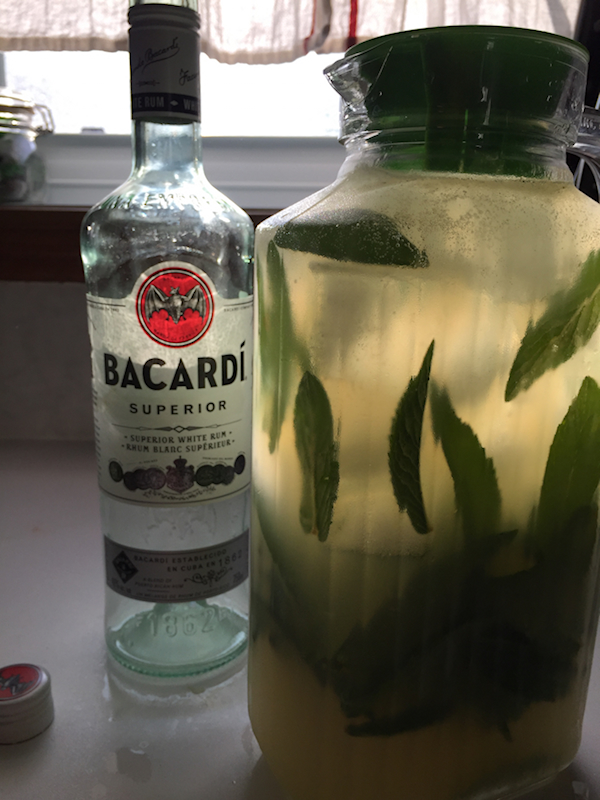 emptying a full bottle of rum should have been a clue
We're slowing building up a bar and making cocktails for other occasions besides birthdays. On our recent winter work-vacation Damien and I treated ourselves to cocktails almost nightly. Don't worry, we've worked out the mixer to alcohol ratio!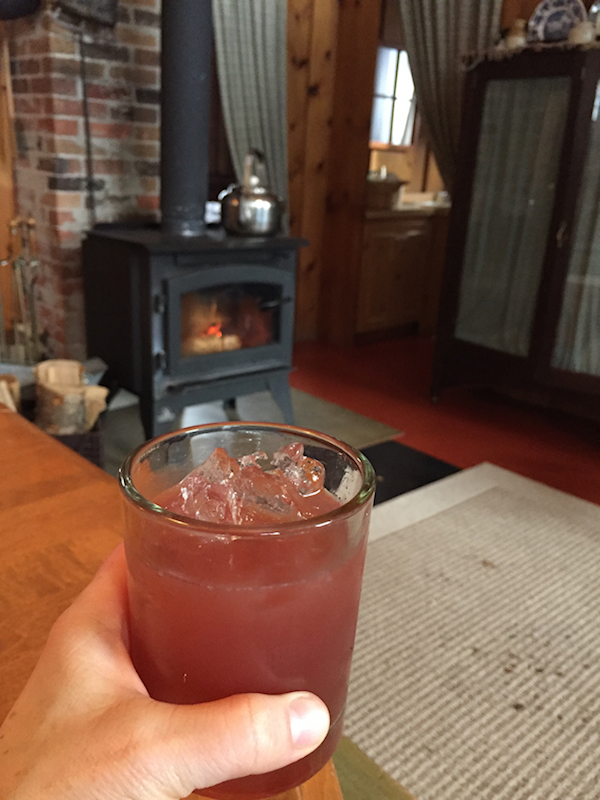 This weekend we celebrated Laurent's completion of the first year of his college program. He's officially halfway through his 24 month, year-round program. Cocktails were in order. These ones with champagne (sparkling wine to be exact).
The five of us gathered in the kitchen, Damien making cocktails, Celine and I making our late suppers. We toasted Laurent's success, laughed, told stories and "remember whens", and watched a movie together. All of us on a Friday night.
I am weary of this pandemic. It has negatively impacted our lives in a myriad of ways - physical, social, and mental. But we started a new tradition of making cocktails.
I wonder if this will carry into the future? If, as we're gathered around a dining table or kitchen island, celebrating a future milestone (there will be many) someone will say "remember the year we started making cocktails?" Another family member will groan and say "I'd rather not". And we'll raise a glass - "to the end of that difficult time".
---
Thank you to everyone who sent emails and messages about my last post.
I feel so warm-hearted, known, and seen when I hear from people who have read my writing for ages and want to keep reading whatever I'm writing. It's a gift. Thank you.
I make no promises but I'm going to see if I can't resurrect this, and more importantly, find the joy in doing so.
You can subscribe to comments on this article using this form.
If you have already commented on this article, you do not need to do this, as you were automatically subscribed.