Puzzling is a hit
April 13, 2021
I did my first jigsaw puzzle this winter.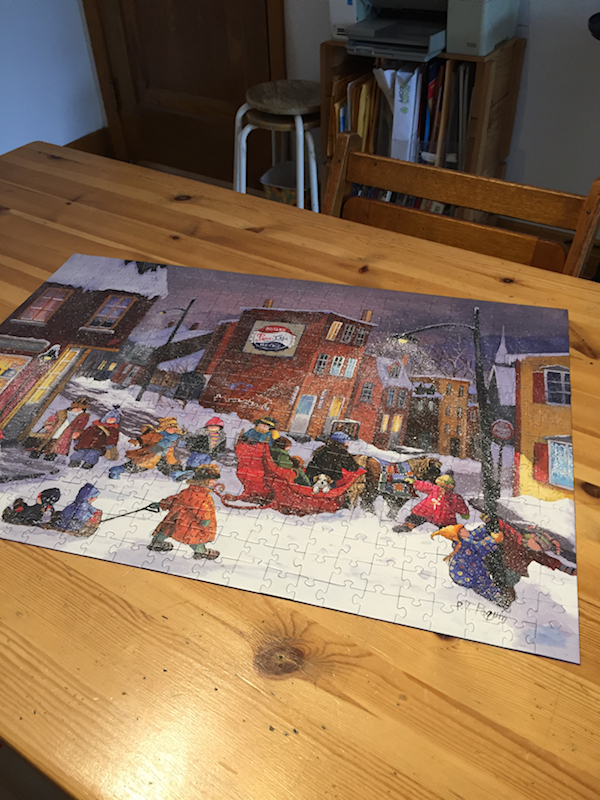 Puzzles are a new thing for me. I don't recall having ever done a puzzle in my adult years.
I didn't do puzzles with my kids. And I wasn't much into board games either. I was a "let's go outside/read books/make a mess with crafts" kind of mom. The fact that I feel the need to justify why I didn't do puzzles and board games with my kids is a telling commentary on modern mothering.
I should resist the urge to qualify my parenting with "but I did this instead", in public (and internal) discourse, to stop feeding the monster that is our completely unrealistic expectations of our own mothering. I'm choosing to leave the statement and its qualifiers for instructional purposes.
As I was saying, I wasn't a puzzle person. But now I am.
I'm surprised. And it's lovely to be surprised by ourselves from time to time. To enjoy an activity we didn't think we would.
Brienne has been my puzzle partner. She and I enjoy chilling out together at the end of the day. We've gone through multiple television series over the years but this winter we wanted something new.
It was an Instagram ad that pushed me over the edge to buy a puzzle. Has anyone else noticed how IG ads are freakishly dialed in to your interests? I've clicked through to many products advertised in my feed. I rarely buy anything, I'm not an impulse shopper, but I learn about new products and research other places for purchase, etc.
But the RoseWillie puzzle ad featuring local Quebec artists had me at hello.
Does the algorithm know I love Quebec winter landscapes? I both want and don't want to know the answer to that.
When I saw Pauline Paquin's winter-scapes with snowy children in recognizable locales I was completely sold on the idea of doing a puzzle.
Something about the comfort of this scene made lockdowns and 8pm curfew more cozy than totalitarian.
After finishing this first puzzle Brienne and I bought another one last month at a Plateau toy store while we wandered and enjoyed a freakishly-warm March afternoon. (There have been a lot of freakishly warm days this spring as far as I'm concerned.)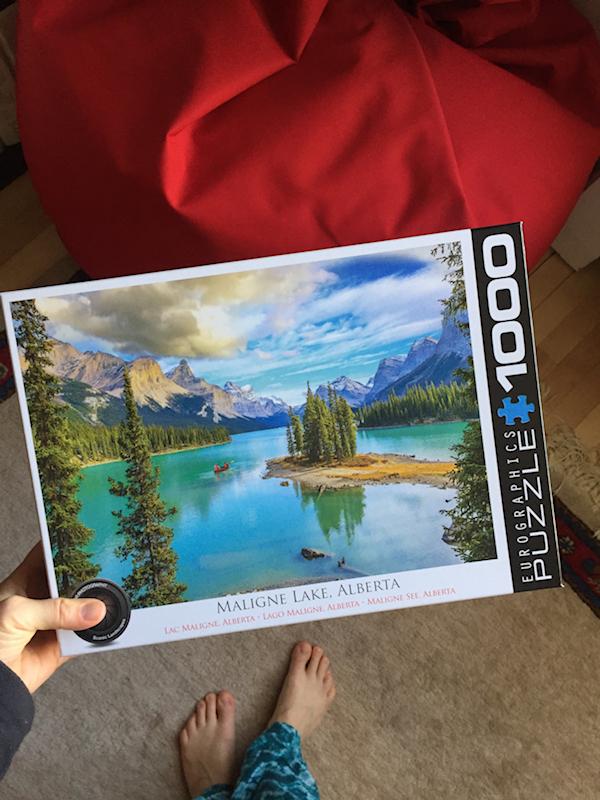 We chose a different part of the country and a different scene altogether for this puzzle, as well as doubling the pieces. We've been duly challenged by the upgrade.
Next up I'm considering an eastern lake landscape, maybe by Tom Thomson or Douglas R. Laird. Something that feeds my fantasies, along with regularly watching YouTube adventure documentaries, of spending numberless days canoeing the Canadian wilderness.
I was never interested in jigsaw puzzles before, or any other puzzles for that matter. Life has enough problems to figure out. Who wants to do that in their leisure time?
Although I still have zero interest in escape rooms what I've discovered about jigsaw puzzles at least, and this is probably true for crosswords, sudoku and others, is that solving these little non-consequential "problems" is wonderfully satisfying. The dopamine hit I get from fitting puzzle pieces together is real. The effort to achieve it doesn't harm my body or my relationships in anyway, and it's pretty cheap.
Sometime in the last year I saw this graphic either on Instagram or Facebook. I dragged it to my computer desktop, where it now resides in a disorganized smattering of images, academic articles, screenshots, household text documents, and other random miscellanea that hasn't quite found a permanent home in my computer documents. (You know what I'm talking about.)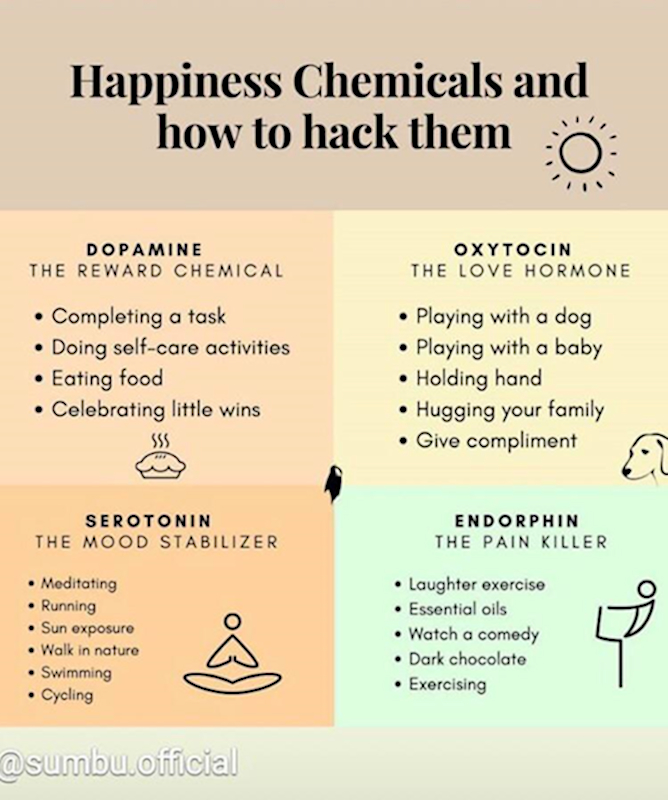 I liked it so much I printed a copy for the fridge in an attempt to visually remind our household of five how we can hack our way to happiness, even during a pandemic. I don't know how accurate these are but they seem true enough.
I'm not sure if anyone else in the house has noticed or pays attention to it but every so often I'll randomly shout out from the kitchen an action I'm taking to boost one of these chemicals. "Hey everyone I'm headed out the door for a walk, going to boost my serotonin!"
Why things feel good and boost our mental and emotional health doesn't really matter, except to those of us who like to ask "why" and know the reason for things. I don't always need a "scientific" explanation but having one can be extra validating.
What I do know is that doing puzzles at the end of the day, spending time with one of my kids, is enjoyable. Enjoyable for the connection and laughter that often ensues (oxytocin! endorphin!). And supremely satisfying for every piece that snaps into place.
---
After writing this post I was doing a little reading on puzzles and as I suspected there's been an uptick of puzzling during quarantine for many reasons, including the dopamine hit I identified in this post.
You can subscribe to comments on this article using this form.
If you have already commented on this article, you do not need to do this, as you were automatically subscribed.