Supplies to Stock the Craft Cupboard
June 26, 2012
One of the most common questions I get from readers is "how do I encourage my children to be creative?" One of the ways I've encouraged creativity in our home is by stocking the shelves with supplies. When I've mentioned this people want to know, "what supplies?"
This is my second post in response to that question. You can find my complete answer to "how do I encourage my children to be creative?" in this four part series.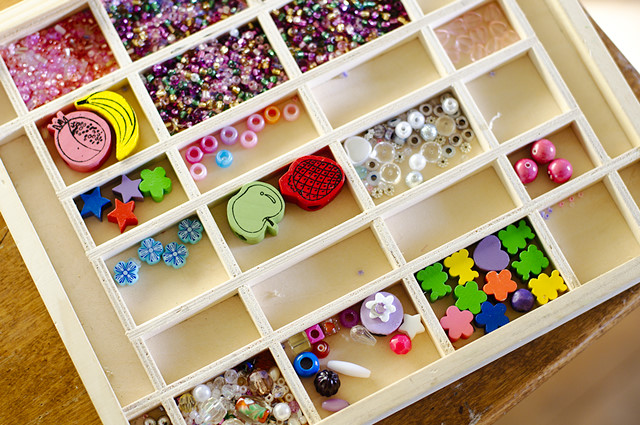 The first post on this topic (published ahem, over one year ago) Supplies for Creativity ~ Paper Crafts focused on just that - paper related craft supplies. Not just paper but all the artistic mediums you use on paper - markers, pencils, pens, crayons, paints, rubber stamps etc. That post also included the basic home office tools every home should have for encouraging creativity.
This follow up post is everything else we stock in our craft supplies. Fabrics, clay, wood, beads and all the rest. Anything that isn't flat and paper related. See this video post for how I organize all these craft supplies.
I'm pleased to introduce Artterro, the sponsor for this post. You can read more about this great company at the bottom, skip there right now if you want. There's a coupon code for you there that you'll want to check out.
Supply List Notes
In the list below I've marked the most basic items with an asterix (*). The remaining items are optional for the beginner.
Remember this is a post of what's in our home, not a theoretical supply list. I don't own every craft gizmo and gadget - hardly! What I recommend in this post are the tried and true supplies for the crafting my children like to do.
Which raises a good point. If you, or your child, are really into a particular art or craft, say glass blowing (this is getting kind of advanced) your craft supply list would necessarily look different than mine. I'm sticking with the basics, and a few steps beyond the basics, in this post.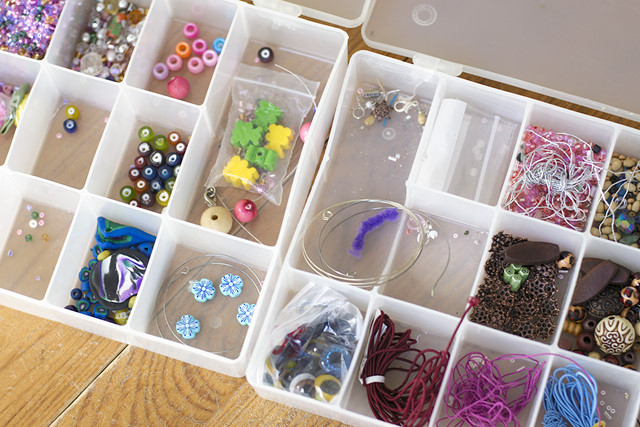 Beads & Bling
Beads * - When the kids were really little we used large plastic or wood beads. They've graduated now to the itty bitty seedbeads, larger glass beads, metal beads and everything in between. We always have more beads than seems necessary. Brienne loves collections and beads are one of her favorites.
Buttons * - Before kids craft with beads, they start with buttons. We have used buttons for so very many things.
Jewel stones & sequins * - These have decorated untold sword hilts and crowns. Kids love these pretties, I think they're a must have.
Sea glass or other glass pieces * - You can buy bags of these at the craft store or if you're lucky enough to live near the ocean you can collect it yourself like we enjoy doing.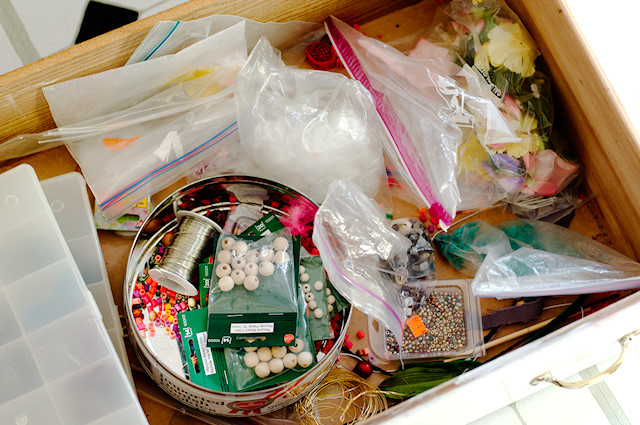 what the bead drawer looks like, unorganized
Silk flowers & feathers * - You know those ugly fake flowers in the craft stores that leave you wondering, "what the heck would someone do with those?". Take them apart and to make flower fairies - that's what! Colored craft feathers have come in handy many times for "embellishment".
Animal eyes - One of my kids' favorites craft activities has been making stuffed animals. We use and adapt free online patterns (sorry I don't have any book recommendations for you).
Yarn, Wire & String
Yarn * - We downsized our yarn in the move but I still keep a variety of yarns for knitting and general crafting. Most of these are leftovers given to us from family and friends. 
Wool Rovings * - We use wool rovings for felting (admittedly I don't remember the last time we did felt craft) and crafting in general. When we lived in Maine I was lucky enough to live near a farm where I could buy these directly from the goat growers/fiber artists.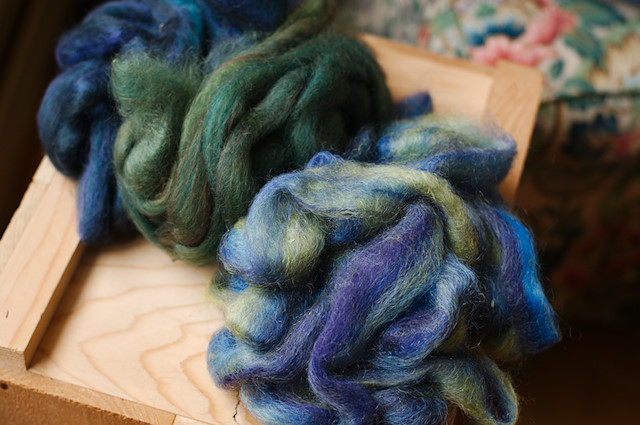 Pipe cleaner * - The kids have mostly moved beyond this now and into wire (see next point) but pipe cleaner is an easier wire for little kids to work with.
Wire * - Rolls and wrapped florist wire, which is sold in lengths. We have a couple different thicknesses of rolled wire and also some colored metal wire. We sometimes use these for beading and jewelry making but mostly the kids use wire for making toys. Critters, fairies & medieval folk have been some favorites.
String * - Of all sorts. Hemp, cotton and thicker twine for beading, general crafting and household use.
Elastic string * - We use these mostly for beading crafts. Colored ones are pretty and clear is especially good for nicer jewelry making projects.
Elastic bands * - These are used constantly for craft, science projects and household use. What did people do before elastic bands?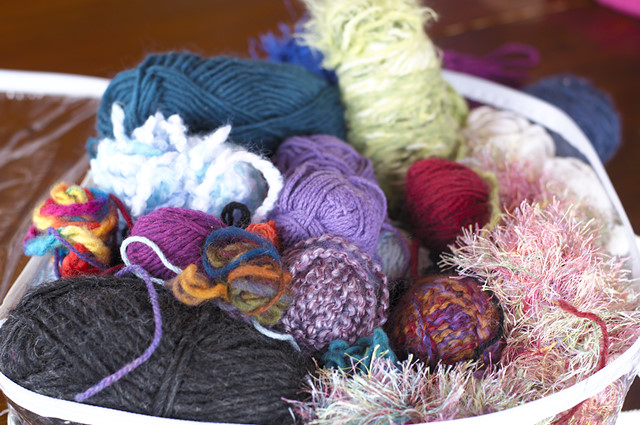 Fabric & Sewing Supplies
I'm keeping the following list simple, just the basics. Once a child (or yourself) gains more skill and experience and wants to sew more, you'll have a better idea, simply from using some tools already, what supplies you'll need.
Felt * - Hands down the best fabric to get kids started with sewing. My kids use felt all the time - to make toys, dolls, and doll clothes. Felt doesn't fray and takes a beating with hot glue. There is some really cheap felt that doesn't hold up as well. Thicker felts will hold stitches and not pill as easy. If you can only buy one thing to start, start with this.
Fleece * - Fleece is another go-to fabric for beginner sewists - children and adults alike. Again, not all fleece is created equal. The good thing is, any rinky-dinky craft or fabric store stocks fleece (and felt).
Socks and gloves * - We keep a bag of old socks and mismatched or worn-through-the-finger gloves for kids' crafting. Because there is already a shape to the fabric there is less sewing and it's easier for little hands to make their own "stuffies".
Wool sweaters & old clothes * - You don't want to keep too much of this stuff (it can get out of hand) and if you run out there is always second hand stores. Once again, there is "shape" already to the fabric (arms for example) and kids can get really creative with this. Wool sweaters are one of our favorites to craft and sew with.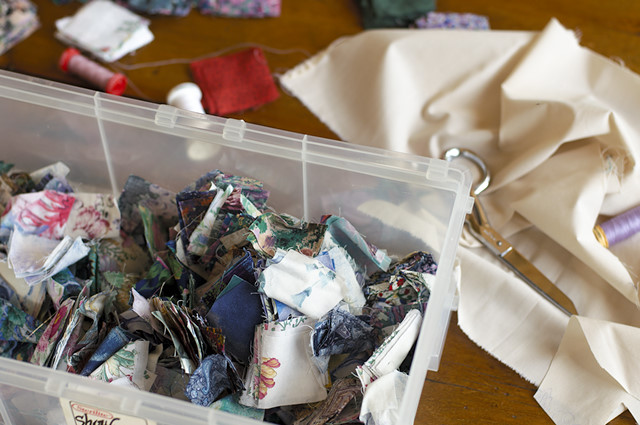 Stuffing * - Wool, cotton or poly. Your choice.
Embroidery floss * - As far as kid crafting goes I think this is almost more important than thread. It's so thick and easy to use. My kids use it for everything. We were lucky when Nana was downsizing her stash and passed it on to us.
Pins & Needles * - Sewing pins, safety pins, needles (including large ones for sewing with yarn and embroidery floss).
Thread & Ribbons * - For hand sewing and machine stitching. Ribbons for crafting in general.
Fabric * - What you need really depends on what you're doing. In addition to felt and fleece we have all sorts of fabrics. If your kids like needle craft you'll want some pieces of embroidery fabric also.
Sewing Machine - This is not necessary-necessary for beginners. But I've never not owned a machine, or not had one accessible to me through relatives, so I can't imagine living without a sewing machine. Mine isn't super-duper fancy so I've taught the kids on that machine from the time they were about five years old.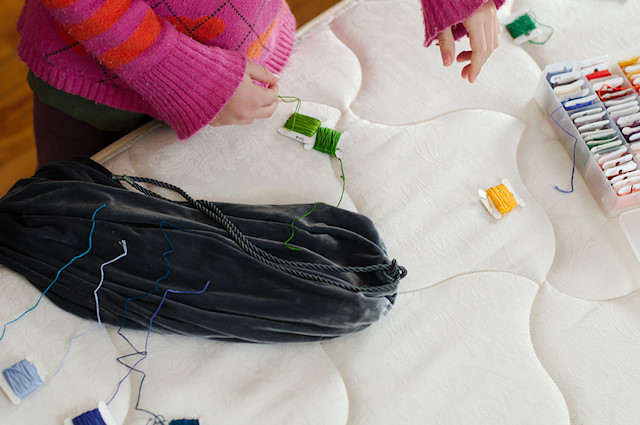 Wood, Plastic & Clay
Supplies for sculpting and building.
Craft sticks (aka Popsicle sticks) * - Where would the world be without popsicle sticks (& hot glue)? In the crafting dark ages I tell ya! Worth buying in bulk when you can, that way you don't have to ration the kids as much. What I love about crafting with wood is that when the toy or craft has lived it's useful life you can burn it - and we do! Burn old crafts all the time.
Bamboo skewers * - You can find these at the grocery store.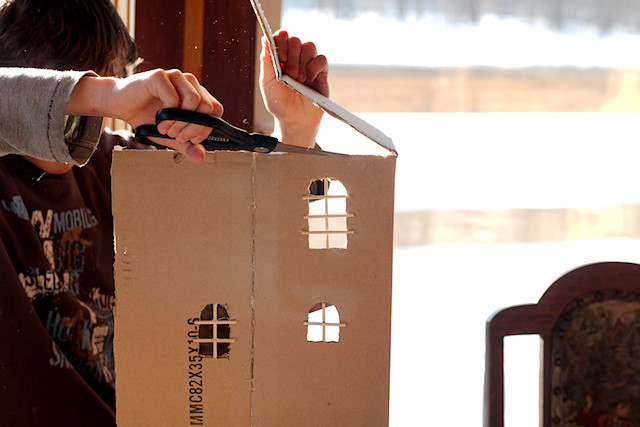 Wood "head" beads * - Our kids use these specifically for making heads for their handmade miniatures. They are handy for other crafting also.
Wood clothespins - We've never owned the spring-less type that are used for making little dolls but many people love using these.
Miscellaneous wood pieces * - These could be craft store purchased but can also be household DIY project cast offs. We keep a bin of these (often have to downsize it because it could easily take over).
Re-purposed cardboard pieces * - Toilet paper and paper towel rolls, any and all cardboard boxes. We used to keep an actual stash, now we just raid the recycling box. The kids have made amazing toys with cardboard.
Balsa wood - This is an easy wood to learn to carve with, though Laurent practices carving with any wood he finds.
Carving tools - We own a set of real wood carving tools, kind of like this that Laurent purchased with birthday funds one year. Honestly, he hasn't used them that much. His Leatherman Micra Multitool gets more use and is so much more versatile (comes into the woods with us all the time). We also own an Xacto kit that we've had since before children and it has come in handy many times.
Perler beads * - The kids loved these when they were little. Someone gave them to us as a gift. Perler bead projects kept little hands occupied for many hours. Not as eco-friendly as fiber and wood crafts but bought me a few hours of sanity.
Shrinky Dinks * - Fridge magnets, jewelry pendants and window hangings are a few things we did with shrinky dinks. Like Perler beads, this activity kept my kids engaged for quite a long time, but parents have to help with the oven part. I had a friend in Maine who made beautiful jewelry from this material.
Play Dough * - Homemade or store bought. There is a dizzying array of sculpting dough available now. We always just used play dough but I don't stock it anymore since the kids have graduated to polymer clay.
Polymer clay - The kids use this mostly to sculpt miniatures toys. We use Fimo and also Sculpey. As Céline has gotten more skilled with this we've added extras like varnish and powders for creating life-like dollhouse miniatures.

Adhesives
The following is a list of essential adhesives for basic crafting.
Scotch, masking tape, duct, and clear packing tape
Stick glue and Elmers-type white glue. Mod Podge is not necessary, you can make your own if you want.
Glitter glue
Hot glue gun and glue sticks - Our kids use the hot glue gun nearly every day. They have used this tool from the time they were preschoolers.
Vegetable & Mineral
I don't keep these in the craft cupboard, they are either accessible outdoors, in the garden supplies, or in the kitchen. These include items like sand, rocks, moss, dirt, cornstarch, and borax to name a few.
Basic Tools
knitting needles and crochet hooks - you can make your own knitting needles and I recommend large crochet hooks for beginners, super easy to crochet a chain with thick yarn. See FIMBY's amazon bookstore for knitting and crochet instruction books as well as other kid craft books we own or have used. 
scissors (see the rest of my home office tool list in my first craft supplies post).
basic pliers - for cutting and bending wire
hammer and nails - for wood craft
old kitchen butter knives etc. that can be used for sculpting clay
clothes iron - for Perler beads and also sewing projects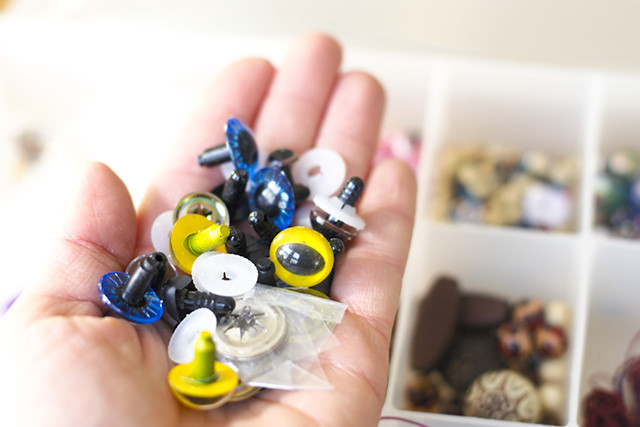 ~~~
As long as this list is I feel like I'm missing something. We're currently in Montréal without craft supplies so I can't just go rummage through to check what we have. If I think of something later I'll add it.
Artterro
One of the craft projects we did bring with us this month was an Artterro Eco Friendly Art & Craft Kit.
Artterro kits are "all-in-one" craft kits. They have everything you need, except the most basic of tools, like scissors. They even have the needles.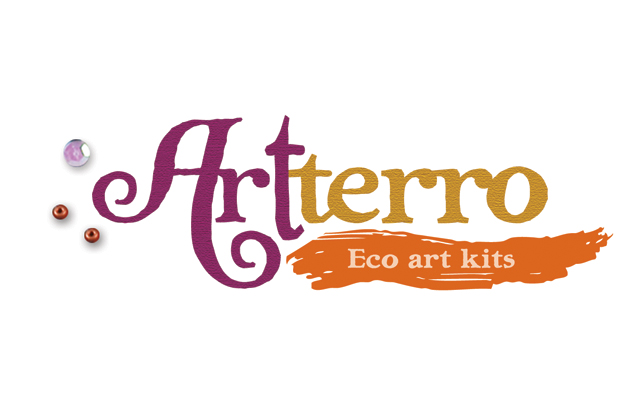 But unlike a lot of other craft kits on the market Artterro has strong environmental and sustainability ethic. Their kits feature high-quality natural materials like 100% wool felt, 100% post-consumer waste decorative handmade paper, glass and wooden beads, cotton thread, hand batiked cotton fabric, and copper wire. (No plastic Perler beads I'm guessing).
Artterro sells a bunch of different kits with a lot of the craft supplies I've listed above - rovings, wire, beads, wood and felt pieces. As well as gorgeous papers and painting supplies.
These kits are great for gifts and travel (Brienne brought the art dolls kit with us this month). I think these kits are also genius for parents who are crafty challenged but want to get quality supplies and do-able instructions into their children's hands. The do-able instructions part is really important.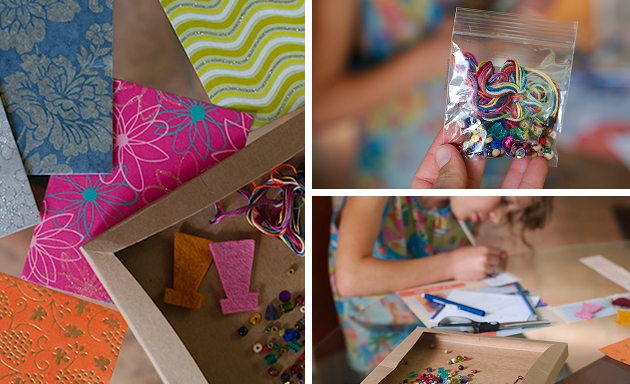 If you'd like to try Artterro kits for yourself, or order some for gifts, Artterro has provided a coupon code for FIMBY readers, FIMBY20 for 20% off. That's a good deal! Code valid through till July 7th.
I know this is a long list and a long post. If you have anything you'd like to add (must have's for crafting), please leave a comment. And do go check out
Artterro's Kits
- they're lovely.
Filed Under
Part of Series
Resource Library
You can subscribe to comments on this article using this form.
If you have already commented on this article, you do not need to do this, as you were automatically subscribed.