simple pretty in my kitchen
January 5, 2010
Since coming home from our trip I've tackled a few household projects. Putting away Christmas decorations (now that we're down to one bin of decorations that process is almost painless), setting up a new winter wear system in the front porch with repurposed toy storage bins, and cleaning the fridge.
I love organizing our home and simplifying our space but one particular little "genius" of mine makes me smile the many times a day I find myself standing at our kitchen sink. I use a bar of my handmade soap (an extra sudsy recipe) for washing dishes. I also keep a container of baking soda handy for everything and anything. You all know how baking soda is good for whatever ails you, in terms of household cleaning. So I like it nice and handy by my dishes.
Problem was, I was having "soap drip" and baking soda storage problems. Last fall I devised a short term solution of re-using a styrofoam mushroom container (what on earth am I supposed to do with these things??) to hold both my soap and baking soda.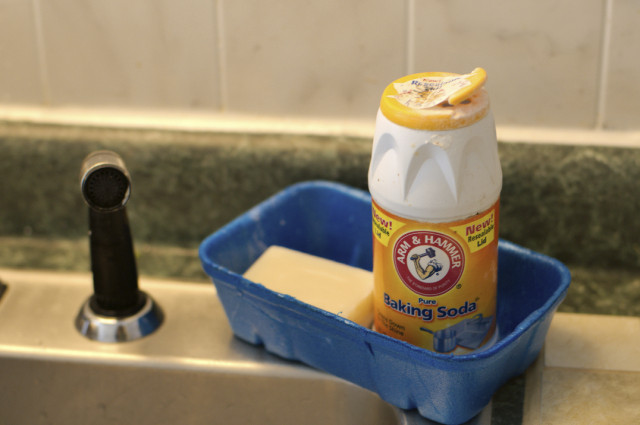 Functional, yes. Pretty, no. Teacup to the rescue.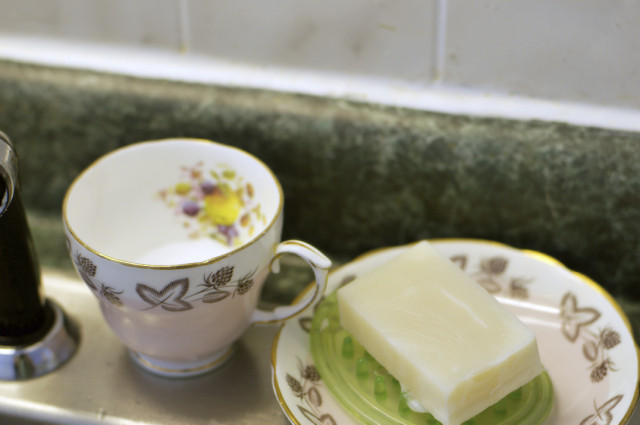 Before I was married, almost 15 years ago, I was given a bridal shower where each guest brought a used teacup & saucer. Back in the day I actually used teacups. I don't use teacups any longer, a hefty mug suits me better these days, but I still love those pretty cups.
I decided to put one to good use and enjoy it's daintiness in my kitchen by converting it into a soap dish and soda sprinkling cup.
It might not be everyone's cup of tea but I like it's functional beauty.
Thanks Jamie at Steady Days for her Moms' 30 Minute Blog Challenge. A fun challenge for this wordy blogger. 
Related Posts:
Renee Tougas participates in affiliate marketing, including the Amazon Services LLC Associates Program. Whenever you buy something on Amazon from a link you clicked here, I get a (very) small percentage of that sale. See disclosure for further explanation.
You can subscribe to comments on this article using this form.
If you have already commented on this article, you do not need to do this, as you were automatically subscribed.