Noodle Salad Recipe ~ Cooking a Meal for 25
August 11, 2010
In early July I prepared a lunch for twenty-five young adults working with Lots To Gardens. This was one of the commitments I was referring to in this post (the clash of too many commitments having brought me to the brink of my sanity.)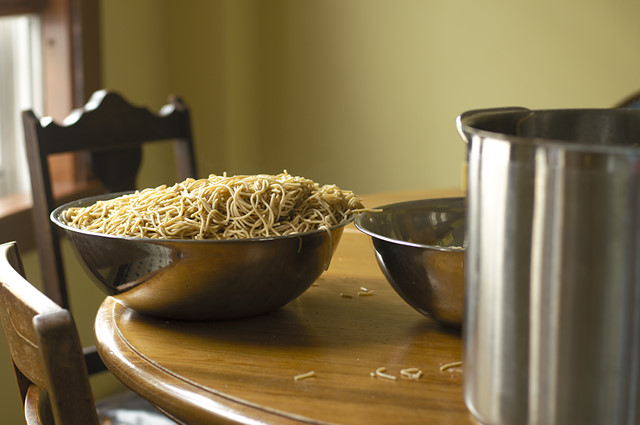 Our family has invested in this non-profit for the past five years or so and in I've blogged before about cooking meals with them, planting seeds, supporting summer festivals and attending harvest fundraising dinners.
This was my third summer cooking a large lunch for their crew of youth workers and staff. I was given a gift certificate (a small stipend) for my effort but it was most definitely a labor of love.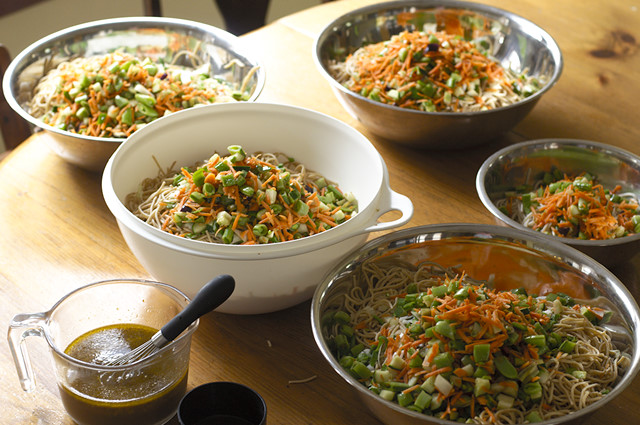 The meal criteria from LtG were these: The meal should contain a whole grain, lean protein, colorful veggies and fruit. Dairy and meat optional but if so with vegetarian options. No pork (due to religious restrictions), low sugar, low salt, no HFCS or partially hydrogenated oils.
This I could do.
In addition I added the following criteria: I wanted to use as much Maine grown and in season produce as possible. Also, to provide a gluten-free option to the one g-free staff member.
With those criteria in mind and also the reality that I would be feeding mostly hungry teenagers I choose to make one of my family's favorite pasta dishes and finish it off with strawberry cobbler for dessert.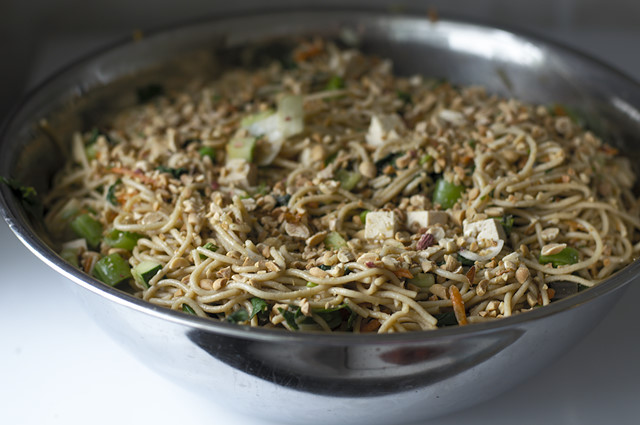 I'm not including the cobbler recipe here because it wasn't vegan and you can find those recipes anywhere on the net. We don't usually eat this kind of dessert but I needed something to appeal to the masses, so to speak. The cobbler included locally found ingredients - strawberries, whole wheat flour, oats (I made a g-free version also with my baking mix) and butter. All of which you can buy from Maine farms and mills.
Without further rambling here's the pasta recipe which I call Asian Noodles or Sesame Noodles depending on my mood.
Pasta Base:
16 oz. brown rice spaghetti (or whole wheat)
12-16 oz. tofu (I buy my organic, non-GMO tofu from this Maine company)
2 medium cucumbers, chopped
1 red pepper, chopped
2-3 medium carrots, shredded
3-4 green onions, sliced diagonally
1/2 cup unsalted peanuts
1/4 cup fresh cilantro, chopped (optional)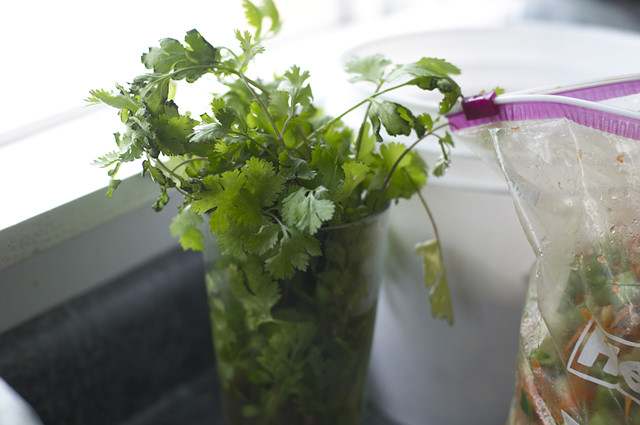 Dressing:
1/4 cup rice vinegar
1/4 cup vegetable broth (my recipe mix here)
2 tsp sesame oil
2 tbsp soy sauce, or less to taste
2 tbsp toasted sesame seeds
1/2 inch chunk gingerroot, grated or minced
3 tsp sugar or brown rice syrup
1/2 tsp asian chili paste (optional)
2-3 cloves garlic, minced
Directions:
Cook pasta according to package directions (or until tender but firm). Drain and rinse under cold running water. Drain well and place in large mixing bowl.
Add tofu, cucumbers, pepper, carrots and onions.
Whisk together dressing ingredients; toss with pasta mixture.
Sprinkle with chopped peanuts and cilantro.
Serve immediately or refrigerate for later.
Notes:
The main work of this meal is in chopping the veggies. So if you have a few kids on hand this could go quick.
This is one of our family's favorite quick summer meals and you can really use any crunchy vegetable you want.
In the winter you can use raw cabbage and bean sprouts instead of fresh garden veggies.
This recipe feeds our family of five. I pentupled (is that a word?) it to feed twenty five.
Renee Tougas participates in affiliate marketing, including the Amazon Services LLC Associates Program. Whenever you buy something on Amazon from a link you clicked here, I get a (very) small percentage of that sale. See disclosure for further explanation.
Filed Under
Resource Library
You can subscribe to comments on this article using this form.
If you have already commented on this article, you do not need to do this, as you were automatically subscribed.