The Naked Tomato ~ My Battle with Early Blight
August 12, 2010
Although I think the naked tomato would be a great restaurant name unfortunately it describes my tomato plants this year.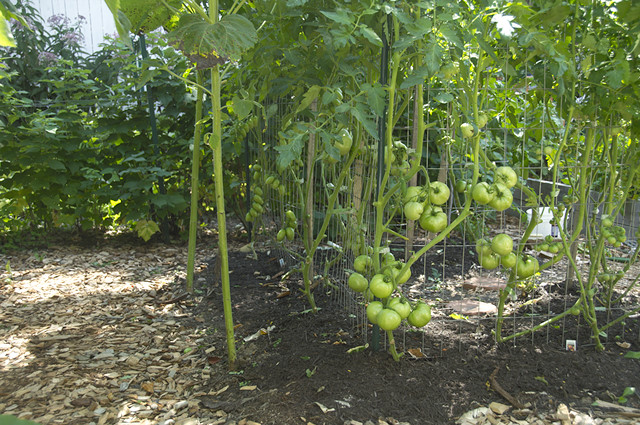 For the third year in a row my plants have suffered damage from early blight. Last year was a terrible year for tomatoes all across the state and it's not that bad this summer. But I'm fairly certain the spores are now a permanent part of my soil and will affect plants in years to come also. And unfortunately, my sunflowers also appear to be stricken with this fungal disease.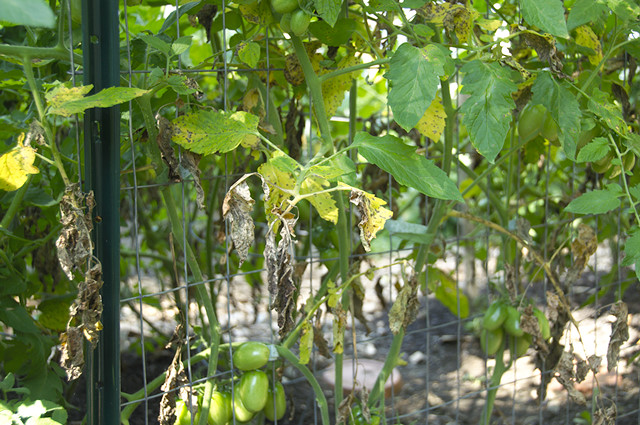 Good news is that I'm still getting fruit. I have a teensy infatuation with photographing tomatoes and tomato plants, as the photos in the post attest to. But I wanted to show the progression of the season so far and the measures taken (in vain) to eradicate this disease.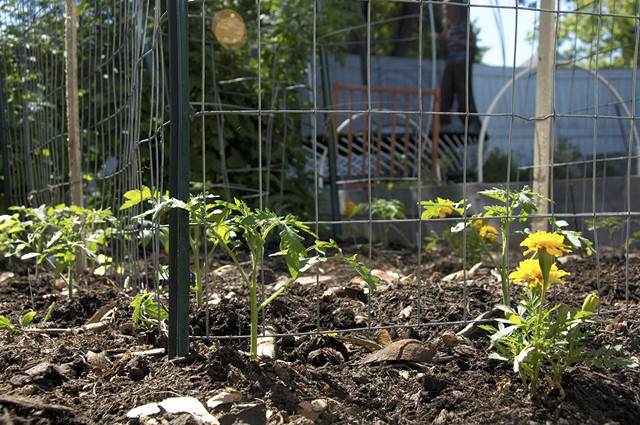 Baby tomato plants, planted and mulched in late May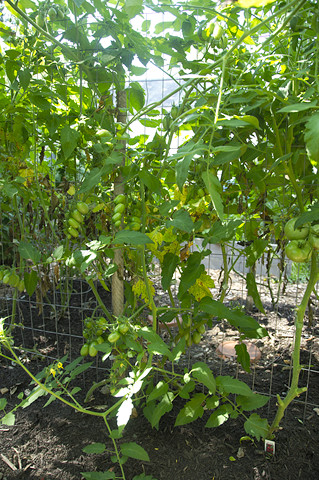 By early August I had already taken the following measures:
Mulched twice, one time even covering the ground with newspaper and mulching over top that.
Staked the plants (late June but probably too late as the leaves were already touching the ground).
Removed blighted leaves once.
But as the photos show it hadn't gone away (yellowed leaves are blighted)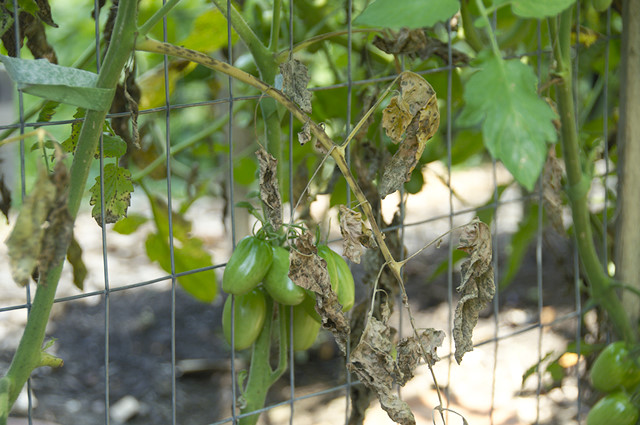 This is a blighted leaf up close. The potential exists for this to happen to the whole plant. Brown, withered and dead leaves and spotted fruit - yuck.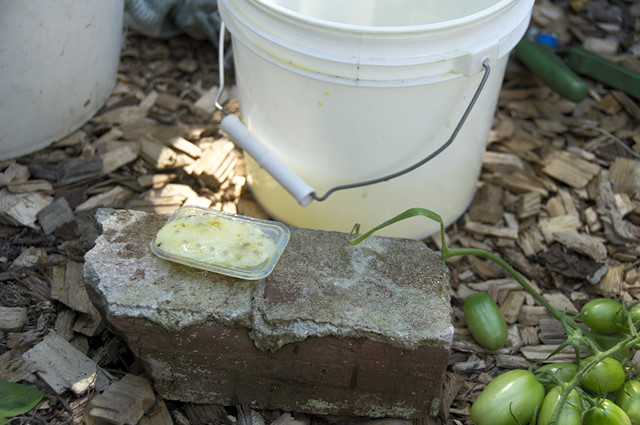 Following a friend's advice I once again cut off the blighted leaves, being very careful not to touch healthy leaves. I had a bucket of soapy water with tea tree oil for washing my hands so I wouldn't spread the spores. After I cut all the affected leaves I sprayed the plants with a tea tree oil and water solution as a natural fungicide.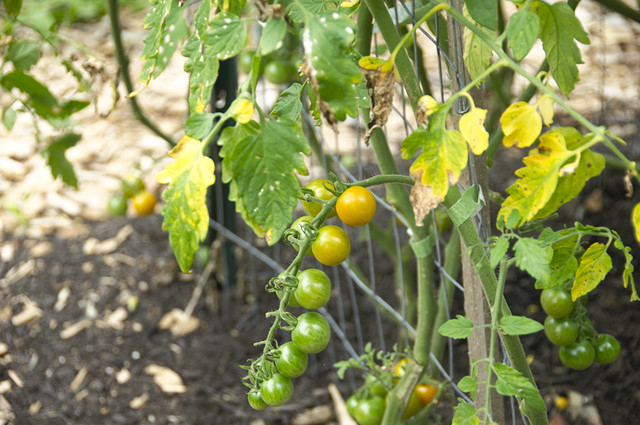 No luck. The blight came back (or at least the symptoms showed up again on the unaffected leaves). But... the plants are still producing fruit. For this I am thankful.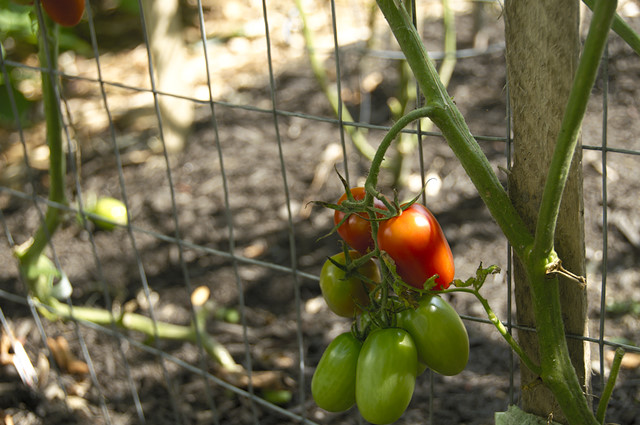 Juliet tomatoes - these are producing well, some fruits have small spots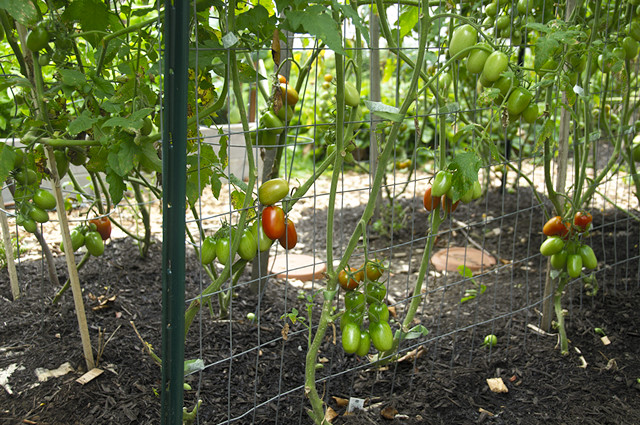 My naked but fruiting tomatoes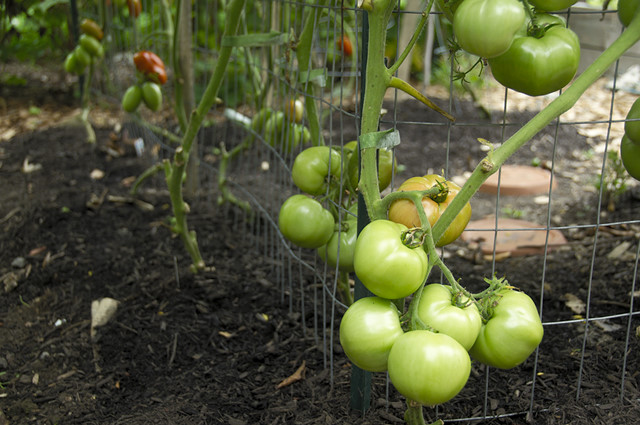 Jet Star tomatoes. So far these fruits are unaffected and ripening well.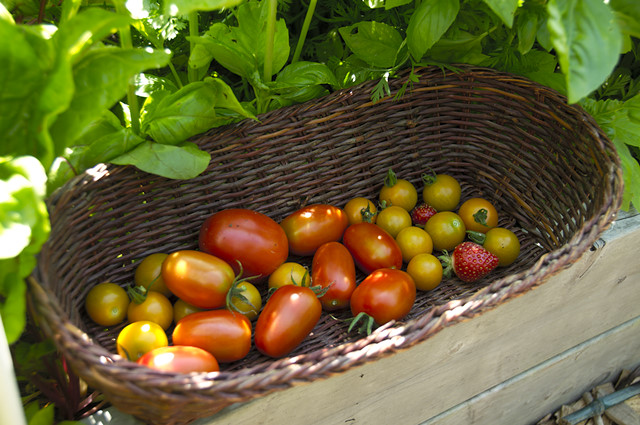 Sun Sugar, Juliet and Amish Paste (they seem to be worst affected by the blight) with a couple late fruiting strawberries. We are picking about this much each day.
Has anyone else had success dealing with early blight on tomatoes?
Renee Tougas participates in affiliate marketing, including the Amazon Services LLC Associates Program. Whenever you buy something on Amazon from a link you clicked here, I get a (very) small percentage of that sale. See disclosure for further explanation.
You can subscribe to comments on this article using this form.
If you have already commented on this article, you do not need to do this, as you were automatically subscribed.