Lip Balm made easy
February 15, 2016
I've been making the same lip balm recipe for years. I made it up by reading the ingredients on a tube of Burt's Bee.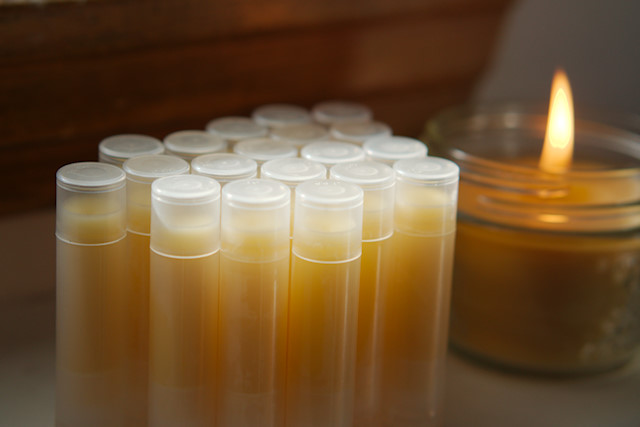 The recipe served us well, until... it didn't.
I've always put honey in the recipe, and fielded a ton of questions over the years about what kind of honey exactly I use. Maybe the honey here in Quebec is different than in Maine but I've noticed the honey separating out of the mix consistently now for the last few years. As much as I love the sweet taste on my lips I find that seperation irritating so I've changed my recipe.
It's worth sharing. And so is the secret tool I used to fill the tubes.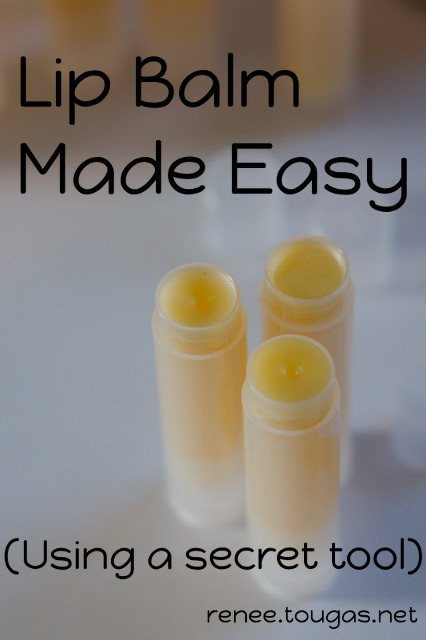 I make small batches of lip balm so I've resisted investing in a one of those special lip balm filling trays that allows you stand up the tubes and pour the mixture over the whole lot.
But with this recent recipe I tried a new trick I learned when researching how to make lip gloss (which we did for Brienne's birthday).
I used a syringe to fill the tubes.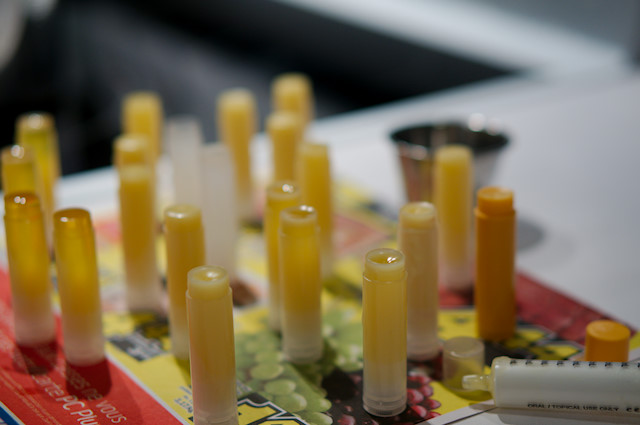 Using a syringe worked really well. The trick is to keep the mixture liquid because you don't want it cooling and clogging your syringe. Keeping the pot on the just-turned-off electric burner worked well for me. (You might have to do something different for a gas burner.)
Below is the recipe I used this time. It is double the old recipe. Because I used a syringe I could easily measure the yield of the recipe and the amount that went in each tube.
Easy Peppermint Lip Balm recipe
Yield: approx. 125 mL (or 4.2 oz)
I filled 21 lip balm tubes with this recipe.
Ingredients:
1 oz beeswax
1 oz coconut oil
1 oz cocoa butter
3 tsp lanolin
1.5 tsp vitamin E oil
1.5 tsp peppermint essential oil
Directions:
In a small pot over low heat melt beeswax, coconut oil, cocoa butter, lanolin, and vitamin E oil. (Many people recommend using a double boiler, I don't have one and as long as I melt over a low heat I don't have any problems with oils burning.)
When the oils and wax are just melted, remove from heat and add the peppermint essential oil. Whisk well with a mini whisk; or my favorite tool, a chopstick designated for this purpose.
Pour into jars or containers, use a syringe to easily fill lip balm tubes.
Click here to view and download→ a printable copy of this recipe. (You should click, I worked hard to make a nice printable for you.)
We have been using this batch of lip balm since last fall and I really like its consistency.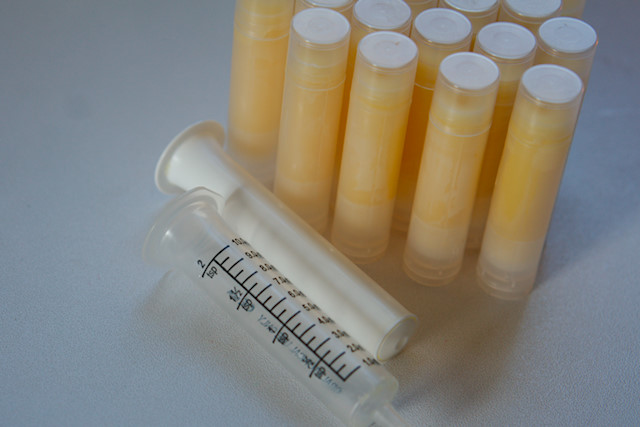 I made a bunch of tubes and I gave away some at Christmas. I also like being able to stash lip balm in the car, my handbags and backpack and to keep a tube of lip balm in all the places I regularly use in our home - kitchen, desk, bedside. Because you know, walking the 15 steps through our apartment to the bathroom from any of these places is just so inconvenient.
The cost of making your own lip balm is pennies per tube, the most expensive part is the cost of the tubes and jars which I wash, disinfect and reuse. Except for the lip balm I make for gifts. In that case (germophobes breathe easy) I use brand new tubes.
Supplies
Now that I live in the big city I can find lip balm tubes locally. Here's a few places you buy lip balm tubes and those fancy filling trays online: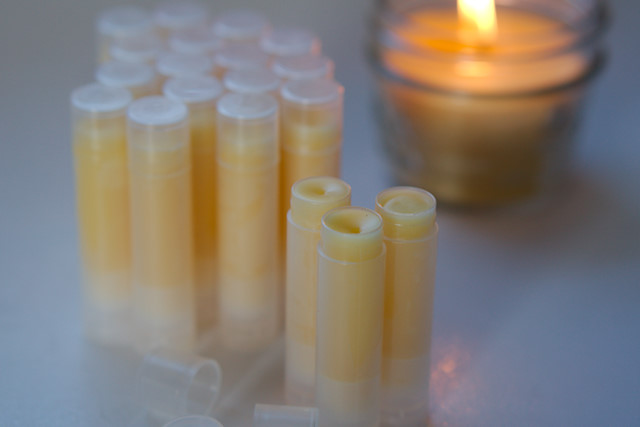 If you try this recipe I would really like to know, for personal and professional reasons, how it worked for you. I welcome your feedback.
You can subscribe to comments on this article using this form.
If you have already commented on this article, you do not need to do this, as you were automatically subscribed.