In between the awful and amazing
February 9, 2016
February has been, how should I say it... uninspiring.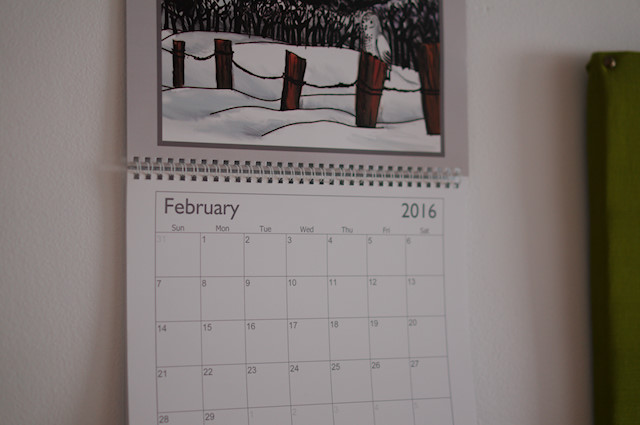 I've learned that until my chemistry, psychology or geography changes it's not wise to have high expectations for myself during the deepest heart of winter. My goal this time of year is to keep the show running (bare bones as necessary), deeply care for myself and attend to my needs, and do as much creative stuff as possible.
I suppose I have those same goals all year round but that's pretty much all I can realistically hope to do during February. Whereas in my "high seasons" I have the energy to do all that and more.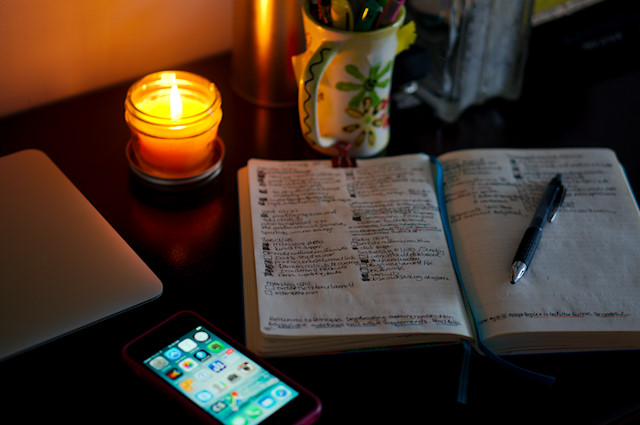 The weather was uncooperative for skiing last week. It rained. Plus, we had a sick kid, so, no skiing on all accounts.
There was a lice outbreak at homeschool co-op. We've been spared, so far. The co-op families are doing all they can to contain and not spread the little buggers; a co-op day was cancelled and the other classes this month have been sparsely attended, as all infected families are asked to stay home.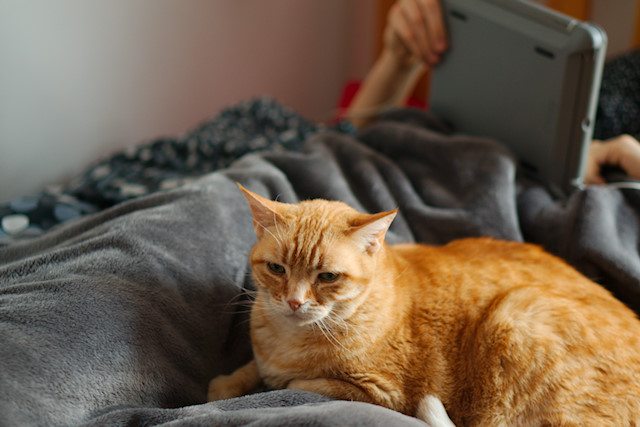 Laurent is sick. I'm pretty sure it's a mild case of the flu and not a run-of-the-mill cold. I've been watching, temperature-taking, and nursing with as much diligence as I can muster.
I don't like it when my kids get sick. (No one does.) I don't like the interruption, the unexpected-ness of it all. I don't like to see my kids suffer. And I really don't like the shame and blame game, feeling like I'm a bad mother because I didn't somehow prevent this through a) essential oils b) homemade bone broth (insert current nutritional wisdom here), or c) better mommy-ing skills in general.
This is the "if I was a really good mom my kids wouldn't get sick" train of thought. Totally a lie but one I can easily fall for.
I'm not a naturally nurturing person, I'm efficient. And sickness, like travel, is so inefficient. I never know exactly what's going on. I try a bunch of natural remedies but I'm not sure what, if anything (besides Ibuprofen and Buckley's), is working.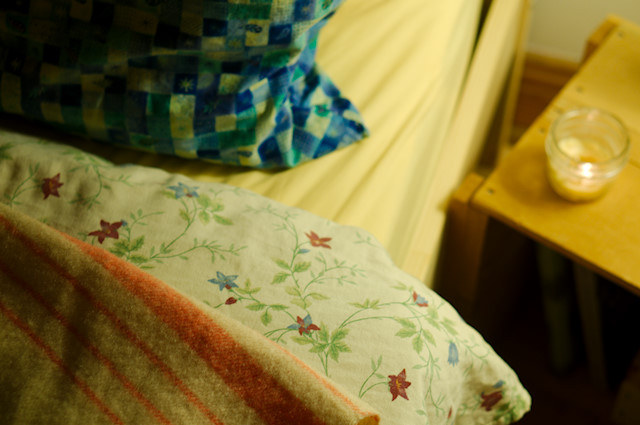 My main strategies for sickness are: stay home, rest and fluids, but I feel there is probably way more I could be doing. More herbs, more oils, more remedies, more something.
I've been taking care of my kiddos through winter sickness for years but it doesn't seem to get any easier for me. It's like I get out of practice between bouts of sickness. I forget what to watch for, I've let our supplies run low, and I don't seem to administer the right remedies at the right time. I miss the window of opportunity to nip it in the bud. It doesn't help that I used up all the elderberry extract when I was fighting an infection in December.
Getting sick, avoiding head lice and no skiing are like a forced at-home stay-cation, right? Or house arrest.
My problem is not that these interruptions slow life down or keep us at home. I love being home and I am all for slowing down. I'm the person who stands at the gate of our family life holding back the beast called busy. I regularly choose slow and less over fast and more.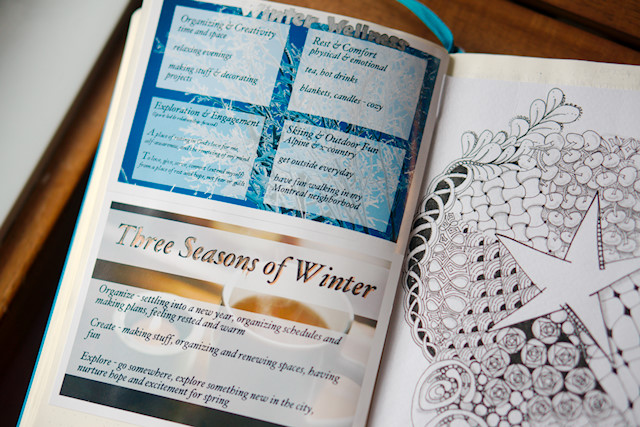 What I don't like is when the patterns and systems that are comforting to me, my routines and rhythms, are interrupted. And when I feel inept at mothering.
But February hasn't been awful, inconveniencing yes, but not terrible. I can get myopic fairly easily. Writing helps me get a grip.
There is a hugely popular quote floating around on the internet, with good reason. I love these words.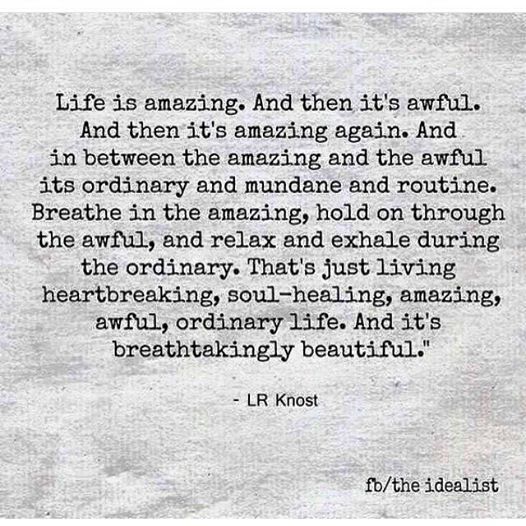 Life isn't amazing right now but it's not awful, not even close.
Before the flu hit our home we hung out with friends when co-op was cancelled due to lice. We made popcorn and chili and shared knitting tutorials and life stories.
The interruption to my usual homeschool routine also opened a window of time to chat, completely spontaneously, with a dear friend on the phone. And there was that Wednesday I stayed in my pj's till mid-afternoon, which is nice to do, once in a while.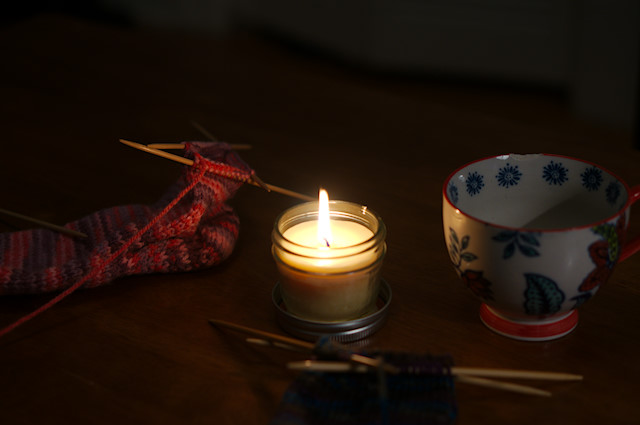 I function best in well-oiled routines and systems, yet I also find them a bit constricting and I imagine myself accomplishing so much when I don't have a schedule to keep. So when a day opens up, free, because of lice, a sick kid, or rain at the ski hill, I think "now's my day to do great things I don't usually have time for". A sewing project, a whack of writing, or hang art and photos on our walls (a job I haven't finished since our move last summer). But that just doesn't work for me. It turns out I get more accomplished, slow and steady, in the routines of life than in what feels like wide open spaces of a "free day".
This threw me off over the past couple weeks, days opened up, but then seemed to be swallowed whole by inefficiency and my non-characteristic flighty nature when out of my usual rhythms.
Currently, one kid lays on his bed all day watching copious quantities of Netflix, On Guard infusing the room, while the other two carry-on with a full schedule of school and social engagements, happy and healthy, for now.
Scratch that. Just as I prepared to hit publish it seems another one may be going down for the count. This time I'm ready. There is no wait and see, there is infuse, diffuse, decoct, apply and minister. I even found dregs in the bottle of the elderberry tincture, drink up baby.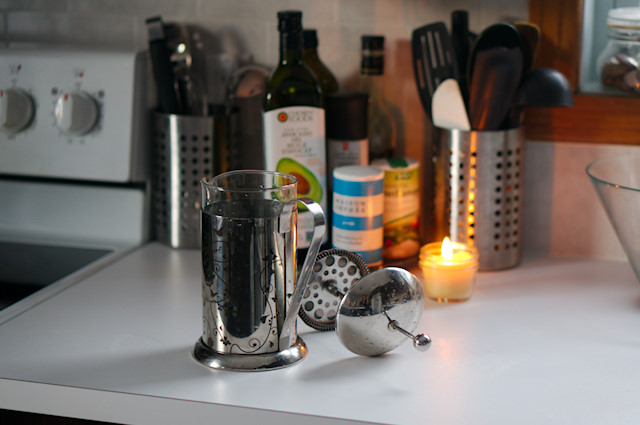 And so February slows down to this: giving love and care to my people, love and care to myself.
Renee Tougas participates in affiliate marketing, including the Amazon Services LLC Associates Program. Whenever you buy something on Amazon from a link you clicked here, I get a (very) small percentage of that sale. See disclosure for further explanation.
You can subscribe to comments on this article using this form.
If you have already commented on this article, you do not need to do this, as you were automatically subscribed.