Inspiration for life on the fringe
April 4, 2010
The last time I talked about life on the fringe was here, when I laid bare my soul regarding the lack of close female companionship in my life. The responses to the that post were just as heart felt as what I shared. What I heard back from you was this feeling is not unique to me (I didn't think it was) and that life on the edge is both inspiring and sometimes lonely.
But I think it's less lonely when we share our stories and encourage each other.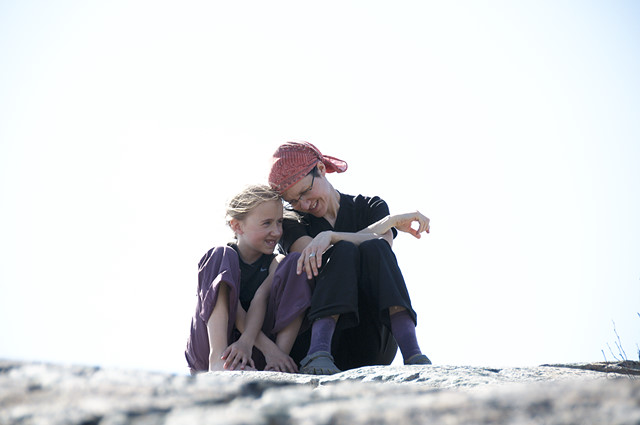 I've read three books lately that I would put into the "inspiring, living life on the fringe, go for it with gusto" category. I love those kinds of books!  
Simple living, for real
A Handmade Life: In Search of Simplicity by Bill Coperthwaite is the real deal. This well crafted and philosophically challenging book is not a straight forward manual on simple living in the 21st century book. Coperthwaite looks at simplicity as a lifestyle that goes much deeper than the washing and re-using plastic bags (or eliminating them from your life altogether), hang drying your laundry, making soap, and baking bread, for example.
This book is about the justice of simplicity, the education of our children, the importance of beauty, discovering and doing your life's work, rest and craft, the superiority of knitting as a handicraft (I say this only partly in jest) and so much more.
As I read it I kept thinking "I should quote this in my review". Problem was I thought that about every second paragraph! So I have no quotes to share because the whole book is just so good. Especially if you are questioning the values and standard lifestyle of modern western society, as we are these days.
I really enjoyed Coperthwaite's writing and unique perspective. He lives along the northern coast of Maine in a handmade yurt, off the grid and a couple miles hike from the nearest road.  The book's photos by Peter Forbes are beautiful and perfectly complement Coperthwaite thoughtful writing. 
As much as I enjoyed the book though I thought the chapter on education was disappointing. I agree with almost everything he wrote in the chapter but his emphasis on changing schooling at the institutional level ignores the fact that the changes he describes and idealizes are already happening within the realm of homeschooling.
And truly that's where I believe change happens; in our homes and in our families.  When it seems so hard to change the world the best place to start is in our own lives.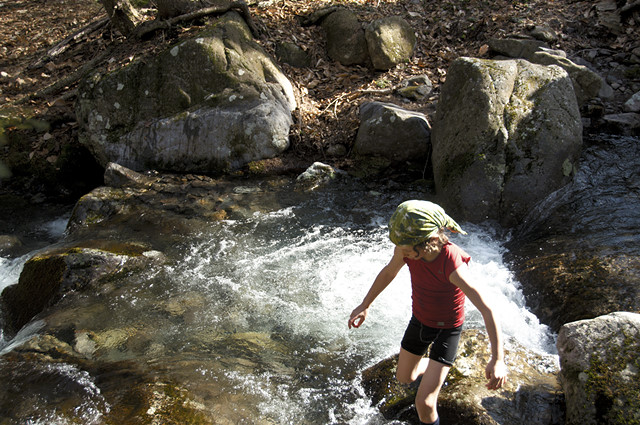 Unschooling
in the African bush
I really enjoy success stories of unschoolers and less-than-structured family learning. I'd say Twenty Chickens for a Saddle: The Story of an African Childhood by Robyn Scott fits that bill. It also fits the bill of an overall really good read, regardless of one's interest in alternative education. If you are a homeschooling sort you'll be interested to know that Robyn was unschooled till age 14. After which she went on to have very successful high school, college and post-graduate experiences. 
But those experiences are not what this book is about, though it's fun to talk about the unschooler who studied at Cambridge. Twenty Chickens for a Saddle is the story about Robyn's very eclectic and fascinating childhood in rural Botswana. I identified with her story on so many levels - her family were vegetarians, her mother a self taught herbalist, they loved nature and the outdoors, the kids were unschooled, the family believed in natural medicine, thoughtful living and following your dreams.
And yet so much of Robyn's story is very different from my own and it's the uniqueness of her experience and her excellent story telling that is so compelling to read. Twenty Chickens for a Saddle is story rooted in place and family. It's at times laugh out loud funny (many times the kids would say "what is it mom?" after one of my guffaws and I'd have to try and explain one of the not-so-child friendly stories), heartbreaking, enlightening and inspiring. 
I love stories like this and highly recommend it if you are looking for an overall good read.
A walk in the wilderness and finding home
At first glance,A Long Trek Home: 4,000 Miles by Boot, Raft and Ski is the story of a young couple who use human power to journey from Seattle, WA to the Aleutian Islands in Alaska. But of course there's a lot more to the story than that.
This was one of our family books which Damien read to us in the evenings. Damien's written a longer review and is hosting a giveaway of our copy of the book. I really enjoyed this book, no doubt in part because I was snuggled with my family and listening to my husband reading it to us!
(Since originally publishing this post I've written a longer view of A Long Trek Home here and also McKittrick's second book Small Feet, Big Land.)
What inspiring stories or books have you read these days about life on the fringe?
You can subscribe to comments on this article using this form.
If you have already commented on this article, you do not need to do this, as you were automatically subscribed.