~ A LuSa Organics Soap Giveaway ~
April 6, 2010
Let's try this again shall we.
I've had the pleasure recently of making the on-line acquaintance of Rachel Wolf from LüSa Organics. LüSa Organics is a small family business that makes and sells natural soaps and bodycare products. 
Why a giveaway? Well mostly I wanted to draw your attention to this sweet little company. Since I'm unable to sell my own soaps at this time I'd like to support other small businesses who are giving it a go.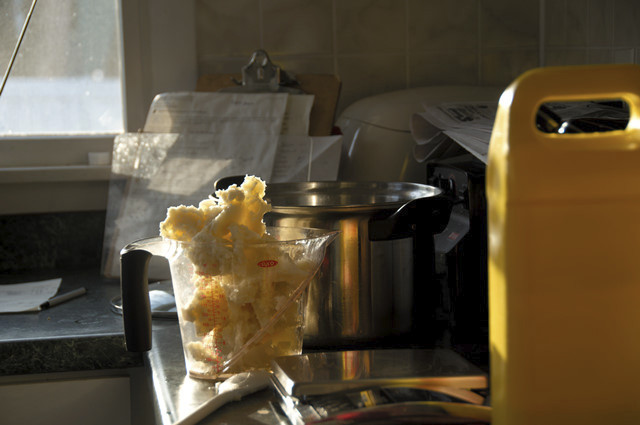 measuring oils for handmade soap in my kitchen
I love making my own soap but realize that not everyone has the opportunity or desire to craft their own bodycare products (though you really should consider it, it's easy and adds touches of loveliness into everyday life). If you love handmade soap and aren't making it yourself maybe you'd consider buying from this small family business, literally a mom & pop (and two kiddo) shop.
I can't vouch myself for having tried any LüSa Organics products; I make all our skin care products after all so don't need to purchase any. I was the one who approached Rachel about hosting this giveaway because I want to support what her family is doing and also because I love to give away quality goodies on my blog. Who doesn't want or need a bar or handmade soap?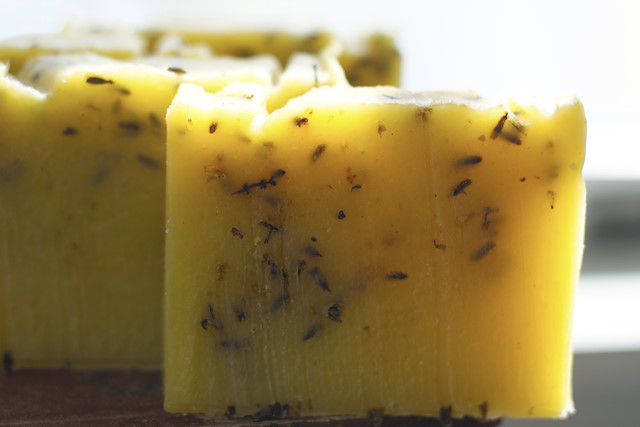 Lavender Lemonade: my latest batch of spring soap
So this is how it will work. LüSa Organics will giveaway two bars of soap (one a piece) to two lucky readers. Please visit their site and scroll through to see what bar you would like best, I know it's hard to choose from a such a wonderful selection.
I personally love the look (blue is a color I have yet to experiment with, need to get some natural ultramarine oxide for coloring) of Gaia's garden and use those three essential oils - lavender, mint and rosemary in many of my own soaps.
Come back here and leave a comment with the name of the soap you'd like to win. Giveaway closes Sunday night, April 11th. I will randomly draw two names and LüSa Organics will mail out your soap. Congrats Bridget & Michelle.
Giveaway is open to all North American residents (I asked Rachel specifically about being willing to ship to Canada since I know some of you live there).  Since others of you visit from overseas I'd like to include you too but if you win and for some reason shipping is too difficult for LüSa Organics because of customs and what not I will mail you a bar of my own latest creation, Lavender Lemonade. Sound ok?
I also recommend Rachel's blog, Clean. She shares tidbits of her family life that I identify with and appreciate - raising kids, cooking, using herbs, living creativity, and of course... making body care products. 
Oh, I almost forget. If you decide to place an order with LüSa Organics use the coupon code "hello" and receive a free lip balm with your first order! (Add a lip balm of your choice to your basket.)
You can subscribe to comments on this article using this form.
If you have already commented on this article, you do not need to do this, as you were automatically subscribed.