After the Appalachian Trail will I ever do long distance backpacking again?
September 28, 2018
The first backpacking trip I ever did was a two mile hike into a cabin at Camden Hills, Maine.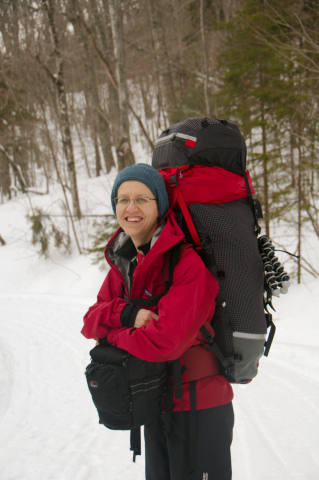 It was winter, nine years ago. I was in my early thirties, the kids were elementary-aged, and my parents joined us, driving down from Nova Scotia to participate. Except for Damien, who had marginally more experience than the rest of us and who led our little expedition, it was a first for all of us.
It was so much work to get ready for that two day, two nights in the woods undertaking. And our packs were very heavy.
As I wrote in a blog post about that inaugral trip,
Although we're working towards making it that way we know these "firsts" will take a lot of work. Work that has been years really in the making. Weekly hikes with our kids to train our bodies and learn what clothing works best for the outdoors. Years of saving and spending our money on quality gear that is light but will still keep our family warm, safe and comfortable. Recipe trials that have been mostly successes but some failures.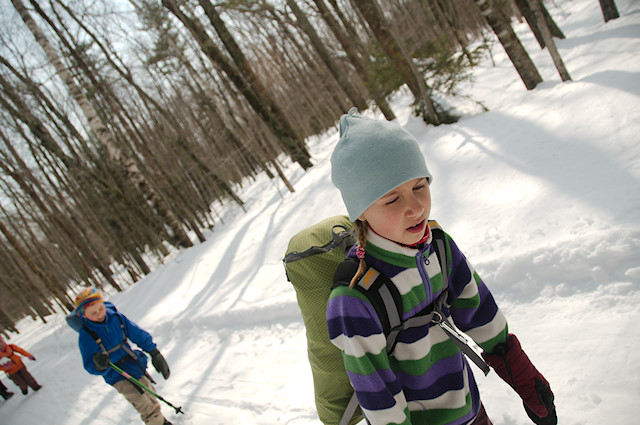 That little trip, which was so big and significant for me at the time, was a resounding success for our family and got me truly interested in backpacking. There was a magical alchemy to the weekend of family togetherness and a cabin in the snowy woods that made a big impact on me.
Damien wanted to do more backpacking, it was a goal of his for our family, and I figured if backpacking was this much fun, then I was in. I was hooked and definitely wanted to do more. But with less weight, because oh my gracious, what a heavy pack!
And if you've read my blog for a few years you know we did do more, much more. (And with less weight.)
We did two more winter trips to the cabin in Camden, adding more friends and more activities each time.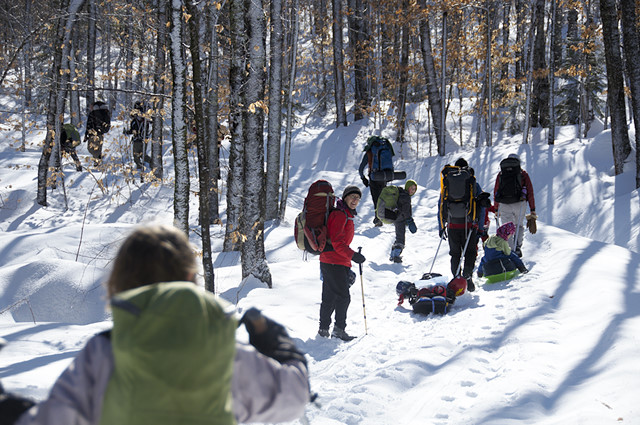 We did spring, summer, and fall short backpacking trips (2-3 nights) in Maine, New Hampshire, New Brunswick, and Nova Scotia. Each trip we learned more, refined our systems, experienced the beauty of nature, spent hours talking and just being together away from all the distractions in our daily lives.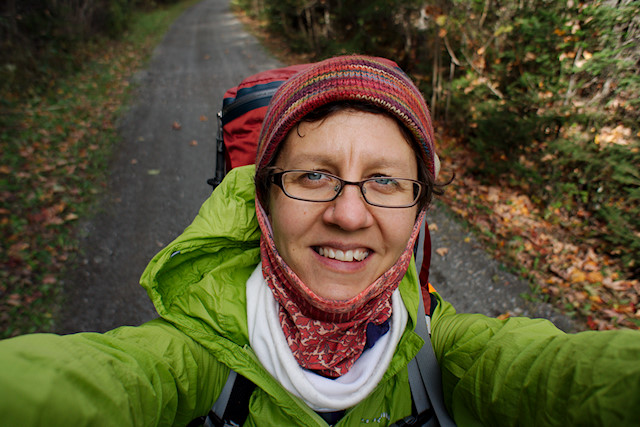 Through exposure and experience I grew to deeply appreciate our backpacking trips, even though spending days in the woods was not my first inclination or choice of leisure activity - all that hiking and sweating!
In the fall of 2009 I wrote this trip summary after a wonderful backpacking trip to Gentian Pond shelter on the AT.
Being married to a mountain loving, adventurous outdoorsy man has not been particularly easy on me this summer. Finding common ground (we refuse to go separate ways in our recreational pursuits) and still meeting our individual goals has been tricky at times. One of my big fears has been the idea of a long trips in the woods. Do I have the stamina? Or even the desire?
Backpacking was still very new at that point, but my feelings summarize the tension I felt in my life for many years around our outdoor pursuits. Damien had goals to take this further - longer distances, longer trips.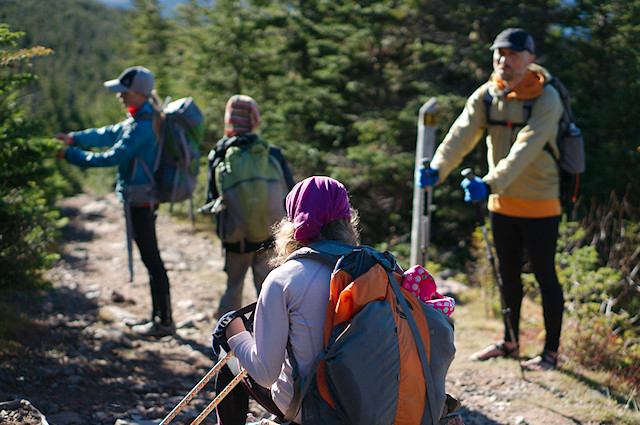 Did I have what it takes? Did I even want to have what it takes?
The outdoors became something that defined our family life. We made life-changing decisions around accessibility to outdoor pursuits, we invested time and resources. And after we left Maine and moved to Quebec we decided to live one of Damien's dream and hike the Appalachian Trail - all of it, as a family.
Thru-hiking the Appalachian Trail was the pursuit of a dream, but it was also like the culmination of years of family hiking and backpacking. It was "the thing" we had been leading up to, even if we didn't know we were leading up to anything.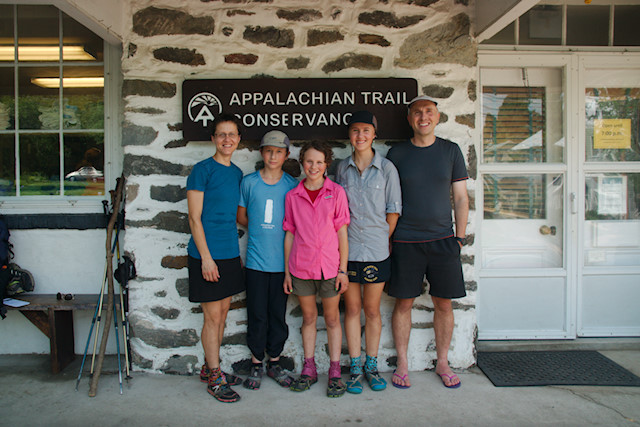 Spending six months backpacking with your family and living in the woods is not something you do on a whim or with casual intention (at least not in our society) and so we threw everything we had into making it possible.
We adjusted our whole lives, we became homeless for the duration of our hike, we had downsized our life to be free of all debt, we used all our income and savings and we filmed a video series while hiking to finance the endeavour.
It took everything. And those of you familiar with the story know that it left me feeling gutted. I did not end that adventure the exultant, victorious, and strong person I had anticipated becoming. I ended the hike incredibly raw and deeply insecure (from everthing that had gone into making that adventure possible). I was unsure of our future, I was physically and emotionally broken, and my marriage felt wounded.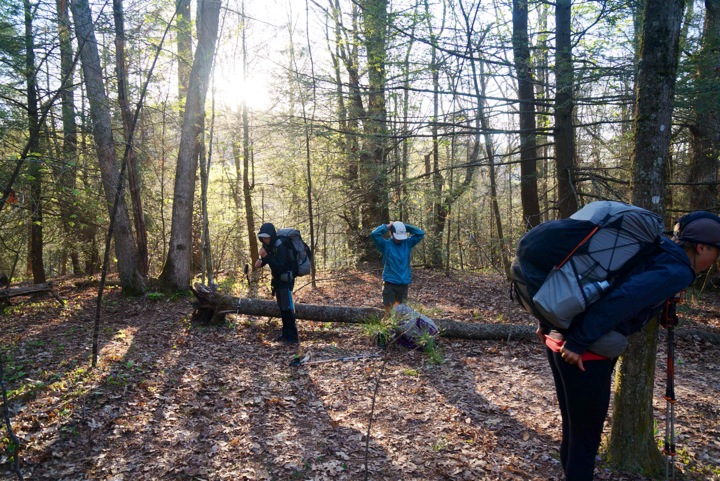 I spent the next few years processing all that, in my life and in writing. I healed and we healed.
But I wasn't sure about backpacking anymore. I had a lot of painful memories associated with months of backpacking. (It must be said I have a lot of amazing and fabulous memories associated with months of backpacking also.)
I was still drawn to backpacking by the same things that drew me to it originally: to be deeply immersed in natural beauty, to get away from everyday life with the people I love, and have time and space for reflection and contemplation. But I would not willingly subject myself again to the kind of emotional, physical, and mental pain I experienced on that AT.
In the four years since we finished the AT I've done two short backpacking trips. Damien and I spent 2 nights in the Adirondacks and our family did a four day/three night trip at Lake Tahoe on our summer 2017 western road trip.
Those were great short trips but I wasn't convinced after either of those trips that any longer distances were in my future.
Filed Under
Resource Library
You can subscribe to comments on this article using this form.
If you have already commented on this article, you do not need to do this, as you were automatically subscribed.