Culture in your neighborhood
March 10, 2009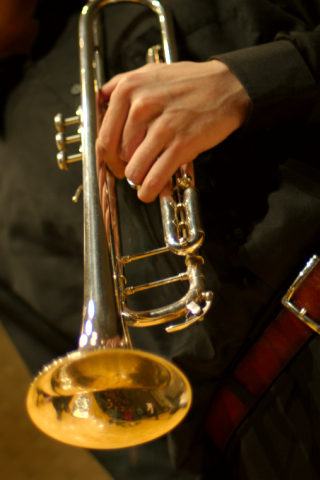 A Charlotte Mason Companion: Personal Reflections on the Gentle Art of Learning introduced me to the idea of classical music and art appreciation. I was intrigued and we tried a somewhat modified approach that first fall after I read the book. It hasn't seemed to stick.
Maybe you remember this little post on how successful we've been at classical music appreciation. I'll blame my husband's decidedly post-modern musical tastes (British pop, electronic, alternative, rock) for corrupting my children. It's safe to say I haven't done the best job at instilling a love for classic art and music in my children. But it's not too late and I'm revisiting this list of composers to see if I can try again, someday.
Before you call the homeschool culture police consider this: it's not as if we don't appreciate good art or music. The kids and I just happen to really like getting out into our community and enjoying the local art and music scene and maybe that's my excuse for letting the classical art and music slip. I think our approach could be called community art and music appreciation. And for this homeschooling season it's what works for us.
What exactly is community art and music appreciation?
Well, quite simply it's participating in and appreciating what is happening in your local area. Of course you won't find it in a curriculum somewhere because it's unique to your community. Here's what we've participated in since last November or so.
A couple mountain film festivals.
Woodwinds & brass mini-concerts put on by the Portland Symphony Orchestra. At the woodwinds concert we listened as they made song soup and at the brass concert last week we traveled to Mars and learned about the solar system as well as tempo, dynamics and rhythm.
A photo exhibit at a local college gallery entitled "Stories of Somali Diaspora: Photographs by Abdi Roble". This had it all - art, geography, history, culture and helped foster a greater understanding for the Somali refugees who live in our community.
An uilleann (pronounced ILL-in) pipes noontime concert at the same local college. This is the campus where Damien works, 5 minutes from our house. Walking to take in art and music is that much better.
And here's a couple concerts coming up in the next week:
And in case you're wondering how we can afford all this great art and music - you'd be amazed at how much free stuff happens in your community. All of the activities I've listed here, except the film festivals were either free or really cheap. Check your local colleges, downtown galleries, museums and libraries for inexpensive community programs. 
Renee Tougas participates in affiliate marketing, including the Amazon Services LLC Associates Program. Whenever you buy something on Amazon from a link you clicked here, I get a (very) small percentage of that sale. See disclosure for further explanation.
Filed Under
Resource Library
You can subscribe to comments on this article using this form.
If you have already commented on this article, you do not need to do this, as you were automatically subscribed.