Best Falafel Salad Ever (or my favorite to date)
August 2, 2012
When I was going to university I would frequent a Lebanese restaurant for take-out lunch. My favorite thing on the menu was falafel. And I have loved falafel ever since. But nothing has come close to tasting like those deep fried patties from the international food court.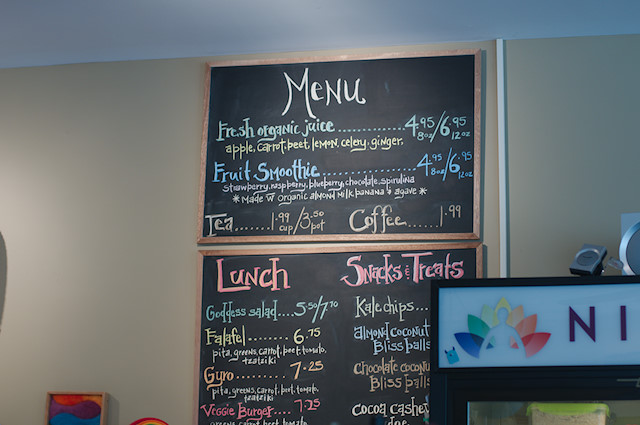 Last summer I discovered the best tasting falafel recipe since my university days. It was in one of my mom's health magazines, I don't remember which one.
I've made a lot of falafels over the years (and a lot of hummus, which honestly I don't like so much anymore, I think O.D'ed on hummus). The falafel recipe I found last summer has been my favorite to date. I tweaked it a bit and when winter arrived filed the recipe and forgot about it.
When we celebrated Céline's birthday we ate lunch ate at a raw, organic restaurant and I had falafel. It was really good. It reminded me of my recipe from last summer, except I pan-fry mine, the restaurant dehydrates theirs. I came home, found my recipe and added to our summer menu.
The way we most often eat falafel is with salad. Damien can't eat wheat (so, no pita) and I don't want to eat refined grains too much. Making falafel salad is the answer to this dilemma.
In my salad e-book I share a simple strategy for preparing meal sized salads:
Green leafy base
Veggie & Fruit toppings
Nut & Seed toppings
Beans
Dressing
When I make a falafel meal salad the falafel patties replace the beans. It's more work than our usual bean topping so I do this for a supper meal, instead of our usual salad for lunch.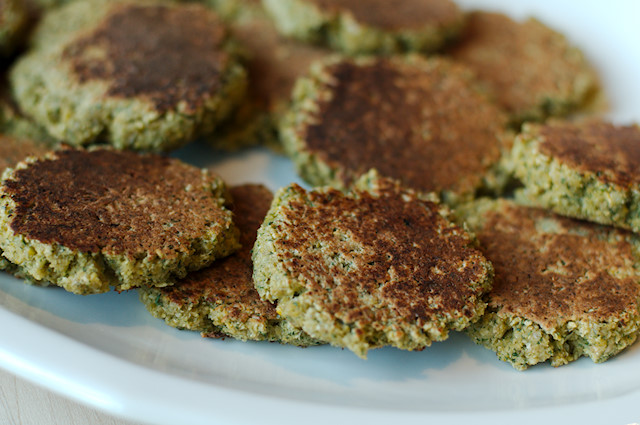 the patties look slightly green from the parsley in the recipe
One way to add more variety to your meal sized salads is to use other carbohydrate/protein foods instead of beans. And a falafel patties is a great way to do that. 
What makes this falafel recipe different than other recipes I've tried is that the beans aren't cooked.
This falafel recipe uses soaked chickpeas. If you want, you can sprout them. I don't. I just soak overnight or up to 24 hours. I made these with sprouted chickpeas this week. Oh my, I just changed my tune. Sprouted chickpeas are SO good and there are no worries about eating uncooked beans. I recommend this route. 
In my salad e-book Jennifer Sanders teaches us how to soak and sprout beans, illustrating with chickpeas. Perfect for a recipe like this.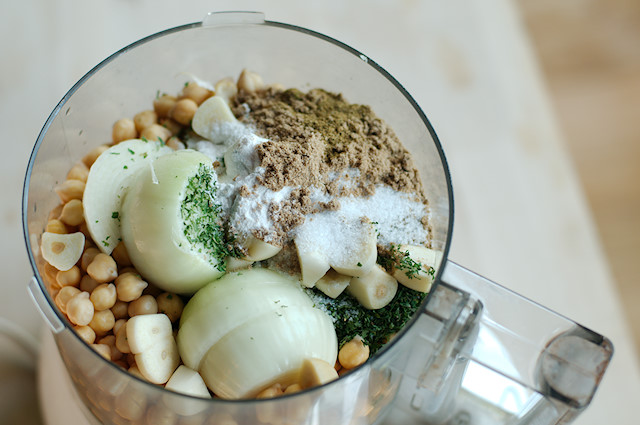 Using soaked, instead of cooked beans, gives the most authentic tasting falafel I've ever made. For truly authentic taste I would have to deep-fry them. Instead, I fry these patties in a cast iron skillet seasoned with coconut oil. I add a bit of coconut oil in between the batches if the pans gets too dry.
What I love about this recipe is how easy it is to make. Once you've soaked (and sprouted - if you want) the chickpeas, you just put it all in the food processor to blend. But don't blend too much, because the texture is what makes these patties taste most authentic, even if they aren't deep fried. 
Best Ever Falafel Salad Recipe
Click to view and print→ Best Ever Falafel and Falafel Sauce
To make this a meal sized salad:
shred or finely chop your favorite leafy greens - romaine lettuce and cabbage are really good with this recipe
top with chopped cucumbers, tomatoes, red or green onion, and a hint of mint (if you're feeling adventurous)
add whole or coarsely crumbled falafel patties.
top with sauce
This recipe makes one meal for my family, along with all the veggies of course. It's the perfect recipe for this time of year.
Renee Tougas participates in affiliate marketing, including the Amazon Services LLC Associates Program. Whenever you buy something on Amazon from a link you clicked here, I get a (very) small percentage of that sale. See disclosure for further explanation.
Filed Under
Resource Library
You can subscribe to comments on this article using this form.
If you have already commented on this article, you do not need to do this, as you were automatically subscribed.