A digital tool for a growing artist
September 21, 2015
In amongst the photos I've shared this summer on Instagram, and recently here on the blog, I've posted photos of Laurent's studio space in his bedroom.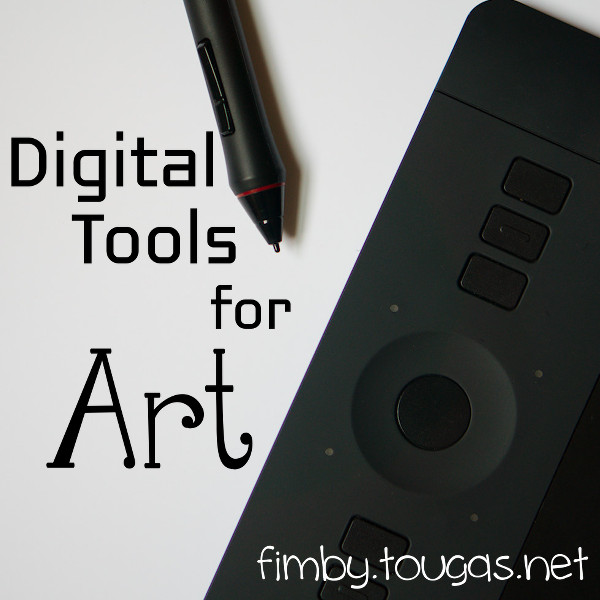 It's a simple set up, a desk that gives him space to paint and draw. His most frequently used tools are kept on the desk; pens, favorite markers, pencils, a few paint supplies. And the rest is kept in the top drawer of his dresser. The boy has very few clothes, he's a true minimalist in that department. He could give the capsule wardrobe folks a run for their money.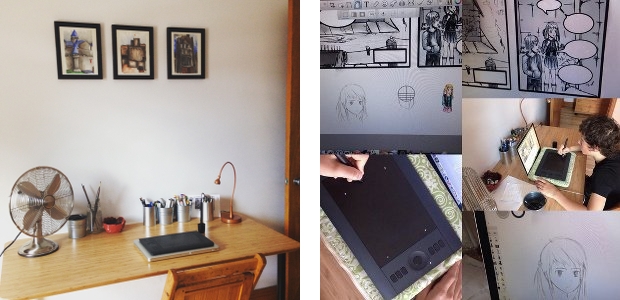 But that's not the point of this post. In the course of sharing these photos, some of which are "action" shots of Laurent working, I've been asked repeatedly, in Instagram, emails, and blog comments, about the tablet he uses for drawing, "what is that thing Laurent is drawing with?" Many of you are wondering because you have your own artists-in-residence.
That tool is a Wacom Intuos Pro Pen and Touch Small Tablet, or simply a Wacom tablet (the link will take you to the size and model Laurent uses).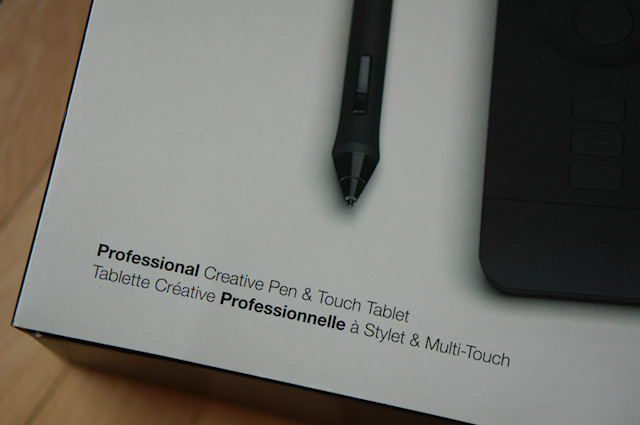 Of course there's a story to this tablet. This is the tool that Laurent bought with the money he earned working with my Dad this spring. Learning to use tools of a different trade, he was able to purchase a tool for his own trade.
Damien is the parent who manages the technical devices in our home. Smart phones, tablets, computers, etc., he's the guy who will identify a need, research products, and give advice as to the best option. Damien recommended the Wacom to Laurent and Laurent took a long time in deciding if this was for him. The tablet is the first major hardware investment Laurent's made in his art education and training.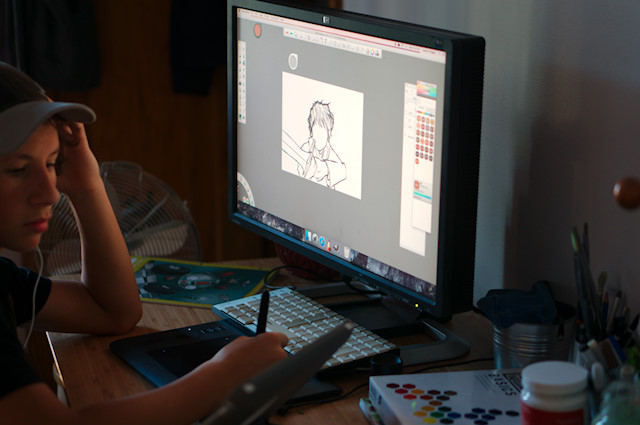 I'm fairly clueless about all the wonderful features of this tool. So I spent some time interviewing Laurent to find out what he loves about the tablet, how it works, etc. Here's my summary of talk.
Firstly, the tablet is a piece of hardware and so what you do with it depends on the software you have. The Wacom Intuos Pro Pen and Touch Tablet comes with software trials and you have some different choices. Laurent tried animation software, painting software and sketch/drawing software. His favorite of these was Autodesk's SketchBook Pro. He's been using a free three-month trial but when that ends we'll start the yearly subscription option.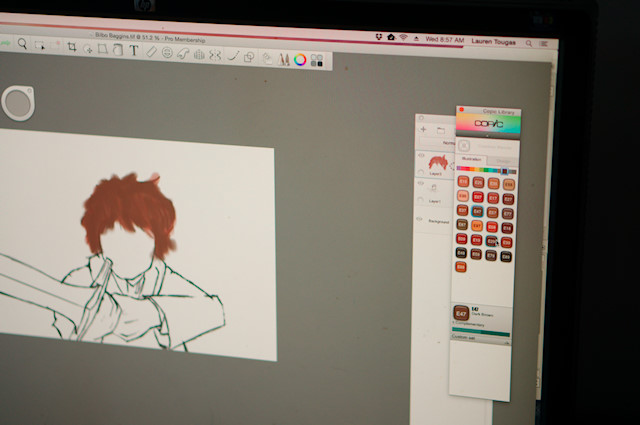 To learn how to use Sketchbook Pro we took advantage of a free 1-month trial from Lynda.com.
I can't comment much about the other software options, we chose SketchBook Pro because it was best suited to Laurent's needs, is reasonably priced, and has received good reviews. However, Laurent says the painting software gave a more refined painting experience and realistic product than SketchBook (the digital colors actually fade as they "dry").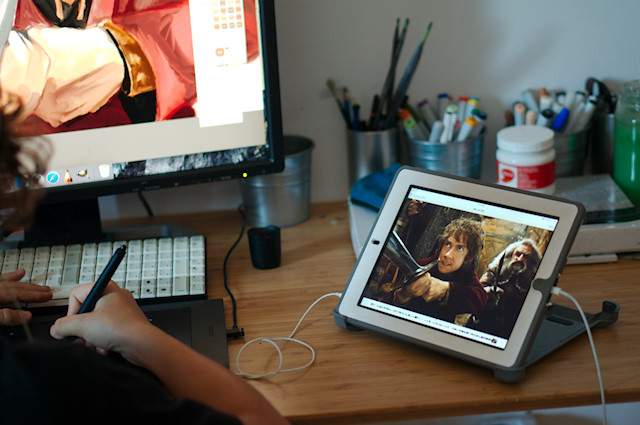 In Laurent's words, he bought this tablet, "because of the wide range of possibilites and tools".
One of the things he loves is having the full set of Copic marker colors. We've been a Copic marker house since Laurent's 10th birthday, when he started his professional grade marker collection. Since that time we've all fallen in love with Copics and I recently upgraded our "homeschool and family art" supply from Prismacolor to Copic. Both Laurent and Celine have their own stashes (Celine really appreciates the skin tone collection for character drawing) but the family supply is for everyone to use.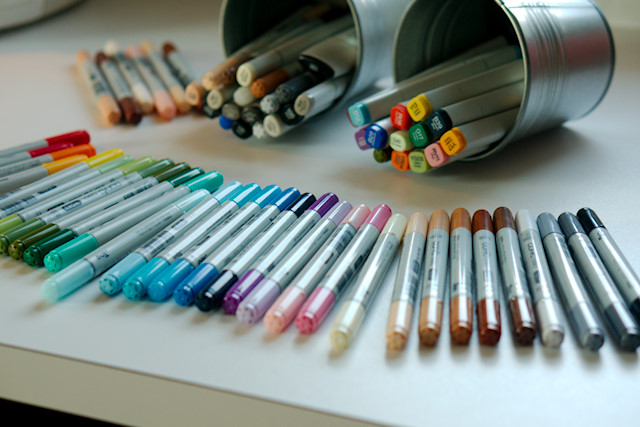 So back to SketchBook, as Laurent says, "SketchBook Pro has any Copic marker you could want, along with any color you want". Specifically, SketchBook Pro comes with more than 300 colors from the Copic Color System. Laurent has been amazed with how the brush tips and colors simulate a "real" Copic marker. In addition to the markers the software includes fountain pens, ballpoint pens, Copic liner pens, erasers, various brushes (for painting), and pencils.
The tablet is incredibly responsive and sensitive, responding not just to pressure but also the angle of the stylus (which comes with the tablet). Laurent says it simulates real drawing better than any other digital tool he's used.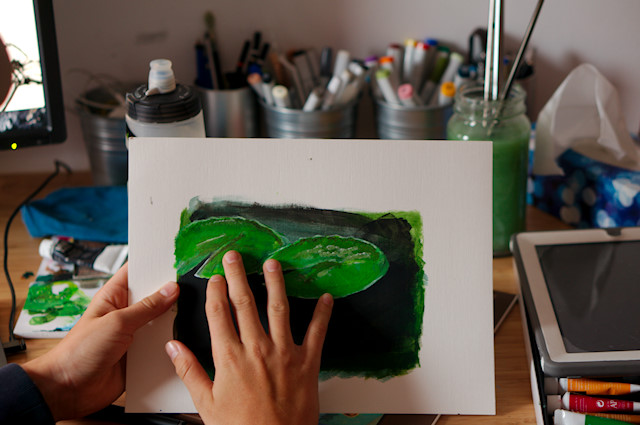 In my observation and in Laurent's experience, the tablet has taken his artwork to the next level. Laurent still does non-digital drawing and painting, but this tool allows him to experiment with color and techniques that aren't available to him otherwise. And that's just in the "making" of the art, not the "producing" of the art.
A tool like this, that allows Laurent to create digital art, opens up more options for making prints of that art. (Hint: Based on the success last winter with the bird and berry art cards, a new entrepreneurial project is underway, with an expected release date in November.)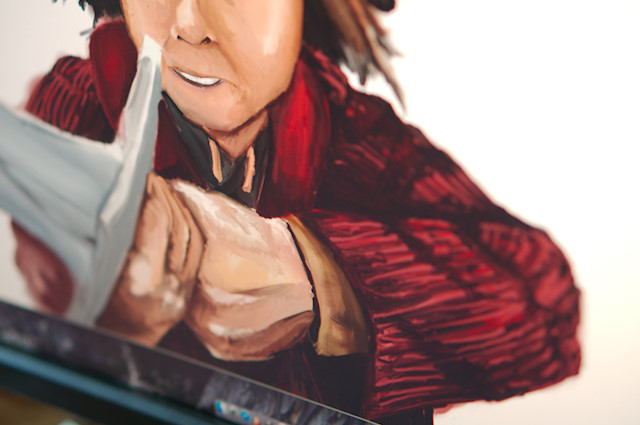 Laurent crossed a threshold this summer in his education, similar to his sister's a few years before him. He entered his scholar phase. I'm not going to talk much about that here, except to say it looks quite different from Celine's.
The purchase of this tool seemed like the catalyst, or tipping point, in this direction. This spring, I was sensing Laurent was getting close. And sure enough, within weeks of our move to Montreal where he was able to purchase the tablet, the shift happened, noticeably.
What does that shift look like? Mostly it looks like hours and hours of self-directed and self-disciplined work, day after day after day. It looks like a serious-minded investment into something that is important to him.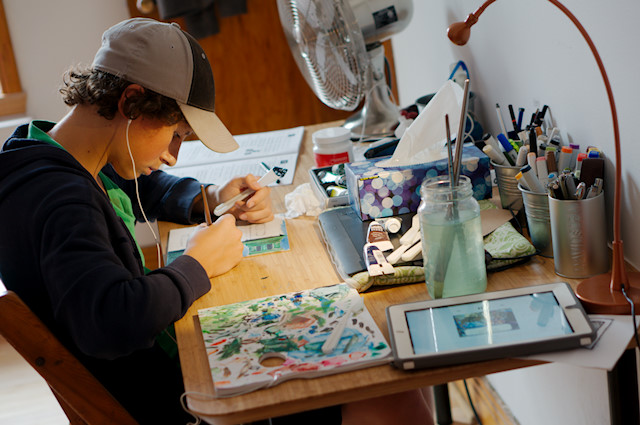 There's so much more to the scholar phase that I simply can't get into right now. I understand there are more questions than answers when it comes to what this actually looks like, but I can say one thing with certainty: it looks different for each kid :)
So now we're here: two high-schoolers. More digital tools, more options, many more hours spent studying.
Laurent and I are happy to answer any questions you have about the tablet. Feel free to ask in comments. Also there are a lot of product reviews and Q&A; about the tablet at Amazon.
Over the years I've written a few posts about raising artists (I didn't set out to raise artists, they just came that way). These posts include answering questions like: what do you do with all that art? what supplies do you recommend? etc. Find those posts here. See also A little bit of drawing in which I share free software tools we use in our home for art.
This post has affiliate links.
Renee Tougas participates in affiliate marketing, including the Amazon Services LLC Associates Program. Whenever you buy something on Amazon from a link you clicked here, I get a (very) small percentage of that sale. See disclosure for further explanation.
Filed Under
Resource Library
You can subscribe to comments on this article using this form.
If you have already commented on this article, you do not need to do this, as you were automatically subscribed.