Year of the Move: Outsourcing & Compromises
February 7, 2011
After telling you my words for the month of January (and perhaps this whole winter as we prepare for our move) are organize and evaluate I'm ready to share two more, outsourcing and compromise. 
Making compromises and outsourcing parts of our life were the inevitable consequences of seriously evaluating our goals and organizing our time.
It seems a bit embarrassing to talk about this part, especially when you have to make small steps backward to make big steps forward.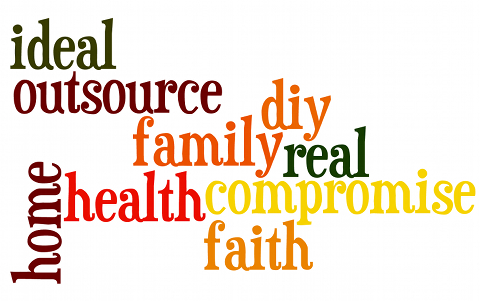 What do I mean by that? I mean that we have made many little changes in the past few years to live more intentionally, simply and in keeping with our values. In every case, making these small changes involved a task that took time. Real time each and every day. Time, that right now, we don't have to give. 
I've blogged about these choices and changes over the years and in the spirit of full disclosure (I have nothing to hide) I need to share the things we aren't doing in this season that in the past we were. Things you may have read on my blog and might mistakenly assume we are still doing right now, in this very intense life season.
Before I spill the beans though I need to share those most dearest of values, those things we will not compromise or outsource. Listed in no particular order (it's hard to put these in a hierarchy since they are so interconnected).
We will not outsource raising our children or home education.
We will not compromise on our family's physical health and well being. It is very tempting but ultimately futile to make short term sacrifices in your health to reach long term goals. Ie: We are not burning the candle at both ends, losing sleep to "make things happen", nor are we skimping on the time or money we invest in healthy food. Exercise, eating healthy and being well rested are necessary, not optional.
We will not compromise on our spiritual well being and our relationship with God, in short our faith. Reading the bible, prayer and meeting with other Christians are non-negotiables. And by this I don't mean church. We prefer unChurch.
We are committed to remaining consumer debt-free (we still have a mortgage).
We will not compromise on our relationships with each other and spending time together as a family. This is difficult when Damien works full time and then works on building future sources of income at night when he's home from work. But we are committed to hiking one day a week, sharing meals, connecting in the evenings and of course the ongoing give and take of family life.
So with all those basics in place - faith, home, family, and health, where are we making compromises?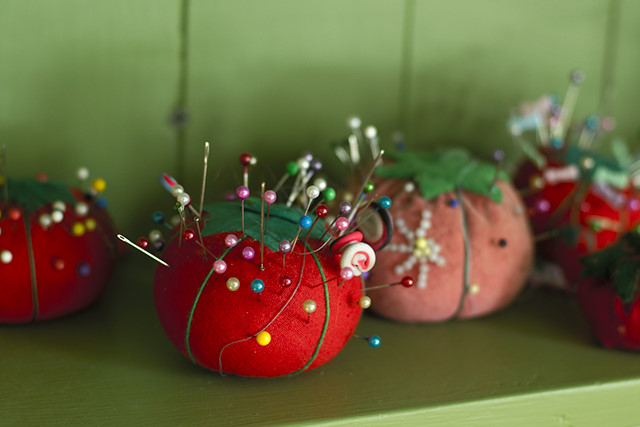 Unfortunately we are making compromises and outsourcing in the areas of self-sufficiency, DIY and more sustainable living. Which is really ironic since one intended goal of this move is to further our family in these exact areas. Go figure.
The reality though is that there is only so much time and some of the little changes (that have grown into big changes) we've made to get us to this point are just not doable right now. So here they are listed in no particular order:
For the first time ever in a couple years I am... are you ready for this... buying soap. That was a hard decision to make but it was kind of fun in a way. I've heard good things about Dr. Bronners' soap bars and at $2.89/bar through my buying club they are the most affordable natural bar I can find. I'm especially enjoying the orange scented variety. I've spent my showers thinking about how I might be able to produce a bar as hard as this when I start making soap again. 
Speaking of buying clubs I've whittled my personal club down to one other member and I've bowed out of contributing in anyway to the Maine buying club I belong to. Belonging, but not actively contributing, is an unusual position for me. In general, giving and participating in our community have taken a definite backseat this season. 
The sewing machine sits mostly silent. The fall of 2009 had Damien going great guns sewing clothes for our family (it was amazing) and that is our intention for the future. But right now his energies are required elsewhere. Like securing work for post-move. 
The education budget has taken yet another hit as we tighten our financial belt even more. This is difficult because it limits our access to educational opportunities, supplies, and curriculum. I remind myself, this too shall pass and be sure to note all the things our children are learning during this time. 
Remember how I said, "come hell or high water" we're walking to the library? We never made it that far into the season to encounter either. The reality of a very packed weekly schedule necessitates using the car once again for regular transport to the library. 
In my ideal life the days are full but not so busy there isn't time to hand wash our dishes. In my ideal life we live in a smaller home (mortgage free) with no space for a dishwasher. In my real life I own a nice energy efficient dishwasher, that after almost a year of not using (because I wanted to life my ideal life now) I am gratefully using again. 
It goes without saying I haven't taken one look at a seed catalog. Growing some of our own food is not a reality for us this year.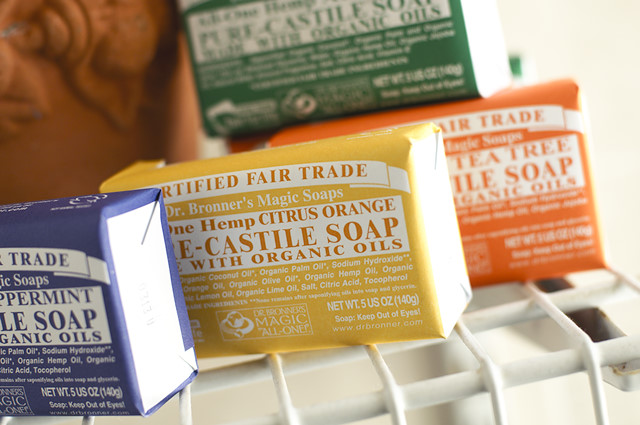 I keep thinking there are some other things I'm missing in this list. If I think of them later I'll add them. 
In short, we're trusting "the system" right now to take care of the basics of food, clothing, shelter and transportation. Having to trust the system when you don't really trust the system feels vulnerable, but unavoidable.
Making this move is an incredible amount of work for our family. We are going after our dreams but that means giving everything we have in terms time, heart and resources, while not compromising on the non-negotiables. I wish we didn't have to make compromises but we do.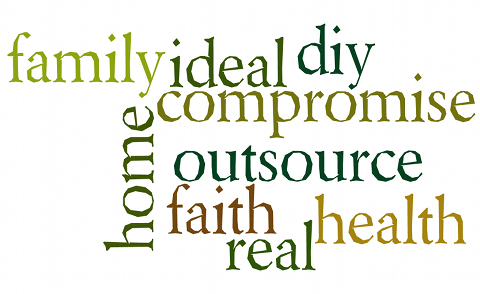 Where do you make compromises when the going gets tough?
PS. Feel free to ask any specific questions you have about our move. I'll do my best to answer them in comments or dedicated post. 
Renee Tougas participates in affiliate marketing, including the Amazon Services LLC Associates Program. Whenever you buy something on Amazon from a link you clicked here, I get a (very) small percentage of that sale. See disclosure for further explanation.
You can subscribe to comments on this article using this form.
If you have already commented on this article, you do not need to do this, as you were automatically subscribed.