Whole Food Vegan Pesto
August 23, 2011
I've got some food related posts coming your way over the next couple weeks here at FIMBY. I'm contributing to Heather's 30 Day Vegan summer course and it's inspired me to share some of my vegan kitchen knowledge and experience here at the same time. I don't want you to miss out on all the fun.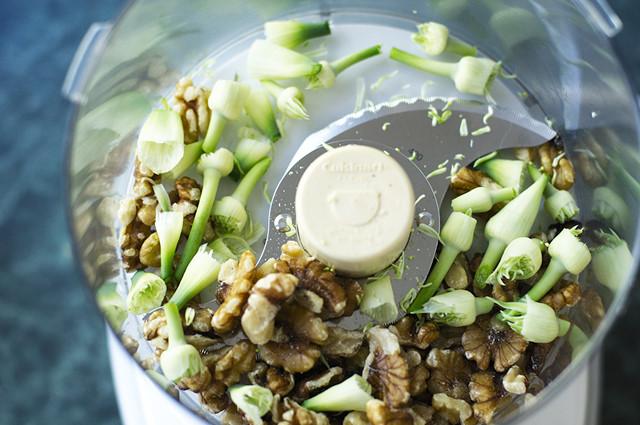 In the works is a menu planning resource with a one week late-summer menu, an e-book cookbook giveaway and a post where I finally answer the question "what about children who are picky eaters?". Those of you who know me in person know how I answer that question but the rest of you will just have to wait. Let's just say the people-pleasing part of myself is a bit nervous about writing that piece (eek).
I'd like to start this vegan kitchen extravaganza with my whole food pesto recipe.
What's up with a whole food pesto recipe? Well, for a variety of health reasons that I'm not going to discuss in this post (not enough time to write all that out) our family really limits the amount of refined fats and oils we eat. We eat lots of nuts and other whole plant food sources of fats though.
I refer you to the following doctors/nutritional researchers if you'd like to look into the issue more yourself - Dr. Fuhrman, Dr. Esselstyn and Dr. McDougall. See this list for more recommended reading.
Basically, what it comes down to is wanting to eat as many of our calories as possible from high nutrient, whole food sources. The same goes for processed sweets. We prefer to get our nutrition from the whole food not the sap, the syrup, the juice etc. Not to say we never eat oil or sugar, just not regularly. 
All that to explain why I've come up with a pesto recipe without olive oil. 
We've been eating fresh garden basil here for the past couple weeks and this recipe is one of our favorites. I served this to my parents a couple weeks ago and it was a hit.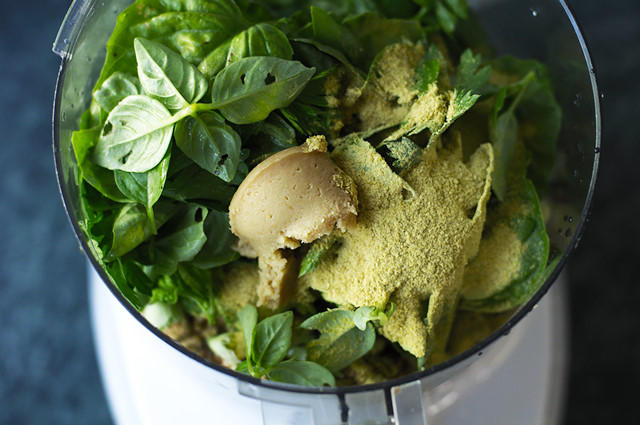 Click to view and print → Whole Food Vegan Pesto
Whole Food Vegan Pesto
Ingredients
1 cup walnuts
3 cloves garlic, can use garlic scapes instead.
1⁄4 cup dried basil (I make this with dried basil all winter) or 1 bunch fresh basil, leaves washed
3 tbsp. nutritional yeast
1 tbsp. (light) miso, or more to taste
Directions
Put all ingredients in food processor and process till slightly "mealy" or smooth, depending on your preference.
Notes
I dare you to not eat it by the spoonful it's so yummy.
This recipe makes enough for one family sized batch of pasta or a big stir fry of veggies.
This is a very thick sauce (it doesn't have the usual oil to help thin it out). Is best mixed into pasta with hands or by adding another liquid, like the juice of a tomato. If adding to stir fry veggies it should mix-in fine. 
Do you have a favorite way to eat basil?
Renee Tougas participates in affiliate marketing, including the Amazon Services LLC Associates Program. Whenever you buy something on Amazon from a link you clicked here, I get a (very) small percentage of that sale. See disclosure for further explanation.
Filed Under
Resource Library
You can subscribe to comments on this article using this form.
If you have already commented on this article, you do not need to do this, as you were automatically subscribed.