An E-Cookbook Giveaway
August 25, 2011
Today at 30 Day Vegan I am sharing my first ever cooking demonstration video - cooking beans in a pressure cooker. Welcome, if you are visiting from Heather's course.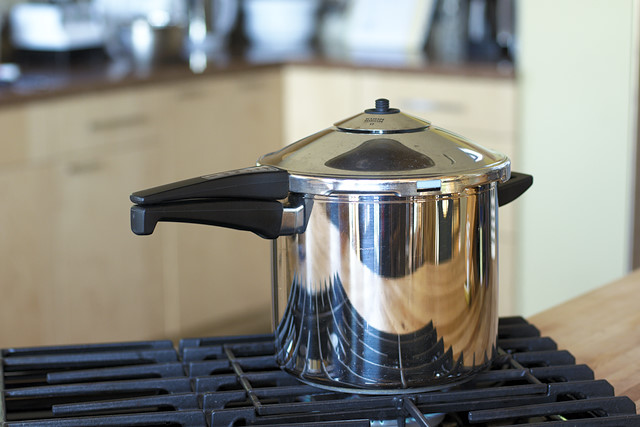 I didn't want to leave all my regular readers (and random visitors of course) out in the cold while posting that video at 30 Day Vegan. So I have a little giveaway for you all. Two copies of Jill Nussinow's e-cookbook The New Fast Food: The Veggie Queen Pressure Cooks Whole Food Meals in Less Than 30 Minutes.
This downloadable ebook in PDF format teaches you all that you need to know about pressure cooking from what to look for when buying one, how they work, how to successfully cook in one and most importantly more than 100 recipes, each of which can be cooked in less than 30 minutes.

Jill packs her more than 15 years of pressure cooking knowledge and teaching into timing charts and recipes for grains, beans, vegetables, soups, stew, chili and other mixed dishes, as well as desserts. 222 pages that you can be printed out as needed.

Learn how to save time, money, personal and planetary energy with the greenest, tastiest and most eco-friendly way to cook.
Jill knows her stuff when it comes to vegan cooking, she's not called the Veggie Queen for nothing. And she also knows her stuff when it comes to pressure cooking. Put the two together and you get an excellent resource in vegan pressure cooking.
Don't have a pressure cooker? No worries, "The New Fast Food" e-cookbook walks you through the process of finding one that will suit your family's needs.
As I've said at 30 Day Vegan today and also in Tools for a Whole Foods (Plant Based) Kitchen my Kuhn Rikon Duromatic pressure cooker is one of my favorite and most often used kitchen tools. It seriously helps me cook healthy meals more efficiently and faster. It saves me time in the kitchen, and that's something I truly value. 
I've owned my pressure cooker for at least six years and have successfully cooked beans, soups, and stews. But after reviewing Jill's e-cookbook I realize I've only scratched the surface of what my pressure cooker can do.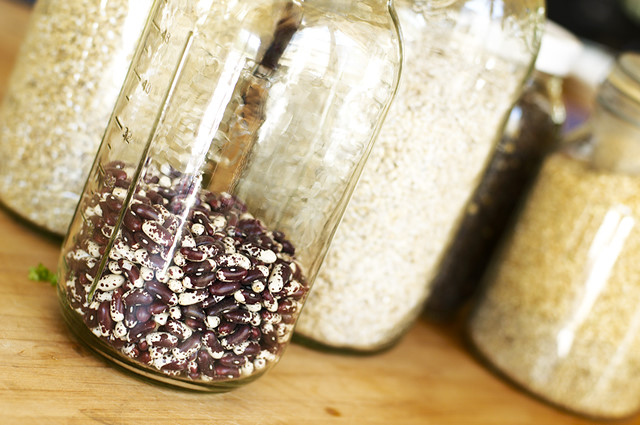 In the last couple weeks I've perfected (third times a charm) cooking brown rice, start to finish in under 30 minutes. Something I had never tried before.
I've learned that I've been using more water than I need to when I cook beans and veggies in my pressure cooker, a habit carried over from my pre-pressure cooking days. And that if I simply layer my veggies correctly in the pot I can use less water and get a better texture. Just say no to mushy veggies.
"The New Fast Food" has a bunch of recipes I want to try and I've had good success with an adjusted version (I never follow recipes exactly, I'm cursed that way) of Potato Cauliflower Curry. I tripled the recipe to feed our crew, though I probably only needed to double it. Including the time required to chop the veggies the whole process did take longer than 30 minutes but the actual cooking part was under half an hour.
I love how seasonal Jill's recipes are. Perfect if you are eating from the garden, farm or farmer's market.
But there's more than "just" recipes in this book, although I think the cookbook is worth its price for the recipes alone.
I personally enjoyed Jill's pressure cooking story. I love story. I also liked the short review of pressure cooker history, which is more interesting than it sounds.
Jill covers all the bases of owning a pressure cooker from how to choose one to how to clean it when you burn something to the bottom. And you probably will burn something, at least once. I have, more than once. But Jill even walks you through how to save that pot of food from tasting burnt. Is she a miracle worker or what?
Jill is also very twitter available. I tweeted some ambivalence with my first rice cooking experience and she came to the rescue with advice (I could have found in the book if I just looked closer) and encouragement. She's like a personal pressure cooker instructor.
I've been pressure cooking for years, but as you can see, in the month I've had this e-cookbook I've learned a lot. I guess you can teach an old vegan dog new tricks.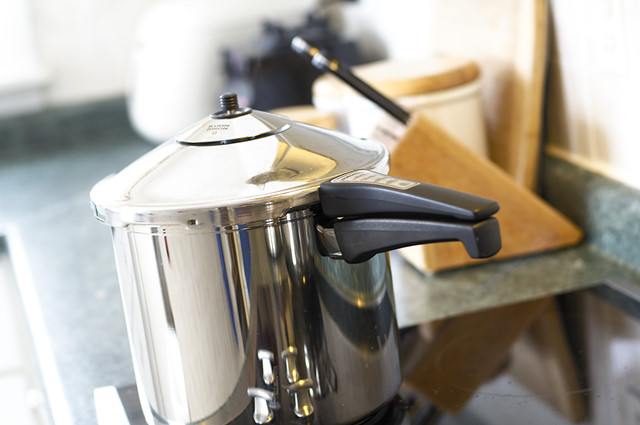 I really like Jill's book. It's given me some new inspiration in the kitchen. It's helped me better understand and use my pressure cooker and there's a bunch of recipes to try.
The recipes look good (I've only tested one). Jill is an excellent instructor and help. And the e-cookbook is a wealth of information about pressure cooking. 
If you own a pressure cooker or are considering buying one you'll want to get this e-cookbook. With regards to buying a pressure cooker, I don't regret that purchase for one minute. We've more than paid for it with all the money we've saved in cooking beans from scratch.
To win a copy of "The New Fast Food: The Veggie Queen Pressure Cooks Whole Food Meals in Less Than 30 Minutes" leave a comment in this post with the name or names of your favorite vegetables. In the abundance of summer it sure is hard to choose, isn't it?
Comments will be closed at midnight EST, Wednesday, August 31st. Two lucky winners will be chosen.
Winners of this giveaway were Sharon (commenter 32) and Parul (commenter 43). Congrats you two. Thanks everyone for participating.
Renee Tougas participates in affiliate marketing, including the Amazon Services LLC Associates Program. Whenever you buy something on Amazon from a link you clicked here, I get a (very) small percentage of that sale. See disclosure for further explanation.
You can subscribe to comments on this article using this form.
If you have already commented on this article, you do not need to do this, as you were automatically subscribed.