When The Boy is Away... The Girls Will Play
July 14, 2010
This past weekend we took a whirlwind trip up into New Brunswick to pick up Laurent from my parents. We were supposed to meet in Maine and be hiking Mt. Katahdin with them (and a bunch of other people) but the rain and thunderstorms thwarted those plans. So instead we were gone a mere 28 hours; spent the night at a campground visiting my folks and came back home a complete family again.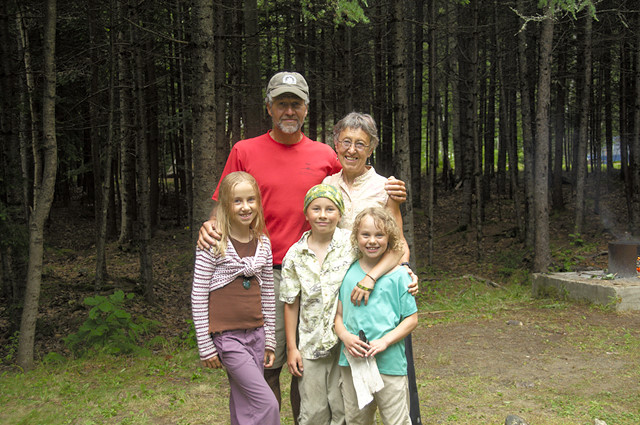 The girls are happy to once again have their brother, friend and playmate back. Although we had some good times while he was gone, I'm sure our days were not as special as being the only grandchild spending two weeks with your adoring grandparents. Quite predictably, Laurent had a fabulous time and (not so predictably) honestly didn't miss me a stitch.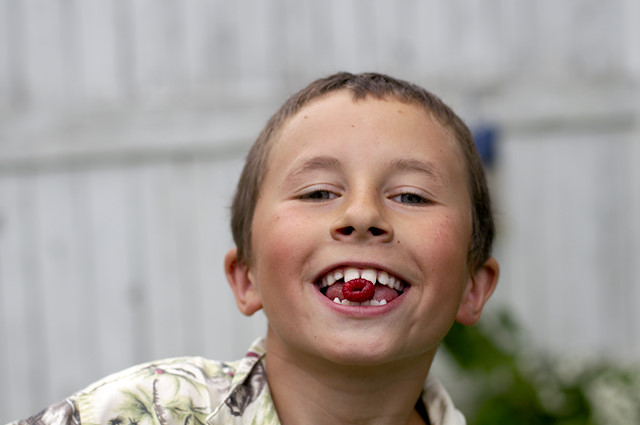 He's a live-in-the-moment kind of person and had just too much fun with Nana & Papa to think twice about missing life at home. I'm happy for this time he had and the memories, handbuilt wooden boats, beach stones and thrift store clothes Nana bought him that he came home with.
But while he was away the girls and I made a few memories also. And we even made some wardrobe updates of our own.
Pretty Sewing
One project I started that I haven't yet completed was to sew simple sundresses for the girls. I hope to finish these by next week and post my progress. Even more simple than those dresses though was making flouncy skirts out of existing sundresses.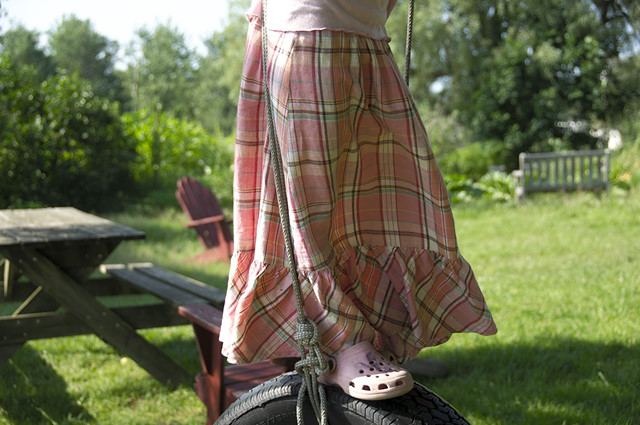 The girls both owned sundresses with bodices that were either too small, itchy or just plain uncomfortable. After a few easy measurements I cut the tops off, sewed a casing, inserted an elastic and viola... pretty skirts. The perfect project for the girly groove we had going on. 
A Paper Doll Craft
The main creative project of the last couple weeks has been paper dolls. And in Celine's case magnetic dolls. What started this crafting was the store bought magnetic doll set (pictured below) the girls were given on our trip to Gaspé. Celine originally thought she'd like to buy herself a tin, so the girls would each have one, but changed her mind to making them herself. That's my girl!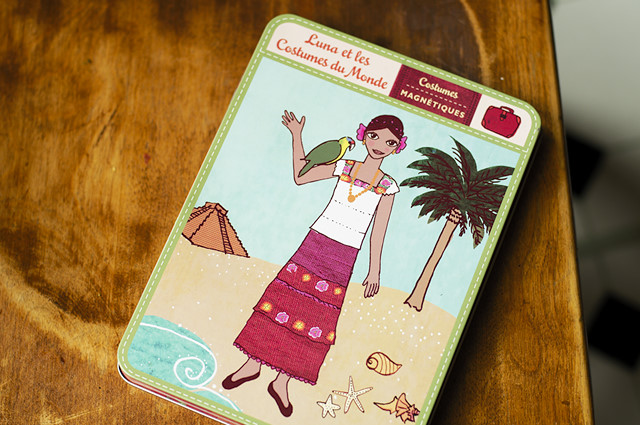 Celine made magnetic paper dolls and their clothes using two methods:
Drawing and coloring designs right on the magnet sheet (purchased at the craft store).
Printing paper designs and glueing on the magnet.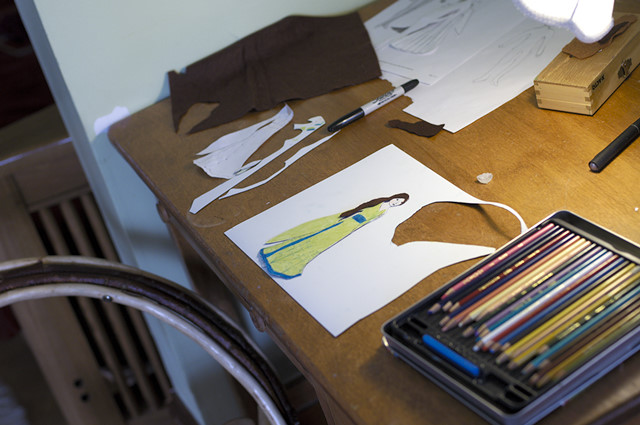 Brienne stuck to printing paper dolls and their clothes to play with and add to her collection.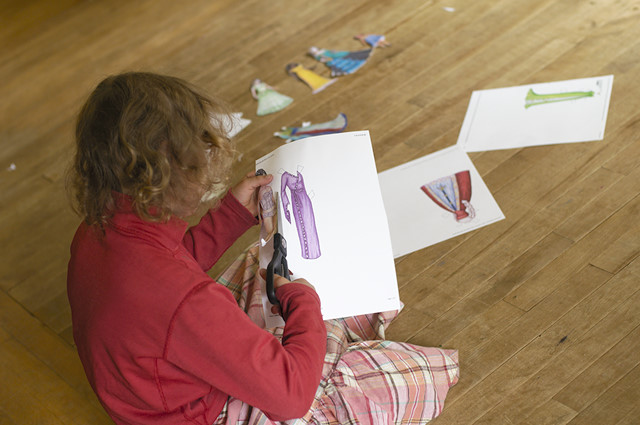 Liana's Paper Doll Blog was our go-to source for the past two weeks. The girls spent hours surfing her hand drawn designs, picking and choosing their favorites to print. Celine prefers medieval-like designs and Brienne likes anything pink or purple! 
The fashions on this blog are definitely womanly and not little girl paper dolls but they were perfect my girls' interest in grown-up gowns and period costumes. It's a very cool blog with many, many dresses and dolls.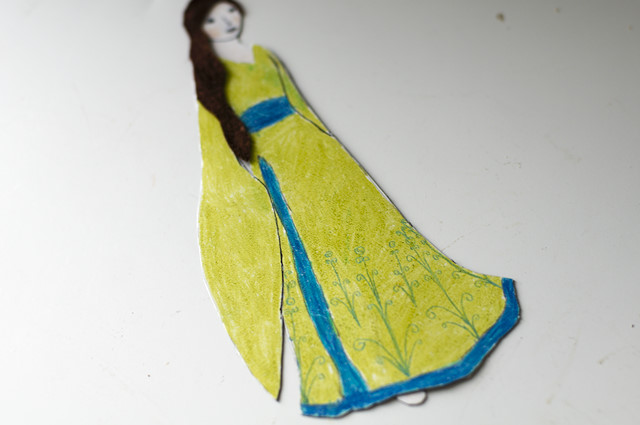 Celine's own medieval dress design
A Princess Story
Knowing that I'd have just the girls for a couple weeks I even picked up a princess read aloud for bedtime. The Ordinary Princess is the delightful tale of a princess who is given the gift of "being ordinary" by her fairy godmother, much to the dismay of the royal court. She grows up looking rather ordinary, loving nature and the outdoors, not at all interested in normal princess life.
When she is threatened to be married off to anyone who will take her (she is very ordinary looking after all) she runs away to live in the forest and eventually finds employment as a kitchen maid in the castle of the neighboring kingdom. While employed there she unwittingly falls in love with the young, very nice, "man-of-all-work" king, whose real identity is hidden from her, as hers is from him.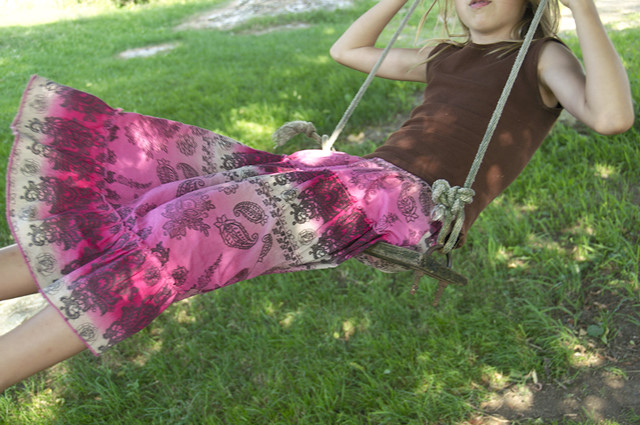 The story ends as you might expect, with a royal marriage - but this one based on loving each other for who they are, not their royal identities or pretty complexions. I personally loved the honeymoon in the small forest cottage.
This was the perfect princess story to read to my outdoor loving girls with just the right amount of girly romance, being who you are and "finding one's true love". All three of us loved it.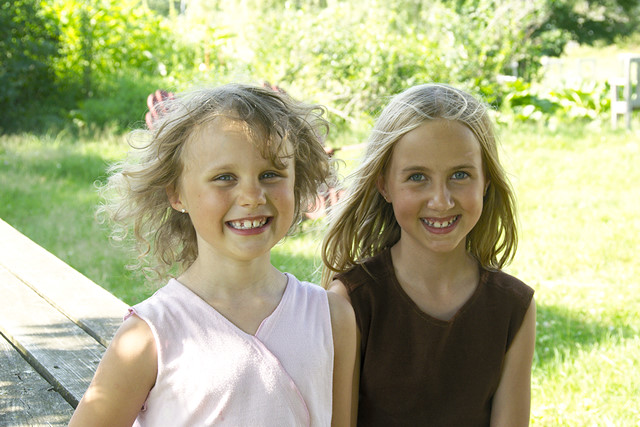 And there you have it. Two weeks of pretty, dolls, pink and princesses. Now that Laurent is back the days are more rambunctious, goofy and filled with insects and fantastical creatures once again. Family life as normal. It feels wonderful.
You can subscribe to comments on this article using this form.
If you have already commented on this article, you do not need to do this, as you were automatically subscribed.