Wednesday's Journal ~ Day in Our Life
September 22, 2010
As promised in this post, I want to share what a real day looks like at our house. I didn't choose this day (Wednesday, September 15th) for any particular reason. In fact if I wanted to paint a better picture I should of told the story of a day when all goes according to plan. But this is our day, unvarnished and a little crazy.
6:45 Get up after a very weird dream. Head downstairs, no one else is up yet. Load the washing machine, make my one cup of coffee for the day. Sit down with my journal and Bible.

I was lacking a morning photo from this day so I grabbed this from later in the week. 
All the other photos are from the actual Wednesday.
7:15 Chat with Damien. Brienne is up and snuggly.
7:30 Start baking muffins (making up the recipe as I go) with Brienne. Remind whoever is within earshot I'm doing lightly colored laundry, so please go get them for me. Brienne starts stripping her dirty clothes off.
8:00 I kiss Celine awake (she must of missed her 7:30 alarm) and notice Brienne's little piles of mess that need to be picked up. Remind Brienne to tidy her bedside table.
8:15 Muffins are finally in the oven. Celine is out of bed and checking the weather online, deciding if it's a t-shirt or sweater kind of day. We all line up, literally, to kiss Damien as he goes out the door to work. Time for my morning computer reading - RSS & e-mail.
9:00 After eating muffins while all doing our own thing (reading, computer stuff and lego play - since the kids do all the vacuuming I've finally decided they can eat our morning meal where they like) it's time to snuggle on the couch for reading practice with the younger two. They complain they are still hungry (were too distracted playing to focus on eating). Too bad, they can finish eating later, absolutely no eating on the couch. Celine does typing practice.
9:20 Ack! I forget to start the washing machine. Close the lid and get it going. Will have to hang this load before lunch instead of during our usual chore time. Outside. Time for some physical activity on the trampoline, mommy included.
9:40 I'm done bouncing, exhausted. Kids convince me to let them stay bouncing. Twist my rubber arm. This morning is a school prep block for me so kids need to create their own activities. I like them to be outside for my sanity and their health. I go inside, drink a huge glass of water. And fill it up again for the morning.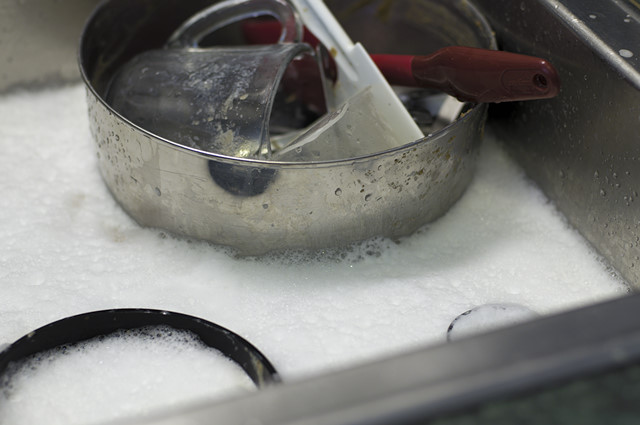 Instead of finishing chores, which was the plan after bouncing, I start right in on my school prep. Need to find some more books for Celine to read, my constant challenge. I am still in my favorite pj bottoms, my cozy mermaid blue socks, and my new-to-me green goodwill sweater. Thinking sometime before lunch I should truly get dressed. 
10:30 The kids are back in after an hour of intense physical activity. Brienne is sulking because Laurent pushed the (empty) rain barrel on her. No damage done.
Now we will finish our morning chores. Celine does the math to divide the remaining muffins (I baked 18 altogether, how many do we each get?) Celine chooses the chore music this morning, Johnny Cash, and we all bop to the beat while working. I bandage Brienne's trampoline rug burn with salve and a gauze.
11:15 Chores all done, mostly lots of dish washing. Laurent is drawing, Brienne is typing (with Celine's help) the story from her reading practice book on the computer. All of this is self-directed activity as I'm back in the Sonlight Catalog finding book titles for Celine to read.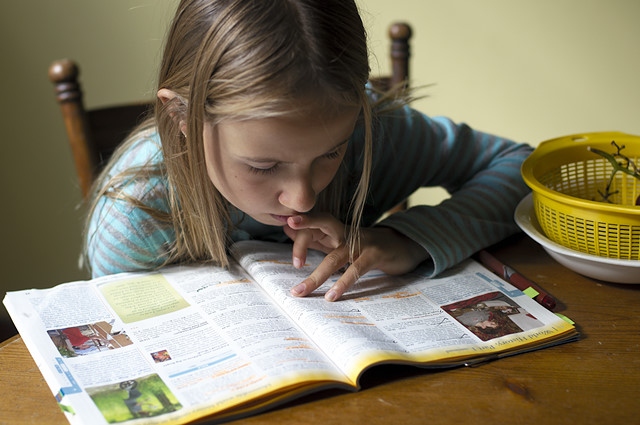 Celine surveys the options from the Sonlight catalog
12:00 I could read book titles & descriptions forever but I really must make lunch now. I decide to get dressed. Damien pops in for 10 minutes on his lunchtime walk, we talk about the weekend's hike. Lunch is leftovers from the last few days mixed together as fried rice. Take what you've got, dump it in the pot... Celine looks over books I've chosen and select a couple titles she is interested in.
12:30 We're sitting down to eat when the mailman delivers a couple packages. Lego that Celine has purchased with her own money and a hiking shelter for a review article Damien is writing. (Free backpacking gear is just one benefit of our blogging gigs). I quickly check my e-mail. We collect ourselves again to eat. The kids are listening to Lewis Carroll's "Through the Looking Glass" and I do my best to tune that out while I read my own book.
1:00 Inspired by my book I do 5 minutes of Shaker research on the computer. On a whim (a reminder in my e-mail actually) we walk over to the farmer's market, one block away. But my fridge is full from our farm share and the garden so I take photos instead of buying vegetables.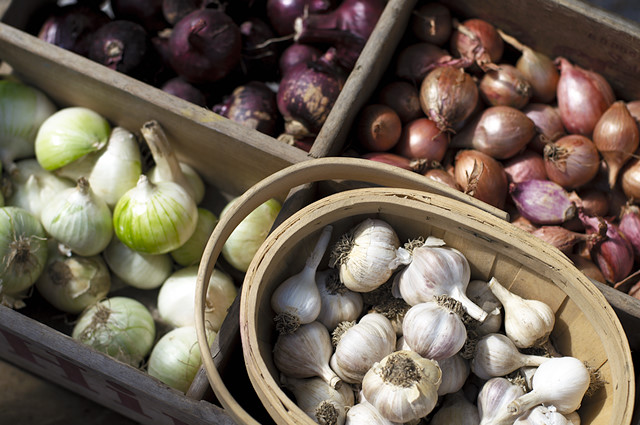 1:20 Back home I see the wet laundry basket sitting on the back step. Ack! I forgot. We quickly hang the laundry and then head inside and do the lunch dishes.
1:45 After a rather chaotic lunch "hour" I sit down at the computer, with a cup of herbal tea, for my writing time. Kids are playing with lego in the same room.
2:50 I hit the publish button on this post. Yes, that post took a whole hour to write (1/2 hour write, 1/2 hour edit, give or take). The kids are still engrossed in lego. I start chopping vegetables for supper. I barely get the cauliflower washed when I need to make a quick snack - popcorn & apples before heading out for errands.
3:20 No time to eat popcorn at home. We portion it into paper bags and hop in the car to go to the (within walking distance, but no time to walk) hair salon for the girls' haircuts. Veggies sit uncut on the counter.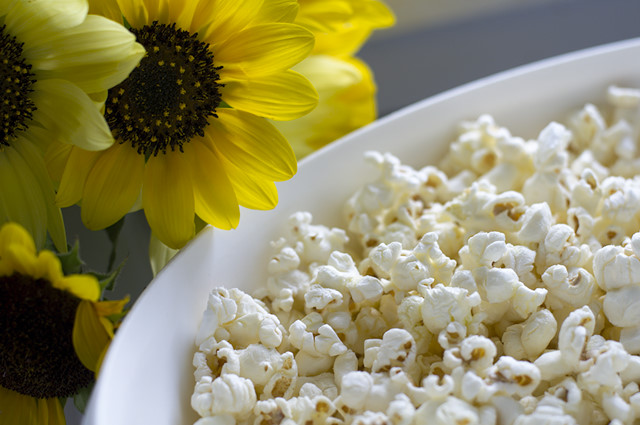 5:20 Home again. Late. Tried to squeeze in too many stops - hair cuts, monthly trip to the grocery store for a few items and a quick stop to the liquor store for vodka (herbal tinctures and vanilla extract in the works). Damien's at home already waiting for the car to drive to his urban oasis running spot. Realize that I could have bought vodka at the grocery store. Ugh.
5:30 Hoping to get supper on the table shortly after 6pm I change the menu to pancakes & fruit. The ultimate, easy comfort meal which is much needed after the super stressful visit to the hair salon (You don't want to know).
6:15 Pancakes are done and most of the dishes were washed as I cooked. Damien gets back from running and we start eating. The kiddos scarf down more pancakes each than either Damien or I eat. It's the maple syrup I tell you.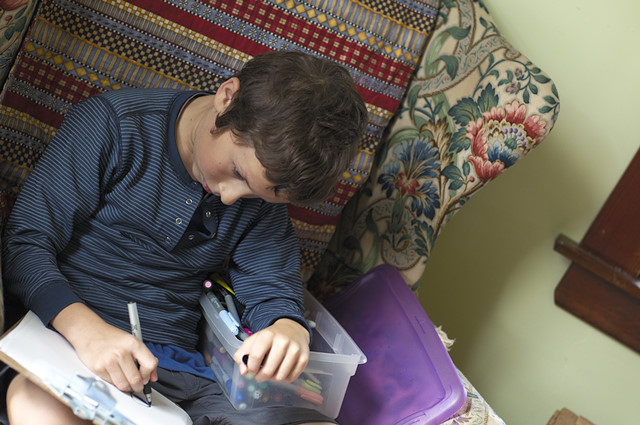 6:45 I dash out the door with Brienne to meet with a couple buying club members who are taking over my duties as treasurer. I wonder why I choose to chronicle a day with so much dashing out the door. Some days I stay home exclusively (my favorite) and others I might go out once but rarely three times!
7:45 Home again and a little lighter having passed off that responsibility. Laundry is still on the line. Sigh. I knew I'd pay for forgetting it first thing this morning. I take it off the line and go inside to put away the toilet paper, pasta sauce, salsa and other sundry items from my grocery trip.
8:00 Time to hang out and just chill. Damien continues working on much needed computer maintenance (like a disabled search function on FIMBY). Laurent is building a lego transformer, Celine is contemplating her new lego, and Brienne is writing in her journal.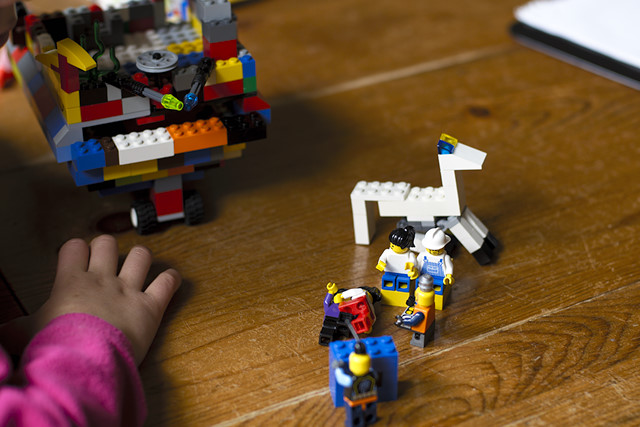 8:45 After a brief chat with our tenant I read and snuggle with the kids. We are currently enjoying Ragweed.
9:15 I shoo the younger two kids off my bed and into their own. Celine sets her own bedtime. I brush my teeth and contemplate going to bed now myself but decide to check my mail and RSS.
9:45 I wander around the internet a bit, following links on blogs. I struggle with feelings of blogging and professional incompentency and give myself little pep talks before sinking into blog-envy. Notice that so far there are only two comments on my Simple Homeschool post and think maybe something is wrong with my writing. Maybe I'm too obtuse? Not hip enough? Not providing very useful information?  
10:05 Tired of my self-doubt I make the conscious decision to walk away from the computer. Try to read a book but I'm too distracted by my blogging insecurities.
10:15 Give up reading, turn off my brain and settle down for sleep.
This day was not very average, but then what day is?
I usually:
do my morning computer time before breakfast (not during), as the family is slowly waking up and getting dressed  
cook vegetables for supper
check my e-mail and RSS after supper
have bedtime read-aloud earlier than 8:45
have constructive and creative time on the computer before bed 
I don't usually:
have such a busy lunch time
leave the house on 3 separate occasions (ouch)
need to de-stress my family after a trip to the salon (ouch again)
It was an unusual day, but that in itself is to be expected. Somedays life just gets a little messy.
Renee Tougas participates in affiliate marketing, including the Amazon Services LLC Associates Program. Whenever you buy something on Amazon from a link you clicked here, I get a (very) small percentage of that sale. See disclosure for further explanation.
Filed Under
Resource Library
You can subscribe to comments on this article using this form.
If you have already commented on this article, you do not need to do this, as you were automatically subscribed.