Trial & Error
March 29, 2010
Trial
News from the homemade toothpaste front.  The recipe I'm using right now, a modification of this recipe shared by Rachel at her blog, Clean is great for cleaning our teeth. My teeth feel awesome and it doesn't even taste too bad. But... (you knew a but was coming) I haven't been able to make a toothpaste that is really breath freshening.
Our family eats a lot of garlic, every day, and I'm getting tired of asking my dear husband every time he leans in to give me smooch, "Hey bud, when was the last time you brushed your teeth?" Only to find out it was a few minutes ago but his breath (how do you say this nicely) smells.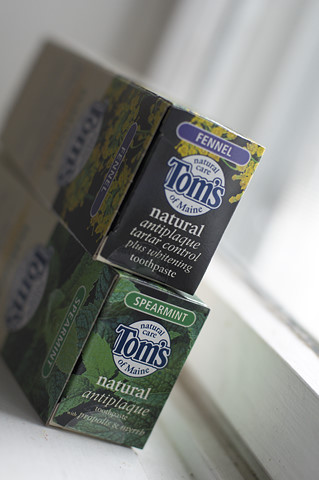 I'm no sweet smelling rose myself (how do you go about smelling your own breath?), he just doesn't complain about it. And then as Damien was leaving the house this morning and we were all giving morning send-off kisses and hugs he mentioned "You know, I'm not totally sold on making our own toothpaste." I hear you honey, loud and clear. 
Not to say he's not open to trying other alternatives. Next up is tooth powder that he is going to find on-line and order for us to try - he's the internet shopper around here. But until then we're back to good ol' Toms and fresh breath. (Bring those lips over here baby!)
Error
I have a soap giveaway coming very soon. In fact it was going to be published tomorrow or the day after. But after 45 minutes of writing that post this afternoon I lost it into cyberspace. I know how it happened and let's just say I don't want to talk about it right now.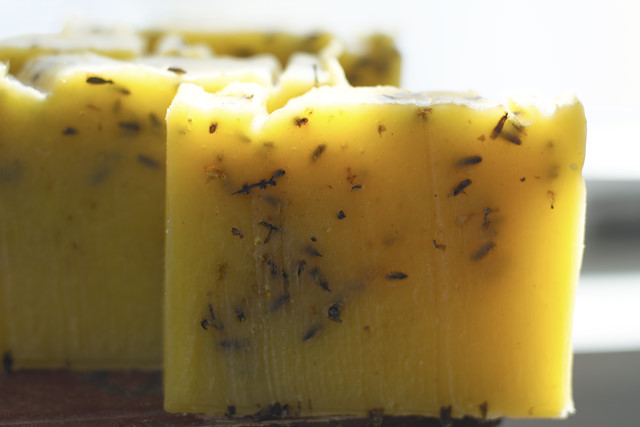 Keep your eyes open though because some day in the next couple weeks will be a giveaway for two bars of LuSa Organics natural soap. Pictured above is my most recent batch of soap which I've christened Lavender Lemonade. Very lovely for spring.
That's the less-than-fun natural soap and body care news from fun in my back yard.
You can subscribe to comments on this article using this form.
If you have already commented on this article, you do not need to do this, as you were automatically subscribed.