Toothpaste's last stand
February 11, 2010
When people find out that I make my own soap and other body care products they sometimes ask if I also make toothpaste. My answer has, and still is, not yet.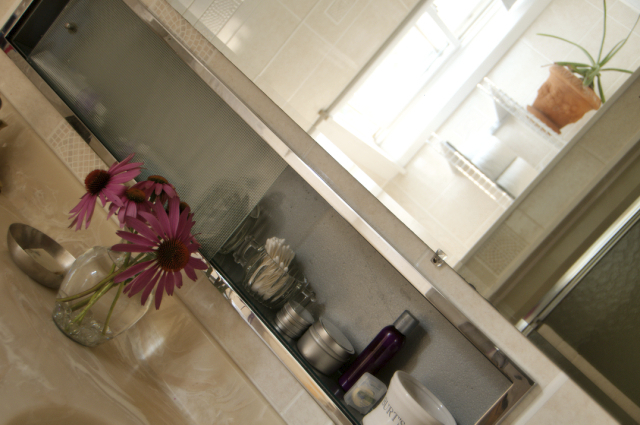 For some reason I have been afraid of making toothpaste. I think it's because everyone in my family dislikes either baking soda or mint; two of the most common ingredients in make-your-own recipes. So we've used multiple tubes of toothpaste for the past couple years. A non-baking soda mint and a fennel flavor from Tom's of Maine; the once local show now owned by Colgate-Palmolive. There is a bunch of other stuff in these toothpastes I am suspicious of so it's time to tackle the toothpaste monster and make my own.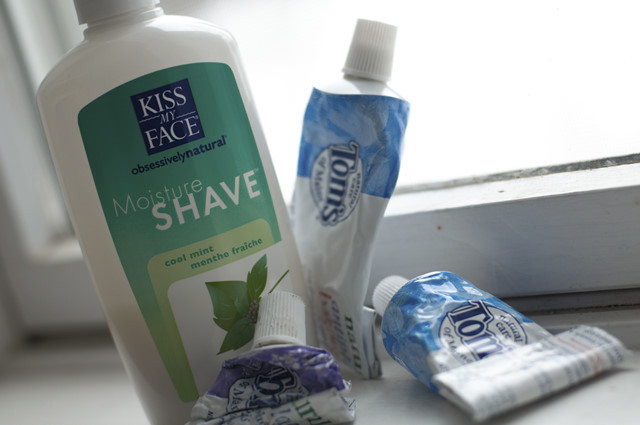 But not until these tubes are all used up. So, while we're talking toothpaste can someone recommend me a not-so-baking-soda tasting, mouth freshening, teeth cleaning, tried and true recipe?
I've come across lots on the internet and read about the evils of regular toothpaste in green beauty books but nobody I trust has said "here, this is my recipe and I like it". Maybe you could be that person in my life.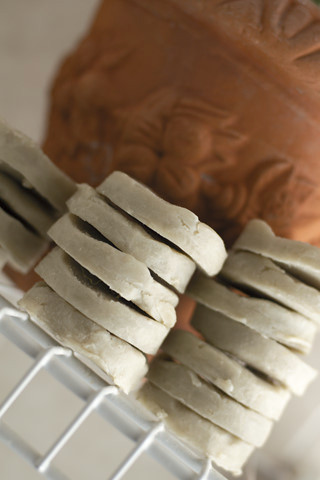 Toothpaste is one of the few store bought body care products we use. The other is shaving lotion. We are still using up our last bottle of that stuff and when it's gone I have this pile of shaving soap ready for Damien to use. The special consideration for him is that he uses an old fashioned straight razor, like right out of a western movie.
This requires a good lather since there's no "moisturizing strips" in the razor or other feel good attachments. Just a cold blade of sharpened steel scraping against your face. So, the man needs a moisturizing, frothy lather.
I designed this soap to provide that but he has yet to try it since he's been using this last bottle of Kiss My Face for ages. Really, I made this soap last summer in anticipation of the bottle's eminent emptying. I think it might be multiplying in the cupboard.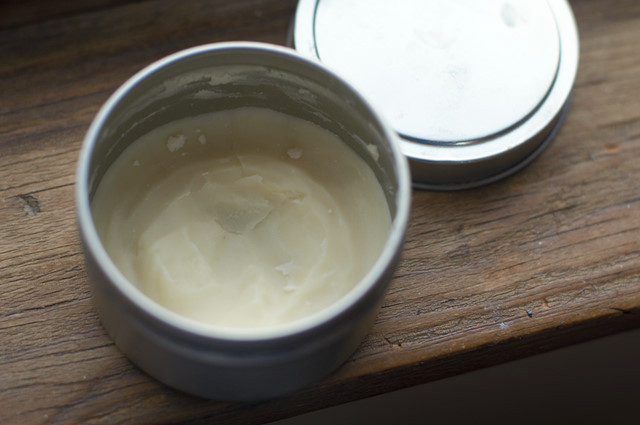 Homemade products we use for our skin and hair
Washing faces, body and hair - Whatever soap happens to be sitting in the shower or soap dish; all handmade by me. The same bar is used by everybody for everything. I addressed special considerations for long hair in this hair care post from last summer.
Moisturizing face & body - Homemade, super easy to make lotion. I use this all year round on my hands and also on my face in the winter. My soap is very moisturizing so my skin does not dry out with washing, except in the driest months of mid winter and even then not so much. Ellen recently posted on her experience making my recipe. It really is easy. For lips I use my homemade lip balm.
Deodorant - Would you excommunicate me if I told you I rarely wear it? Even in summer. My husband never wears it, but does shower every night. Either we stink to high heaven and nobody's told us or we are a-ok since I don't smell us. But when I do want to wear some because, as Brienne says, "This smells good. I could smell it forever." (her nose was not in my armpit by the way but smelling the tin) I use a modification of this famous angry chicken recipe. I substituted cocoa butter for shea butter and used lavender and rosemary essential oils.
Shaving - As I mentioned above Damien uses Kiss My Face shaving lotion and will someday (soon?) start my shaving soap. He uses jojoba oil, straight up, as an aftershave. I apply witch hazel and lotion after I shave. I may be a nature girl but I still shave my legs from time to time.
I would like to add that I've read of people using just oil to wash their face, baking soda for their hair and a pat of cornstarch under their arms. These probably work but I actually like the mixing and making of beautiful smelling soaps, lotions and balms. It's an outlet for my creativity and makes wonderful gifts for family and friends. A jar of baking soda just isn't the same.
You wash, shave, moisturize, brush and maybe deodorize. And you walk out of the bathroom feeling like a million bucks. And if you're only using 3 or 4 products that you've made in your own kitchen your scent doesn't pollute the breathing space around you, your bathroom stays super tidy (except for reproducing toothbrushes - where do those come from?) and packing for camping/backpacking/travel is a cinch.
Any questions? Am I missing anything? And please, if you can, recommend a toothpaste recipe (that you've tried). I'd be forever indebted.
You can subscribe to comments on this article using this form.
If you have already commented on this article, you do not need to do this, as you were automatically subscribed.