Time I spend feeding my family
August 12, 2009
I'm all done.
For the past 2 1/2 days I've been either cooking or shopping for:
our anniversary meal and
the full lunch I provided today for the 20 or so Lots to Garden student gardeners.
The menu for the 20 hungry student gardeners? Baked beans, tabouleh, and Maine apple blueberry crisp.
Seems appropriate I finally publish the amount of time I spend in the kitchen.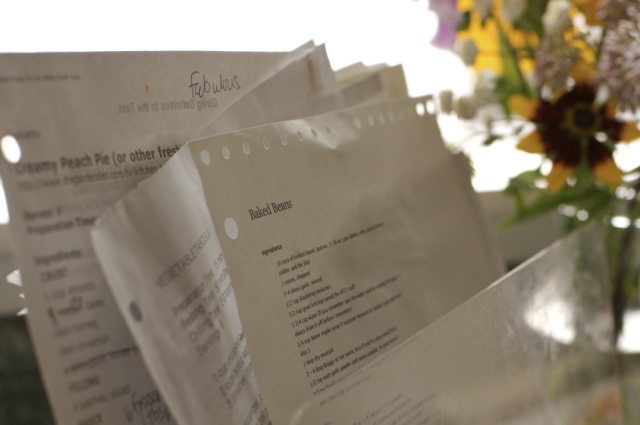 I had promised proposed a series of posts about my vegan kitchen oh... a couple months ago. But summer has been busy and really who wants to talk about all the time they spend in the kitchen.
I do intend to follow through on the series, if in a somewhat disorganized fashion - I still haven't explained why we eat mostly vegan. But hang tight, it's coming... someday. And when it's all done I'll organize it all and make a link somewhere for easy reference. But I suppose first I have to write it.
We are what we eat
This is my basic food philosophy that drives everything I do (and don't do) in the kitchen.
This is why we choose to eat mostly plants and why we take time and care to prepare them. I've mentioned it before and I'll say it again our diet is the foundation of our health. Certainly we need rest, lots of physical activity, and a bunch of other stuff for health but nothing affects us quite so much on the most basic level as the food we eat.
Think about it - your very cells are created and maintained by the food you eat. You literally are what you eat. When I think about it this way I don't feel so bad about the amount of time I spend planning, shopping, cooking and cleaning in the kitchen.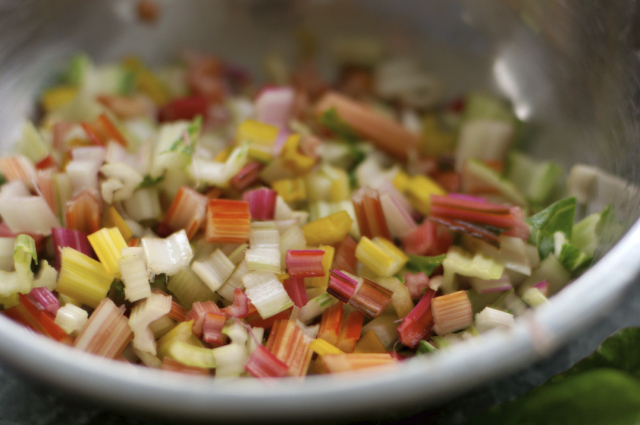 Food is social and a touchstone in our lives
Shared meals are the anchor of our day. Meals are not something we grab on the go, pick up and eat while driving (yuck) or scarf down on our way.
Meals are cornerstone daily rituals we plan for, anticipate, cook, sit down and eat and of course clean up after three times each day. This makes me think it would be nice to live in a place where they only eat 2 meals a day - does such a place exist?
Sometimes we prepare meals ahead to be eaten on the trail, or at camp and rarely on our way there. Almost once a week someone is joining us for one of these simple occasions called a meal. I've come to accept, some days grudgingly, that something so central to our lives will take time. Just as all important things do.
Let's get real
We live in a culture where time spent on food preparation is not valued. Not when "food" can come from a box or drive-thru window. This isn't to say we never eat speedy food, we do.
A little truth telling: a while ago KFC had a free meal offer to try their new "healthy" grilled chicken breast. Apparently Oprah was in on it and everything. Well, a free meal for a family of 5 is a hard offer to pass up - Damien read about it somewhere I can blame him.
We put aside our knowledge of how those chickens were treated and God know what else goes on behind closed KFC doors and went out for supper. The meal was so-so but the waste was absolutely abominable. Our whole family felt terrible that we generated more packaging waste in one meal than we do all week at home. It was disgusting.
The other truth is that although I love homemaking, especially writing about homemaking (hee, hee), and I LOVE eating I don't always relish my role as cook and menu planner. Most of it is so mundane, an endless chore to be repeated over and over, and I think if I didn't have NPR in the background I might go bonkers some days. But on better days I see my time in the kitchen as caring for my family, which in reality is the case. Loving people in a way so intimate and ancient.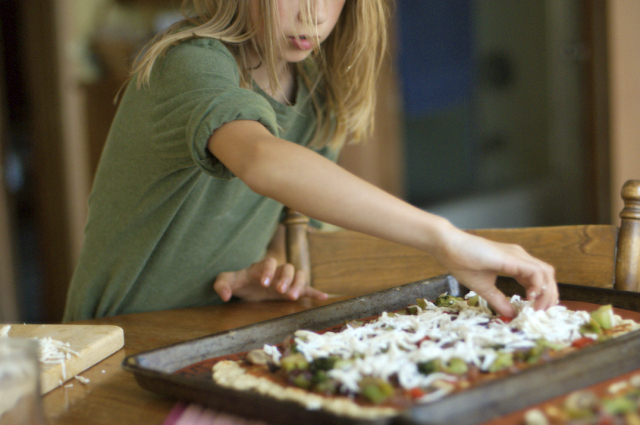 The numbers
Want to know how much time it is exactly that I spend preparing food for my family?
Yes? Read on. No? Come back tomorrow.
Daily schedule:
7:30-8:30 Preparing breakfast and starting lunch, eating breakfast with the kids. Damien helps make lunch.
9:00-10:00 Cleaning up the kitchen while supervising kid chores and other randomness. Washing our soy milk maker takes an inordinate amount of time, unfortunately.
12:00-1:00 Back in the kitchen to finish lunch prep and eat with the kids. Reading while we eat is a lovely mid-day break.
1:00-1:30 Clean up the kitchen. Cook beans and otherwise prepare things ahead for supper.
4:30-5:30 Cooking in the kitchen. Supper this time. Usually very simple with basic, unprocessed ingredients. Once a week Celine cooks supper with Damien or sometimes myself.
6:00-6:30ish Supper with the family. The kids seem to eat quick and run but Damien and I talk, dream, plan.
6:30-7:30 Cleaning up the kitchen - again. It used to be that Damien would do most of the dishes and he still does his share but the kids need him more these days so I'm back in there washing up. If the farm share is large I'll also preserve food during this time.
8:00 Kitchen closed! Except on soap making nights.
Notes: Kids do all the table & dishwasher chores. One day each weekend we hike and have our "rest day". We eat breakfast at home but that's it. Lunch is packed the night before and we eat supper out at our favorite Thai restaurant.
Weekly tasks:
Mondays - 1 hour or so to plan the menu and prepare the grocery list. Used to be much longer when we first changed out diets.
Tuesday - 1 hour to shop at the produce market (cheaper than grocery store, very important when 40% of our budget is spent on fresh plant foods) and health food store.
Wednesday - 15 minutes at the local farmer's market. (June-Oct)
Thursday - 1-1.5 hrs visit and pick up at our farm. Would take only .5 hour but kiddos need to play - part of why we have a farm share. (June-Oct)
Once a month:
1-2 hrs - prepare our family's buying club order.
3-5 hrs - co-ordinate, receive, sort and financially manage our buying club.
1 hr - trip to the grocery store for toilet paper and a few other items.
Conclusions
Do you know what all those numbers work out to? On a good week, with no special days, I work a whopping 8 hours a day either planning, buying or preparing food in the kitchen!
Unbelievable. I had always thought cooking was my full-time job, now I have the numbers to prove it!
When I was talking to Damien about this last night, who truly values what I do in this regard for our family, he had a couple things to say:
I basically run a restaurant, but one where the customers participate and don't get to choose what they eat!
It's time to get the kids more involved in the kitchen. (Light bulb moment.) As of this morning they are each assigned to one meal a day to help with prep work. I would love to work myself down to a part-time job.
There's a very good reason every time someone comes in our front door they say "it smells so good in here".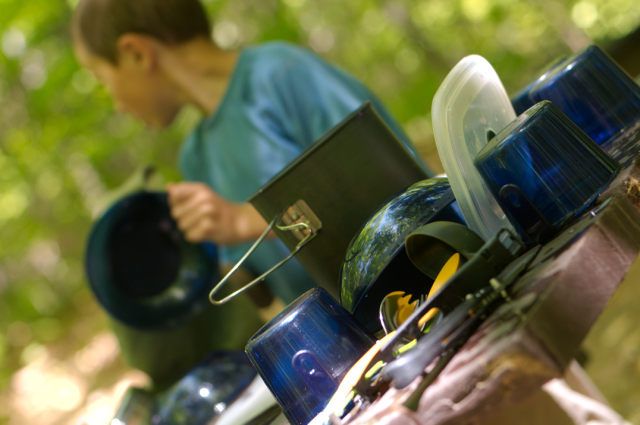 Last thoughts
In many parts of the world mothers would give all they have to trade places with me. A woman; cherished and protected by her husband, provided with a home, garden and finances with which to buy healthy and abundant food for her family. When I think of all the mothers who literally spend their entire lives trying to feed their children I'm ashamed for my complaining.
I'm grateful for my kitchen, the farms and stores, my pantry, garden and fridge. And my family and friends to cook for and share it all with.
I know I'm not the only mama who spends her life in the kitchen so if anyone has any advice on how I can reduce my time in the kitchen and still eat very healthy I'd love to hear it. Keep in mind fresh vegetables don't lend themselves well to batch cooking and it's difficult to repeat menus with seasonal farm-based meals. But if you've got tips I'd love to hear them!
Filed Under
Part of Series
Resource Library
You can subscribe to comments on this article using this form.
If you have already commented on this article, you do not need to do this, as you were automatically subscribed.