Three Kids One Bedroom (not littles either) ~ How We Do It
September 20, 2011
As most of you know we have been living with my parents this summer as we launch Life 3.0. My parents built their house for a couple in their stage of life -  with children long grown and gone and coming for visits only now and then (the more visits the better as far as my parents are concerned).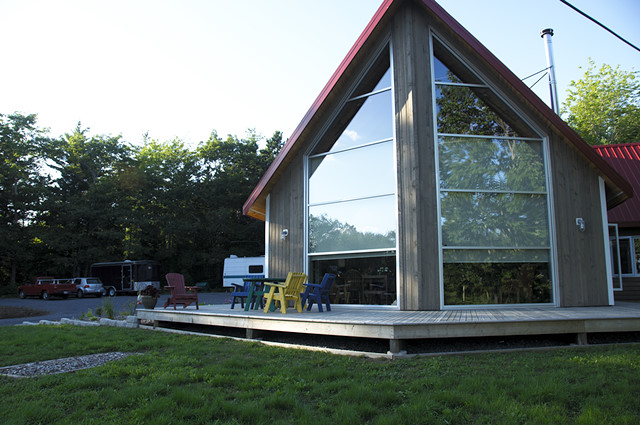 There is a large loft bedroom/sitting room where my parents sleep, an office and a guest room. That's it for "rooms". Everything else is open (except for the bathrooms of course). 
Thankfully, they still own the trailer they lived in while building the house. That trailer is where Damien and I sleep. Which leaves the guest room for the kids to share.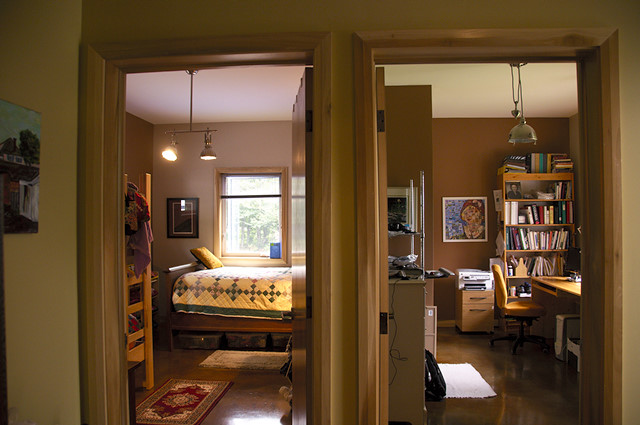 Trust me, this is not a tale of woe of how our children all share a bedroom. A first world "problem" like that is offensive to the majority of the world's population. Or at least, it offends me on their behalf.
We see nothing wrong kids sharing rooms. And in our case, Damien and I are sleeping in a space barely bigger than the bed. And that trailer is starting to get chilly at night. I'm not complaining, I love the honest-to-goodness comfort of wool blankets and flannel sheets on cold nights.
But three children (& all their stuff) sharing one room does beg the "How do you do that?" question for most North Americans. Us North Americans we love our space. The bigger the better. Or not.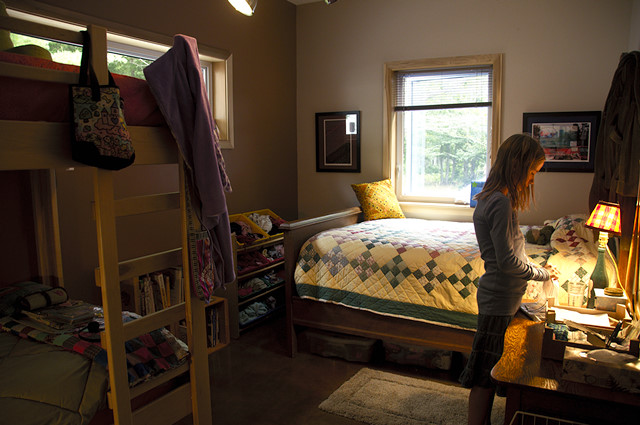 We will be moving soon out of my parents spacious and beautiful (but bedroom-challenged) home and will be finding our own place to live again. As we search for a new place to live I plan to share our housing philosophy.  What we're looking for in a home to rent and eventually what we want for a space of our own.
You will either laugh (the Tougas' think they can do what?!) or cry (those poor delusional Tougas') depending on your perspective. But you're going to have to wait a little while longer for that emotional roller coaster.
Today I want to show you how our kids have shared one bedroom for the summer at my parents. 
Stack the Beds
This is the classic, stuff-more-kids into a room strategy. My dad is a builder (he built the house) so he built this bunkbed for the kids to sleep in before we came. Yeah, my parent's are just like that. I'm crazy blessed. I know. 
The other bed you see in the room is way gorgeous for a kids' room. My parents have collected so much antique furniture over the years that it just oozes out of all the spaces and is used yes, even for a kid's bed. Lucky ducks, while we sleep in a cold trailer (smile).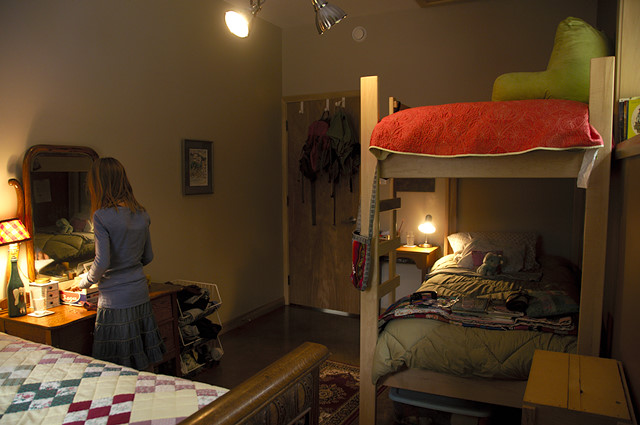 Stuff in Bins & Less Stuff
Before we moved we went through a large, painful, time consuming purge. It was all worth it. And we will do it again after we fully unpack our trailer when we arrive at our next destination. More than half of our belongings have stayed in the trailer this summer. Much of that is furniture, which we didn't unpack while living at my parents.
Some of it is... I don't remember what. If I can't even remember what's in there it probably doesn't need to be kept. Oh... goodie, goodie (rubbing hands in downsizing glee). More purging yet to come.
Back to the bins. When we moved we gave the kids each a set number of plastic stackable storage bins. We wanted the bins to stack for easy moving and be short enough on their own to roll under beds. A small investment at Lowe's (no fancy stores like Ikea where we lived) for a long term gain of controlled chaos in the kids' rooms. 
This photo below shows them all out and stacked but they actually stay stored under the beds.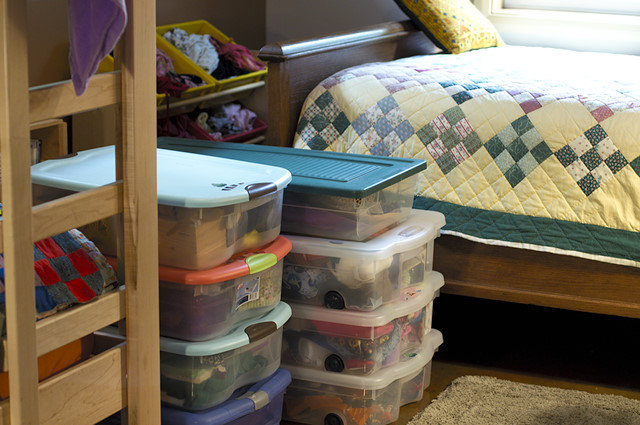 Each child got two or three bins, depending on their needs, and were told they could keep only what fit in those bins. After we arrived the same principle applied - they can only keep and move to our next destination what fits in those bins. 
There is a constant evaluation and re-evaluation of goods going on because new stuff is always coming in the door. Seashells and sand dollars. Jewelry and souvenirs. And who knows what else.
A couple years ago I wrote a guest post at Small Notebook, 3 Steps to Less Clutter in the Kids' Rooms. Those steps still apply and are the strategies we've used for years to keep kid-clutter manageable.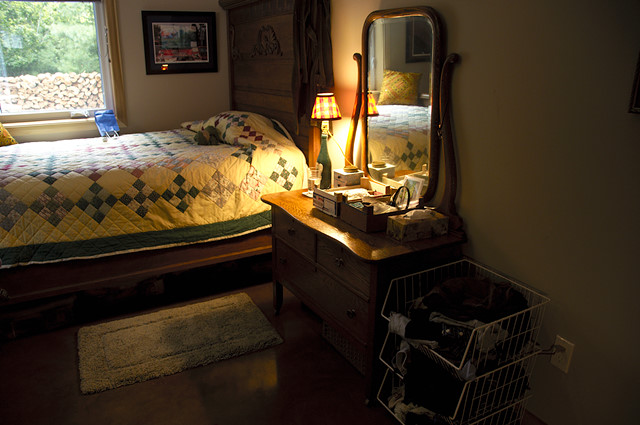 The best part of having done that regularly when they were little is that they now de-clutter on their own. This is true of nearly all child training - the things you work on, teach, and spend so much time doing with little ones does become routine for them as they grow. So take heart mamas with young ones. It's worth all that effort!
Can I hear a hallelujah chorus?
Having a defined space for collections of stuff is one of the best ideas ever for controlling chaos. And if you want to downsize your life, you downsize the bins. And if you want to both downsize and be somewhat portable, ie: moving your family twice in six months, bins are simply a must have. 
The things not stored in our kids' bins are clothing, lego, general craft supplies (Brienne is a paper crafter and keeps a bin under her bed for that), school and learning supplies, and their handmade castles and miniature toys.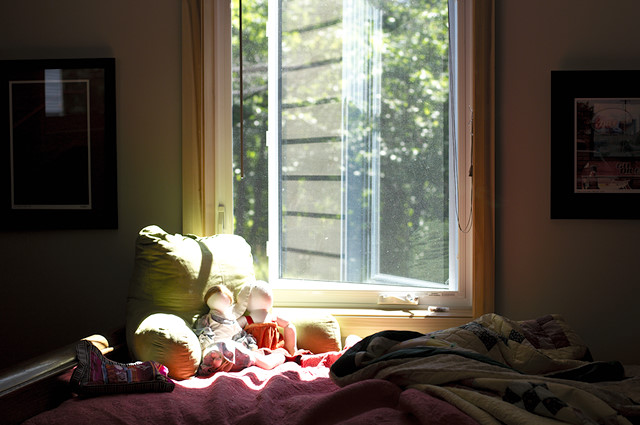 Sounds like a lot but you'd be amazed at how much is still in those bins. Polly pockets and sling shots, samuari swords and dress up shoes, barbies and corn husk dolls. You know, kid stuff. 
As far as their clothes (there is no closet in the room) the kids have three separate storage areas for clothing. One for each of them.
A dresser for Celine, a re-purposed toy storage shelf for Brienne, and a three-tier wire basket shelf for Laurent.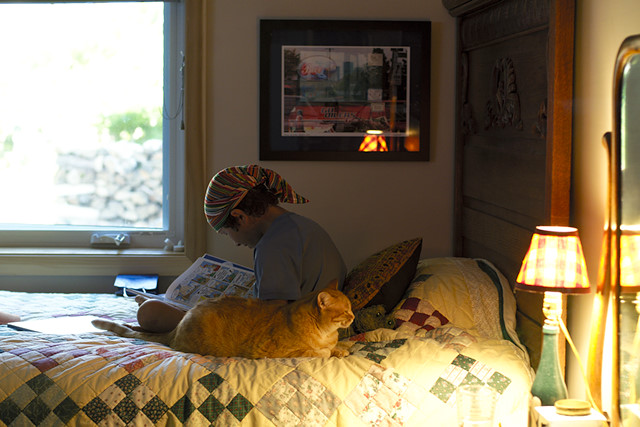 The clothing storage isn't the most elegant but it worked. When we move and the kids will be (probably) all sharing a room again we will keep the clothing storage system behind drawers or closet doors. I don't care if the drawers are messy, I just don't want to see it. 
When we move again packing up the kids' room should be a breeze.
Knock on antique wood. 
Filed Under
Resource Library
You can subscribe to comments on this article using this form.
If you have already commented on this article, you do not need to do this, as you were automatically subscribed.