The View Around Here ~ The Week in Photos
July 13, 2012
Things are coming along well with the house getting mostly finished so we can finish moving in. Here's some of our week, in photos.
Damien has been building beds for the girls. In the course of our move we gave away the girls' old beds because we thought they were ugly (though solid wood and very useful). Our plan was to someday construct pieces of furniture that looked nice and worked better in smaller living spaces.
You know the oft-quoted words of William Morris, "Have nothing in your house that you do not know to be useful, or believe to be beautiful."  - that's what we're working towards. We want kid's beds that are low profile, that will easily fit in loft spaces, are aesthetically pleasing, and have adequate underbed storage space.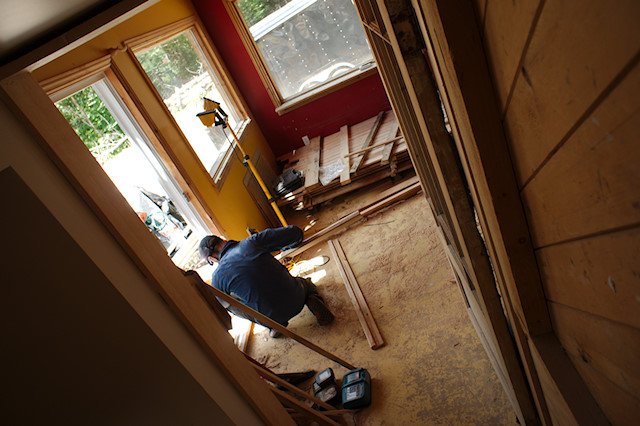 We took advantage of having easy access to an amazing array of wood working tools (while our friend works on the house) and decided this was the week for that project. Those will be done by early next week. Yes, more pics to follow and perhaps plans.
Céline is back at the sewing machine, and this feels like home.
We didn't take the sewing machine to Montréal and it's nice to have it available again. You see that doll laid out on the corner of the table in the photo below? That's a doll commission Céline is working on. A project that was put on hold for awhile during our packing, her birthday trip and our month in Montréal.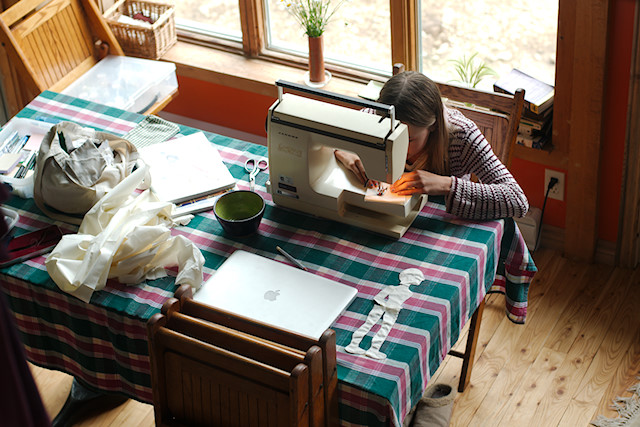 Taking time out of the busy-ness to chill with a documentary - streaming via satellite. I am so thankful the internet works as we had hoped it would!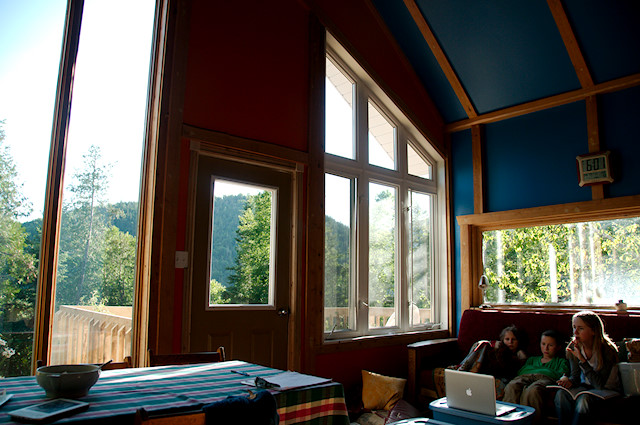 No coffee table? A plastic tub will work just fine, thank you very much. And notice - the blue tarp is down so instead you see the lovely birch leaves. I do love this view. 
More sewing, and look - deck rails!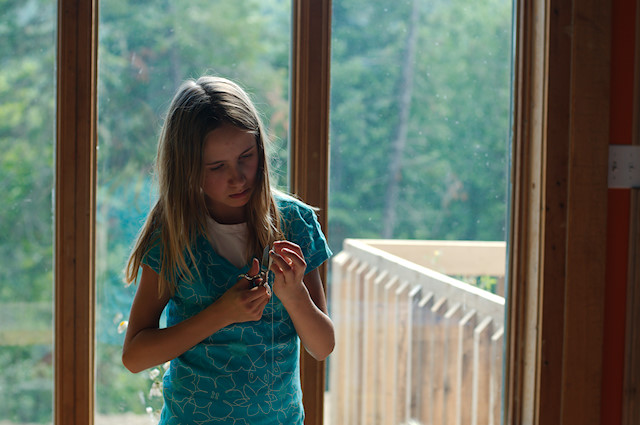 The cooking, eating, dishwashing (we don't do much take out and paper plates, even when we move), crafting, living, and pretend-play "set ups" stops for nothing.
As a fine layer of sawdust settles over everything in the house the kids are unfazed - of course. This day was a rolicking boat ride on a stormy ocean sea. (Kids working out in their play how I feel about life right now?)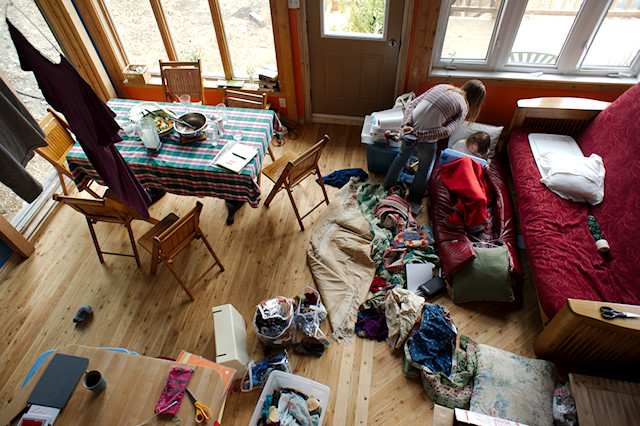 That shirt in the upper left - that's laundry hanging from a metal rod in the ceiling. I have no idea why that rod is there, but it comes in handy since we once again, are living without a clothes dryer. 
Look here! A project done. The deck completed. My tomatoes have had a rough time of it and are the scrawniest looking container tomatoes you've ever seen but they are starting to produce fruit. They are tenacious.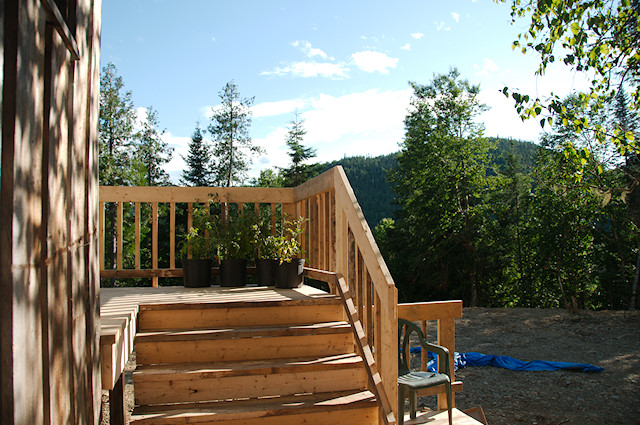 You'll notice a gravely yard and blue tarp in the background. Because a new sewer and well had to be dug there is no "yard" after all that digging. Just leveled rocks and dirt. Lots of rocks, this is a mountainside. You won't be seeing gardening photos anytime soon, though I did get the compost bin set up this week.
The outside is a construction zone with wood, plywood, metal sheeting, scaffolding, tarps, and refuse scattered about. Which is why I'm not sharing many outdoor photos. 
It's not all work around here! You see the "mountain" hump in the deck photo? Well, between our chalet and that mountain lies a gorgeous river. This river: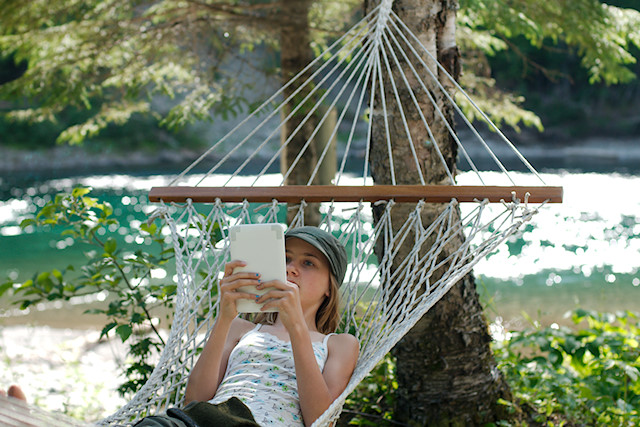 It's a salmon fishing river and there are certain restrictions about where you can swim. I'm learning those as we go. This particular spot, just down the hill from our house, is "officially" closed to swimming, or so I'm told. We'll see.
There are other places along the river to go. Many access points but this one is the most beautiful we've found so far.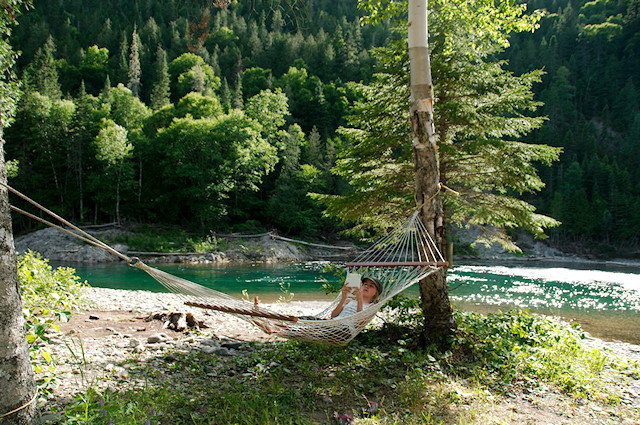 And that's the week. A lot of project work, some homeschool "studies" (reading in the hammock and other activities not pictured), a lot of cooking and eating (not pictured), and lots of playing outdoors for the kids. 
Next week we'll set up the girls' new beds and organize their room. Laurent will get his own small basement room in August - it's time to separate the boy from the girls.
The room you see Damien working in (in the first photo) will be emptied so we can move all our boxes out of the trailer so we can sell it. Hopefully we'll have more river play and swimming next week and maybe even finish an e-book. 
Happy Weekending!
Renee Tougas participates in affiliate marketing, including the Amazon Services LLC Associates Program. Whenever you buy something on Amazon from a link you clicked here, I get a (very) small percentage of that sale. See disclosure for further explanation.
You can subscribe to comments on this article using this form.
If you have already commented on this article, you do not need to do this, as you were automatically subscribed.