The View Around Here
July 27, 2012
I'm a little pressed for time this morning, we're working on the PDF version of Eat This. The Kindle version is ready to go. The book will also be available at Barnes & Noble and iTunes. We're aiming for a Monday release. Damien and I are a DIY publishing shop. We do it all. And yes, we are available for hire.
As always I have way more photos from the week than I have the space to share or the time to tell the accompanying story. There's always a story.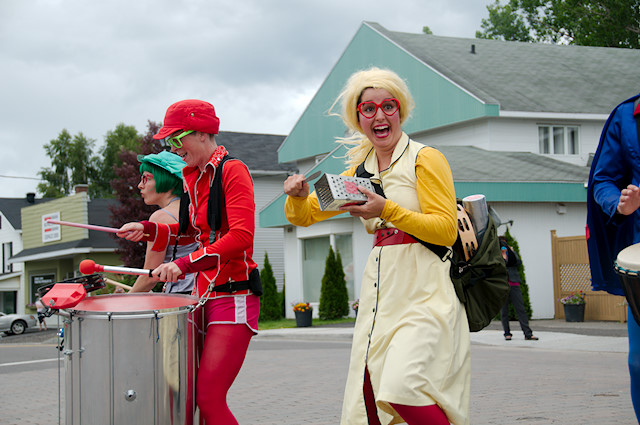 Summer is a busy time for my camera and on any given day I might take upwards of two hundred photos, especially since we are living somewhere new and there is so much to photograph and remember about this time. I edit and post process all those photos (I shoot everything in RAW format); deleting many, keywording the rest, posting some here and saving the rest for posterity and other publications (our product reviews, online articles and blog posts).
I've whittled down the photos from the past week's camera activity (we have two cameras) to just under two hundred. I've done well.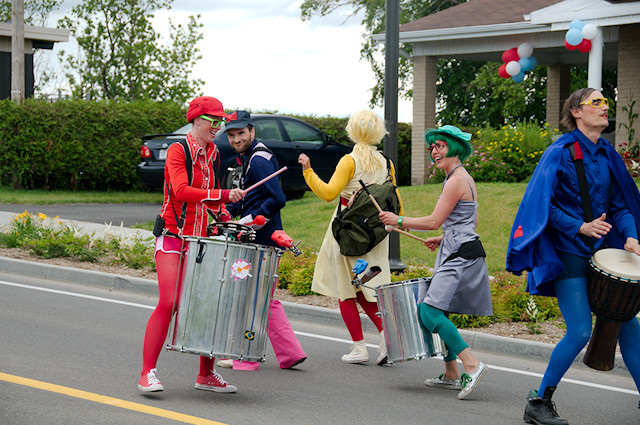 Québec has a unique circus culture, for lack of a better description. Montréal is home to the largest circus school in North America, there's a circus school on the Gaspe peninsula even, and there is a general "theatrical arts" feel to the culture here. I don't quite know how to describe it. I don't think the locals or provincial natives notice this much, but as an outsider I'm really aware of it. It's cool.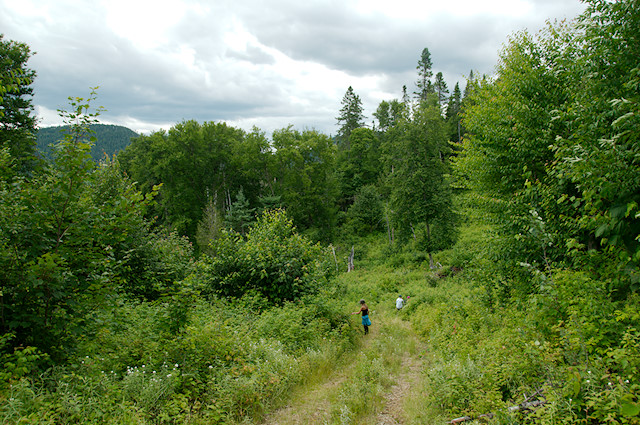 I've mentioned before that I have missed the raspberries from my old garden. I may have spoken too soon. The wild raspberries are in season now and they are all over the woods where we live. We live at the base of a ski hill and the raspberries especially love the sunny slopes. The photo above is from the woods nearer our house (not a ski slope) but this afternoon or tomorrow I'm headed to the slopes to go picking.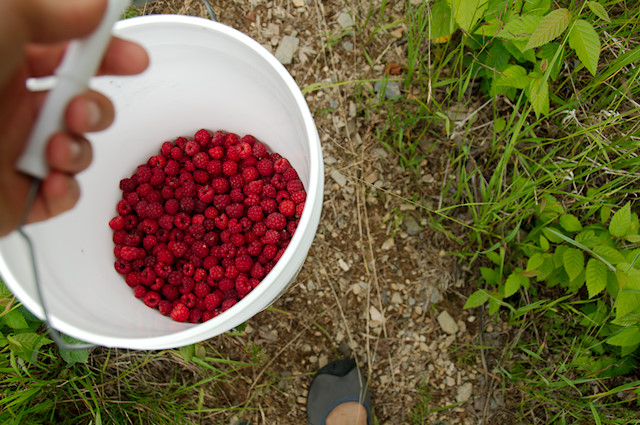 There's not enough raspberries, or rather I don't have the time right now, to stock the freezer. Nor do I have a freezer to stock. We sold it before we left Maine. I'll get another one this fall or winter for next summer's bounty. This is not a gardening summer for me, it's a moving and writing summer.
We added the raspberries to afternoon smoothies and to our Saturday morning baked apples. We used to only eat baked apples, topped with cashew cream sauce, in the cooler months (October through April). But the mornings are cool in the mountains (though the days get summer hot, which we love) and with all our moving this past year this food ritual has made the four different places we've lived feel like home. Baked apples all year round. No one is complaining.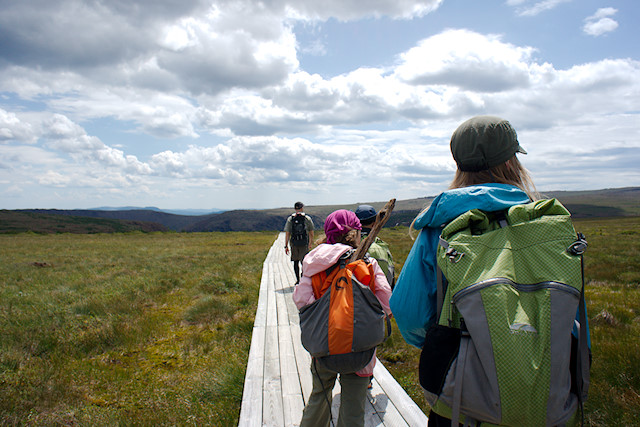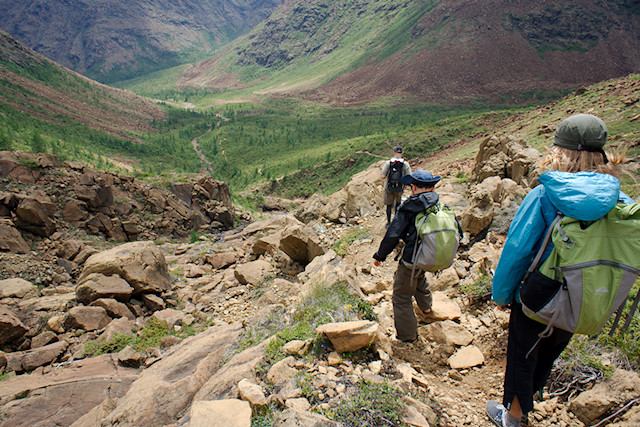 Last Sunday we did an epic hike day with the kids and Monday they were totally wiped out. They spent a lot of time in this position, till about 8pm, when the futon mattress was place on the floor for wrestling.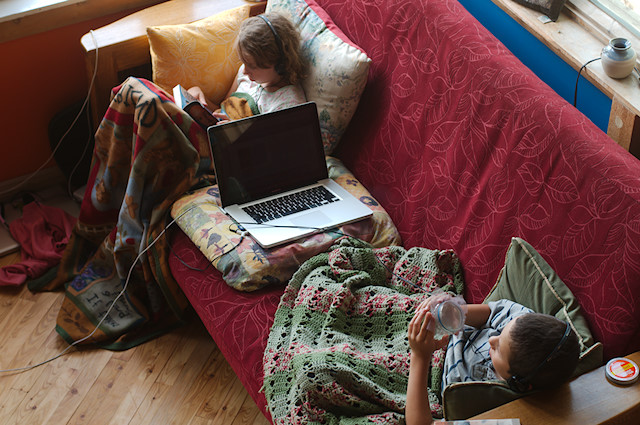 At our last house in Maine we never owned a dryer. I wrote a post about that and it's one of the most popular here at FIMBY. During the course of moving, we had access to a dryer at each of our houses. That was nice. We used it all the time in our little chalet last winter because there was no room to hang laundry.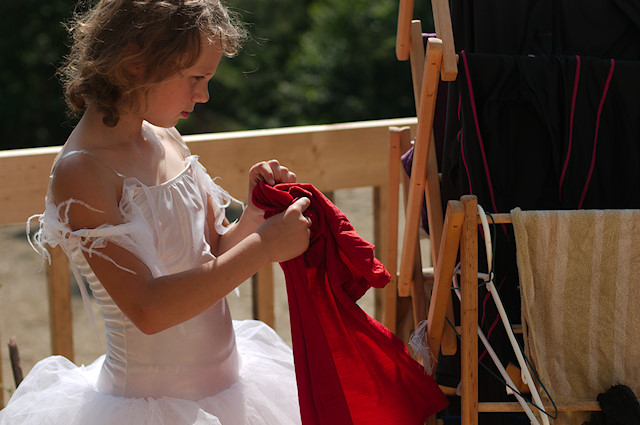 We are once again without a dryer and it feels good. Sure I miss the ease of drying laundry, regardless the weather but we have the space again for racks - indoors and out. And the kids do all the hanging and folding (in style I might add) so it's no more work for me. I just load and wash.
We don't encourage the kids to change clothes all the time (a few spots on a shirt or pants are no big deal around here), we wash towels once a week and sheets far less often than that, and there is no cloth diapers anymore. So, we only do about four loads on an average week. Totally doable without a dryer.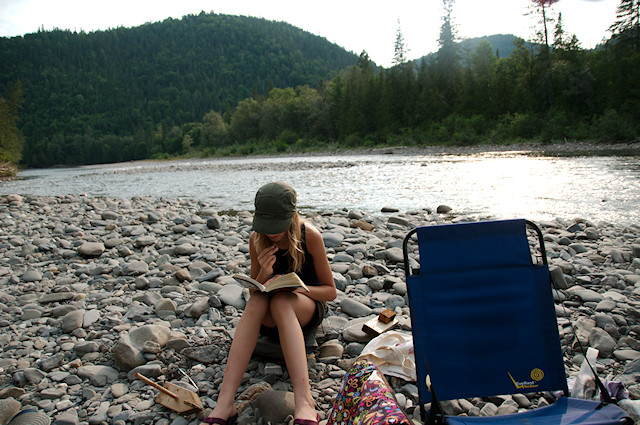 There is a river where we live. I've already mentioned this, one or two times (smile). The water is crystal clear and aquamarine in the pools. Maybe next year we'll have some kind of raft we can float on. For now we dip our toes (the younger two actually swim, head under), splash around, and just enjoy the cool valley air on the hot summer afternoons.
There is a trail along this river, Damien walks it a couple times a week for his morning exercise. He's a very disciplined "exerciser", I'm not. He takes the kids with him on these hour long walks. Céline lost her sweater along the trail early this week so I did the loop with her yesterday to look for it. We found it, and a lot of deer prints too. I had no idea how gorgeous this trail was, literally right outside our door.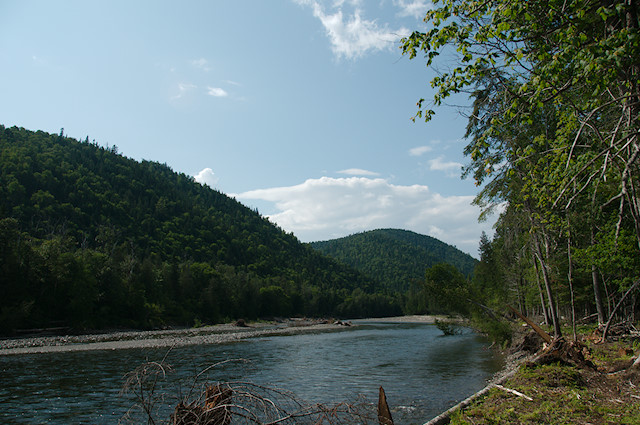 After walking with Céline, I hopped in the car with the younger two and drove to town to pick up our farm panier. The pick up spot is at a municipal park, right on the bay. The kids swam in the ocean while I rested on the beach.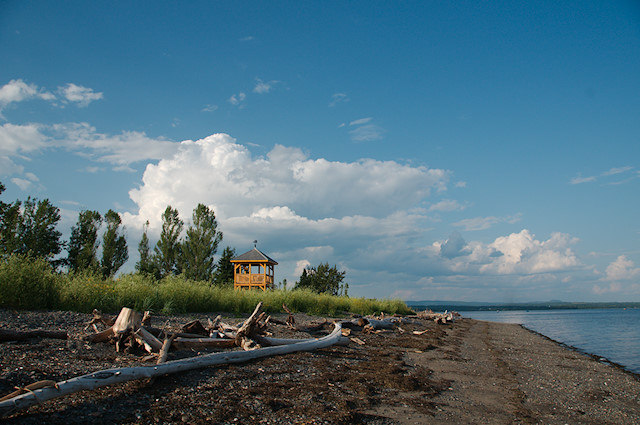 I had thought about sharing some more of those photos but I have gone past my photo limit already. Come back this weekend to see what farm pickup at ocean looks like. 
Renee Tougas participates in affiliate marketing, including the Amazon Services LLC Associates Program. Whenever you buy something on Amazon from a link you clicked here, I get a (very) small percentage of that sale. See disclosure for further explanation.
You can subscribe to comments on this article using this form.
If you have already commented on this article, you do not need to do this, as you were automatically subscribed.