The summer I made sushi
September 4, 2015
In August, my family went away for the weekend and I was home alone. By Sunday afternoon, refreshed and re-energized, I felt inspired to make a special supper for their return.
I made one of our favorite foods, something I haven't made for years. I made sushi, or more technically, maki. A simple supper of California-type rolls. I don't do raw fish, or roe at home. That's restaurant fare for us.
I was super proud of my accomplishment. The rolls were beautiful and delicious and tightly rolled, even without a mat. And there was enough to feed everyone till they were full. Filling the teenagers on sushi. Super score!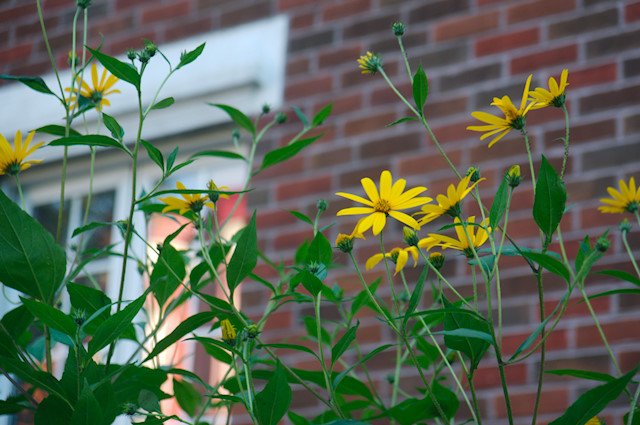 I don't like cooking all that much these days. These days being, oh, the last five years or so. Only recently, in the last nine months, have I named it and claimed it when it comes to how I feel in the kitchen.
Cooking is not something I love, or even really like to do. Cooking is not the time I "come alive", nor is it a form of happy creative expression for me.
As far as home management, I much prefer to make order in routines and space than to make food. And when it comes to creativity and leisure I'd rather take a bike ride through my neighborhood, read a book, photograph a flower, draw zentangle, etc. than craft a meal.
The sushi was beautiful, but the lighting was bad, such is the state of our dining room. And I didn't take any photos. The inspiration came. I happily made the meal. Not cooking for days does wonders for my motivation.
We ate the sushi. End of story.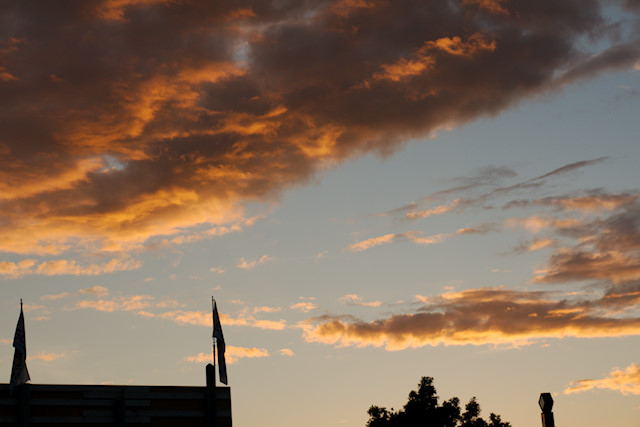 I'd like to write a whole post about coming clean in the kitchen with regards to my general "meh" about that part of my job description. I'd love to write about how I thought being a good mother meant being like my mother - passionate about cooking, finding my energy and my "place" in that passion.
(My hang ups with being a good mother don't stop at comparing myself to my own mother, oh no, I've created a good mother character of mythological proportions who is a composite of all the best qualities, and none of the flaws, of the mothers/homemakers/homeschoolers I admire and aspire to be like. Oh yes, being this mom is an impossible task. But you already knew that, perhaps from experience.)
As it stands, cooking is part of my job description. It is something that must be done.
I try to minimize the pain with occasional frozen shortcuts (healthy and not-as-healthy) and outsourcing to the kids. And this summer I "officially" (we've been sliding for some time) brought animal foods into our kitchen for more easy meal options to satisfy my own desires (crepes...) and to attempt to fill the endless-pit-of-hunger that is the teenage stomach.
How I feel about cooking; eating a few more animal foods (though still cognitively believing veg is best); keeping everyone fed according to their consciences, dietary preferences, the need for calories, within the constraints of the budget; and letting go of the need to define myself as a good (good meaning: likes to cook) homemaker - lots of things I could write about here.
And that's the problem with a writing hang-up, writing sabbatical, writing anxiety - the loss of my writing groove for the summer. All of that, which is fairly significant writing fodder (or fooder? haha!) is now water under the bridge, and I didn't post about it.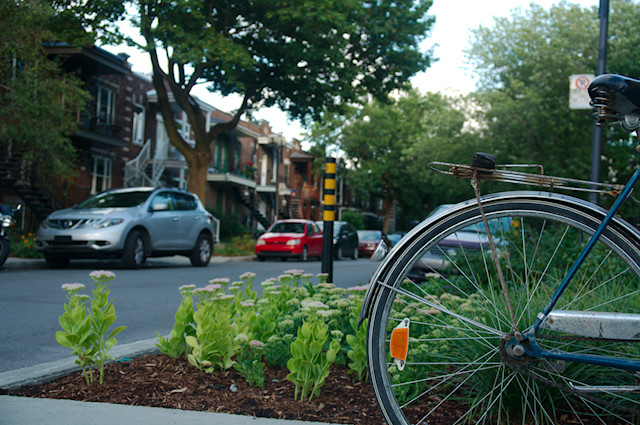 There have been other transformations in my life than those just happening in the kitchen.
Though I think what's happening in the kitchen reflects the bigger theme in my life as a whole.
This life phase of raising teenagers, of separating my desires from those of my husband's (and being ok with having different opinions and preferences in food and other interests), and accepting myself exactly as I am, in the kitchen and outside of it.
I'm not prepared to write about the false beliefs I'm shedding (have shed), and who I am becoming, just yet, because something else needs to be written.
Summer needs to be written.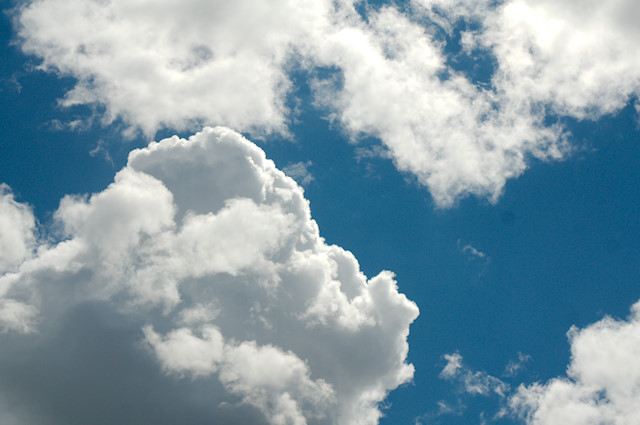 With back-to-school in the air (rentree here in Quebec), the official summer season feels like water under the bridge, yesterday's news. But I'm still standing here on summer's shore and I want collect my favorite treasures from the beach. Gather them. Cherish them. Share them.
Care to join me?
Summer is my favorite. Summer is my balm. Summer is the bomb, and on and on. That's not supposed to be bad poetry, it's just that I really love summer and this one was wonderful.
I've never had a summer like this and so some of the "wonder" of wonderful was in fact just that.
Rock concerts and movies on the big screen; festivals and fireworks; outdoor pools and cafes on the sidewalk; Montreal has been a string of adventures and a pace of activity so suited to life with three teenagers. Every week this summer was significantly memorable in some way.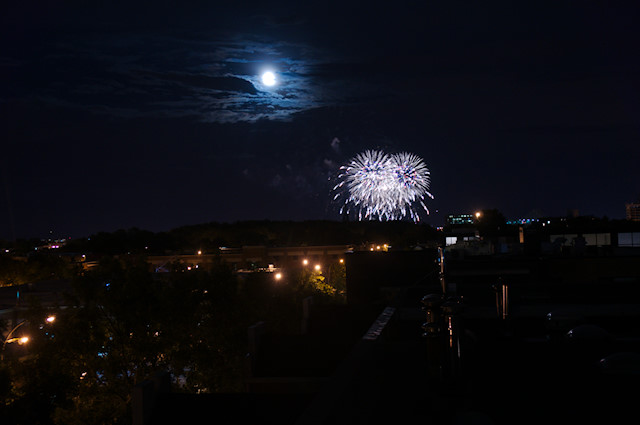 The highlights of summer 2015.
Shortly after moving, Damien and I went to a Steven Wilson concert at the Jazz Festival. The last time just the two of us went to hear a live band was when we were in university.
Attending Comic Con with the whole family, watching Celine in cosplay.
Finding a feels-like-us group of believers to share our lives with and the communal expression of our faith. We don't have to talk different, relate different, or step out of the culture and into another one to hang out with these people. And we made instantaneous (seriously) friends with another homeschool family with kids the same ages as our own. And the fact that we meet Sunday mornings in a movie theater? Totally cool. Christians in the culture, not in cloistered churches. This is how we've lived our faith for years, but we've lived it mostly alone, and that's been lonely.
Having my parents come to visit for a week. They loved on us with their usual generosity of spirit and friendship. I am so blessed to belong to them, and they to me.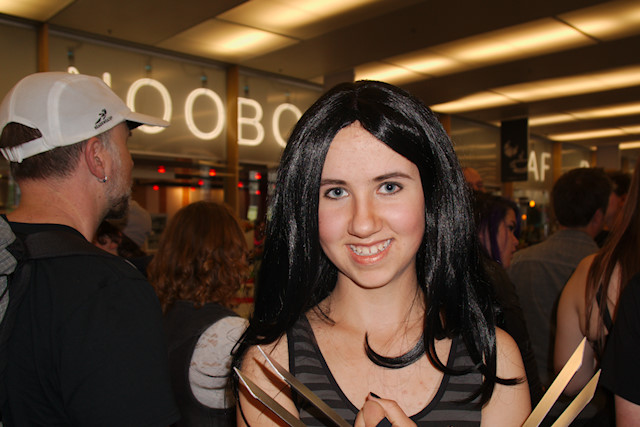 Setting up our fourteenth home. We bought used appliances, a big screen TV, the ubiquitous black Kallax Ikea shelving, and made-to-order bean bags for the kids - three kids, three colors. We established our raising teenagers home and I am happy here.
Biking around the city with Bixi. I am completely smitten with the service and the city. Biking is the best way to explore Montreal, and with such a great bike subscription service and dedicated bike lanes through downtown and the arrondissements, this is an uber biking-friendly city.
Neighborhood shopping, on foot, or with the Bixi. I do my produce shopping at Jean Talon, I drive there because I buy a lot of produce and I don't have bike trailer to carry it home. But everything else is walkable distance from my house. So walkable that supper can be cooking and I will run to the grocery store (or usually send a kid) for a missing ingredient.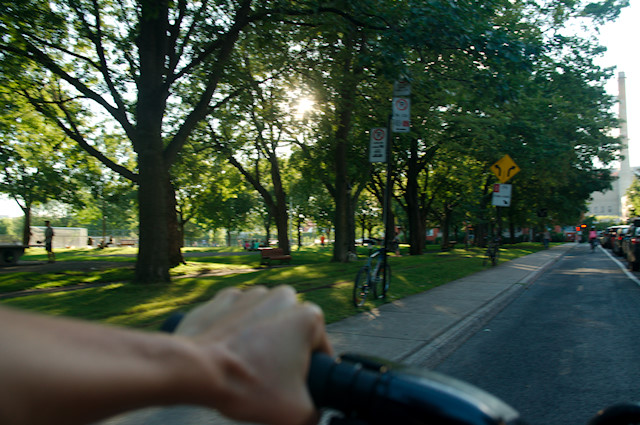 Going to La Ronde, the local six flags amusement park, with friends. This was the first time our kids had ever been on these kind of rides. By the end of the day I found enough courage to go on the pirate ship. Yay me! We're all eager to go back.
Swimming all summer, for free. By the end of August the kids had "graduated" to walking to the pool and back again on their own. We also made friends with "the other" anglophone family at the pool (we live in a francophone neighborhood) and the kids spent hours swimming together.
Finding a homeschool group of older kids, mostly teens and meeting Monday afternoons to play soccer. Active! Teens! Homeschooling! This group meets as a co-op through the school year with a theatre/academic focus and we'll be joining.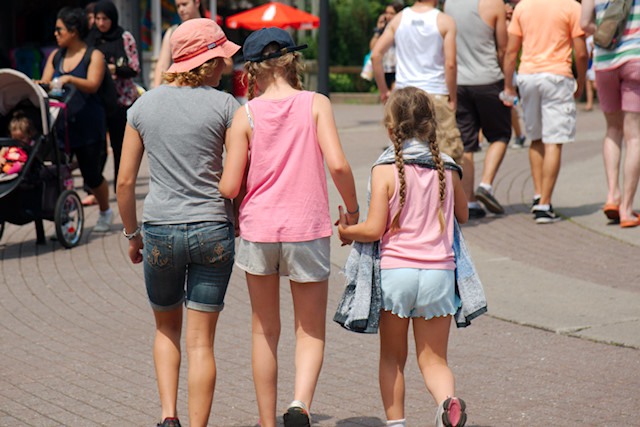 Walking with Damien after supper. We're hoping to continue this practice into fall. The kids do dishes and we hit the streets around our house to walk and talk. We're not the only ones out, even at 9pm (we eat late in the summer), the streets are alive with people. Montreal is a city for living, it's a city for families, it's beautiful.
A youth conference for the kids. This was a Christian teen weekend where the kids tented, had chapel and group sessions, played games late at night and came home tired, smelly, happy.
For the two nights they were gone Damien and I celebrated our 19th wedding anniversary at home and on the town and found this fun vegetarian/vegan buffet restaurant on St. Denis.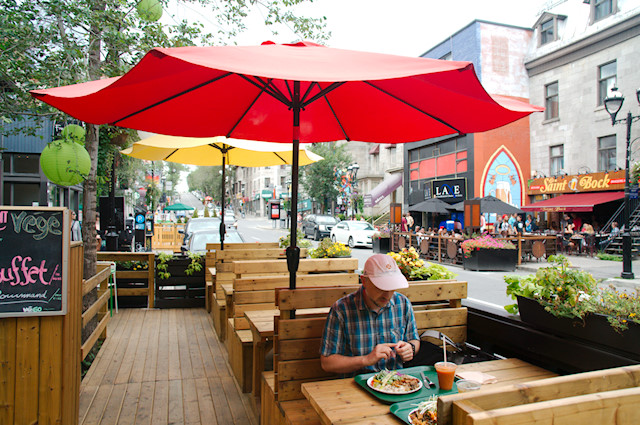 Celine was baptized in the parking lot of the Chinese Baptist Church on St. Urbaine street. Our church borrowed the space for baptisms because we meet in a movie theatre. In front of family, friends and the city of Montreal, Celine made a public profession of her faith. And there was some celebratin'.
I got my Montreal library card and read some books: Maurice Richard, Nellie McClung, The Back of the Turtle, and The Buried Giant. I'm currently reading Along a River: The First French-Canadian Women which is an academic narrative of the history of the women of Quebec during the 17th and 18th centuries. (I forgot, I also read All The Light We Cannot See, great book.)In June, while still on the Peninsula I read The Rosie Project and Station Eleven. The only book in this mix I don't recommend is The Buried Giant but even that was interesting if you could just let yourself relax into it, which I did. This reading doesn't include my self-therapy reading. The big theme in my reading this year is Canadian authors, Canadian subjects and specifically Quebec history. This is part of Returning to Roots (in Project Home & Healing).
Learning to zentangle with One Zentangle A Day: A 6-Week Course in Creative Drawing for Relaxation, Inspiration, and Fun (One A Day). I draw almost every day, part therapy, part creativity, all around goodness.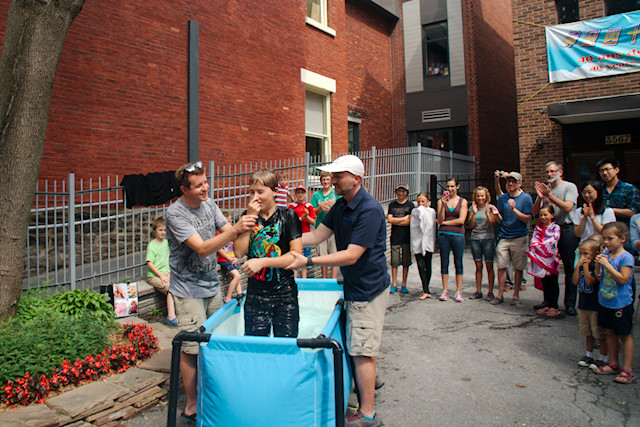 Creating our "Tougas Family High School Graduation Requirements" document. I have been wanting to write this for over a year now. Celine is halfway through high school and the big question for me has been how do I know when we're done? If our kids don't pursue post-secondary how do close this chapter? How will I know when my active/super-hands-on phase of being a homeschool mom is completed? So, I answered these questions this summer and spent a lot of time with my head in homeschooling land. Also, for the first time in probably my whole homeschooling career I am "ready" at the beginning of September with an overview of this year and our curriculum. Not gardening or traveling for the summer is a significant factor in this readiness. When the kids were younger I didn't get my act together till later in September. Our time on the Peninsula was quite chaotic with moving and traveling and I was largely out of step with the school year scheme, which is fine in theory (especially since we're life learners), but in practice, it's not so fine for me.
Learning how to make a homemade frappuccino, sangria and crepes.
Staying put. I didn't go anywhere this summer. I barely left the island and that felt so good. At the end of August Damien took the kids to New Hampshire for the weekend and I stayed home. We had actually planned a weeklong trip of visiting friends, camping, some hiking and trail magic in Maine but the discovery of my passport expiration changed those plans. The part of the plan that still went ahead was Damien and the kids going to New Hampshire to shoot guns. Our friend is part of a gun club and they were having an open house of sorts where you could shoot all manner of guns, from hand guns to semi-automatic rifles. The kids and Damien loved it. I stayed home and have never been so content to be by myself. Two full days of my own agenda and my own space. I'm thinking that the older my kids get and the more out of the house and "on-schedule" I must muster during the week the more my introverted side is rising.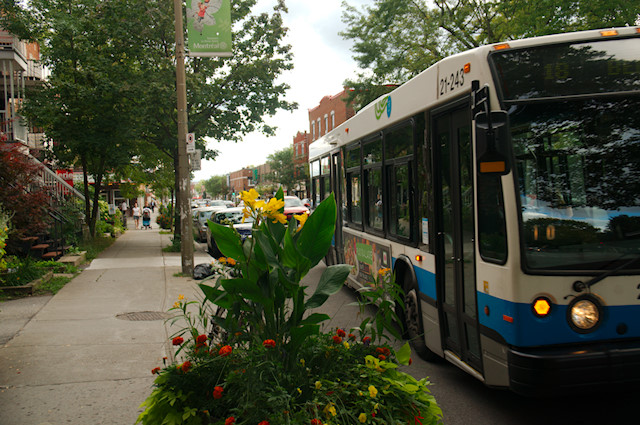 Fabulous weather. I'm new here. I don't know what summer is usually like in Montreal but I'm ordering more of this kind of weather for next summer. Some humidity, not too much, just enough to get you in the pool and to help you be grateful for the non-humid days. I love when summer feels like summer. When you can't wear a sweater, or pants. And you rarely need to wear a rain jacket. I wear long underwear and wool socks for 6-7 months of the year. This summer filled my well for the winter months ahead.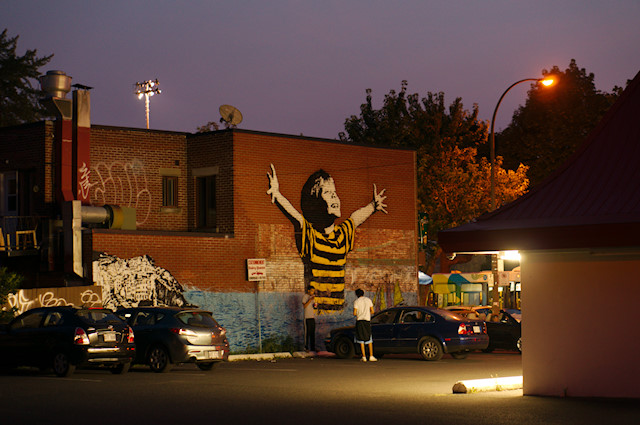 That was the summer for me. Those were the highlights, but there were definitely lowlights: difficult talks with Damien and levels of honesty in our marriage that cause pain even as they bring healing, moving-related financial strain, and just run-of-the-mill stressful situations.
Life's trials don't stop for summer but so much about this summer - activities, friends and homeschool community; the spiritually significant milestones; making a small and tidy home; my daily disciplines in self-awareness, self-care and self-therapy - all of that felt like healing to me.
This summer was exactly what I needed.
Filed Under
Resource Library
You can subscribe to comments on this article using this form.
If you have already commented on this article, you do not need to do this, as you were automatically subscribed.