A garden to be
August 14, 2015
We've lived in a few different houses in the past five years, six of them to be exact, and one of the things I've enjoyed doing on the blog is giving "house tours", mostly because I love looking at other people's homes, online and in person.
I like to see how other people live, how they organize stuff, how they decorate, etc.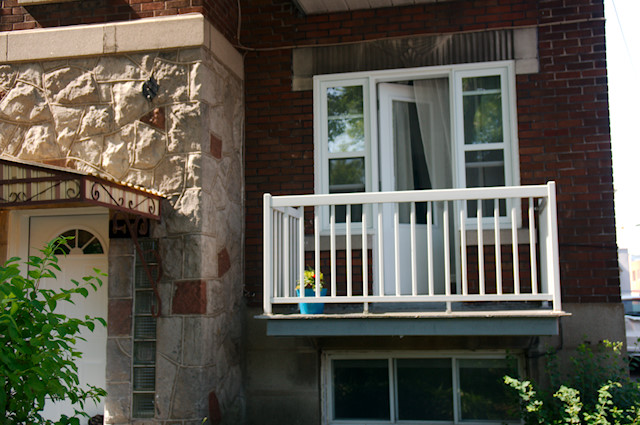 I want to share our new apartment as part of these house tour posts because, can I tell you a little secret?, I LOVE our apartment. Love, love, love.
Each week it becomes more an expression of us; art and photographs go on the walls, the arrangement of food and tools in the kitchen cupboards gets refined (I'm still asked all the time "where's the..."), the routines of how we move and use the space get tweaked.
There are many things I love about this honey wood floor, black cabinetry, white walled house. But what I love most is the feeling that it's mine for a few years. This is different than every other home we've lived in for the past four years.
Knowing this is where I'll be in a year, two years, three years... is like drifting off to sleep, on a cold winter's night, the duvet pulled up tight under my chin. Comfort I tell you, pure comfort; settling into space and community, settling into home.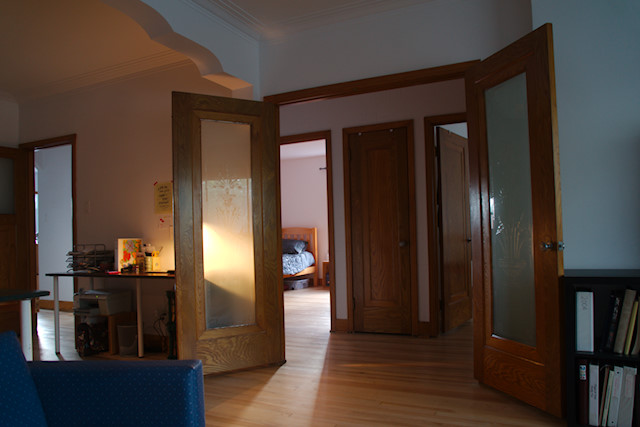 I'm happy here. Happy.
And so I'd like to start the house tours because I'm simply delighted to share our home with you.
We're going to start outside, in the backyard specifically. Which is ironic because, unlike the rest of our living space, the yard is un-done. It is not even in process, it is all before and no after. And I thought this would be fun, to share what it looks like now and then next summer and the next summer and the next summer (feel I should add a "God willing" at this point). I can show the yard in process, on the way to after but always becoming, the way life is.
First, some Montreal apartment facts. We live in a three-storey, four-plex apartment building. Two or three storey apartment buildings are common, both in our neighborhood and in other older parts of the city. Many of these buildings, the ones closer to downtown especially, were grand homes built in the 19th century. The buildings in my Rosemont neighborhood are circa post-WWII housing boom.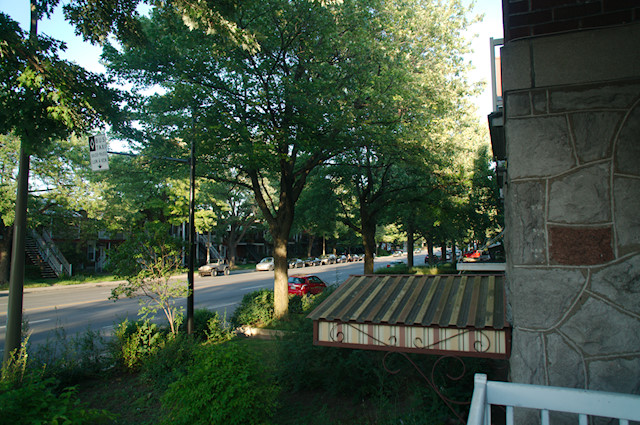 Buildings are owned by landlords (who may or may not live in the building), or co-operatives (something I'm not really familiar with). Buildings sit smack dab against neighboring buildings (sometimes with alleys or driveways between) but the "building" remains a discrete unit of 2, 3, 4, 5, 6, (more?) apartments.
Our three-storey building has four apartments. Two above us, side by side, and one below us. Ours is the main floor apartment and usually the main floor apartment gets the backyard, if there is one.
Our building has a yard, and as the main floor tenants it's both our responsibility to maintain it and our privilege to use it.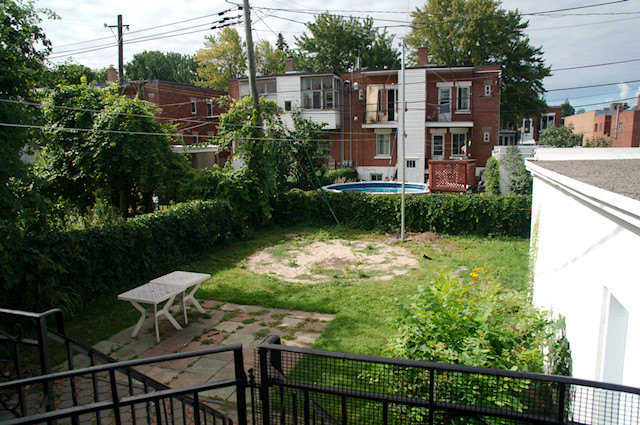 I get to be a gardener again.
Years ago, when I was a newbie organic gardener I dreamt I might become an urban homesteader, maxing out our Maine city lot with food producing crops. A combination of factors, including my husband's lack of interest to be significantly involved in any such enterprise and the wide availability of local foods at farms, markets and even grocery stores, convinced me that urban homesteader was not in the cards for me.
However, with each growing season I honed my gardener craft and by the time I left that garden four years ago I knew the kind of gardener I am.
I garden for beauty.
Gardening's primary function in my life is to contribute to my spiritual, emotional, and creative wellbeing; and also my physical wellbeing in terms of exercise and spending time outdoors. It's not a means of growing a lot of food.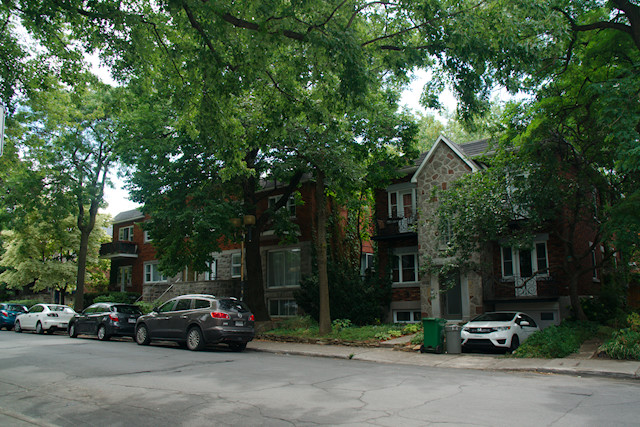 apartment building in our neighborhood, not ours
I was very proud of the gardens I created around our home in Maine. We grew a few green edibles in a raised bed and some tomatoes that, year after year, were infected with a blight that I couldn't eradicate from our small space yard. But most of the garden space was dedicated to flowers. Flowers planted by design so we'd have blooming beauties through the entire growing season, flowers planted to provide nourishment to bees and butterflies, flowers planted for their medicinal and healing properties, flowers to make me happy.
All of this garden craft has been put on hold for the past four years. I can't say I really missed it, there were too many other things in my life to fill that space. I lived surrounded by a beautiful natural environment. I didn't feel a strong need to plant more beauty and spend the time doing so, and logistically it just didn't make sense since we moved, on average, every nine months. It was not a season for gardening.
When we moved to Montreal a backyard was on the want list. Technically not a need, but high enough on our wants to border on need. We found an apartment with the interior space we needed (3 bedrooms), in an area we liked, with not only a yard/garden space but our own driveway, a huge bonus in a city of complicated and competitive street parking.
I have a yard, two actually counting the front yard which is mine to garden also, and we intend to stay put for a few years. It's time to start gardening again.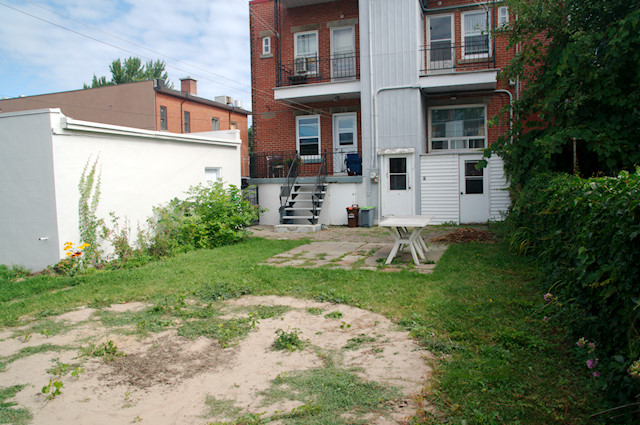 Not this summer. This summer I had one gardening goal: to grow colorful pots of annuals on our balcony.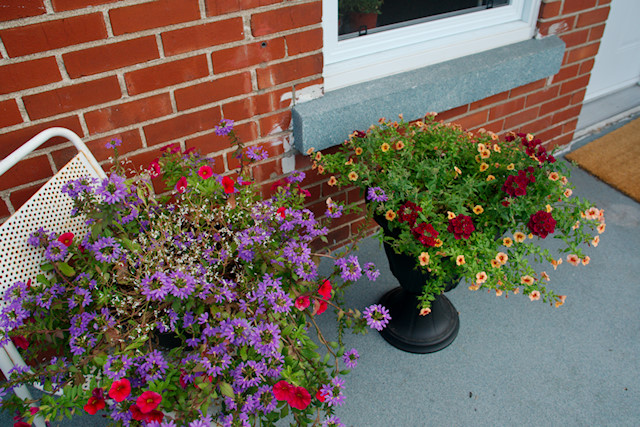 Next summer I will start transforming this space into something beautiful. Right now, not so beautiful, but full of potential.
Some people like the idea, or reality, of rambling acres, mown lawns, large gardens and an outdoor space with room to grow. We're city dwellers and our teenaged kids have a whole city to explore, they don't need a big backyard. And I'm pretty much on my own when it comes to any yard work beyond mowing, which Damien has always done.
I approach gardening like I do managing my home. I like tidy spaces and simplicity.
This is the perfect yard for my needs.
My vision for the yard is something like this: an outdoor eating area on the concrete patio (I'm thinking twinkly lights strung along the back wall of the house need to be part of that plan); perennial beds along the "green" fence; and a vegetable/sunflower/annuals/herb garden behind the garage.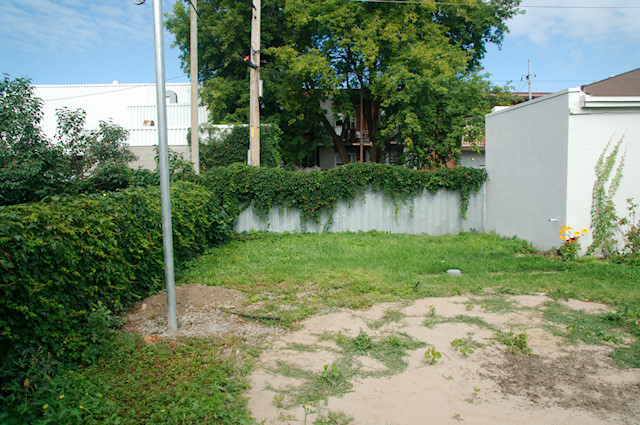 Damien and I are currently debating replacing the pool. There used to be a pool but it was old and damaged and so it was removed from the property. The space would work well as a pool but we are not big "maintainers" and signing ourselves up for regular maintenance is not a decision we make lightly. This summer we've taken advantage of the free public outdoor swimming pools. (Cameras are not allowed otherwise I'd love to share photos since pool swimming has been a big part of our summer.)
So we'll see about the pool.
The backyard is a southern exposure and because there are no large trees it gets full sun all day. It's meant for a garden.
I feel our yard space, front and back, are just the right size for how we want to spend our time at this stage of family life; enough space for me to grow lots of beauty, but not too much space that we have to spend a lot of time maintaining. Both of us would rather do other things. And the best part is that in the city there are no pesky biting insects. No mosquitoes, no ticks, no black flies.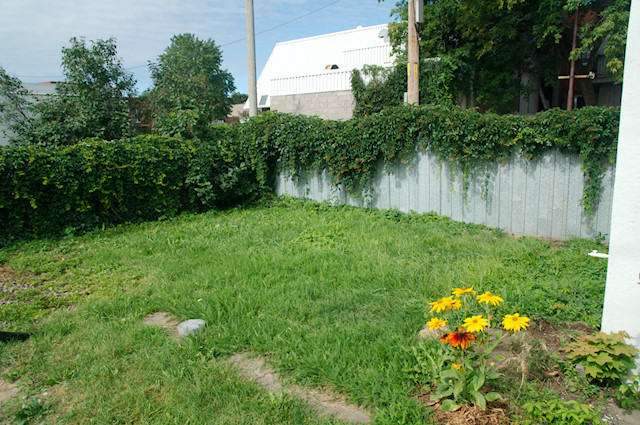 It's not the most beautiful backyard ever, I've seen some amazing yards, seriously swoon, in Montreal. But if it was already done I wouldn't have the privilege to create that beauty.
What I don't like about the yard is that the soil is full of clay and very compacted (and there are a lot of rocks around the old pool area). But I've worked with clay before in Maine and though I'll never have the loam of the prairies in my Montreal backyard I know I can build a good soil back there with basic composting and soil amendment principles.
One thing I used to do when gardening was to keep a garden journal, or rather, pages of looseleaf notes, flower tags, calendars with planting dates, and garden sketches filed in a garden section of my homemaking binder.
The garden section of that binder has long since disappeared but I do look forward to resurrecting it next year. I had been thinking about this, anticipating how I would start planning the garden next February, when Angi Schneider contacted me last week to tell me about her Gardening Notebook garden planner and record keeper.
She's doing a special promotion right now of the Garden Notebook, perfect timing for making records about this year's harvest, records you will probably want to revisit as you make plans for next year's garden.
Gardening Notebook is not an extensive "how-to" garden manual but it does have helpful information for growing, harvesting, storing and common pests and problems for the common vegetables, fruits and herbs. Angi lives in Texas and the book has a Texas 'flavor' with some Texas resources listed but includes a lot of other resources also for gardening across North America.
One of the most helpful features of the e-book is the planting guide which lays out for you when you can plant your garden vegetables based on the date of the last frost in your hardiness zone. With our move from the peninsula to Montreal I've gone from zone 3 to zone 5. Yee-haw!
The Gardening Notebook is on sale for $5 till August 31st.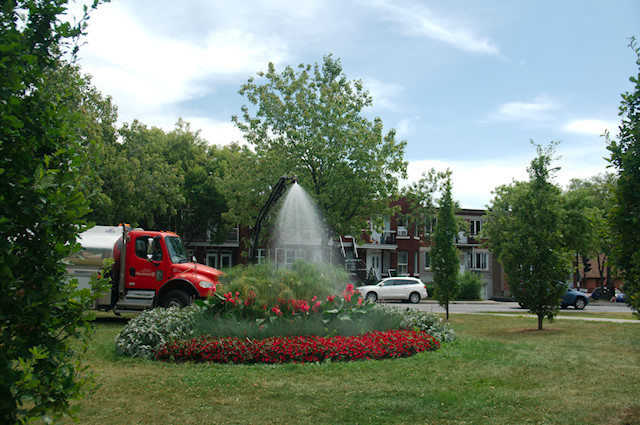 I'm looking forward to getting my garden started and once again being an urban gardener.
Renee Tougas participates in affiliate marketing, including the Amazon Services LLC Associates Program. Whenever you buy something on Amazon from a link you clicked here, I get a (very) small percentage of that sale. See disclosure for further explanation.
Filed Under
Resource Library
You can subscribe to comments on this article using this form.
If you have already commented on this article, you do not need to do this, as you were automatically subscribed.