The Spring Shift
May 11, 2015
We had a string of sunny days last week and the season shifted, irrevocably, into spring. Snow remains in a few sheltered groves of thick evergreens, in protected coves and inlets on the bay, and of course in the mountains, but for all intents and purposes, snow is no longer a part of my world. And it's about time.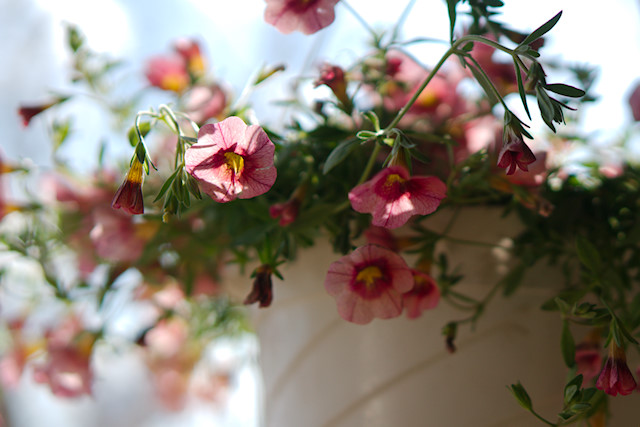 This winter did not put me through the emotional wringer as in years past. Yay! My strategies for better winter mental health seem to be working. Even so, I was finished with winter the middle of March, alas, winter was not finished with me.
We got through to the end of that month, with enough variety to our days and anticipation for Easter that I didn't experience any significant SAD symptoms, phew.
After spending Easter with my parents, April's arrival brought a change of energy and intention to our lives.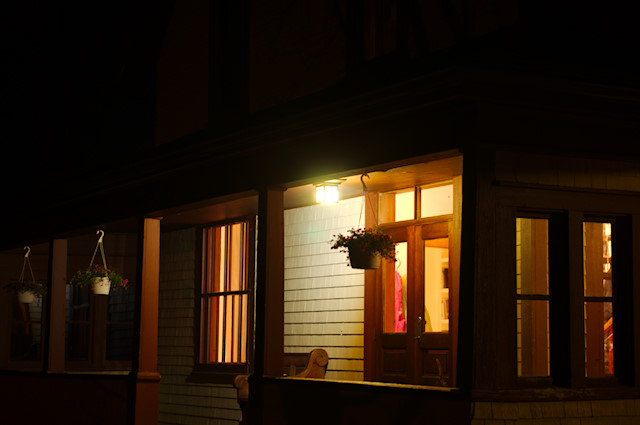 Laurent went to Nova Scotia to work with my Dad. And in the middle of the month the rest of us went to Montreal to find a place to live. And while we were there Celine and Damien went to C2E2 in Chicago. During Celine's five day trip I was down to one child in my care.
Elizabeth Stone says,
Making the decision to have a child - it is momentous. It is to decide forever to have your heart go walking around outside your body.
Perhaps I chose to homeschool my children partly for selfish reasons, to simply keep the pieces of my heart within arms reach.
With Laurent out of arms reach I felt disorientated and emotionally foggy. I was so happy for him to go and have this experience with my Dad but we missed him terribly, Brienne especially so.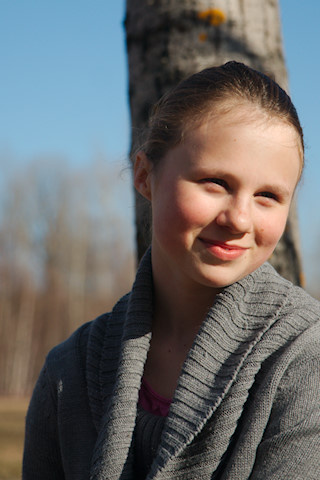 Laurent and Brienne are best friends. I have been hesitant to label them as such over the years because I didn't want them to resist the idea simply because I mentioned it. But it's just the truth. They are companions, study buddies, confidants, friends, and sometimes foes. Though most of that is expressed in the friendly physical tousling which they both love.
They remind me of puppies, in their physical affection and obvious attachment to each other.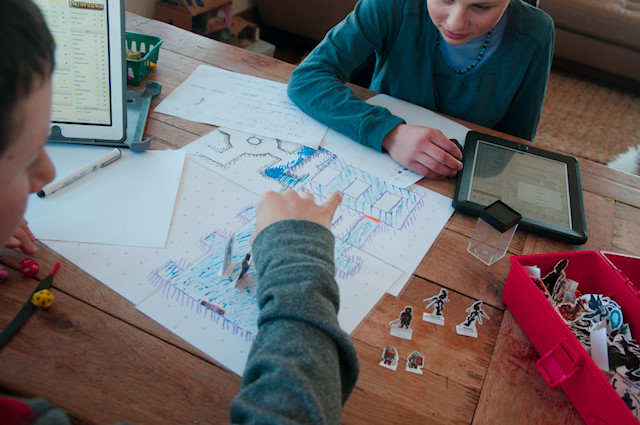 Laurent is happy in almost any scenario in which he can do stuff and be active, so going to live at my parents for a month and to work with his Papa was a good change for him. He's an easy going person with an almost always upbeat and sunny disposition. You can see why we love having him around!
Brienne felt a little bereft in his absence. And we all missed his physical presence and personality in our family dynamic.
Intellectually I know I am raising kids so that they can grow up and have a healthy independence from Damien and I. I'm raising them to be adults. And this means letting go, bit by bit. But my head and my heart don't always agree on this healthy detachment.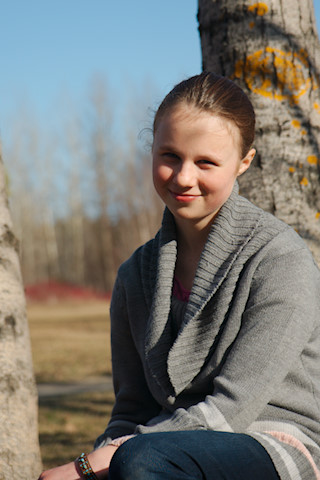 My head says, "this is good, let him go" while my heart is always looking around for its missing piece.
With Laurent's first big letting go experience I was given a small glimpse of my life post-child raising. Although I still need to invest a lot of my energy in their growth and development (teens need available parents as much as toddlers do, just in different ways) I see the importance of building interests and work that is independant of my children as we cruise towards the empty nest.
We're still years away from that but Laurent's absence showed me that I want to have meaningful non-kid related work, hobbies, and passions in my life at that point. And I want to be building on those now because they matter in the present also.
But before I do more building, I need to settle somewhere and April was all about that, specifically, finding a place to live in Montreal, which we did.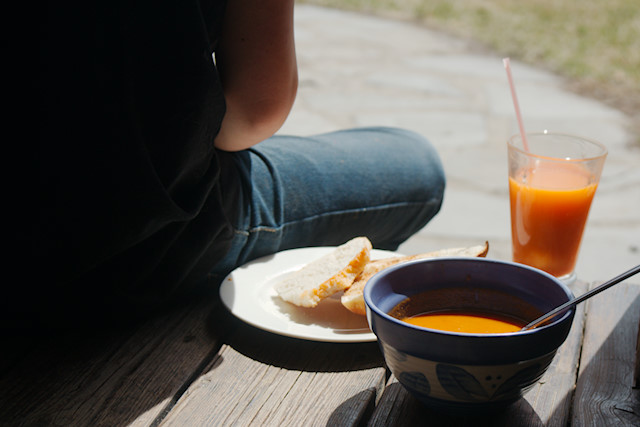 When we came home from Montreal I felt a bit weary from the month, emotionally raw from Laurent's absence and physically worn out from travel.
The first part of May has been about slowing my pace, listening to my body's needs, and focusing on a few specific intentions for health and wellbeing.
There's a juicer in the house and I'm finally getting around to using it. My body is craving green juices so I'm doing my best to oblige it. I think I may be eating less also.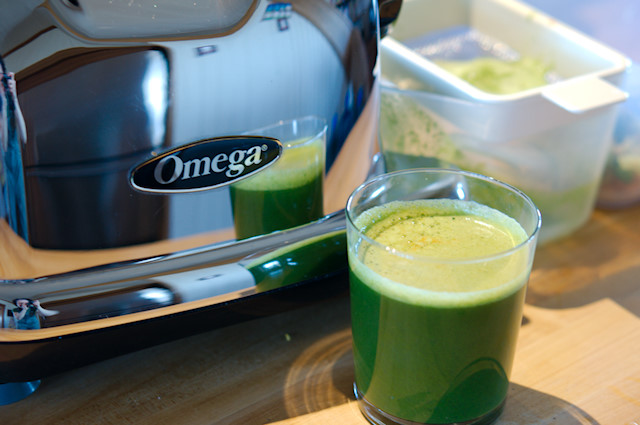 This isn't something I measure by calories but I'm eating smaller meals and not always eating a meal, opting for a juice instead. Or a juice and a baked sweet potato, simple stuff. It's not a formal juice fast or detox plan (I can't even imagine giving up my morning coffee). It's just listening to my body and eating what I seem to need for that meal or that day.
Ever since the middle of March I've struggled with my daily goal for outdoor exercise. Despite my best intentions, it became hit or miss, with the aim to be more hit than miss. The end of winter is really hard for me to be inspired about being outdoors.
But Spring, oh spring, how I love you. My outdoor exercise and daily fresh air needs can be met in yard work and gardening, and there's ample opportunity for that on the property where we live right now.
I appreciate the change of activity. I don't have to think about where I should walk or what I can do for a bit of exercise. Being active outdoors in spring is a no brainer when there's yard clean up to do, perennial beds to weed and mulch, annual containers to be planted, and compost to turn.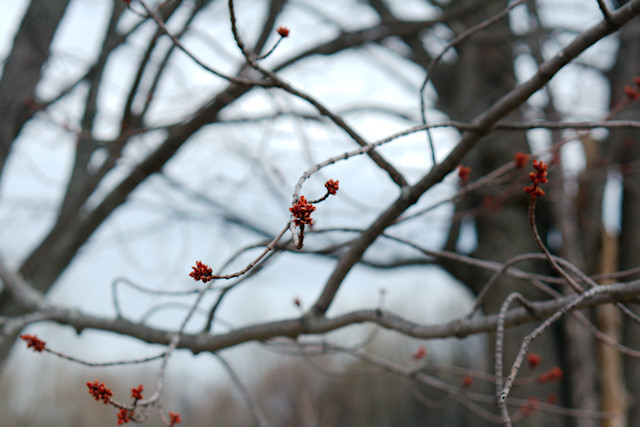 April's traveling, house hunting, and the emotional burden of Laurent's absence kind of messed with my daily routine and rhythms and I've been trying to reset that this month. Not with a fixed schedule, we're moving in less than one month and I can't do "fixed schedule" with that reality.
As an ESTJ homemaker, I'm all about routines but sometimes my basic routines need to get real simple, because otherwise life feels like an unbearable burden of too many things to do and not enough time.
I have four anchor points I'm shooting for this month.
9:30 pm in bed, which gives me time to read and unwind before going to sleep around 10pm
6:30 am wake up
9:00 am finish my morning writing, I always want to push this farther but then other things suffer
6:30 pm supper on the table, I share the supper cooking with my kids so this is a group target but they look to me to tell them when to start supper so I am still largely responsible for the time supper is ready, whether I've cooked it or not.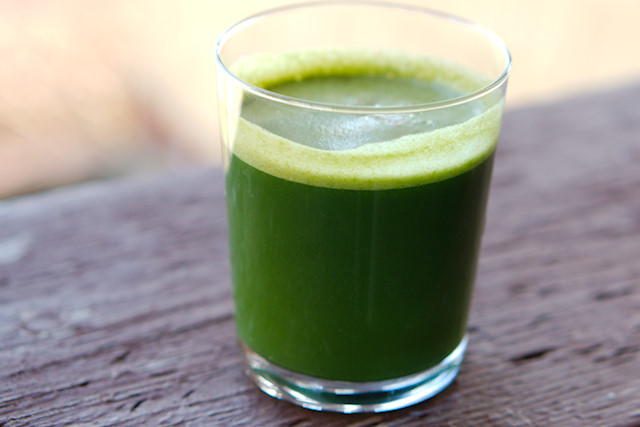 My creative energies have shifted with spring's arrival. I finished my shawl last month and to be honest, I'm not completely thrilled with the finished product, but it's warm and I love the colors and I will love it as is. In six years of knitting it's only the second large project I've completed (I've never knit a scarf or hat), so I can't be too hard on myself.
If I were to do it over again I would want more pattern, less solid stockinette.
I seem to have gotten my center line off-center. Which is not surprising given the number of times I moved the stitch markers to where I thought was the correct spot.
I don't know if other knitters have this problem but my markers would get "caught" in my stitches (I don't know how else to explain it without a visual) and I'd have to move them back to the correct position, which apparently wasn't the correct position as the photo below seems to suggest.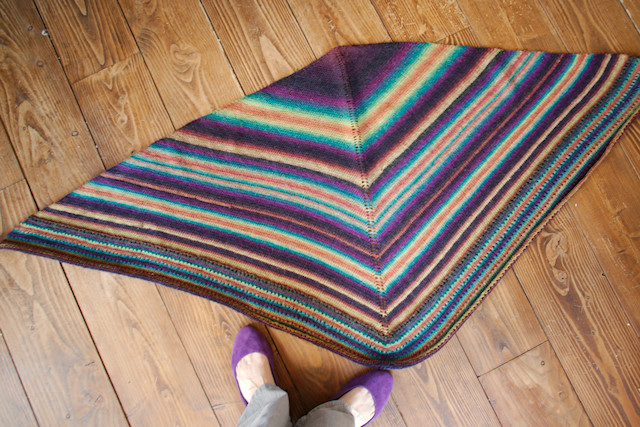 Also my binding off didn't work so well. I didn't follow the pattern because I couldn't understand it, so I used a different binding off stitch. It tightened the stitches and resulted in a curled edge.
Blocking helped these two problems somewhat, but the finished work is slightly wonky. I still wear it all the time though. (You can find the pattern here at Ravelry.)
I've put the needles down for the season and am picking up markers and pens.
Inspired by Heather Bruggeman's Hibernate course I started practicing meditative flower drawings this winter but I keep making mistakes I'm not happy with.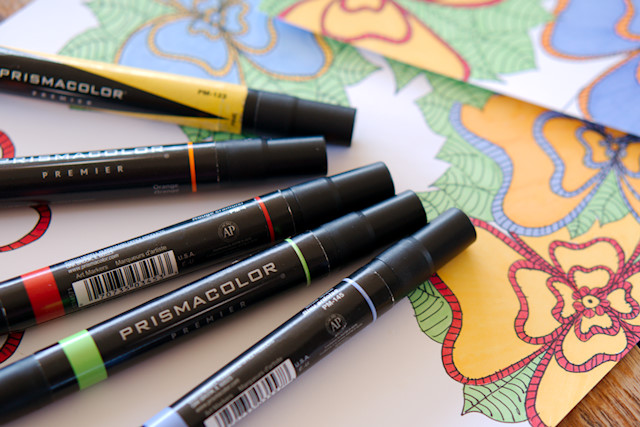 I know, I know. There are no mistakes in meditative drawing, but in my meditative drawing there are mistakes.
I'm on my third attempt at a full page drawing which I intend to use as the cover for my new homemaker's binder, which is currently undergoing an overhaul and re-purposing to better reflect where I'm at now in life.
Truthfully, I haven't used a homemaker's binder for almost two years, having switched to Evernote as my digital tool of choice for keeping my life (mostly) organized. But there are still "papers" in my life that need a home.
Papers that have less to do with traditional home management stuff (I don't need snappy Pinterest charts to remind me when to clean the fridge and floors) and more to do with personal growth, community involvement and info., creativity, art, decorating, etc. It's becoming a home ~makers~ binder and I want one of my meditative flower drawings to be the cover.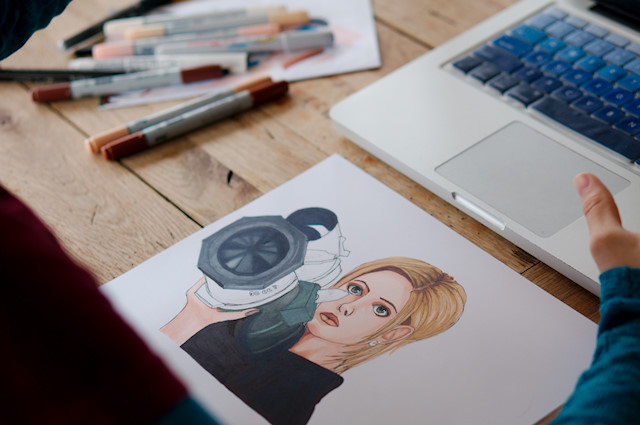 I can't say I'm all that meditative when drawing, but I try. I tend to be more chatty than reflective as I like to do my drawing at the table with the kids when they are doing their art. I love the creative energy of these times together.
Heather's lesson on meditative drawing got me interested in Zentangle and I've been reading some how-to books on that art form and I'm very interesting in trying it. I need to buy some new pens though and with everything else going on I just haven't had the time to apply myself right now to learning Zentangle. But I want to. And soon.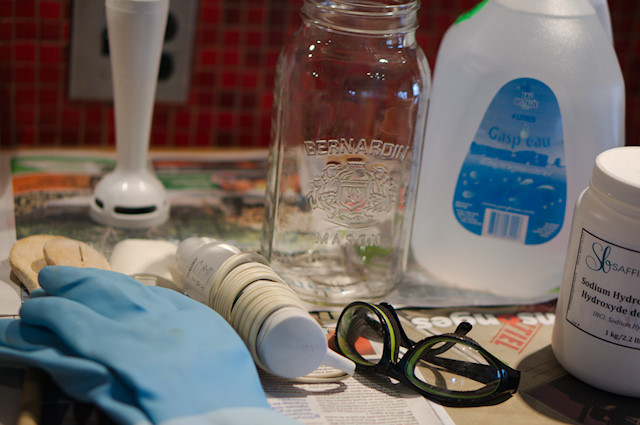 Last week my creative energies were channeled into teaching a soapmaking workshop on Saturday. What fun. Once all the effort of preparing a workshop is done the actual teaching is so enjoyable for me.
Every time I teach soapmaking I take my own learning to the next level. I love that my knowledge and experience of the chemistry and craft of soapmaking has increased significantly from the first class I taught six years ago in Maine.
I am toying with the idea of turning my notes, workshop outline, recipes and resources (I put a lot of effort into this workshop) into a digital workshop of some kind. But we'll see, life is about to get a whole lot busier and my energies are now needed elsewhere.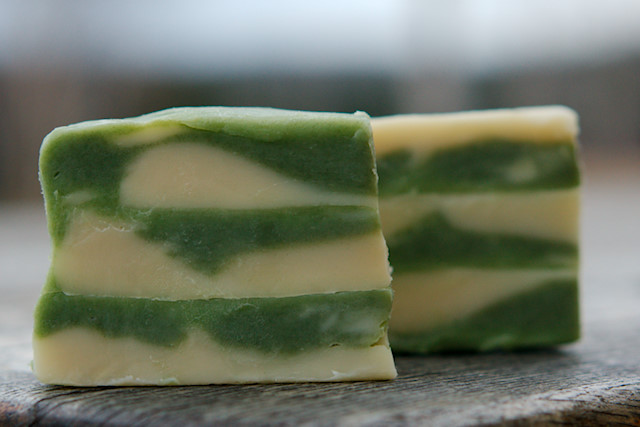 Which brings me to the present. We are renting our apartment in Montreal as of June 1st. We reserved a U-Haul to move our stuff to Montreal the first weekend of the month. Then we'll return to the peninsula for the transition of our friends' arrival back to their home. Sometime around the middle of June we will leave here to start the next chapter in Montreal.
This will be my focus and responsibility during May, preparing to move, again. But this time the plan is for a semi-permanent duration. For which I am so, so grateful.
My season is coming.
Summer is my happy season in the calendar year. Yes, I love the new green of spring and I love the crisp air of autumn and I even love the first two months of snow, and especially the low arch of the sun in deepest winter. But summer, oh summer is when I thrive. Summer is the season when I grow strong in the days of long light and afternoons at the beach (or perhaps poolside in Montreal).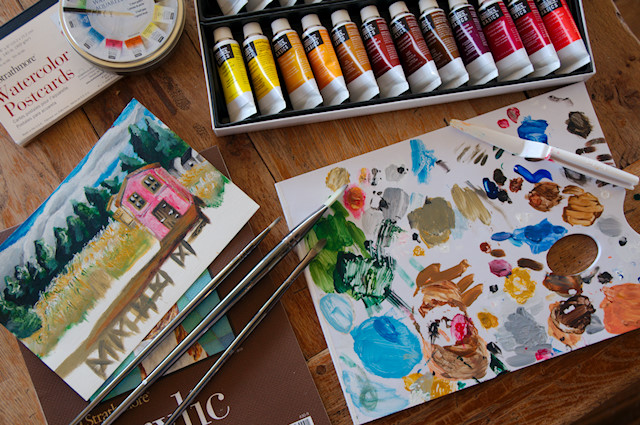 My body vibrates with a different energy during summer than it does the rest of the year and I can feel myself on the cusp of this now.
I missed my summer bliss last summer while hiking. Ironic, I know.
I've learned it's not just being outdoors that gives me this energy. I used to think nature was my happy place, and I know now that it's not nature alone that makes me feel alive and well during summer, or any other season.
It's a combination of factors - the sun, the long days of light, tending to the growing of plants, swimming or at least resting by water, eating lots of fresh, locally grown foods, exploring new places, sleeping under the stars, reading good books, and more things I just can't think of right now. I'm hoping to incorporate all of them in my summer.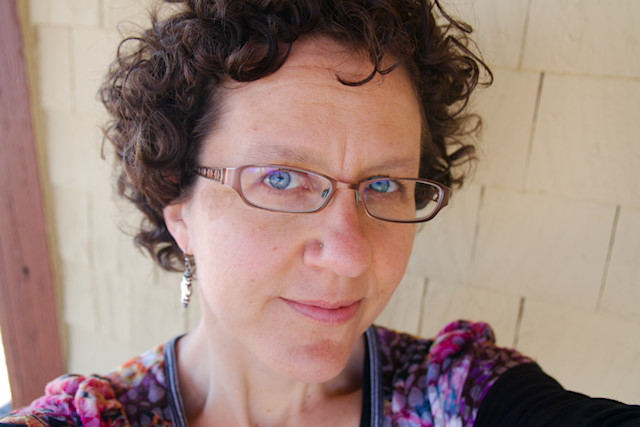 But first, we've got to move. Which is the order of the next month and a bit. And then summer and a new season of life.
You can subscribe to comments on this article using this form.
If you have already commented on this article, you do not need to do this, as you were automatically subscribed.