The first week of winter (and a bit of preamble)
November 23, 2014
This week I decided to take a break from soul-searching and write about homeschooling, specifically homeschooling high school. It's an exciting time for our family and we've learned lots through the transition into the high school years.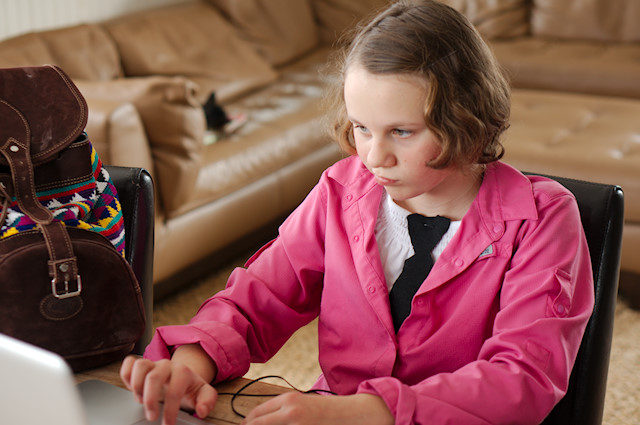 Brienne is enjoying House of Anubis on Netflix, and now likes to dress-up in an improvised school uniform
The older my children get the more I understand about interest-led learning, and its many possibilities and forms.
As I write snippets here and there about our experience and our philosophy, and as we meet new friends locally, I get the inevitable question how does it really work letting your kids have educational freedom? (They don't use those exact words.) And more importantly for many people - how will it all end? How will Céline get into university, and especially for my Québec readers and friends, how will we navigate Cégep?
These are questions I've been wanting to answer. So that's what I've been doing, writing about Céline's current curriculum and interest-led learning in the high school years, what it looks like in our home, and where it might go from here for post-secondary studies.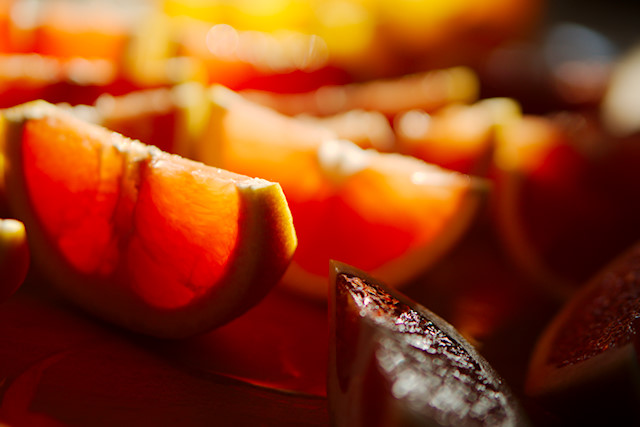 Interestingly, the shift in writing focus has rekindled personal passions, dreams and visions in me. All of which have laid dormant for months and months. It is a small rekindling. There is no bonfire burning, I don't have the fuel to keep that going, but a flame of inspiration flickers more brightly inside.
Mid-week, when I realized how deep I was into a three, four, five part blog series on homeschooling the high school years, I had an idea I'd like to try to keep things fresh on the blog while I continue writing.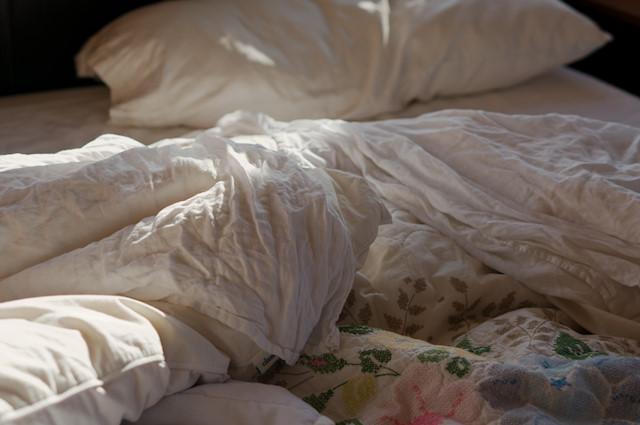 Going deep in my writing seems to be theme for me right now. I have a need to be thorough and explicit, covering all the angles. For me, this is not the time for short and pithy or sound bite ideas.
But while all this soul-searching, or in this week's case, homeschool writing, is going on, so is my beautiful life. The life I want to share with people on my blog because that is just what I do. Fun in My Back Yard.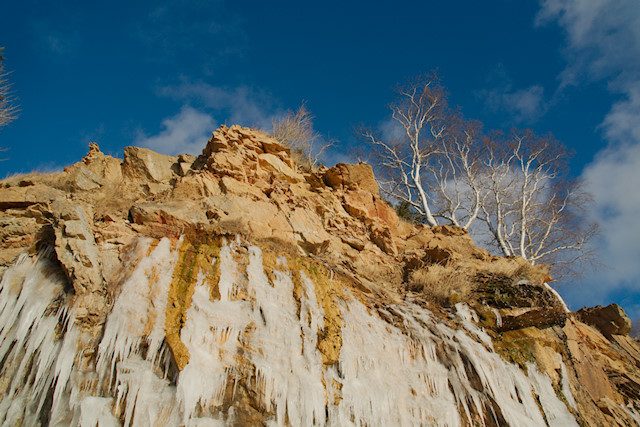 I am seeing the beauty and relishing the story, once again, of our lives. And I want to write it. The joy, loveliness, heartwarming moments, laughter, and beauty of the days. Days in a life we have worked hard to build, that we have sacrificed a lot to build.
I feel pain and disappointment from some broken dreams that lie at my feet post-hike. I feel disillusioned and adrift somedays about moving forward. I feel loss at having sacrificed a lot of myself to gain incredible experience for our family as a whole.
Those things are all real in my life. But so is love and joy, commitment and community, beauty and purpose found in each and every day.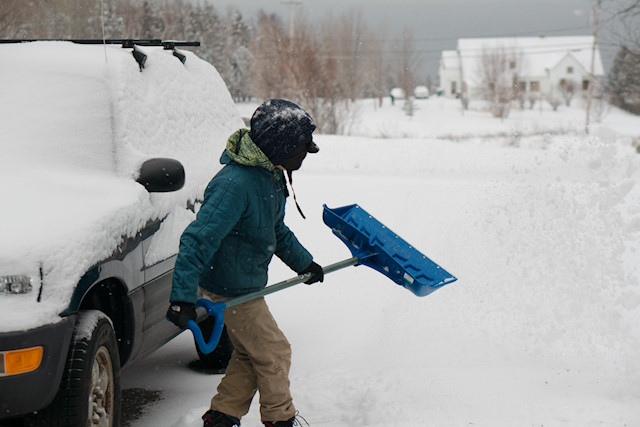 I want to tell those stories also.
That my friends, is just a really long introduction to explain something I'd like to try - a weekly post about the fun in my back yard. What we're up to, what I'm loving or doing these days, this is what I used to write about, it's actually the heartbeat of this blog, and it's the writing I always come back to, after various writing forays and blogging experiments.
So, I'll try that again, till I no long feel inspired to do so. Starting now.
---
Winter arrived this week. Not big winter but definitely winter's hello.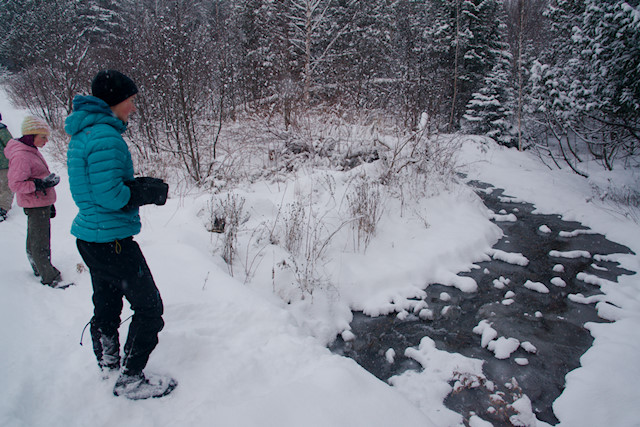 We are happy for winter's arrival but also challenged by it this year because our financial situation is tight, paying off post-hike debt, and we don't have the funds we're used to for outfitting our ever-growing kids for winter sport and activity, specifically backcountry skiing.
Damien is very resourceful, good at finding deals, etc. and I'm good at pinching the pennies, and managing the outflow. This week I found a few extra dollars in November's budget, but not near enough for the needs. So it will be interesting to see how this plays out.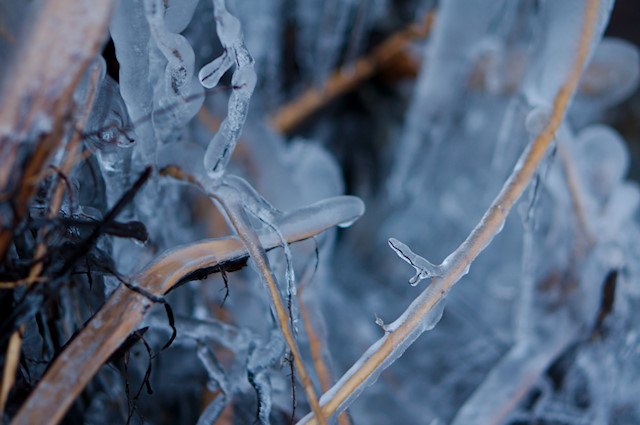 Our financial state post-hike has been a source of considerable strain and tension in our marriage. Thank goodness we're in this for the long haul because sometimes the short haul isn't so romantic, or even fun.
The kids took me on a walk in the woods, on a path our neighbors showed them last weekend. It will be the perfect cross-country ski route for me this winter, assuming we can find me some appropriate boots. Between a small amount of birthday and Christmas funds I have hope I may get the boots I need so I can ski out our door, which would be fabulous.
I only ventured to the beach once this week, at the end of a run. I left the house so frustrated and upset.
Running helped clear my head and by the time I got to the beach I had chilled out significantly. The roiling water and incessant pounding of waves on the shore though was the perfect picture of my previous frustration. I felt giddy with metaphor, nature's perfect reflection of a troubled heart.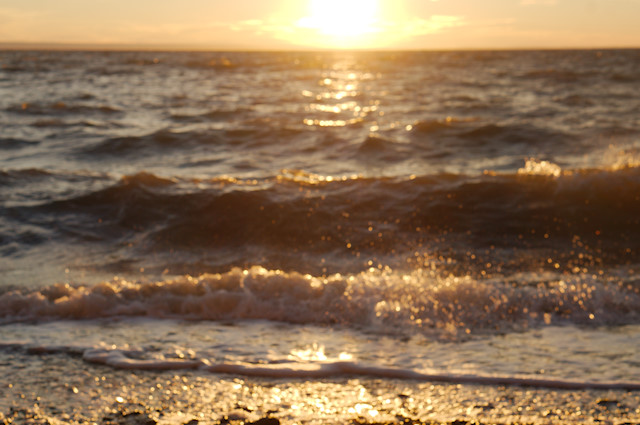 I love living so close to the ocean and felt so privileged, and blessed this week, when I considered all the places we've called home in our community here on the peninsula. A little cabin in a river valley. A mountain ski chalet and now our home on the hill, overlooking the ocean.
I try to remember this feeling of blessing when the waves of moving-related frustration wash over me, reminding me that we've experienced all this in only three short years, plus six months away from home on the Appalachian Trail, and one month in Montreal.
It is our willingness to pick up and move, to be homeless for six months, that enabled us the freedom to hike the trail. It is that same sense of homelessness and significant disruption to home life that contributed to pieces of me crumbling and breaking.
I would like to be settled. I have things I want to do with my life besides managing our moves, managing my breakdown.
I am so used to Damien at home now, three years into the work-at-home gig, I take for granted the precious moments that our sacrifices have made possible. This week I was especially aware of the special connection Céline shares with Damien and how crucial his daily participation is in her life.
She is a technical girl. She consumes media, news and information I have no grid for, no interest in. But Damien is there, solid, informed and interested. My heart melting each time I hear her laughter rising from the kitchen in some discussion with her Dad about topics I just don't get.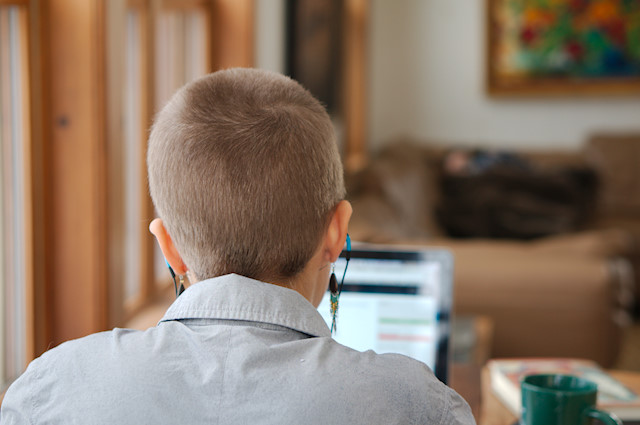 My girl. Cautious but sure-footed. Confident and sassy enough to buzz cut her hair at fifteen. My heart simply can't contain the affection and respect I have for her.
The kids and I all visited Le Baluchon (rough Québec translation: hobo sack) yesterday afternoon, our local version of Goodwill. We scored big time.
At Le Baluchon they sell most clothing items by the bag. A full bag of clothes costs $5. We came home with stylish, tall brown boots and very practical snowpants for Brienne, a single breasted black wool pea jacket for Céline, and a knit grey winter Calvin Klein dress for me, plus a couple bags of clothes all for less than $20. Thank God for Le Baluchon.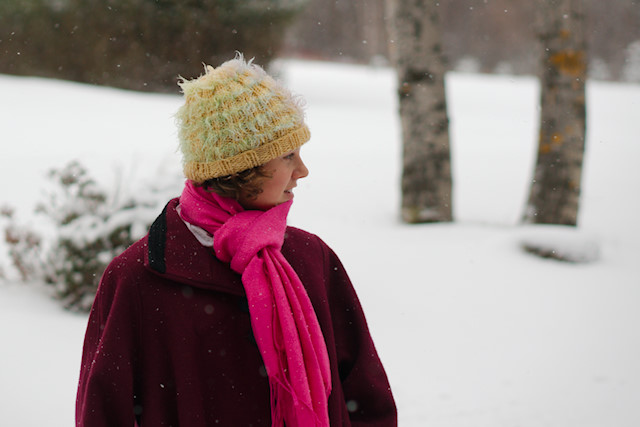 As I finish up this post, I'm watching the snow fall again. Laurent has just come in from shoveling snow. Damien's out and about with Brienne, looking for deals on ski boots and skis, comparing with the prices he's found on eBay. Céline's ensconced in her attic studio/bedroom sewing a gift for Brienne's birthday. And Chocolate Chip Banana cookies - easy, vegan, and whole-food (with a smidge of processed chocolate) - are just coming out of the oven.
The first week of winter.
(Damien and Brienne just came in the door with new skis for Céline, she's bootstrapping the purchase for us, since she has more disposable cash right now than we do. And Damien found a good deal on ski boots for me. We may be outfitted for this season's skiing yet.)
Renee Tougas participates in affiliate marketing, including the Amazon Services LLC Associates Program. Whenever you buy something on Amazon from a link you clicked here, I get a (very) small percentage of that sale. See disclosure for further explanation.
You can subscribe to comments on this article using this form.
If you have already commented on this article, you do not need to do this, as you were automatically subscribed.