Strawberry picking, for real this time
July 10, 2009
This morning we left the house before 10 am and didn't get home till 3:30 pm and I hadn't technically packed lunch before we left. Thank goodness I thought to grab that half loaf of bread from the freezer before we left. 
We didn't spend all that time picking, but most of it. Since we were close to our csa farm we stopped there on our way home, played & chatted with friends and picked up our bags bursting with carrots, Chinese cabbage, beet greens, lettuce, parsley, peas and Swiss chard. That's a lot of farm goodness in one day.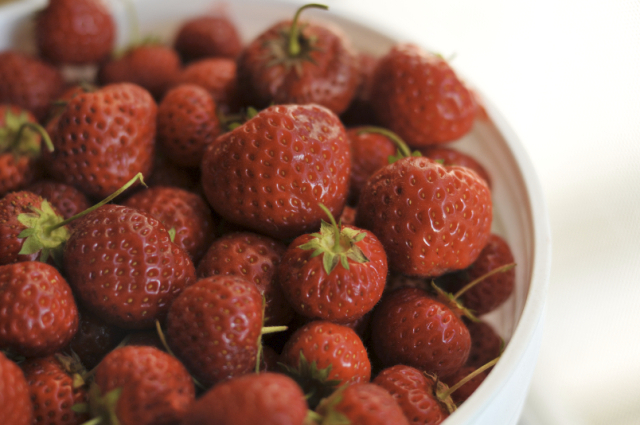 My goal was to pick 50 lbs of strawberries this morning. Last year I spread out the picking over 2 weeks or so. But this year's rain, rain and more rain hasn't allowed that slow and steady pace. Today was the day to pick. Well... I do have to go back early next week since I left something (non-important) there. Any excuse to pick more berries, if there's any left. After hours of back aching labor we managed to pick 40 lbs, filling all our buckets and calling it good. The kids helped for an hour or so then I let them loose to run amok around the field, forest and stream.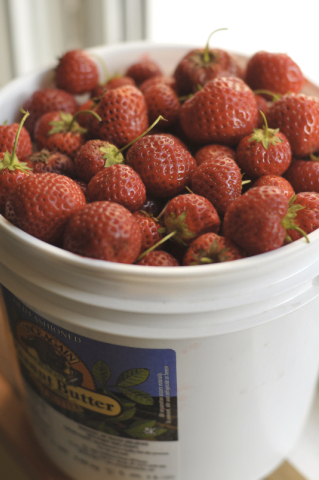 The berries aren't organic unfortunately, but they aren't sprayed with pesticides either. That's a compromise I'm willing to make, after all I don't have much choice this year since the organic farms are smaller and didn't have good enough crops for large pickings.
So what do I do with all these berries? I freeze them.
I am not a jam maker for a couple reasons:
Today's "lunch" loaf from the freezer aside, we don't eat a lot of bread. Damien is gluten sensitive and for the rest of us it's not as nutritious as whole foods - beans, vegetables, nuts, seeds and fruits & grains.
Jam requires sugar and we choose not to eat very much of that either. Speaking of jam, my mom (the woman who taught me to love berry picking!) makes a wickedly good recipe called platter jam. It's a treat for our Christmas visits and she even brought some camping this past weekend. It can be made with fresh or frozen berries. Mom, would you consider posting the recipe in the comments?? 
We may not eat a lot of jam but boy oh boy do we love our berries - talk about delicious and nutritious - so instead of the usual canning we freeze ours to make smoothies and strawberry sauces throughout the fall & winter. If I pick enough they'll last till early spring.
Freezing Strawberries
I've had people ask me how I do this so I thought you might like to know. I learned this from my mom.
Rinse berries in water. Don't let them sit in the water they'll take on too much moisture.
Remove stems and/or bad spots with knife or fingers - I use both.
Lay on baking sheet, close but not touching.
Set in freezer till solid or mostly solidly frozen. Remove and put in large Ziploc bags.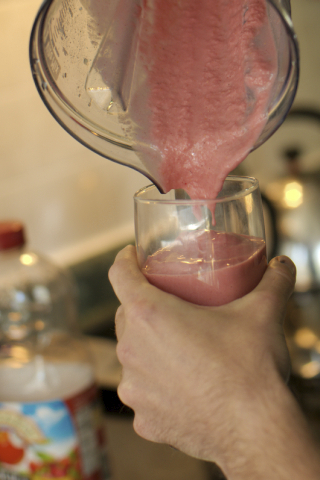 Strawberry Smoothie Recipe
 This is Damien's recipe. He's the smoothie maker around here. We eat/drink/slurp these throughout the year as dessert or sometimes breakfast. Everyone we serve them to loves them.
1 cup orange juice or 2-3 oranges, peeled
1 banana, frozen
1 cup fruit, frozen (strawberries, blueberries, mango, etc.)
4 dates
â…› cup raw cashews
1 tbsp. coconut
½ tsp. vanilla extract
Place all ingredients in blender and blend till smooth.
How do you like to eat your strawberries? Check out today's Food Roots for more seasonal food goodness.
Renee Tougas participates in affiliate marketing, including the Amazon Services LLC Associates Program. Whenever you buy something on Amazon from a link you clicked here, I get a (very) small percentage of that sale. See disclosure for further explanation.
You can subscribe to comments on this article using this form.
If you have already commented on this article, you do not need to do this, as you were automatically subscribed.