Pretty Thrifty
July 12, 2009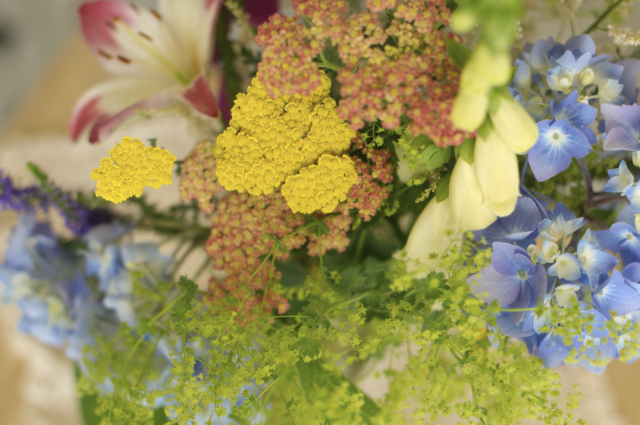 {mid July bouquet: gracing the top of my "new" fruit cart}

</center>

I don't like shopping. Shopping is not recreation, it's a chore. I think I partly feel this way because I like to spend money in keeping with my values. When you stop to analyze purchases*; where it was made, the conditions of the people who produced it, the pollution it caused, etc... shopping loses it's casual, recreation type pleasure.
Except when it comes to the farmer's market, purchasing an item from a local artisan, paying for our farm share - all of those give me great pleasure and the satisfaction of living my values.
Maybe it's my disdain of general shopping or the overall business of our weekends but I hardly visit yard sales either. I'm sure I'm missing out on scads of good deals but most Saturday mornings I can't be bothered to leave the comforts of home to peruse the streets in search of treasure.
But then I read how my friend Nicola uncovers all kinds of good finds and re-purposes old shirts and has an amazing knack for thriftiness. And I read how my other friend Karen, aka Kirwin, is finding her sense of style and putting together outfits that she feels pretty and comfortable in. I put the two together and I feel a little left out of the loop but more importantly inspired.
So when the neighbors had a yard sale this morning that I could simply walk down the street to, coffee cup in hand, I couldn't resist.
I've been saving money for a couple months to purchase, when I finally found them used and for a good deal, a few household items I want. Having a limited budget and not wanting to buy cheaply made new items means we often wait for things we want and need. Not always, but often.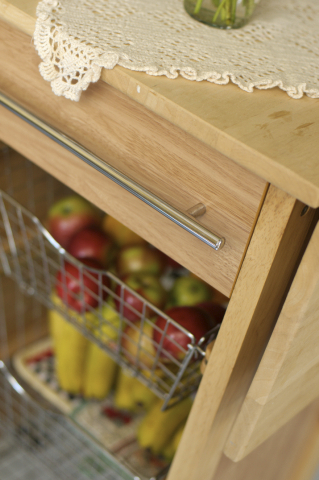 Today I found one of those items that has been on my to-buy list for a couple years. I'm calling it our fruit cart and having this will clear off a significant amount of baskets, bowls and dishes from our kitchen cupboard. Reduced clutter, ahh....
Of course it didn't come all neat and tidy like this. It was a little rusty and dusty with some loose screws, nothing that elbow grease couldn't take care of.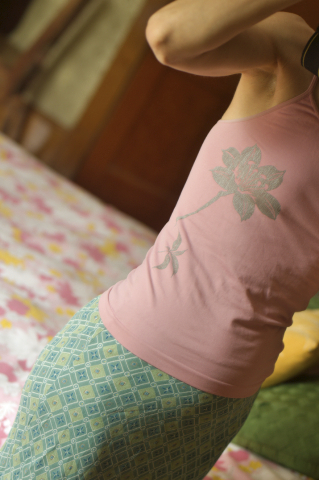 But not only did I find a long desired household item I picked up a couple pieces of clothing, in my favorite summer colors. Blue & green, pink & red, accents with purple or orange, sometimes a base of brown or black. That kind of describes my wardrobe.
I happily paid a few dollars for these treasures and although I don't know where they were produced, the conditions of their manufacture etc... at least I am re-purposing them and preventing further waste.
And if that's not enough today's finds made me feel pretty. I'm a very practical girl but even no-nonsense chicks need to feel feminine from time to time. So today while I worked in the kitchen, did laundry, cleaned up the fruit cart and paid our bills I was twirling in my new skirt and that alone made the day feel lighter, happier and beautiful.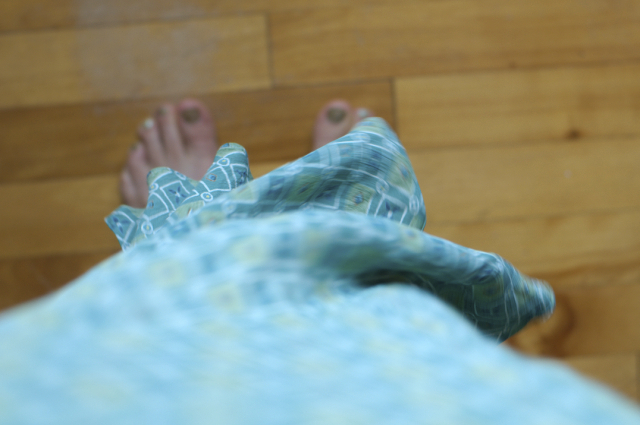 Oh, and if you're wondering what's on my toenails, that's Gorgeous Green, non-toxic, water based and child-friendly nail polish from SunCoat. I didn't actually buy it for me, I bought it for my beauty conscious girls who wanted painted nails. This though, my dear friends is not thrifty. But sometimes that's a trade off you have to make.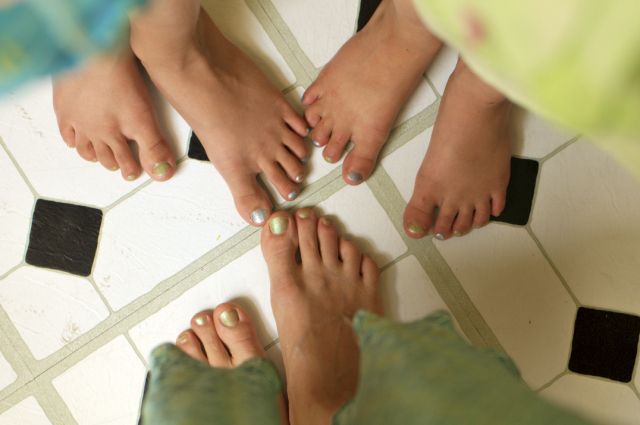 *I can't stop and think this way about every single item we buy, I'd be paralyzed, but as our consciousness increases and we learn more we stop to evaluate more of our spending decisions.
Renee Tougas participates in affiliate marketing, including the Amazon Services LLC Associates Program. Whenever you buy something on Amazon from a link you clicked here, I get a (very) small percentage of that sale. See disclosure for further explanation.
You can subscribe to comments on this article using this form.
If you have already commented on this article, you do not need to do this, as you were automatically subscribed.