Some People Bake ~ I Make Soap
October 17, 2011
Welcome to soap week at FIMBY. My first ever attempt at having a theme for an entire week of posts. 
The rest of soap week posts:
The fun thing about what I have planned for this week is that not only am I writing about soap and body care products, I'm making them in "real time". Often how blogging works for me is I do an activity, take photos, think a deep (or not so deep) thought and it will take days, weeks, sometimes months for me to share that in a blog post.
This week I'm both making soap and writing about soap, without all the lag time in between.
I did make soap, lip balm and lotion this summer and I will be sharing photos and reflections from that also during this week.
How am I doing all this writing and soapmaking while doing everything else? My usual homemaking and homeschool responsibilities keep me busy most hours of the day. Here's my little secret, homeschool this week is soapmaking. How clever is that?
In actuality, this week starts a long homeschool break for our family as we will be moving in less than three weeks and then we spend most of November and December celebrating birthdays and the Christmas season. There will still be individual math practice and read alouds but lots of other intentional mom directed stuff gets literally shelved.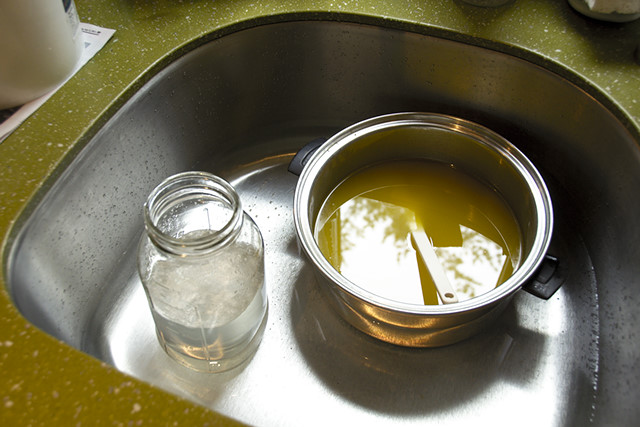 This week the kids will learn how to make soap. Chemistry, math, botany, history, geography (soap oils come from all over the globe). Nothing formal, just lots of conversation and making soap, together. The kids are old enough now, the youngest is almost nine, that I can use lye in their presence (with all the safety measures in place) and actually teach them the soap making process hands-on, not just the theory - which they already know from my years of making soap.
Brienne is especially excited about doing this with me. She often volunteers to help in the kitchen (they all have to help with various food tasks whether they volunteer or not) and loves to pretend she works in a factory making frozen meals. She is the family story teller and has such a great imagination. I just love it.
So, I'm sure she's be joining me this week making soap in her factory. Which brings me to a point I want to share. Not about factories - though I could go into all the nasty stuff that's in factory-made soap but I think you can figure that out on your own - but about working in the kitchen.
You see, I don't bake. What does this have to do with soap making you ask?
I think it has a lot to do with soap making because we all only have so much time for DIY projects.
Nearly three years ago I set the record straight on things I don't do. It's an old post but the sentiment is the same. I don't do it all.
I don't make soap and harvest all our own food, can tomatoes, quilt, and exercise early each morning. I think you know all this already, but it bears repeating.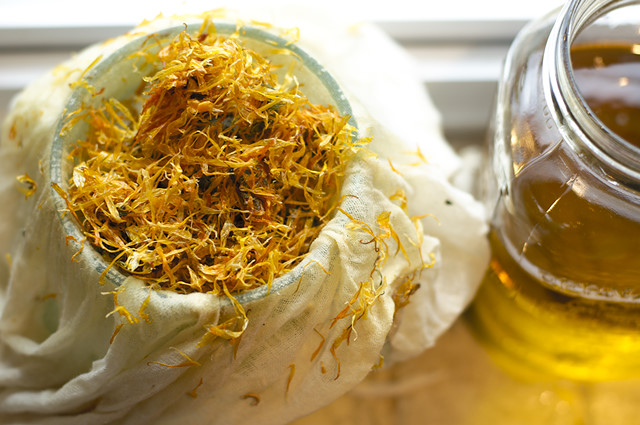 Calendula is one of my favorite herbs to use for skin care products
I love soapmaking because it is a craft that adds functional beauty to my everyday. Handmade soap is lovely to use, excellent for your skin and fulfills a need I have to create beautiful, decadent, and lovely smelling things in my kitchen.
Home baked goods have pretty much disappeared from my repetoire. This is due mostly to Damien's nearly gluten-free status and the realization, the deeper we go in our food journey, that healthy baking (with the exception of desserts like these) is an oxymoron. Maybe it's growing up in a home with weekly fresh baked desserts but I have in inherent desire to make luscious cinnamon-y, orange essence and vanilla scented goodies. Soap meets that need.
You'll notice a lot of my soaps (winter soaps especially) feature these scents. I didn't rationally think it out this way but after crafting several peppermint chocolate and spice cake inspired soaps, I saw a pattern emerging - soapmaking is my baking.
And so there you have it. I don't bake, I make soap instead. And no, I don't make my kids eat it (smile).
On the "menu" this week is a shampoo bar for Celine, who's hair needs more lather than my usual bars have. I've never made a dedicated shampoo bar before and almost all of my usual bars feature natural exfolianting plant material that isn't so great stuck in your hair. I'm excited about trying something new.
Also planned is a batch of my Simple Soap (getting ready to make cleaning soap again for when we move, we've been using Down East products while living with my parents), and a decadent Christmas gift bar. It will smell like Christmas baking to be sure.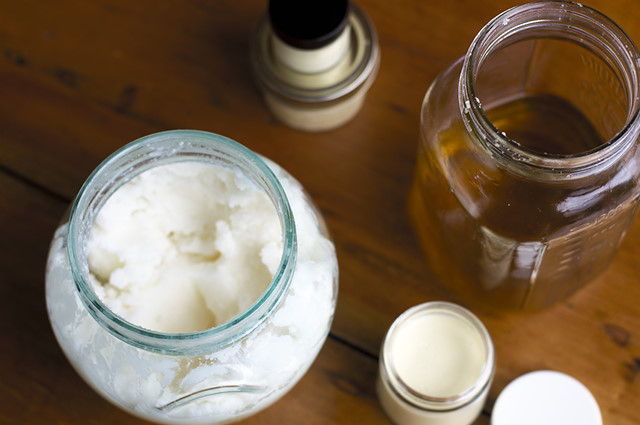 I'm going to be talking about where to buy supplies, this is much trickier since moving and I've got some resources to recommend especially for my Canadian friends. I'll be sharing a new lip balm recipe and talking about removing palm oil from soap.
And I'll be taking pictures and making notes as I work this week and sharing those here. 
It should be lots of fun. I look forward to talking soap with you this week.
You can subscribe to comments on this article using this form.
If you have already commented on this article, you do not need to do this, as you were automatically subscribed.