Peppermint Cocoa Lip Balm
October 18, 2011
One of the most popular posts of all time at FIMBY is my homemade lip balm recipe. I published that post nearly three years ago. Sometime during the last year it hit StumbleUpon and since then it's been "stumbled upon" repeatedly. It's a FIMBY rock star I tell you.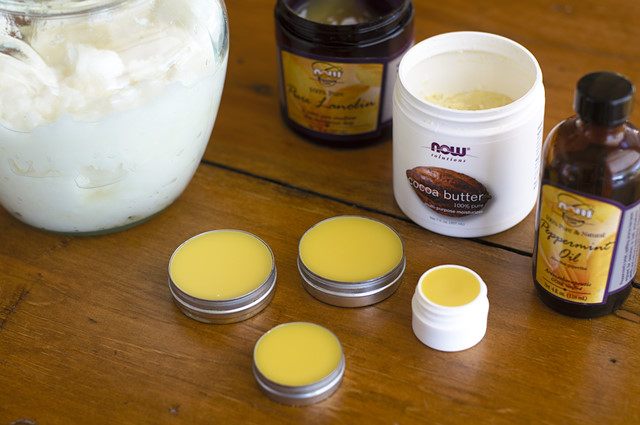 This is a pleasant turn of events for my stats (the numbers I use to track how many people visit here each day, what posts they like, etc.) but is kind of ironic since I blog about lip balm, oh... once a year or so. 
Seems like it's that time of year to blog about lip balm again (smile).
This is a good time of year for making lip balm, soap and other body care products. If you want to make these things for family and friends for holiday gifts now is the time to gather your supplies and recipes and start "cooking". 
Lip balm is a great place to start if you want to make your own body care products. It's so easy to mix, kiddos can be involved, and you can find all these ingredients at even the most rinky-dinky health food store.
If you live way in the boondocks somewhere with no access to even rinky-dinky health food stores see my Online Suppliers Lists (for both Canada and the US) at Homemade Soap & Body Care.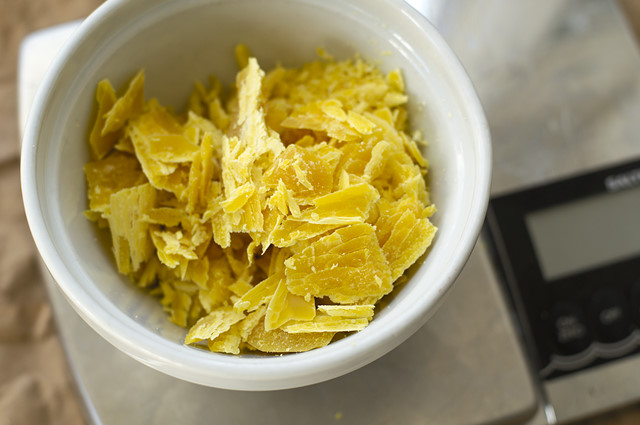 I've been making the same lip balm recipe for years. It was one of the first recipes I invented (you can't go much wrong with the ingredients) and I like it so much I've seen no reason to change it, till now.
One of the biggest questions I've had about that recipe was the "hard honey" part. In a follow-up post I wrote this past winter I clarified that by hard honey I meant raw honey. But any honey that is solid at room temperature would do (I'm not a honey aficionado so my terms are somewhat generic). Liquid honey changes the consistency of the finished lip balm, which I found out one time - the lip balm did not harden up as usual.
I've also been asked about using honey that has been sitting around so long it's crystalized. I have no experience with that but suspect the recipe would not turn out the same. 
I share all this because this summer I made lip balm using what I could find in my mom's pantry - a golden liquid honey. I knew I would need something to help harden the lip balm so I adjusted my recipe to add cocoa butter. Which makes this lip balm even more luscious and kissable than my original.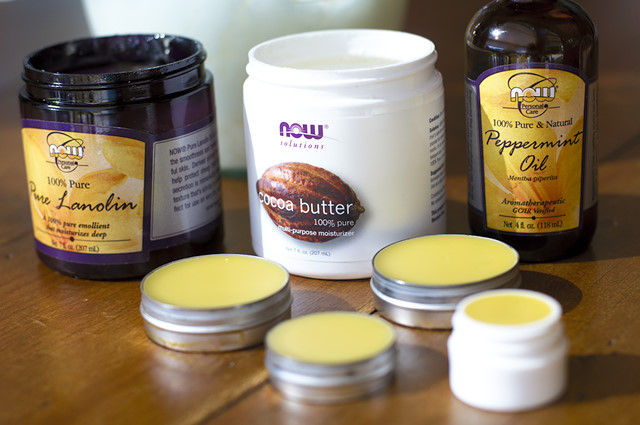 Peppermint Cocoa Lip Balm
1/2 oz beeswax (approx. 3 tsp)
1 oz coconut oil (approx. 6 tsp)
1/4 oz cocoa butter (approx. 1 1/2 tsp)
1 1/2 tsp lanolin
3/4 tsp vitamin E
1 tsp liquid honey
3/4 tsp peppermint essential oil
In a small pot over low heat melt beeswax, coconut oil, cocoa butter, lanolin and vitamin E. Use a longish stick or small whisk to stir (a chopstick is perfect).
Remove from heat and add honey and peppermint essential oil. Whisk well and try to distribute oil throughout the mixture - this is tricky. When you make it you'll see what I mean, there are little oil pockets that are hard to stir in.
Pour quickly into tins or jars. Stirring mixture as you do so the oil doesn't separate.  Let cool on counter till hard.
Notes:
I use a scale but I've included tsps as approximate measures if you don't have a scale. This may affect your outcomes, but... (see next point)
Be willing to experiment. The cost to prepare a batch of lip balm is less than a dollar, probably less than .50 actually. If it doesn't turn out the way you like you can always compost it or just re-melt, add a bit more of what you think you need and pour again. I've never had a batch turn out so bad that I couldn't use it. My actual measurements often aren't so precise as the ones I've given you here. 
I prefer the small tin and plastic containers you see in the photos (vs. tubes) because of their reusability. Sourcing, cleaning, and re-using tubes is a pain. You can re-use any small jar to hold lip balm.
The possibilities for lip balm - gifts, fundraisers, or just-for-fun make it such a great thing to try making for yourself. 
Filed Under
Resource Library
You can subscribe to comments on this article using this form.
If you have already commented on this article, you do not need to do this, as you were automatically subscribed.