Soap Making Supplies & Where to Find Them
October 19, 2011
This is an old post and some of the information is outdated. I keep an updated list of soap making suppliers, especially for Canadian soapers, at this page.
---
This is post two of a four part soapmaking series. Posts one, three and four are linked below:
When I first learned how to make soap over four years ago I was living in a Maine city. A small city compared to most but one of the largest urban centers in Maine, which isn't saying much. Everything I needed to make soap could be found in a few shelves at my local health food store.
That health food store was teensy by Whole Foods Market standards but its shelves were packed with treasures. I had no idea how blessed I was.
For the first couple years I bought all my supplies at this tiny but well stocked store - carrier oils, lye and essential oils. Certain carrier oils were expensive and essential oils gave me sticker shock (even more so now with prices rising) but I built up my soap stash slowly and sold some bars to a few friends and family to put that money back into my soapmaking cash envelope.
This made it relatively easy to get started as a soapmaker. The supplies were readily available and I staged their purchase to make it more affordable.
The first year I made a big batch of soap it was for gifts. I can't remember now if it was hostess gifts for a trip back to Canada or Christmas gifts I was sending. I used our gift budget to help fund the soap supply purchase.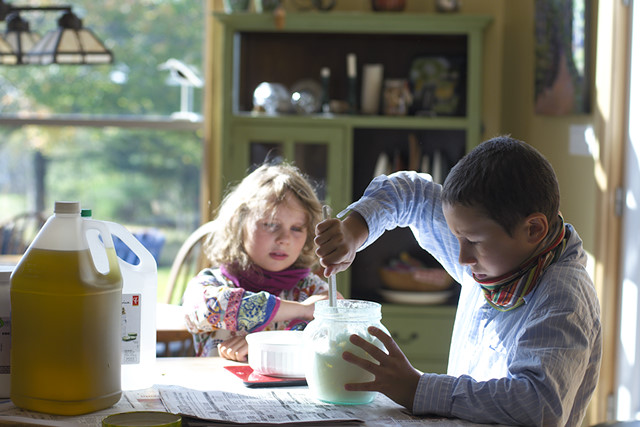 Fast forward to this winter.
In getting ready to move I didn't have time to make soap and I didn't replenish any oils I used after making lip balm, lotion or spa day with the girls.
When we moved I had enough carrier oils and essential oil remaining to make one large batch of soap, some lotion and lip balm. Then I needed to restock. I have been dreading this restock for months.
In Maine I knew my "suppliers". Yes, soapmaking is kind of like a drug. There was the local health food store and when I wanted to save money and buy bigger quantities I did online ordering.
Over the years I had done my research and had spreadsheets comparing all the different suppliers and their prices. When we moved this spring all of that information no longer did me any good. Shipping heavy oils from US companies to Canada is ridiculously expensive.
I lost my usual suppliers, I had depleted my supply, and there was no local source for essential oils and carrier oils (at a decent price) for making soap. And lye, the absolute must-have ingredient for soap making, where does a person find that?
I had to figure that all out this summer. And I'll be frank, spend a lot of money, to get set up again for soapmaking.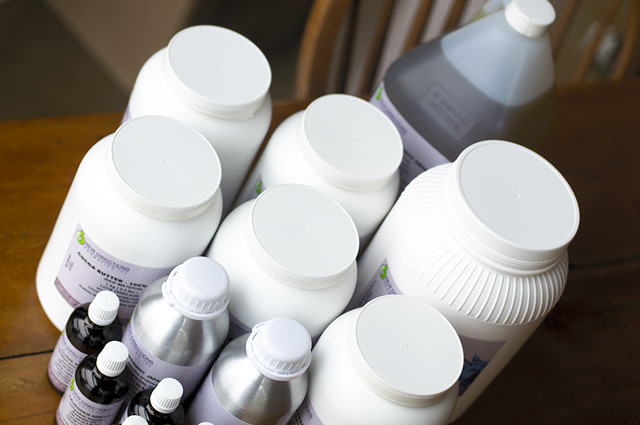 Where to Find Soap Supplies
I have published two very descriptive tutorials on soapmaking:
I am not going to repeat myself here and teach you how to make soap. See those posts for everything you need in that regard.
What I want to do is walk you through all the things you need to make soap and where you might find them. My soap making video shows you all the things you need so I recommend you watch that if you need clarification on anything I mention below.
1. Water
This can be as simple as using tap water, I usually do. But most people recommend using distilled. I recommend that also if you want to ensure your bar doesn't turn a funny color.
I learned from a fellow soapmaker and friend that if there are certain minerals in your water they can react with the lye to produce funny colors. Distilled water is cheap and readily available at the grocery store.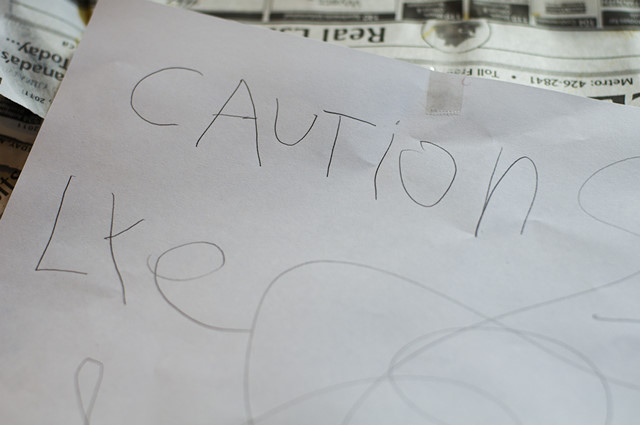 2. Lye
Ok, this is where it gets tricky. Lye can be hard to source locally. See the list of online suppliers on this page. Camden-Grey is a US company that sells lye and Saffire Blue is Canadian source.
In Maine I was able to find it locally at a health food store in the soapmakers section.
Since moving to Nova Scotia I've been able to find it locally at Home Hardware. This might be true all across Canada. In the United States I also found it at a small hardware store. Look with the drain cleaners.
You may have to do some serious snooping to find this ingredient but you simply cannot make cold process soap without it. Unless you want to try running water through your wood ashes, which is how lye used to be produced.
I'm thankful to buy mine in white pellet form.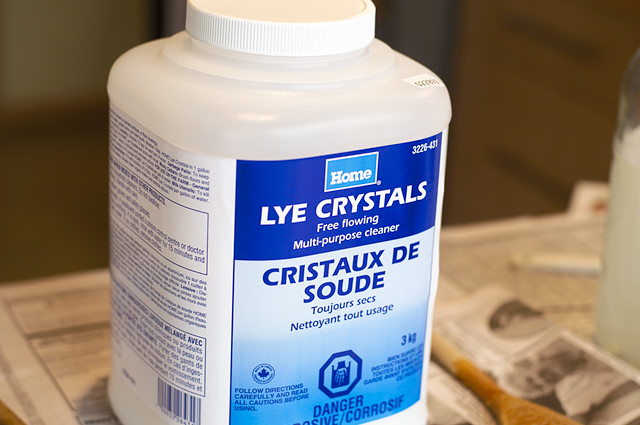 3. Carrier Oils
Carrier oils are the oils that you mix with the lye and water. This can be as simple as a 3 lb tub of Crisco you buy at the grocery store. In my next post I'll be sharing my journey as a soap maker, trying experimenting with different oils through the years.
If you want to get fancy (more skin and eco-friendly) the cost increases and finding oil can be harder.
You might luck out with a good store near you, if not you'll have to do on-line or mail order. This is what I had to do this summer. To make it worth my shipping costs I purchased enough to last me for at least one year of soapmaking and then some.
I ordered from the Canadian branch (they are also in the US, Australia and the UK) of New Directions Aromatics. Thank you Wooly Knits N Bits for the tip. It was very overwhelming to order from such a large supplier since there are so many grades of oils to choose from - refined, fair trade, natural, organic, etc...
I simply choose the cheapest varieties for my first order. It was expensive enough as it was.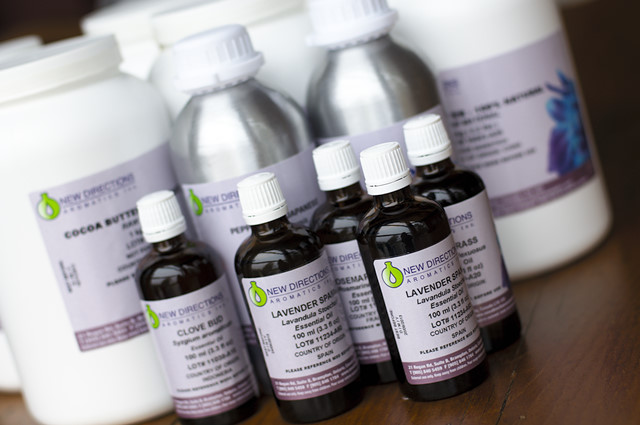 4. Essential Oils
These are the totally optional ingredient in soap making. But they are the ones that give handmade soap its lovely fragrance. One of the reasons I make handmade soap is to have these scents in my life, in the quotidien mundane, and so I always add essential oils except to my Simple Soap which I use for cleaning. Though I could add a Tea Tree oil to that for an extra cleaning boost.
Here again, you may luck out with a store nearby you that sells some of the cheaper essential oils, like the NOW brand. I don't use the highest quality, aromatherapy grade essential oils in my soap. That would just be too expensive.
The best deal I've found for essential oils is to buy larger quantities at the same places you can find carrier oils.
While you are still learning and experimenting stick with the basic and inexpensive essential oils like lavender, peppermint or rosemary. These are still my three favorites to use. And are very versatile for other home and health purposes. 
5. Tools & Hardware
The only special kitchen equipment you really need for making soap are a thermometer, scale and a hand blender. Everything else is stuff you find in an average kitchen - pots, glass measures, etc.
If you use wood utensils for stirring lye you should not use those same ones for cooking. I also wouldn't use plastic for both lye and cooking. Anything glass or stainless steel is safe for both uses.
See my video for exactly what you need. It's not much.
I want to add that special soap molds are totally not necessary. A cardboard box lined with a reused plastic bag works great.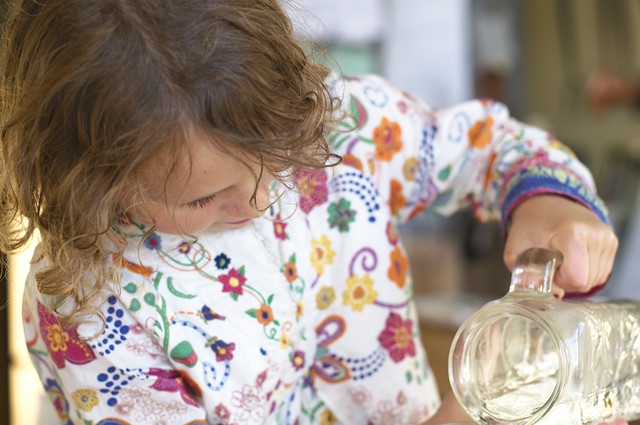 Affordable Soap Making
Making cold process soap is not a cheap hobby. Yes, you save money by not buying soap but unless you're switching from buying all handcrafted soap to making all your own, you won't save money.
Factory made soap at $1/bar (or whatever the price is) is still cheaper than a $5.00 bar of artisan soap. But of course handmade soap isn't all about cost. It's about the health of our skin, the environment, and the beauty we bring to our everyday when we use it.
The areas I've noticed saving money is using my Simple Soap for laundry, dishes and cleaning. Damien has very sensitive skin and I have certain environmental standards for what soap I use. The cost of store bought safe-for-sensitive-skin and environmentally friendly soaps is much more expensive than making it myself.
Handmade soap for our shower, hand and hair washing is another matter. It's those luscious oils I use to moisturize our skin and the essential oils that add the lovely fragrances that boost the cost.
Here's some ideas for making soap craft more affordable:
Share the special kitchen supplies. A kitchen scale is a very handy tool. We use it all the time for weighing trail food and other kitchen uses. I'd own one anyway, even if I wasn't a soap maker. But if not having a scale is stoppping you from trying soap making - borrow one. Or pool resources with a friend and buy one to share. The same goes for a hand blender. I use one with a detachable blade. I own two blade attachments, one for soap, one for cooking. I started with using just one for both purposes, just clean it really well.
Sell your soap. Even if you don't want to be an etsy or farmer's market retailer sell it to your friends and family. If all you want to do is cover your costs you can give them a deal and your soap will be cheaper than a soap maker wanting to actually earn money from their craft. Or maybe you'll mark it up (your time is worth something!) and add a few extra dollars to that soap fund.
Have a soap buddy and order supplies together. If you can't find supplies locally you'll have to do on-line or mail order. These are usually bigger quanities (cheaper per unit though) and there are shipping costs also - oils are heavy. Find a friend who wants to make soap and split an order. It will make that initial purchase more affordable.
Give soap as gifts. Most of us spend some amount of money on gifts during the year and the big gift giving season is coming up. Instead of buying gifts for your family and friends buy your supplies and give them soap for a holiday gift. This has funded many of my soap supply purchases.
I'm addicted to soap making and love using handmade soap on my skin. This summer before I managed to make a batch I bartered my photography with a local soapmaker so I could stock our bathroom with hand crafted soaps.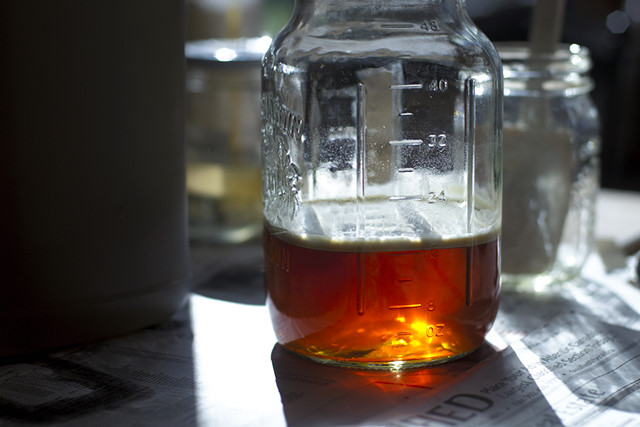 It's always been a process of figuring out how to make it work, from both a cost and time perspective.
On that note, I am pleased to announce I will be selling a limited number of bars of the soap I'm making this week - Lavender Lemonade Shampoo Bar and Christmas Spice. Or something like that, the name of my holiday bar is yet to be determined. It's like naming a child, you can't be sure on the name until you meet it.
These bars will be available for purchase December 1st. I will let you know when they are ready.
Any questions?
Filed Under
Resource Library
You can subscribe to comments on this article using this form.
If you have already commented on this article, you do not need to do this, as you were automatically subscribed.