A Soapmaking Journey
October 20, 2011
I've realized from some of your comments on earlier posts that maybe you were hoping for specific recipes this week. Sorry to disappoint.
The rest of soap week posts: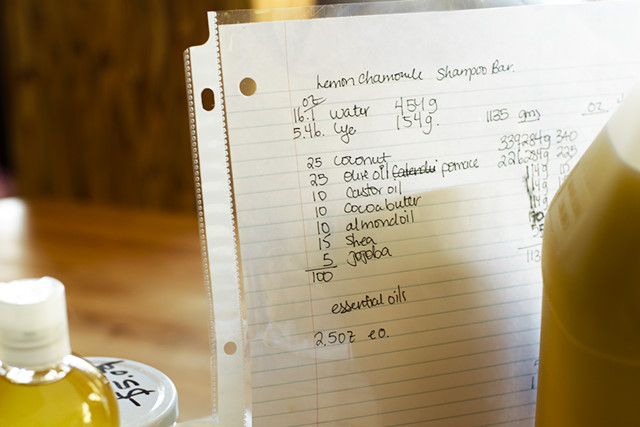 This week was an experimenting week for me, inventing a shampoo bar and a holiday gift soap. I'm not willing to share those recipes till they are tried and true and the thing with soap, unlike a food recipe, I won't know for weeks how well they turned out.
I'm always changing my soap recipes. Mostly tweaking the carrier oils I use. I started years ago with a very simple recipe - vegetable shortening, coconut and olive oil. That was a great place to start, the ingredients were easy to find and cheap. But I found the bars to be softer than I liked. And vegetable shortening is primarily soybean oil and I don't like how that is conventionally grown (all that gmo nonsense).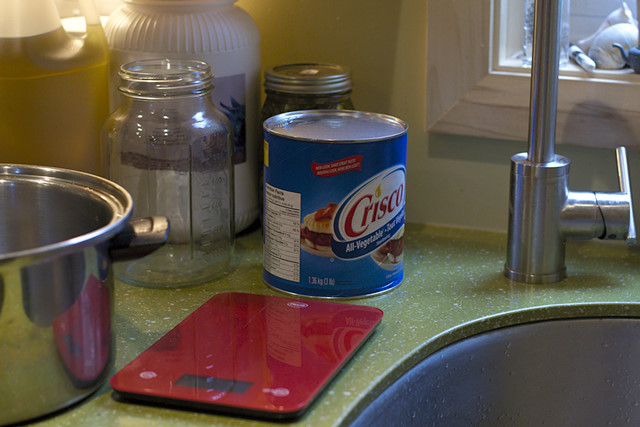 So I switched to a combination of coconut, olive, and palm oil. Then I started to become aware of the deforestation issues surrounding palm growing. I didn't want to be a part of that but didn't really know what to use instead.
I used my last bit of palm oil this summer and am now switching to shea butter. Way more expensive and I have no idea what kind of bar it will produce.
I share this with you, not because I'm some eco-certified soapmaker. This last batch of soap oils I bought is all conventionally grown, not organic or even fair trade. In moving to Canada, I currently feel priced out of that market. Yes, things really are more expensive here.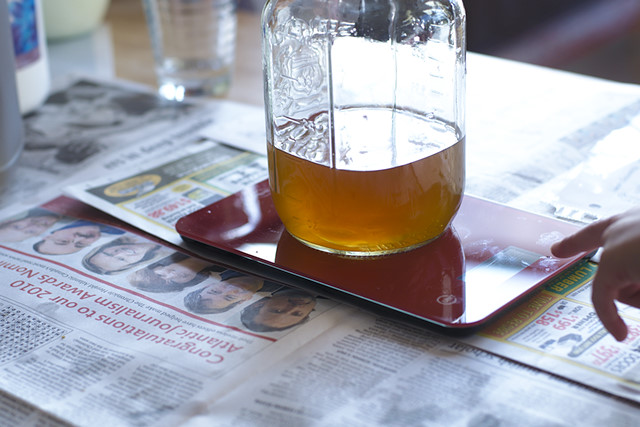 I simply share this with you because soapmaking for me is a journey.
It's also a bit of an ongoing experiment. There is a science to it definitely and "theoretically" if you get all your measurements correct and are very precise it will work out.
But soapmaking is also an art. Especially when your desire is to create something of beauty for the senses.
I like the predictability of the science but I like the creative part also. It's the unknowns that excite and intrigue me. I have never made a recipe exactly the same way twice. This is one reason I don't plan to be cottage industry soap manufacturer. I'm always trying new recipes, different combinations of carrier and essential oils. Adding herbs and natural plant matter.
I have no interest in standardizing my recipes or making the same thing over and over. Soapmaking would lose its creative joy if I did that.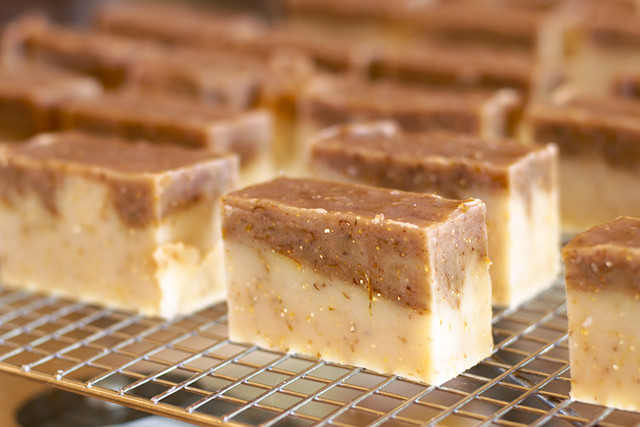 What this means of course is that with every batch of soap I make there is the risk it won't turn out. This risk is minimal if I've done the lye calculations correctly, but it is a risk.
Here's a few creative mishaps that have happened over the years:
One of my first batches of soap, which I made to give as gifts was so incredibly goopey when it lathered. Like mucus sliding off the bar. It still worked (ie: cleaned skin) and was very moisturizing but it was kind of weird.
One summer I had an idea to make a bar of pink soap using beets. Beets are one food none of us really like to eat and I was forever trying to figure out how to use our farm beets. I made pink paint for the kids and I thought why not make deep burgundy beet water and mix that with the lye? Voila... a pink bar.
There's a reason why you don't see any naturally dyed pink soap bars.
The lye reacted with the pink water to turn a gross shade of brown. But the soap still did what handmade soap does - clean and moisturize our skin.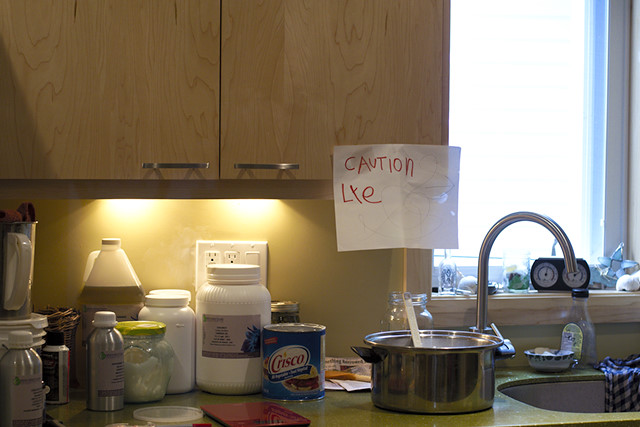 Then there was my Peppermint Mocha Cheesecake with chunks of organic, fair trade dark chocolate. That was going to be a decadent bar of soap. Talk about smelling so good you wanted to eat it!
But I knew as soon as I cut it (about 24 hours after pouring) that something wasn't right. It was too hard and flaky. I let it cure four weeks and tested in on my skin to confirm that yes, something had gone wrong and this bar would not become the Christmas gifts I had intended it to be.
Instead it became liquid dishwashing soap. Expensive liquid dishwashing soap.
The soap I made just yesterday - my tried and true Simple Soap with only vegetable shortening, lye and water - gave me grief. As the fat cooled it hardened more than I remember happening before. It was quite viscous when I mixed in the lye & water. Sure enough it "traced" weird and it was fast becoming solid by the time I dumped it in the cardboard box mold.
I think it will turn out all right though, it's just for cleaning anyway.
Here's the point of all this. There's a small risk with soap making but I've never experienced any total loss because I just used the soap anyway. Either as a funky body bar or grated up and used to wash our clothes.
I like that my kids have seen me go through the learning process with my soap making. Soap making is definitely interest-led learning for me, exactly what I want to model for my children. I've had many successses and a few failures. I experience joy in creating something beautiful. I show my children how I embrace new (& scary) things and am willing to risk.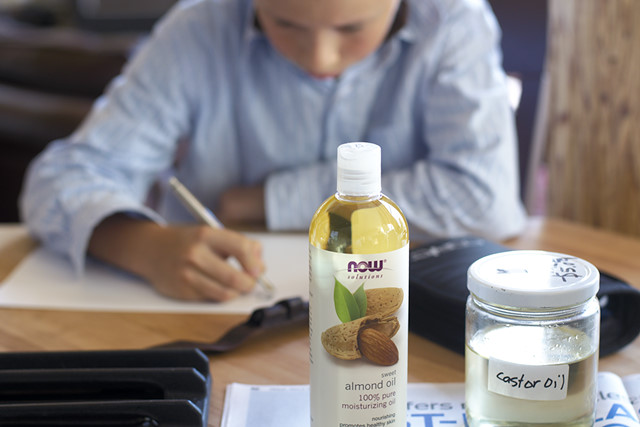 I get a lot of comments about "wanting to try soap making". I realize we all pick and choose our DIY projects, trust me I know all about that, but if you really want to try making soap why don't you just do it?
I have a 4 step tutorial, a video tutorial, a whole page of resources with recipe ideas, and finally I recommend where you can buy supplies and how to make it more affordable.
What's stopping you?
Renee Tougas participates in affiliate marketing, including the Amazon Services LLC Associates Program. Whenever you buy something on Amazon from a link you clicked here, I get a (very) small percentage of that sale. See disclosure for further explanation.
You can subscribe to comments on this article using this form.
If you have already commented on this article, you do not need to do this, as you were automatically subscribed.