Raw & Healthy (Tasty Too!) Peanut Butter Cookies
June 24, 2011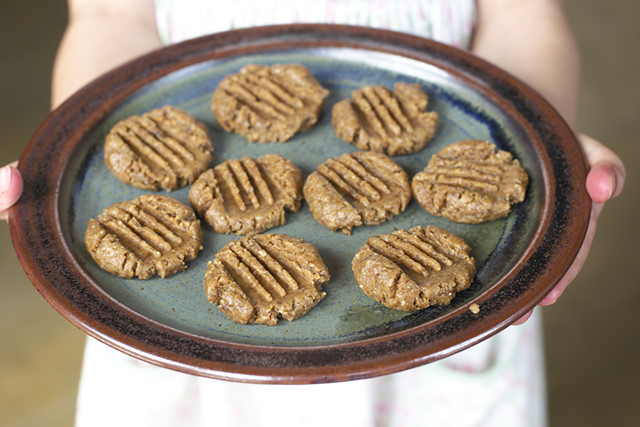 Time for another recipe. But first a little trip down the dietary memory lane.
Two years ago when I wrote about our homemade harvest/halloween party I mentioned that our family limits processed sweet treats to one serving each week.
We're fairly hard core about what we consider processed sweets. Basically, if it's not a whole plant food such as dried or fresh fruit, it's a processed sweet.
I know this goes against many people's opinions about the "healthfulness" of maple syrup and honey. I realize that honey has antibacterial and other "medicinal" properties and I do use it for sore throats and occasional herbal remedies. But the fact is, refined sweeteners are not nutrient dense foods (foods that promote health and longevity) and as such we limit them in our diet.
Drawing a boundary line against sweets while living in our society of excess and desserts at every-single-turn is difficult.  And sometimes the line gets smudgy.
The line got fairly smudgy during the last year and especially during our move.
One way we responded to the stress of moving was to reach for the sweets and other food pick-me-ups. But that is not the way we want to live or how we want to hardwire our children - using food to feel better emotionally.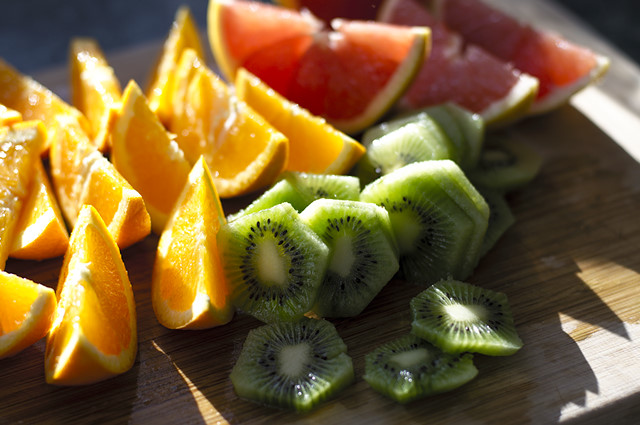 We also don't want to set our children up (through example and upbringing) for a lifetime of reaching for processed sweets - sugar, brown sugar, sucanat, molasses, maple syrup, etc...on a daily basis.
After we moved we drew the line again. This hasn't been easy.
Taking back lost ground is never easy especially when you are living in someone else's kitchen, even one as accommodating as my mother's. But our health matters to us. It's one of our family's core values.
And so we're back to one processed sweet treat a week (or thereabouts) - homemade or bakery goods, ice cream, etc..
On a daily basis we eat dried, fresh and frozen fruits for sweets. And we allow ourselves a small smidge (I'm talking one teaspoon) of maple syrup on breakfast or in an afternoon lemonade or something.
When we backpack and need more calories we indulge with more honey, sucanat, and maple syrup sweetened foods. And in the spirit of full disclosure we also feast on a large, very un-vegan, calorie and fat laden meal when we come out of the woods after expending a lot of energy for days. There is a time and place for feasting, it just isn't everyday.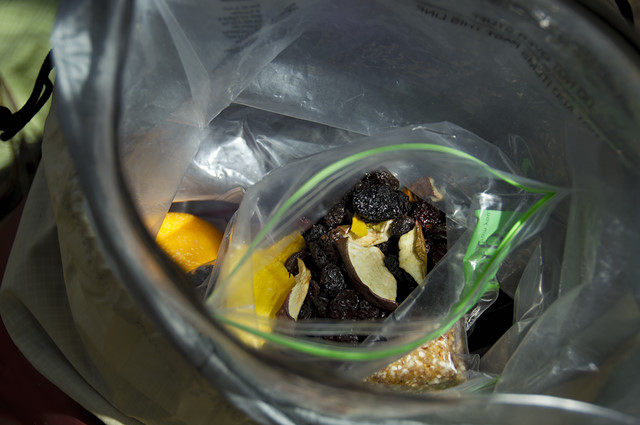 backpacking dried fruit mix
I say all that to preface this recipe (good grief that was a long preface).
But you need to understand that when I call these peanut butter cookies that's what they are to my family. Really delicious, rich, sweet cookies.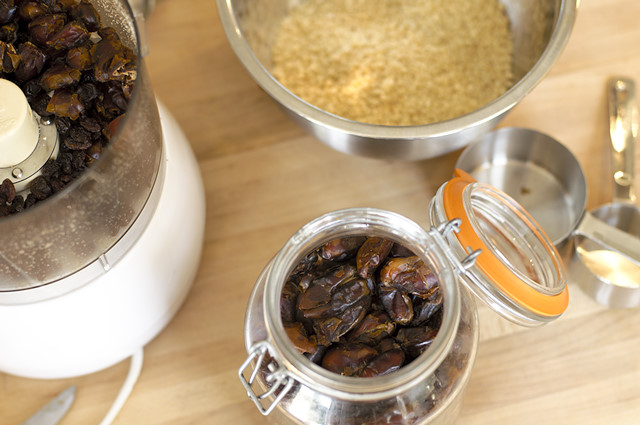 Get on with the recipe already
I make this recipe or a variation of it a couple times per week. They are very easy to make and require no baking, though I do give that option in the notes. You'll definitely need a food processor to chop and blend the dates.
Ingredients:
2 cups walnuts
1 cup dates*, pitted
½ cup raisins
½ cup peanut butter
½ -1 tsp vanilla extract
½ tsp salt (or to taste), I like to use a medium grain sea salt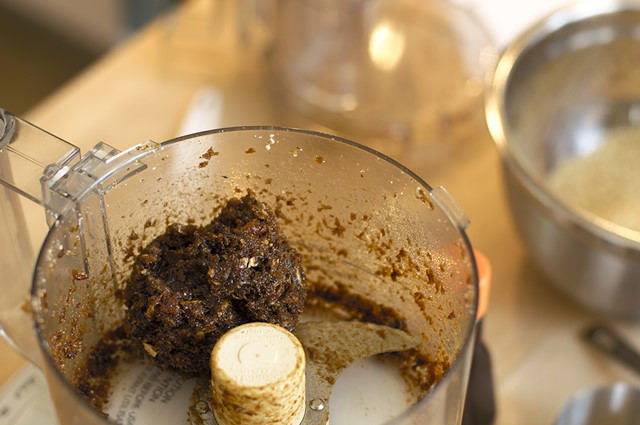 Directions:
Blend walnuts in food processor till mealy. There should be not big chunks but don't make it into flour either.
Remove walnuts from food processor.
Put dates and raisins in food processor and blend till in a smooth, smooshy ball (see above photo). If you are using a drier date* this could give your food processor quite a work out. 
Add walnuts and remaining ingredients to food processor. Process till well mixed.
Roll into balls and leave as is (peanut butter balls) or lay on large plate and press down with fork for a more "cookie" look. Cookies will be quite soft and crumbly.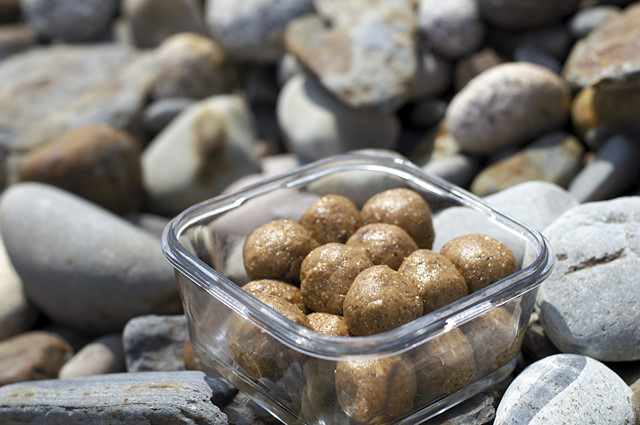 Notes:
Makes approximately 2 dozen tablespoon sized balls or cookies.
Can be baked for 7 minutes at 350F for a firmer cookie. In which case let cool completely or they will crumble also (I can never wait).
Peanut butter balls transport fairly well in a covered container but they don't hold their shape so great and can get quite greasy from all the nut oils so I don't recommend putting them in a baggie.
* About Dates
We are going through dates these days like nobody's business.
Smooshed up dates are the base of most nut/dried fruit dessert type recipes. Mom and I just bought a 20 lb box through her natural and organic food club to help make this more affordable.
Medjool dates are by far the tastiest and best textured dates to eat "fresh" and they blend so well for making treats, like the crust in this pie recipe. They are also more expensive. So I am trying to use the less expensive "honey" dates or Neglet dates, as I've seen them called. They look like the Perny dates on this page. If you use this kind of date it will require more processing or blending (for sweetening drinks) than a softer date.
For more inspiration check out these recipes:
Just want to say also how much I love each of these blogs - thanks ladies for sharing such great recipes.
You can subscribe to comments on this article using this form.
If you have already commented on this article, you do not need to do this, as you were automatically subscribed.