Project Home & Healing: The Kitchen Table
January 12, 2015
The Kitchen Table was a virtual group of women (real women meeting and connecting through the Internet, around a virtual Kitchen Table) that came together during 2015. The group is no longer active and email list to sign up and participate is now closed.
---
Project Home and Healing is a personal wellbeing project of mine, a roadmap to recovery after an intense family adventure and a difficult life season.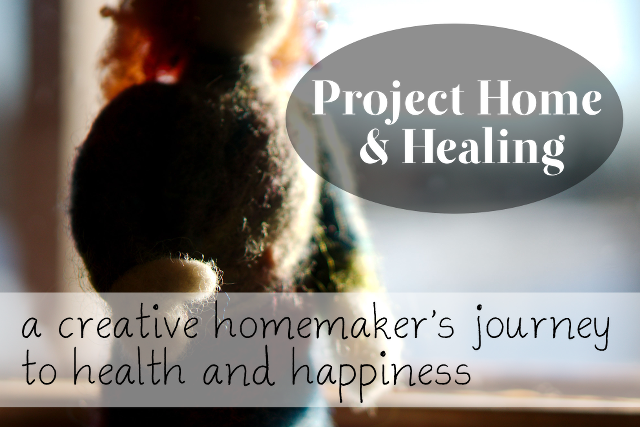 When I considered that I would be writing about this recovery on my blog, sharing insights and struggles, I thought it might be nice to connect with a smaller, more intimate group of women on my journey to health.
The Kitchen Table
The Kitchen Table is a group of women interested in connecting and learning from each other around the themes of homemaking, personal growth, and wellbeing.
It is my invitation to you to join me on my creative homemaker's journey to health and happiness.
Why the name Kitchen Table?
Because that's where I'd meet with you if I could. I'd boil water for tea. I have a fun collection of green, black, rooibos, and herbal teas, or an espresso machine if that's more your style.
I'd probably knit while we talked, I don't usually just sit. And we'd share what it's like to be on the cusp of forty (or in our forties, or late twenties or thirties, or fifties, seventies). We'd talk about our tender, broken places and how we experience healing.
We'd gather as women, and homemakers, readers and crafters. Women who appreciate nature, beauty, simple creativity, and friendship with kindred spirits.
And after you left to go back home, I'd email you that pattern I mentioned, the book title you asked about, and the recipe I have bookmarked at Pinterest.
What can you expect from joining The Kitchen Table?
Approximately once a month I publish an essay, delivered via email, to the group. I publish essays when I have one written, which is now averaging at one every two months. These essays are kind of similar to my blog posts, but they are more personal. They are about healing and growth.
The place we discuss these ideas is on a private social media networking platform called Slack. It's a place to gather, around the essay themes (and other themes) to share ideas with one another, make connections and possibly (hopefully) form friendships.
Participation in the online group is completely optional.
Monthly Topics
I have a personal focus, a theme, for each month of 2015. These themes have been chosen to support my own home and healing project and are designed to bring me back to a place of personal safety and security, of joy and confidence - doing what I love, for the people I love, in a place I love.
Each theme relates to my home in some way, and my heart.
I think these themes will resonate with your home and heart also, which is why I'm inviting you to join me on this journey.
You can join the group anytime, and leave anytime. No hard feelings.
As the year progresses, if I lose steam with maintaining this I have the freedom (because this is free!) to bow out gracefully. But I hope I can keep it going, which is why I'm keeping it really simple.
Now, can I get you a Silk Dragon Jasmine green tea, Vanilla Rooibos, Cream of Earl Grey, Pu'erh, Forever Nuts (I'm a huge David's Tea fan); or a soymilk cappuccino with maple syrup?
PS. The Kitchen Table is a group open to women of all ages and stages, though you'll probably identify most if home is part of your heartbeat.
Renee Tougas participates in affiliate marketing, including the Amazon Services LLC Associates Program. Whenever you buy something on Amazon from a link you clicked here, I get a (very) small percentage of that sale. See disclosure for further explanation.
Filed Under
Resource Library
You can subscribe to comments on this article using this form.
If you have already commented on this article, you do not need to do this, as you were automatically subscribed.