Art Cards for Sale (by popular request!)
January 10, 2015
Written by Guest Contributor Brienne Tougas.
Two beautiful card sets for sale. A Mountain Ash Berry tree set, and a Winter Birds set.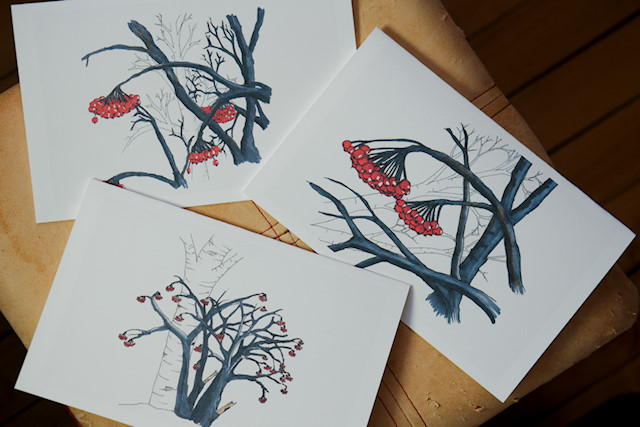 The berries are a vivid red that contrast against the dark gray of the branches.
The Bird set features a brilliant Blue Jay, bold Cardinal and a sweet soft Chickadee.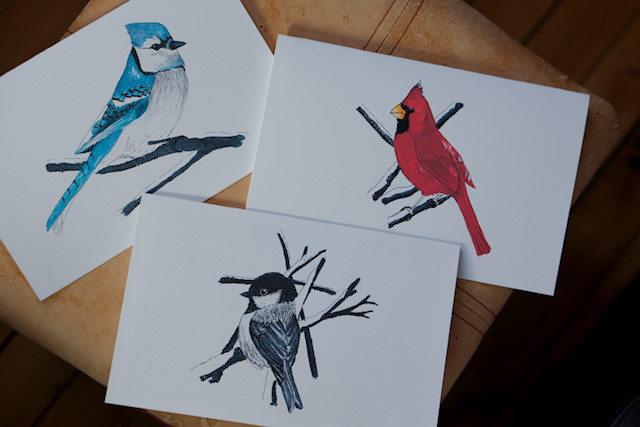 Both card sets are perfect for winter greetings, and are blank inside, suitable for birthdays or any occasion. Or they make a great framed picture.
A set of three cards, printed on thick card stock paper, including envelopes, costs $7.50.
If you are interested in purchasing these cards please contact me directly at brienne at tougas dot net.
---
Renee here again. I am delighted to open the blog to Brienne today.
I mentioned card sales back in late November and many of your were interested in buying some but the kids closed up shop early December as their energies shifted elsewhere.
I'm happy to say, the cards are back on the market!
Laurent has long sold art cards and done private commissions. Recently he teamed up with his sister to be his manager. A working arrangement that allows him to focus on the work he loves - doing the art - and gives Brienne an opportunity to earn money while doing work she's very good at and enjoys doing - corresponding with clients, managing orders, handling finances etc. (You could say she takes after her mom).
For the longest time Brienne has struggled in the shadow of two very talented older siblings who earn money from sewing, drawing, designing, website work, etc. Helping her find "her place" and identify her gifts and ways she can use those gifts to earn money, while supporting our older children as they fly with their pursuits, has been at times challenging.
Watching Brienne and Laurent partner and see them both succeed and their storehouses increase because of working together, well, that makes my homeschool mama heart very happy. And ps. this all "counts" as their curriculum, this is what interest-led homeschooling looks like.
Just a reminder: to get your hands on these beautiful cards email Brienne directly - brienne at tougas dot net - and she'll take care of you.
You can subscribe to comments on this article using this form.
If you have already commented on this article, you do not need to do this, as you were automatically subscribed.