Peanut Sauce Noodles
November 9, 2010
Our good friends, the Siffermans came to visit this past weekend. We got to meet, for the first time, their almost three month old baby (sigh, babies are so wonderful) and our kiddos loved playing with their large (and very well trained) Akita dog. 
After Saturday's night supper of Peanut Sauce Noodles, which neither the adorable baby or dog consumed, I was asked for the recipe.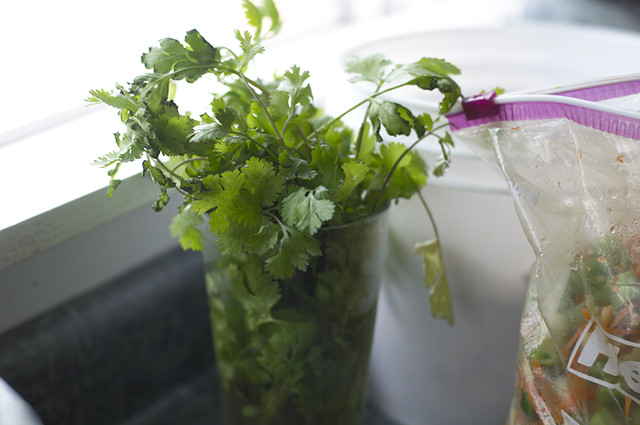 Peanut Sauce Noodles is a known crowd pleaser, even for the non-veggie sorts, and so we often serve it to guests. 
Earlier this month I prepared it for a friend's family while she was out of town (in Haiti actually) visiting their not-yet adopted sons. When I called her in advance to offer my help while she was gone she suggested this meal which they had eaten at our home in the past. 
All that to say, people like this recipe. The combination of sweet and salty, the creamy peanut butter, the crunchy cabbage, and flavorful garlic make it a favorite every time we cook it. 
If that weren't good enough it's also easy, really easy to make. Another reason we like to serve it to guests. Having friends for supper shouldn't have to be a big production (unless you want it to be). 
I have couple disclaimers before I share the recipe. 
I don't normally use this much sodium or refined sweeteners in our everyday soups, stews, potato, grain, bean and veggie based meals. More of our family food guidelines here. This meal is a bit of a splurge. A delicious splurge perfect for eating with friends.
I have no nice photos. This is not the season for nice food photography when the sun sets and all the natural light has departed well before suppertime. I've decided to not let that stop me. I pulling out some "stock photography" of mine to put with this post. Yes, we do buy peanut butter in that quantity.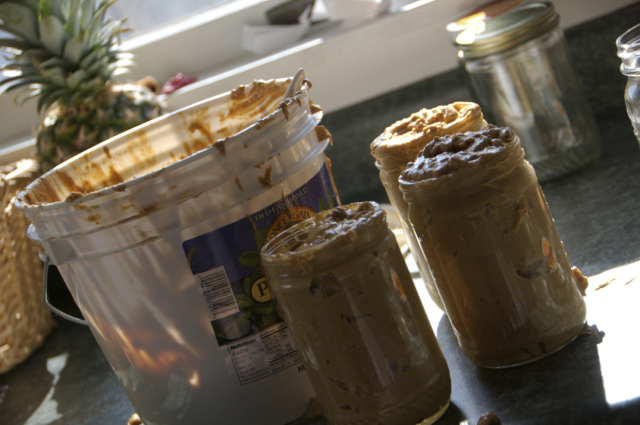 Peanut Sauce Noodles Recipe
Click to print and download→ Peanut Sauce
This recipe size prepares enough for our family of five, with no leftovers. I doubled the sauce recipe (not quite doubled the noodle amount) to serve 7 hearty eaters for supper this past weekend. 
Sauce:
1/2 cup brown rice syrup, honey works also but you'll want to use less if it is a strong, flavorful honey (I've overdone this in the past)
1/2 cup natural peanut butter
1/4 cup tamari
1/4 cup water
1/4 cup rice vinegar
Mix in saucepan and heat till thick. Add:
1 tsp sesame oil
2-3 cloves garlic, minced
small chunk ginger, grated or 1 tsp dried
Noodles:
16 oz white rice noodles (not so healthy but more "authentic"), or other pasta noodles - this weekend I used whole wheat spaghetti, g-free brown rice for Damien, and it tasted really good
Vegetables & Tofu:
peanuts, chopped
carrots, shredded
cabbage, finely shredded. The tasty peanut sauce allows you to disguise finely shredded cabbage very well (get your family eating those super healthy cruciferous veggies).
other seasonal greens, chopped
tofu, fresh diced or marinated and baked
green onion and cilantro, chopped. Enough to add in generous quantities
Any and all of these are optional. I never measure out the veggies but for our family alone I would probably start with 1/4 head of cabbage, finely shredded, and add more veggies from there. 
Directions:
Start washing, chopping and preparing veggies and tofu.
Bring water to boil for noodles.
Make sauce.
Cook noodles according to package directions. Drain and rinse well.
Add sauce to noodles.
Stir in veggies and tofu. Top with chopped cilantro and green onion.
Renee Tougas participates in affiliate marketing, including the Amazon Services LLC Associates Program. Whenever you buy something on Amazon from a link you clicked here, I get a (very) small percentage of that sale. See disclosure for further explanation.
Filed Under
Resource Library
You can subscribe to comments on this article using this form.
If you have already commented on this article, you do not need to do this, as you were automatically subscribed.