Our Sparkle Story
March 13, 2012
When we moved last fall we lost good library service. A big loss to be sure but one we are learning to work around. During that time, with limited access to other resources, I started paying more attention to Sparkle Stories.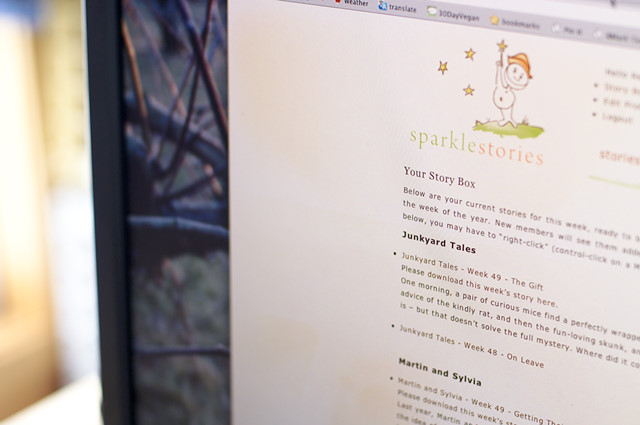 I had seen their name mentioned on many blogs and noticed their little square banner a lot of places I visited online. We were missing our usual library books, winter was setting in and we needed stories. So when Sparkle Stories offered a $1 for the first month of subscription deal at Soule Mama last December I jumped at the chance.
Am I ever glad I did.
Audio books and stories have a special place in our homeschool bag of tricks. They have been the perfect solution as we've limited TV-type media in our home. Perfect for when you just want to check out and be entertained. Or simply listen to a good story while doing your work.
We love audio books and we love Sparkle Stories.
Sparkle Stories have become an important part of our days and weeks. I simply do not have access anymore to the quantity and quality of picture book and short chapter stories I used to read to the kids. Sparkle Stories have met that need for us.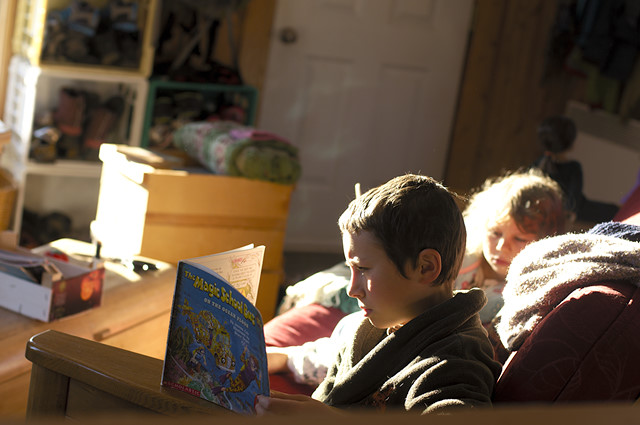 Also, we are a house of readers but some of us don't read very well independently (yet). I don't want that, or my limited time as chief read aloud reader, to limit the amount of stories we enjoy.
Sparkle Stories allow us to enjoy more stories throughout the week - stories that are easy to download and don't require me to read.
The stories are original, engaging, and full of the magic and wonder of childhood.
We are currently subscribed to So Many Fairies, The Junkyard, Martin & Sylvia and Sparkle Saturday. The other story series' weren't available when we started our subscription.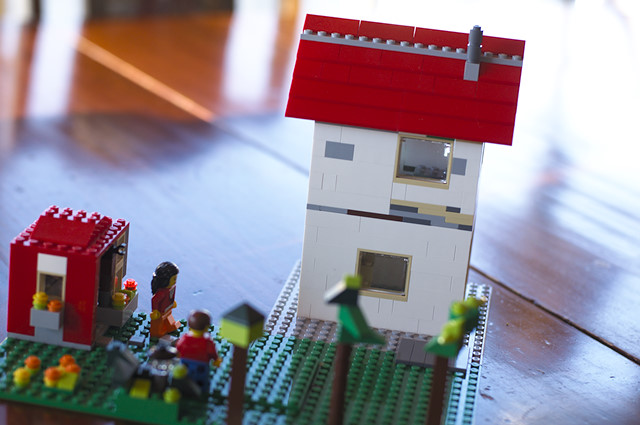 Martin & Sylvia's house in LEGO
The kids like all of them for different reasons. We love the fairy tales from around the world and the poetry of Sparkle Saturday (the least original content of all the story packages, but the longest also). We've grown attached to the animals in The Junkyard. This is Laurent's favorite series especially. So Many Fairies indulges our imagination of the natural world being governed by fairies and magical beings. And Martin & Sylvia is feel good family stuff.
The stories are a tad young for Celine. But because she loves the world of dolls and fairies and honestly, has not grown up too fast, she still enjoys them. They are perfect for Brienne's age (9) and younger.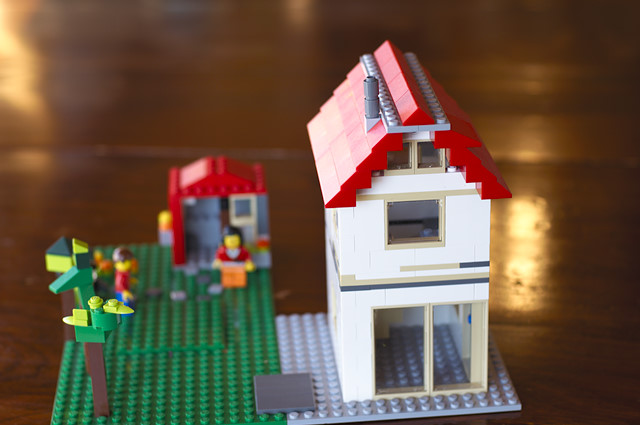 I'm hoping Sparkle Stories will start a series for older children that we can grow into.
A Parent's Perspective
I enjoy listening to the stories also and most often I do since our house is so small.
Somedays we'll sit together on the couch and listen but most often we are busy with crafts and work while we listen. We also put them on our phone and listen in the car if we have a longish drive to make.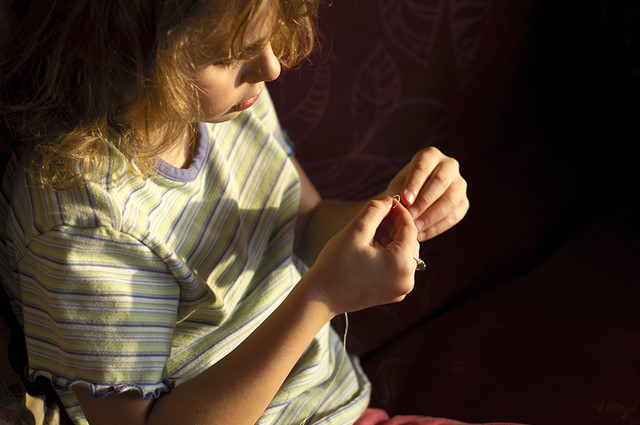 As a parent I appreciate the the values communicated in Sparkle Stories. Particularly, the values of community and belonging (The Junkyard) and how to get along in a family (Martin & Sylvia). We also love that Martin & Sylvia are homeschooled. We've read books for years about kids going to school, it's nice for once to have a cultural influence that reflects more of our reality.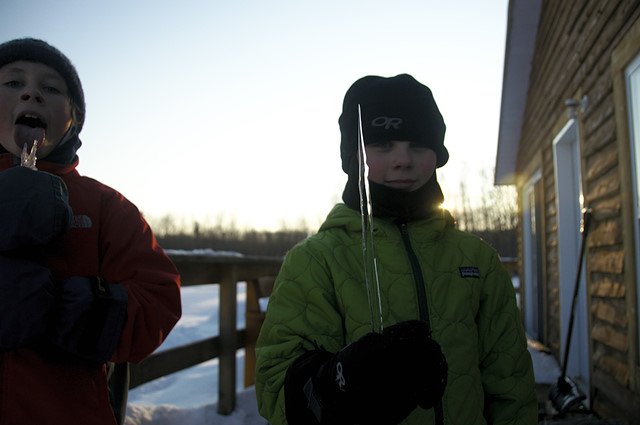 I also love the seasonality of the stories. We are very seasonal in our living. Sparkle Stories follow the calendar year where we live and reflect the world outside our windows. I suppose this might not be so good for folks along the equator or in the Southern Hemisphere but for us it's perfect.
I'm fond of the idealist nature of many of the stories (this is how children's stories should be) but also the way real life challenges of children - problems with siblings, moving, etc. are dealt with. I like the family dynamics in Martin & Sylvia. And the seemingly effortless way Mama and Daddy weave their work and family life (I notice this, I don't know that the kids do). I realize I'm probably way over-analyzing these but hey - I listen to them!
Basically, I just like the world of Sparkle Stories. There is an innocence and intention in these stories that makes me want to live a little better. I imagine it does the same for our children.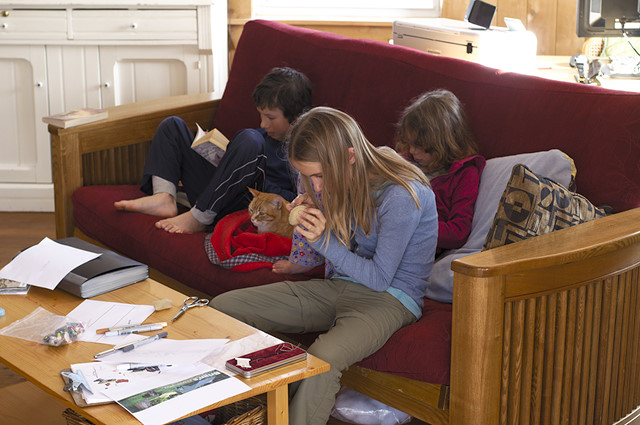 A recent Sparkle Stories listening session
It's wonderful that the Internet gives us access to a resource like this. David Sewell McCann is a gifted story teller. The quality of his work is top notch. And I'm happy to support a family who are making the world a better place doing the work they love. Isn't this what we all want with our lives?
A Deal for You
I'm so pleased that Sparkle Stories partnered with FIMBY to give readers that same awesome discount that got us hooked on Sparkle Stories. $1 for the first month of subscription.
Here's how it works:
Choose from one of three Sparkle Stories story packages, and try four weeks of Sparkle for just one dollar.
Use the special code CDBE to redeem your discount.
If you're unsure there are sample stories to listen to here. Also, If you follow their blog they give away stories from time to time. Here's a recent one called Jack's Snowman (and Laurent's rendition of Jack below).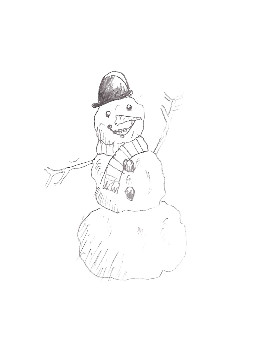 Our family has really enjoyed Sparkle Stories we hope you do too.
Renee Tougas participates in affiliate marketing, including the Amazon Services LLC Associates Program. Whenever you buy something on Amazon from a link you clicked here, I get a (very) small percentage of that sale. See disclosure for further explanation.
Filed Under
Resource Library
You can subscribe to comments on this article using this form.
If you have already commented on this article, you do not need to do this, as you were automatically subscribed.