Our Plans to Thru-Hike the AT
May 27, 2013
Our family is hosting the story of our thru-hike at our other blog Toe Salad. Please visit
Our 2014 Appalachian Trail Thru-Hike
page for more details. To follow my more personal journey, as a mother/homemaker/homeschooler (and at times reluctant hiker) preparing for our thru-hike, see my
Appalachian Trail category
of posts here at FIMBY.
Brienne was three years old when our family started hiking on a regular basis. And it was actually the loss of another activity that opened the door for this one.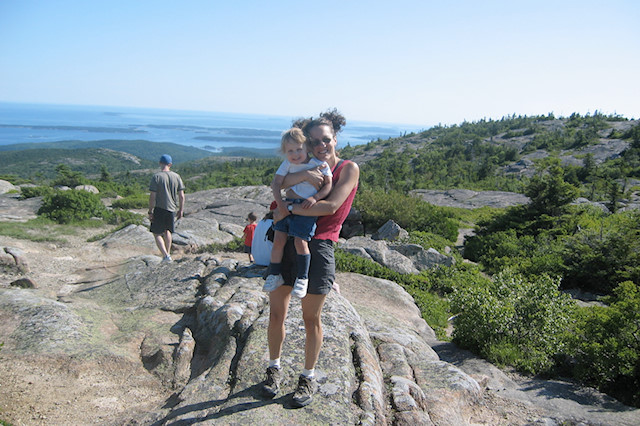 Damien had taken up cycling a few years before and had started to get competitive. And the deeper he got into that sport the more time, resources and energy it took away from our family. Cycling is expensive and time consuming.
Damien made the difficult decision, at the time, to "retire" from the sport of cycling. He wanted to pursue physical activity with our family so that family life wasn't a limiting factor in living an active, outdoors lifestyle. This has been a guiding principle for Damien ever since.
I was thrilled, and I still am, that Damien cared so much about his children and spending time with them, that he was willing to sacrifice something he loved doing to build something together as a family instead.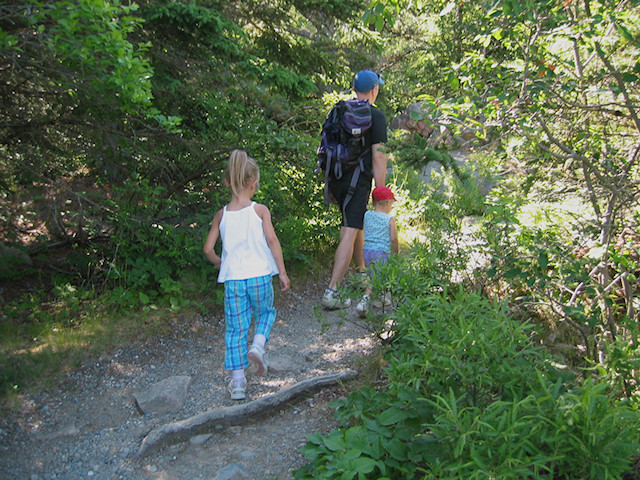 I had no idea it would lead to this. If I had any idea I might not have been so thrilled. I'm joking, but there have been seasons where I haven't been so thrilled, as I grew through my discomforts and surrendered some of my own expectations so I could truly be Damien's partner in our outdoor adventures.
We both made sacrifices for common goals and pursuits. And we don't regret those decisions for a minute.
After we had been hiking a couple years we made a commitment to one day a week outdoors together as a family, with hiking as our "go-to" activity. Setting aside a whole day allowed us to factor in travel time, up to 90 minutes one way. The mountains of western Maine were our stomping grounds.
We loved the White Mountains of Maine and New Hampshire. A seed was planted.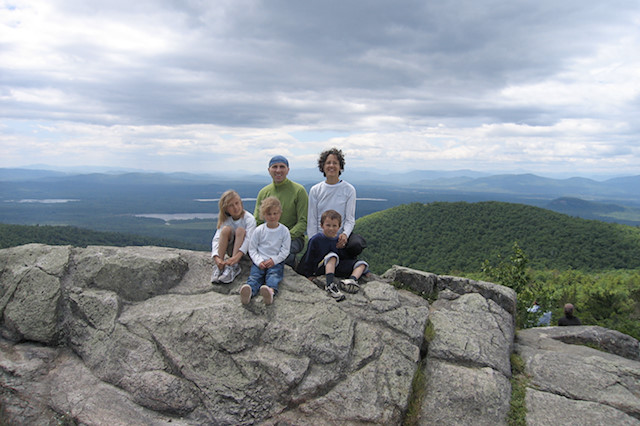 Back up the story a little bit to when Brienne was still in diapers. There was a fateful camping trip with our church in which we borrowed two car loads of gear, and used a ladder to hang tarps in the trees. (If you are at all familiar with our lightweight philosophy you know this makes us cringe now to think of it. And it made Damien thoroughly frustrated at the time also.)
The tarps didn't help. It rained for two days and we packed up our preschoolers, who were having the time of their lives, and vowed to never again go camping. I remember the talk we had. Camping was no fun, why would we subject ourselves to that again?
Well, it's obvious we reconsidered that stance. We realized that camping, specifically tenting, and scaling down our gear so it could handily fit in a family car (no truck needed), was an affordable way for a family of five, living on one income, to travel and go places.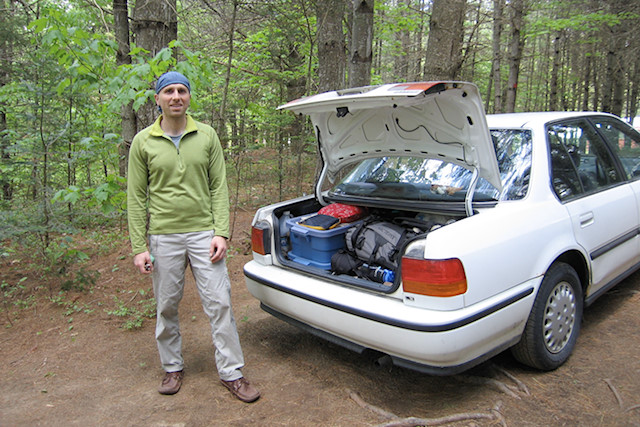 So started our camping journey.
And then one year we put the two together - hiking and camping. It's called backpacking. Carrying all your gear and food on your back and setting up camp in the wilderness (or at a designated wilderness camping spot).
Wilderness camping isn't so unique, lots of men, especially young men are drawn to this. But to pursue something like this with kiddos and a petite wife requires a lot of thought and planning. Thankfully, Damien is a technical guy with a gift for research and patience to try out different ideas.
This is where lightweight gear became not just nice but necessary.
And so we started a years' long process of evaluating our needs, buying what we could afford, selling old gear and upgrading to new gear when we could. We saved our money, hunted for sales, and even wrote gear reviews to help us acquire what we needed, always with an eye towards a long term, lightweight philosophy - for living and backpacking.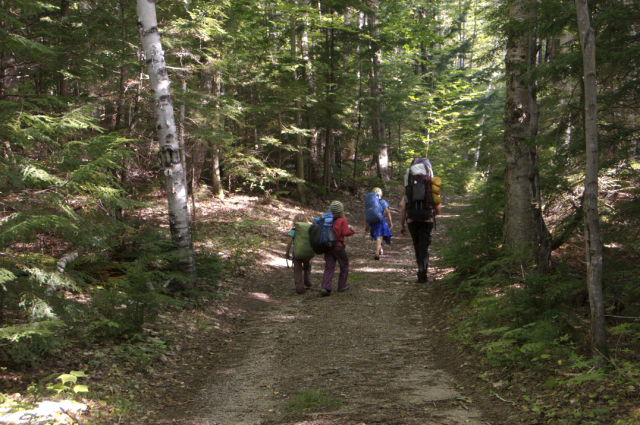 The Appalachian Trail
For years I knew that Damien dreamed of thru-hiking the Appalachian Trail. When he first mentioned it I thought it was an insane idea. I was incredulous that people actually wanted to do that.
The Appalachian Trail is an approximately 2,000-mile (3,200-km) footpath through the Appalachian Mountains of the United States from central Maine to northern Georgia. Thru-hiking is the process of hiking a long distance trail from end to end. The term thru-hiking is most commonly associated with the Appalachian Trail but is used for other lengthy trails as well.
I relegated thru-hiking the AT to the back corner of my mind, in a box labeled Damien's Dreams. I keep these dreams in the dark recesses of my mind because my very literal, and detail-oriented brain can only handle so many out-of-the-box ideas at one time. And let's just say freedom homeschooling takes up a lot of that space!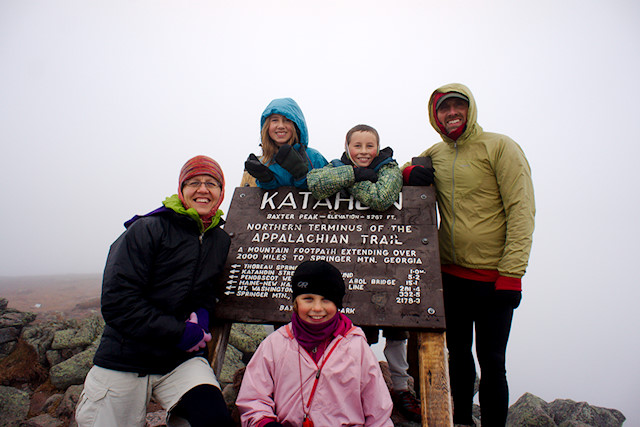 Over the years, as we hiked, nearly every weekend and started backpacking on a regular basis, I warmed to the idea of thru-hiking. I had many, many questions about how we would accomplish such a feat but Damien is a patient problem solver, and I knew that if I said I was willing to do it, he would figure out the way.
Part of the reason we moved two years ago, leaving our restrictive visa-status in the US to start over again in Canada (with the freedom to build our own livelihood), was so that we could actually make something like long term hiking happen, if we wanted to.
It was last March when I told Damien "yes" I would do this. Not just follow him in a journey of epic proportions, but be his partner.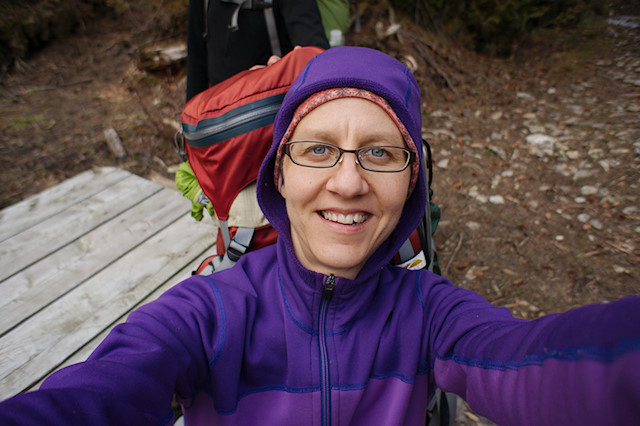 We set a date. (Sounds like getting married. But that's what marriage is, saying, "I'll be your partner" over and over again. It's good.)
We decided to thru-hike the AT in 2014. Very similar to the way we set a date for our move back to Canada and planned, saved, and schemed the means to make that happen.
We made that decision over one year ago. Last March thru-hiking shifted from dream state to planning state. And nearly every decision we've made since that time, from where we rent, the purchases we make, to the projects we pursue, have been through the lens of "will this help us reach our thru-hiking goal?"
Thru-hiking the AT started as Damien's dream, became an idea I was willing to consider, and then an idea I fully supported, and now is a project in motion.
I thought it was about time I told you. Officially.
Next year our family will be thru-hiking the AT
This is a journey (just getting there, never mind completing it) full of logistical complications, physical difficulties, and potential set backs.
We have children we have to provide and care for and so this is not a do-or-die dream (Mt. Katahdin or Bust). Our children's well being is our primary concern. But barring a major disaster or injury (one of my biggest concerns) or completely running out of funds (a possibility?) we plan to hike from Georgia to Maine over the course of six months, through the Spring and Summer of 2014.
We have many reasons for wanting to do this. And I will be sharing those in coming posts.
Thru-hiking the AT is at the forefront of our family life now and so I will be talking about that a lot here. I will be talking about the why's and how's as we countdown to this next big adventure. And we will be sharing our adventure, while doing it. But one thing at a time.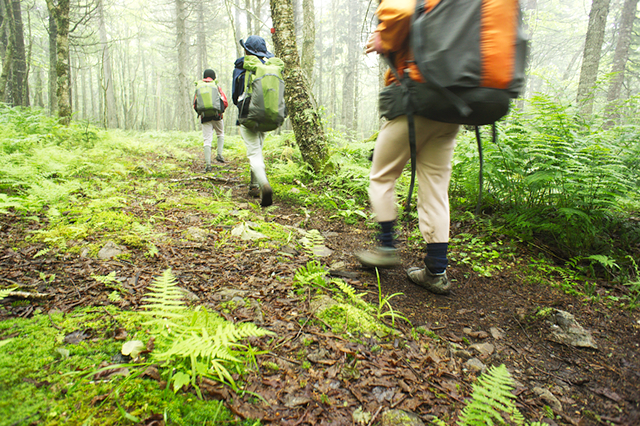 If you're new to FIMBY this may be the first time you've heard of thru-hiking. For those of you who have followed my blog for awhile I have been talking about this dream, indirectly and directly, for a few years already. I don't think this comes as much of a surprise to those of you who've been around a few years.
It's just about time I announced it officially since AT preparations are going be a dominant theme in our life for the next year. And as a family story blog I want to start writing more publicly about these plans.
For those of you who find this kind of family adventure intriguing (some of you no doubt will think we're crazy, that's ok, I'm used to that) you may have questions. I am happy to answer those here, though some of my answers may be "I don't know, we haven't crossed that bridge yet".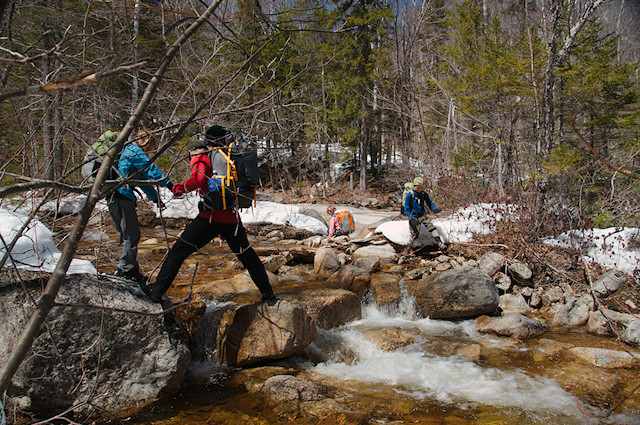 I will tell you that Damien is the expedition guide and I am his assistant. As such, he has an overall clearer picture than I do about many pieces to this puzzle. At least, I'm hoping he does. Ha! Ha!
If you have questions please fire away in comments. Anything goes - questions about food, finances, physical fitness, homeschooling on the trail, gear, housing, motivating kids and teens, and more. And of course I'm sure you're all wondering what minimalist shoes we'll be wearing. Oh right. Wrong blog.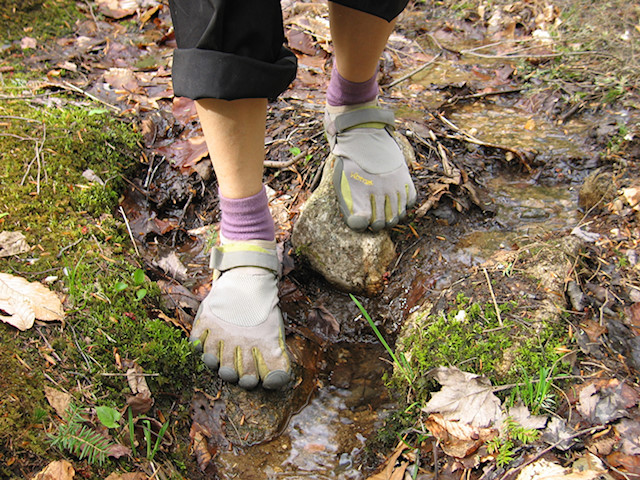 my first pair of minimalist shoes - vibram five fingers circa 2008
I probably won't be able to answer all those questions in comments but your questions will help inform future posts about this adventure. We are doing this hike primarily for our own family and to reach our goals but we also want to encourage other families who have similar dreams. Even if your dream is not to thru-hike the AT I bet you have others, and we'd like to help you make those happen.
Our family is hosting the story of our thru-hike at our other blog Toe Salad. Please visit
Our 2014 Appalachian Trail Thru-Hike
page for more details. To follow my more personal journey, as a mother/homemaker/homeschooler (and at times reluctant hiker) preparing for our thru-hike, see my
Appalachian Trail category
of posts here at FIMBY.
Filed Under
Resource Library
You can subscribe to comments on this article using this form.
If you have already commented on this article, you do not need to do this, as you were automatically subscribed.