Our Month in Montreal
May 31, 2012
I cannot believe what a whirlwind this month has been.
On this last day of May I think back to all that happened this month - backpacking (prep work, actual trip, clean up when we got home), packing up the chalet, attending to the endless financial and paperwork details that result from moving three times in twelve months, and just last week taking a trip with Céline to celebrate her 13th Birthday (photos still to come).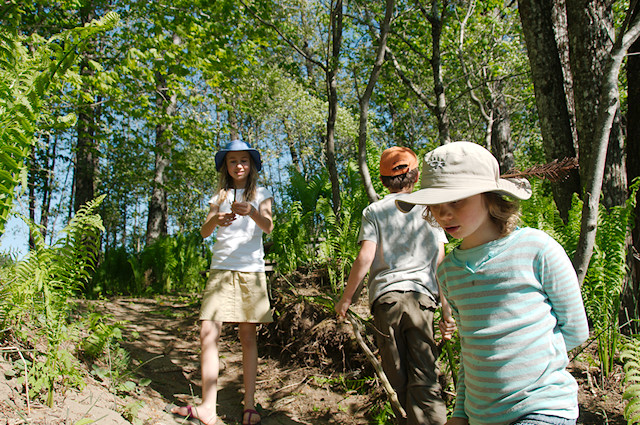 And now, just three days ago, arriving in Montréal to live - work, play, learn, explore - for a month.
Going in, we knew May would be a busy month. Some seasons are like that. But we made it.
Not only made it, we actually lived well through it, despite the craziness. We got enough rest - we are big believers in the afternoon nap and I don't do less than eight hours at night. We ate well, except for indulgences at Céline's birthday. The kids were incredibly happy-go-lucky with the whole process, to quote Laurent, "I love moving!", which left me speechless. And we all still love each other.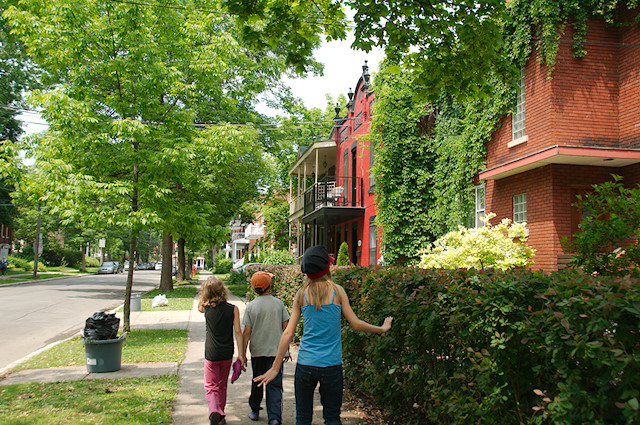 What more is there to life?
We are so incredibly blessed to be spending the month of June, and these last days of May, in Montréal - Canada's second largest and most cosmopolitan city (quoting National Geographic). It feels like we're in Europe. Spoken by the woman who hasn't yet been to Europe!
So how did this come about? Why are we in Montréal for a month?
At the beginning of April I shared that March had been a difficult month, for a bunch of reasons. One important reason being that we were having trouble finding another place to live once our winter chalet rental ended. We had to leave by the end of May and finding a new rental for June 1st was proving very difficult. Being faced without a place to live always makes me a little anxious.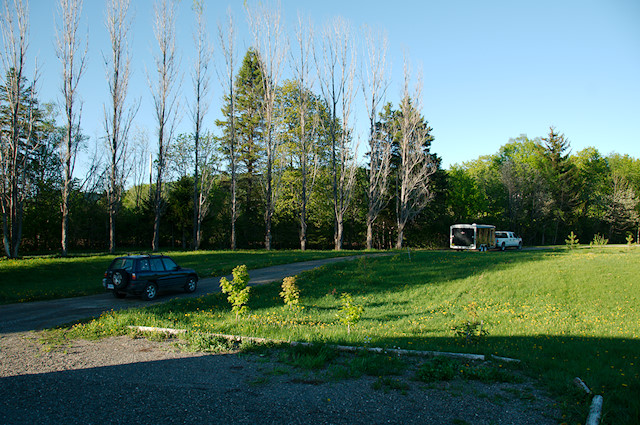 So we started to think creatively. The whole reason we brought Damien home, making our huge move last May, was to have freedom. Freedom to adventure and travel, working from home, wherever "home" happened to be.
Why not take advantage of that freedom? Why not spend some time in a big city after our very rural winter?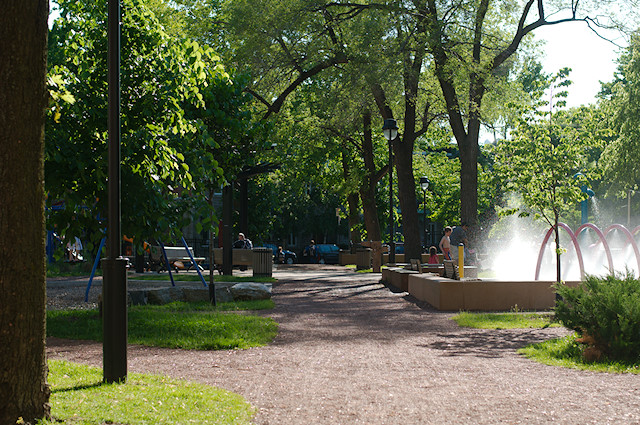 While we kept looking for a home to rent in our community, Damien started looking around at apartments to rent in either Québec City or Montréal (six and nine hour drives, respectively, from where we live on the Gaspé Peninsula.)
This is how it all came together.
We found another chalet to rent in our community. It was a bit complicated, it always is, because we had to secure satellite internet and honestly, we're still not quite sure how that will work out.
We're trusting God on this, as we have with everything else. For those who have satellite internet horror stories, don't bother sharing them. We're well aware of the complications of this plan and I don't need that negativity about something I can't control.
On the bright side, this is a new company that offers better coverage than anything else we found. In fact, we wouldn't have considered this new chalet without finding this company. Let's hope it all works out.
The new chalet was shaping up to be a great option for our family. It's owned by friends, is being renovated (and is coming along so nicely), and is at the base of a ski hill. Seriously. Our kids can go downhill skiing as much as they want next year. No wonder Laurent loves moving!
But (there's always a but) it wasn't going to be ready till the beginning of July.
We were going to be homeless for a month.
With that one month time window Damien started researching furnished apartments for rent in Québec City and Montréal. We settled on Montréal because I have some connections here, online friends we are hoping to meet up with soon.
We set a budget and Damien sent out a Kijiji request (Kijiji is Canada's equivalent of Craigslist) looking for a place and this is what we found.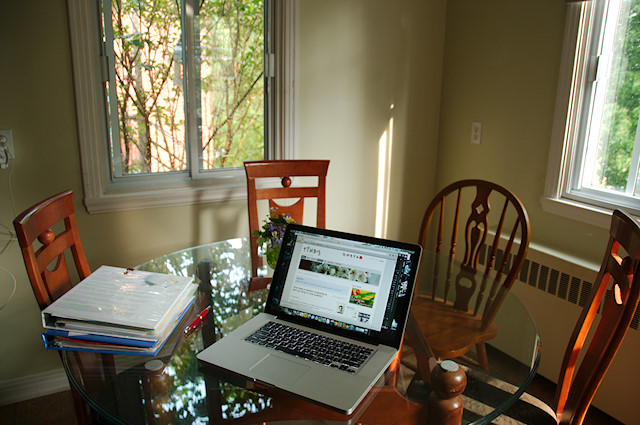 (More photos coming in the next post.)
The apartment is probably the same size as our last chalet rental only it feels more spacious because this is all we brought with us.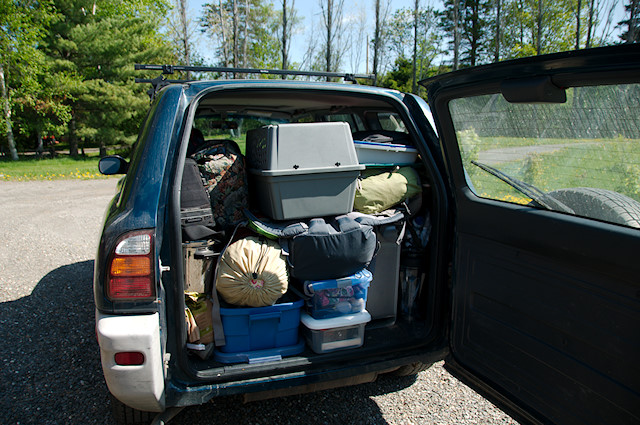 Included in there is our cat, a computer we're hoping to sell (Kijiji), the Vitamix and my pressure cooker. I told you I loved those kitchen tools, I wasn't joking. We're eating and cooking most of our meals at home (in spite of Montréal's vast culinary offerings) and these tools help us eat healthy and make my work easier. 
When we arrived (to the nightly banging of pots and pans) we discovered there is a pool in the backyard and the neighborhood is better than we had hoped for. Quiet, but mere blocks away from the Metro. Green and leafy but very "urban". Exactly what we wanted, only better.
Just as it is difficult sometimes to share the hard times, it's difficult to share this blessing. Like somehow it's easier to share the middle of the road living. Problem is, these days my life is less and less middle of the road.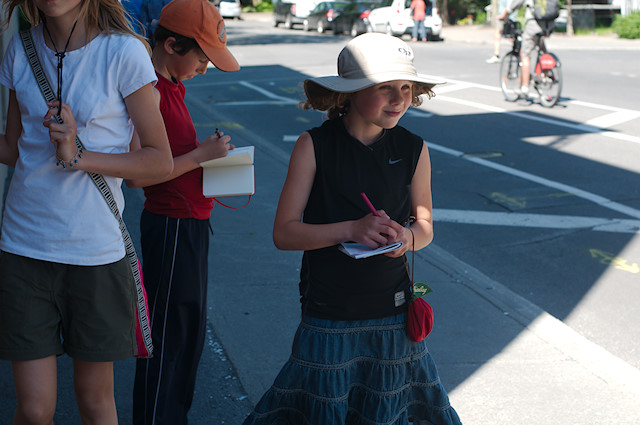 What I'm learning to deal with is the mental negativity that accompanies the low times. The inevitable question, "if we're walking the right path, why is this so difficult, so uncertain?"
That's just the way it is.
Out of that uncertainty though, smack dab in the land "here be dragons", comes unexpected opportunity and possibility.
That's also just the way it is.
Pain and Joy. Uncertainty and Delight. Opposite sides of the same coin.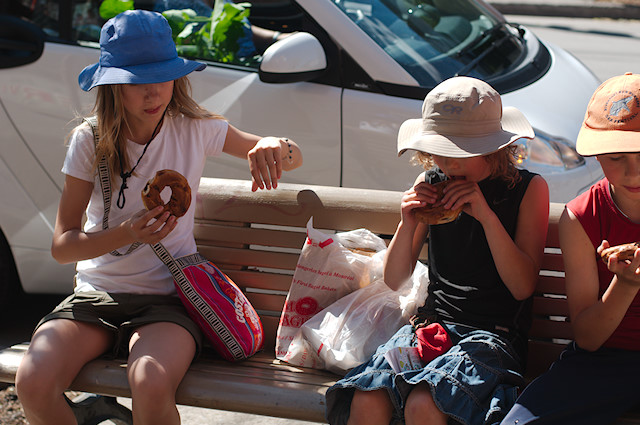 For this month I'm reveling in the experience of living in Montréal. The vibrancy of this amazing city. This is another moment of joy on the journey, and I accept it, gratefully, as the blessing it is.
I will be sharing at FIMBY bits and pieces of our time here. This is a blog called Fun in My Back Yard afterall!
For the day by day moments you can check my instagram photos in the sidebar. Instagram does not do the experience justice and I haven't used this app before (we don't get cell coverage where we live in Gaspésie) so excuse the lame shots.
My next post with be our Montréal digs.
You can subscribe to comments on this article using this form.
If you have already commented on this article, you do not need to do this, as you were automatically subscribed.