Our Journey (so far) with Dyslexia
August 17, 2012
Homeschooling an "easy reader" is a homeschooling mother's dream. But what if your child struggles with reading? Well, I've been there and this is my story. And Laurent's story, which I have permission to share. And it's a long one.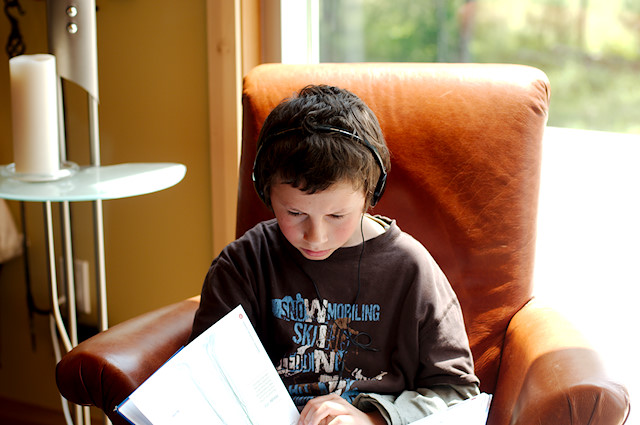 Before I tell our story I want to be clear about something. This is not a "how to diagnose your child for dyslexia" post. Nor does this post provide a long list of indispensable resources, inexpensive or otherwise, should your child also have dyslexia. Likewise, this post does not go into all the possible reading disabilities out there and how to differentiate dyslexia from the rest.
I will be sharing a few resources I've come across and what we've done so far to help Laurent. And my next post will be a review of a reading program we are currently using. Those resources are in no way the definitive answer for helping a dyslexic child. They are simply what we're using, for our unique needs and situation.
How we Taught our Kids to Read (or tried)
It was almost two years ago when I posted our family's approach to reading instruction. (The first post in this reading series is here.) You can read those posts if you want the thorough back story but I will recap it for you here.
Reading is a huge part of our life and books have always been central to our homeschooling. Reading, individually and together, is a part of who we are, what we do, and how we learn.
Céline was reading, with independence, ease and excellent comprehension at age six. She was our one and only to do this. A homeschooler's dream.
We used the same methods to teach Laurent and Brienne as we used to teach Céline. Some people are comfortable teaching their children to read by simply reading with their child. I wasn't. I wanted a program I could follow. Or rather my husband could follow, since he did the lessons. Teaching my children to read was my biggest fear about homeschooling. How ironic, considering how our story unfolds.
There are so many reading programs out there. I went with a trusted friend's recommendation: Teach Your Child to Read in 100 Easy Lessons. And like I said, it worked fabulously for Céline. Another well recommended resource within the homeschooling community is The Ordinary Parent's Guide to Teaching Reading.
We started reading lessons for Laurent and Brienne at approximately the same time, ie: we grouped them them together. They do a lot of their academic type learning together as they are roughly at the same developmental stage. However, the lessons did not "work" for these two like they had for Céline.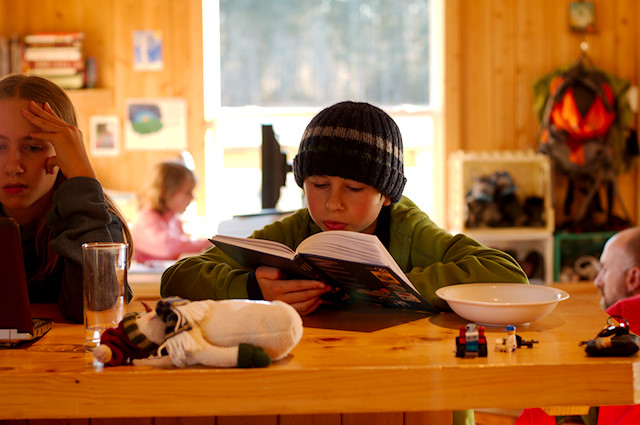 My kids have always loved books but the the skills they were "learning" in the lessons were not translating into actual independent reading. And they were tired of the lessons, so we stopped. I didn't need much convincing, Laurent and Brienne were still young, 8 1/2 and 7. They'd pick it up eventually, so I let it rest for time.
After a spring and summer break from reading lessons I tried again the next school year (this time just with Laurent) using an eclectic mix of approaches - sight word practice, reading easy readers together, and even using the ancient McGuffey Readers. None of these really seemed to work either.
I figured that Laurent simply wasn't ready and I would wait for him to initiate when he wanted to move forward. I wasn't worrying about Brienne at this stage, as her reading seemed to be coming along organically. I'm not sure exactly how she learned - if it was the couple months of lessons she had or just reading along with me, but reading was starting to click for her.
I should mention that all along there was not a big push in our home forcing our kids to learn to read. It was something we worked on, during our morning school time, on and off, but not to the point of frustration. One of our homeschooling modus operandi is that if something doesn't work, we let it go and find a new way.
Our kids still spent hours buried in picture books, well illustrated children's reference books, and graphic novels, they just weren't "reading" the words.
I had decided to let Laurent tell me when he was ready for more reading instruction and practice. It was a good half year later when we picked it back up again. Laurent wanted to learn. He was frustrated by all the words he couldn't read. I thought, "Great, I truly have a motivated learner, this should be easy now." At this point Laurent was 9 1/2 years old.
Again, for our practice time I used an eclectic mix of phonics based easy readers that I got from the library. And that is where my last post on learning to read left off.
Discovering Dyslexia
In spite of being truly motivated by an internal desire to learn (which I thought was the missing piece) Laurent still struggled. And it was at this point that I started to dig deeper for the cause, instead of just looking for different teaching materials.
Why on earth was this intelligent, creative, highly artistic, and motivated boy not learning to read? It just didn't make sense to me.
My biggest homeschool fear (to date, now I have different fears) come true. My child was not learning to read.
As life goes, this realization and time of questioning coincided with preparing for our life changing move. All my energies were required to make that a reality so I stopped our homeschool routine all together, including reading practice with Laurent. The practice was counterproductive anyway since we were both frustrated by it.
I couldn't deal with Laurent's reading struggles at the time but I was collecting "data". Reading other people's experience with reading disabilities, noting resources, and filing everything away, mentally and digitally, for after our move.
Last June, after we had settled at my parent's house, I got serious. I had to get to the bottom of this. Laurent had reached a point of high frustration with not being able to read. Laurent was 10 years old and he had been watching his sister lose herself in books for years. He now wanted to join that club but was unable to, and not because he lacked the desire.
I returned to the information I had filed away. I prayed. I read stuff online (books were harder for me to come by). I watched videos. All the signs pointed to dyslexia.
It was FIMBY readers who first suggested that Laurent might be dyslexic. This was a possibility I wasn't willing to investigate until I had exhausted all other options. I had a few reasons for that.
Fear of the unknown. Dyslexia was totally new to me. It was outside of my grid and I didn't know what I was dealing with. Which made me want to ignore it and hope it would go away.
We are very reluctant about labeling our children. The names we give ourselves and what we believe about ourselves is very powerful. We do not want our children to feel less-than (or more-than). Attaching labels can be a dangerous course of action, and I hesitated a lot before even speaking dyslexia out loud.
Many normal learning issues work themselves out with time, love, patience, practice and maturity. I wasn't going to jump to any conclusions at an early age. I believe it's better to wait and see than assume too early that there must be a problem.
I'm a skeptic by nature. Parent's will pay a lot of money to try to help their children. I didn't want to feel someone was trying to label my son with a problem and then sell the answer. I understand that services and resources cost money but I also think there are unscrupulous people and businesses who prey on unsuspecting parents. I'm wary of all that.
So for those reasons, dyslexia, or any other "diagnosis", was not something I was willing to consider until we had tried everything else.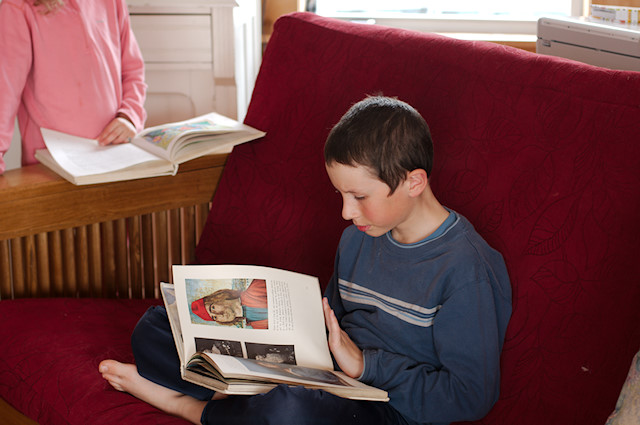 The Safety of Home
If Laurent went to school his dyslexia might have been picked up sooner. Or maybe not.
One thing I did notice in my reading is that schooled dyslexic children can struggle with self esteem issues from being different than their peers. Labeled incorrectly as disruptive or even hyperactive, segregated for special lessons, behind their peers in spite of other high intelligence, and even denied access to the type of learning they flourish at.
Most classrooms and government curriculums are not designed with these type of learners in mind. This is not a public school bash, just observations from my reading.
Interestingly, dyslexic learners within the school system are often labeled with behavior problems also. I think this is just because they are in an environment not conducive to their learning needs and they act out in boredom and frustration. Laurent does not have behavior issues, at all. He is the sweetest, most loving and compassionate kid. And he feels good about who he is and his unique talents and gifts. I shudder to think what the situation would be like if he was in school.
Again, I'm not school bashing. My heart simply aches for children who are mis-labeled as behavior problems, which leads to further learning problems, when the problem is not the child but the learning environment or un-learning environment they are forced into.
In our home, Laurent gets to be exactly who he is. In this safe environment he flourishes as an artist, a naturalist, a hands-on learner and non-sequential thinker. Ironically, the same brain wiring that enables Laurent to be such a gifted artist also makes it hard for him to read.
The challenge of course for me is that I need to help Laurent learn to read, in a way that works with his learning style, without being able to access school resources. (In some cases homeschoolers can access public school resources. That is not an option for our family.)
Learning About Dyslexia
Like I said in the introduction, this is not a how-to diagnose a dyslexic child, how to teach a dyslexic child or in any way a definitive resource on dyslexia. Determining Laurent has dyslexia felt a bit like falling the down the rabbit hole, disorientating and overwhelming. The blessing of the information age is also the curse. Too much information overwhelms me, especially about something so unknown and scary (for me) like a reading disability.
Because of my personality type and the way I handle information, I approach Laurent's dyslexia on a "need to know basis". I do not need to know everything there is to know about dyslexia. I only need as much information as will help Laurent, right now. My goal is not to be a dyslexia resource person, though I hope this post is helpful to someone out there. My goal is to help my son learn to read.
Bright Solutions for Dyslexia was my first real introduction to dyslexia. I used Susan Barton's video instruction to diagnose Laurent's dyslexia. (Her videos are excellent and quite comprehensive.) We have not had any formal testing done by an evaluator. Susan Barton also sells teaching and training materials. I have not purchased those.
Here are a few other resources I am familiar with. Most of these have been recommended to me by FIMBY readers who also have dyslexic learners in their home.

Diagnosing Dyslexia
If you are wondering if your struggling reader has dyslexia you might look into Lexercise. I found out about this company this spring, after I had already diagnosed Laurent's dyslexia.
Lexercise offers free testing for dyslexia and professional (not free) language therapy, regardless of where you live. Which would be good for a situation like ours where we have limited access to local language resources. We're not pursuing this option currently as we're using other resources and the Lexercise program is quite expensive, though on par I believe with most other language therapy.
The testing however is free and if you want to know how it works, read these great reviews by Maureen Spell and Kris Bales. Both these writers are homeschooling mothers, which is a perspective I appreciate.
Dealing with Dyslexia
When I found out Laurent was dyslexic, I had no idea what the best approach was for helping him learn to read. This was all new to me. Laurent's dyslexia is mild to moderate. By last summer he was reading, but certainly not at grade level, and more importantly, not at a level he was happy with.
I'm a pragmatic mother and homeschooler. I believe in doing what works. I also believe in keeping things simple, wherever possible.
Some of the programs I looked at required a lot of teacher training and a hefty student/teacher time commitment to lessons. I wasn't sold on this. In part because I know how we operate as a family and also because we were preparing to move, again, and I needed to be realistic about what I could give in terms of time.
iPod & Audio Books
Before I decided on any method of teaching Laurent we bought him an iPod and subscribed to Audible.com. The worst part of Laurent's reading struggles, as far as he was concerned, was that he couldn't read the books that were at his intelligence and interest level. We needed to address that frustration before anything else.
Once Laurent was able to access and listen to good books, the books his sister had been talking about for years, he became much less frustrated. A benefit to the iPod is all the other activities Laurent can do on there - playing chess, (and a weekly ration of Angry Birds!), taking photos, and writing notes. We also purchased and downloaded animal identification guide apps for the iPod. This is a highly visual tool that helps Laurent access information in a way that works for him.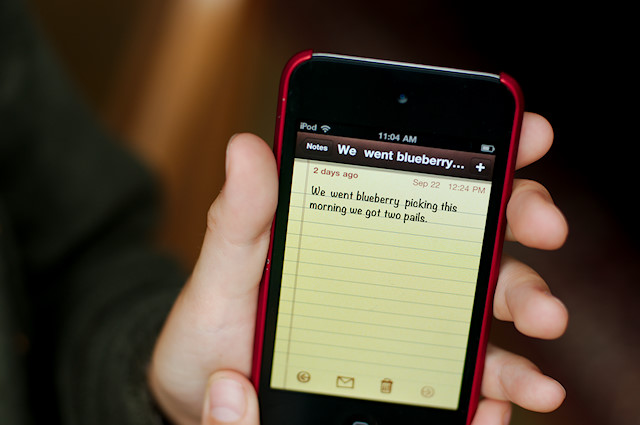 We always have listened to audio books and they are an important part of my happy homeschooler tool kit. Audio books are highly recommended for dyslexic learners. Beyond the usual finds at your local library (there are none at our library, hence the Audible subscription) there are free online resources for learners with reading disabilities. One of those is Bookshare. There are probably more. The caveat for these services is you need a certified diagnosis and they may only be available in the United States.
If you know of more audio book resources please add them to the comments.
Taking it Slow with Orton-Gillingham
Once Laurent's immediate need for good stories was met I needed to find a teaching approach that would work for him. When you find out your child is dyslexic there is a natural desire to want to "fix it! now!" In that state of mind, well meaning parents can be tempted to spend a lot of money to solve the problem. In my fear (because discovering Laurent is dyslexic was a scary thing for me), I didn't want to panic and buy an expensive program or some kind of intervention that was overkill for our needs.
The other tendency is to plan for laborious lessons. I am realistic about how I work as a homeschooler and long sit down lessons are torturous for me, never mind my kids. I needed to find the right fit for our family, not just Laurent.
I've proceeded fairly slowly and calmly in finding resources to help Laurent. I think it's going to be this way for a while - slow and steady. From my understanding, dyslexia is not something you fix. So the trick is to find methods and set up a learning environment that works.
Orton-Gillingham is a teaching methodology that was recommended everywhere I looked. So that's what I've looked for in teaching resources.
All About Spelling
I started with a spelling program. I honestly don't remember the exact train of thought that made me choose this to start with but I think my reasoning had something to do with wanting to teach my girls some spelling skills at the same time.
All About Spelling appealed to me because it didn't require any special training, is Orton Gillingham based, is not expensive (compared to other reading programs) and I could teach Brienne and Céline using the same program. And it came highly recommended by other homeschoolers.
Yes, it's a spelling program but in teaching spelling it teaches how to read. There is an actual All About Reading program but I didn't consider it because I wanted to focus on spelling for all my learners as well as reading basics for Laurent.
We like All About Spelling. I hadn't intended to use a spelling program (I'd sworn off spelling instruction as a separate subject), as I think spelling can be taught with regular reading and everyday writing. But if your child struggles to read, well then you're in a pickle with that method. But more about writing and spelling in a future post.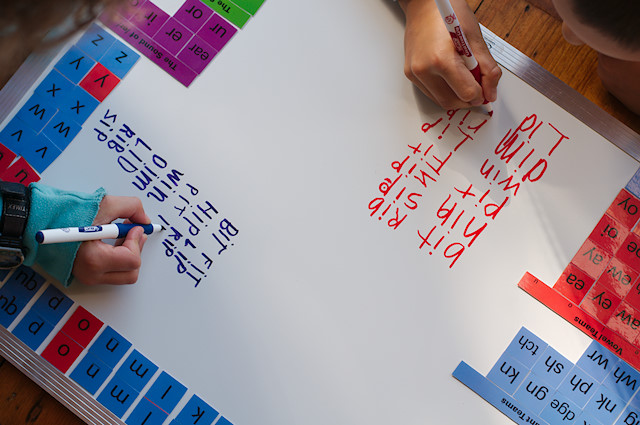 All About Spelling is easy to use, which is important to me. It's not tedious, the kids weren't bored and neither was I. Also important to me. We started with Level 1 and had great success and I finally learned all the sounds the vowels make! The kids learned that too, and more. I recommend it, though if you have good readers you probably don't need it to teach spelling. I used it mainly for reading instruction. (I was pleased enough with All About Spelling to join as an affiliate.)
This might not have been the most logical place to start but it worked for us. I wanted to just start somewhere and experience success - which we did. Laurent's reading started to improve. And we liked the program. It was the least painful spelling instruction we'd ever done. And it made so much sense. I was learning as much as the kids. Was Laurent's improvement due to the program or from other brain developments? I don't know and it doesn't matter to me. Laurent's reading improved.
This past winter, while working through All About Spelling I wondered where to go next. We were moving, again, so I had to put everything on hold, again. But I was looking and praying.
Reading Horizons
Then out of the blue, I got an e-mail. A request to review a reading program. I was very hesitant at first. All About Spelling was working for us and I didn't want to potentially introduce a new teaching methodology and mess things up. Also, this request to review a product wasn't just about me using a product and my writing a review. My child had to use the product and I don't make my kids jump through hoops just so I can write a review for a company, even if I do get the product for free!
After researching the product, we agreed to try it. Laurent started Reading Horizons in June and we're all pleased with his progress. I think it's a great reading program. That's my next post, coming Monday. A complete review and giveaway, which I'm really excited to bring you. (Since becoming a happy customer I've also become an affiliate for Reading Horizons.) 
Hi/Lo Books, Graphic Novels & Comics
Part of the struggle for a dyslexic reader is that their intelligence is high but reading ability low. Hi/Lo books are written for these type of readers (not just dyslexics but any person with lower reading levels such as second language learners). I bought some Hi/Lo books last summer and they're not very popular around here. The language is necessarily simplified and I think the books are just not engaging enough for Laurent.
What has been a great hit though with my kids for years are graphic novels. Laurent has always gravitated to these books and now I can better understand why. The stories are complex and because the graphics tell the story, as much as the writing, you don't necessarily have to read the words to follow along. Graphic novels were always a part of our weekly library haul when we lived in Maine. Interestingly, Québec libraries have tons of graphic novels because they are a big part of the French reading culture. Of course they're all in French - which doesn't help our English reading cause.
Our absolute favorite graphic novels are the Asterix and Tintin series. I bought some of the Graphic Resolve Series of graphic novels published by Stone Arch Books. These are classic books, written and illustrated for struggling readers (or any reader for that matter - all my kids like them). For a while we did these as reading practice. Then Laurent discovered Calvin & Hobbes.
Comics are similar to graphic novels but are much shorter stories. Usually just a few frames long. Of course struggling readers love comics for all the same reasons as graphic novels - the story is told in the pictures in both pictures and words. And comics are funny, which appeals to kids (and adults). We own a few Calvin & Hobbes books, classics in our home, and these were Laurent's readers-of-choice for a time.
My goal is to have my son engaging with words, reading and comprehending; gaining competence and confidence. Comic books, graphic novels, and even video games - whatever works.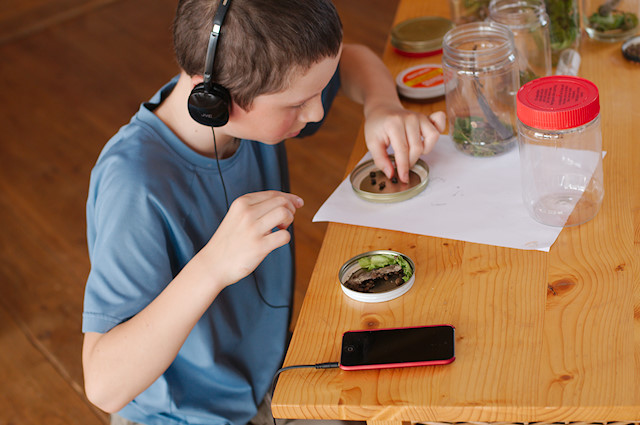 Video Games
Most recently our family, with the exception of me, have gotten into computer role playing games. These games involve a fair amount of reading (character dialogue, etc.) in addition to the usual audio story telling of the game. This style of reading really appeals to Laurent. It's graphic (I'm not talking about violence, I'm mean artistically graphic - he can understand exactly what's happening without all the words, it's a video game after all) and the story is very interesting. Not to mention the whole family plays it and he's a part of the action.
Brain Games
Another type of game we've used are "brain games" for lack of a better description. I purchased these from Dyslexia Games. I haven't used these recently with all our moving around but they are great travel games or "I'm bored" activities. Both Brienne and Laurent like doing them.
Summary
This is where we're at one year after finding out Laurent has dyslexia. Because we're homeschoolers and there aren't a lot of public resources available to us we're figuring it out ourselves. And yet, it doesn't feel like we're figuring it out ourselves. When I reached the end of my understanding I've prayed for help and there have been answers.  Answers in the form "out of the blue" e-mails or "stumbling" on the right resource or the right contact person.
We currenlty have a three pronged approach to helping Laurent:
Access to stories. Until Laurent can read at his intelligence level he needs access to books in audio form.
Reading instruction. We started with All About Spelling and now use Reading Horizons. I will be sharing more about this program in my next post.
Reading practice. Using anything that interests Laurent. Laurent's favorites are graphic novels, comic books, video games stories, and animal guide and reference books with lots of illustrations.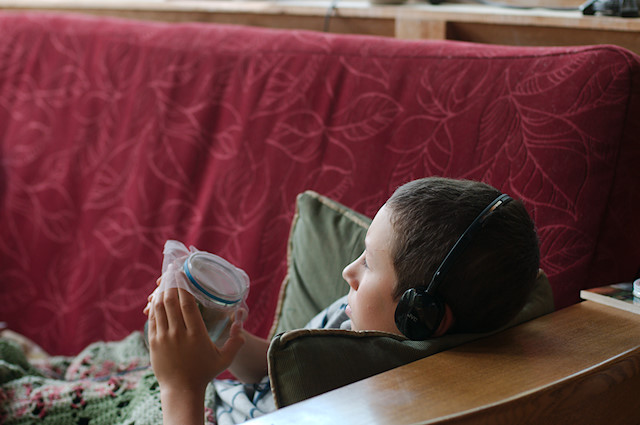 We do not think something is "wrong" with Laurent. His brain is wired a particular way that makes reading difficult for him. This is both unfortunate and fortunate. This "wiring" makes Laurent an amazingly gifted artist, not to mention his high emotional intelligence. You could say he's got a strong right brain. I believe Laurent has a very bright future and it's our job to help him acquire the skills, which includes reading, that he'll need to get him where he wants to go.
To quote Dyslexia Games:
When we talk about the Dyslexic Brain we can say, "Oh no! Something is wrong with my child's brain!" But in fact nothing is wrong, just beautifully different. Dyslexics are known for being quite intelligent, exceptionally creative, and capable of adapting to challenging circumstances. Throughout history we discover that people with symptoms of Dyslexia have become some of the world's greatest artists, thinkers, inventors, and scientists. Their ability to think outside the box is a powerful tool that allows them to become exceptional individuals who have a habit of changing the world.
This is how we see Laurent, and all of our children - world changers with unique gifts and unique challenges.
As I type this I can hear Laurent reading out loud in other room. Reading on his own initiative, for his purposes and pleasure. It's an animal book I believe (I hear the words gecko and armadillo), one of his favorite subjects. His voice, reading aloud, is music to my ears.
I welcome you to share your own experience or questions in comments.
This post has affiliate links.
Filed Under
Resource Library
You can subscribe to comments on this article using this form.
If you have already commented on this article, you do not need to do this, as you were automatically subscribed.