Reading Horizons for Struggling Readers
August 20, 2012
This post is a review for Reading Horizons. This is the language program we are using to help our eleven year old dyslexic son learn to read.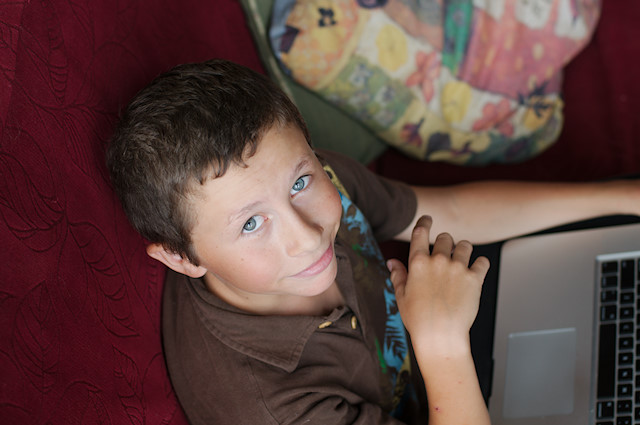 What is Reading Horizons?
Reading Horizons is a full spectrum English language literacy program, i.e. reading instruction. The company offers software and direct instructional materials to support reading instruction from beginner to struggling adults in both school and home settings.
The program we are using specifically is the Reading Horizons At-Home Ages 10-Adult online software.
Our Experience with Reading Horizons
I was asked earlier this spring to try Reading Horizons and potentially write a review. This was an interesting development since I don't normally use a lot of packaged materials for our elementary homeschool curriculum, which I explained in this post. Nor do I write a lot of product reviews.
It's very ironic then that at the time I was asked to try this product I was looking for something to help Laurent with his reading.
Even so, I was hesitant. I had never heard of Reading Horizons and wasn't sure exactly what I'd be getting myself and Laurent into if we agreed to try it.
I'm glad I decided to give it a go. And very pleased this program landed in our laps, quite literally, when it did. It's just what we needed and at the right time.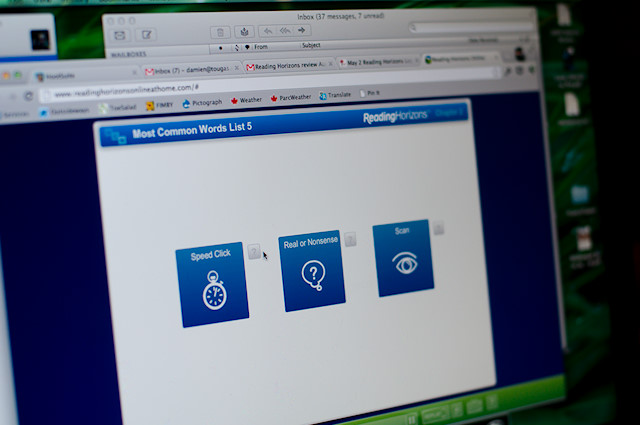 Program Specifics
We are using the online version of the Ages 10 to Adult software. Reading Horizons also offers hardcopy software.
All you need is an internet connection and the online software does all the teaching and record keeping for you. Each time we login the program remembers where we are and guides us through the lessons. I don't have to plan, prepare or otherwise teach any aspect.
Our subscription gives us access to the online software for a full year. I can set up accounts for multiple students but we're only actively using the program for Laurent. Brienne follows along for fun.
I'll let you explore the Reading Horizons site for yourself to see what the program actually teaches. That's beyond the scope of this review.
What I like about Reading Horizons
1. It's working.
The most important thing in my mind it that Reading Horizons is working for our son. What do I mean by that exactly? Laurent's reading skills, both in the sessions and in day-to-day living are improving, noticeably.
I can't say Reading Horizons will work for your struggling reader. There are so many other factors in helping struggling learners, including excellent nutrition, overall home environment, adequate physical activity, etc. I can't guarantee Reading Horizons will work for you like it has for us but the company offers a 30 Day Trial for just $10.00
2. Great support.
I had a lot of reservations about using Reading Horizons. Most of my reservations relate to the fear and uncertainty I feel as parent helping my dyslexic son learn to read. It's scary and unknown territory. So add an unfamiliar computer program on top of that and ack! I was very cautious.
The Reading Horizons representative I've worked with has been very helpful. Maybe it's just because I'm writing this review! I like to think this kind of support is available for all their customers - I sure hope so.
3. The program does all the work.
This is huge benefit for a busy homeschooling parent. I've tried for years to help Laurent learn to read. I chronicled all that in my previous post. I reached the point where I needed help.
With Reading Horizons, not only do I get help, but I don't have to research, prepare, or teach any lessons. I do however, sit down with Laurent for each of his sessions, to watch his progress for myself and to guide him if he's confused with the user interface.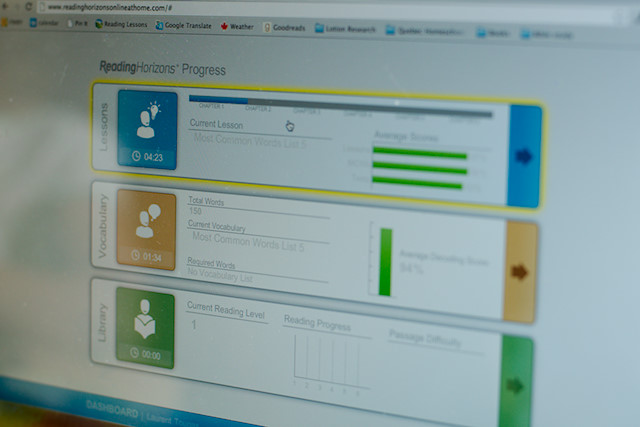 4. Learner-directed pace and parent overrides.
I was really hesitant about using a computer program because it's important to me that Laurent goes at his own pace. Reading Horizons totally allows for that. Our strategy is to do 1/2 hour sessions, four times a week. We haven't kept to this strictly with all our traveling and our move this summer but because the program requires no prep on my part (yeehaw!) and is online, we can pick it up whenever and wherever we have an internet connection.
What I also appreciate about Reading Horizons is that I can override sections. Now, this isn't recommended and I've only done it once but this is important in my mind. The program has to fit the learner, not the other way around. Reading Horizons is very structured and I want Laurent to proceed sequentially through all the lessons, but I also feel as the parent I should have control to do what's best for my child. This is why I homeschool after all!
5. The choice of online or hardcopy.
I like using an online version because it's less clutter in my home and less stuff I have to store and maintain. However, this limits me to one year of access. I'm not sure about renewal fees. I'm pretty sure we'll be through the program within one year though.
6. The technology works.
Call me quaint but I am amazed that the technology to deliver such high quality instruction right into our home actually works. I love the internet. We haven't experienced any problems with the software, which I appreciate considering I don't need to complicate this process any more than necessary for my struggling reader.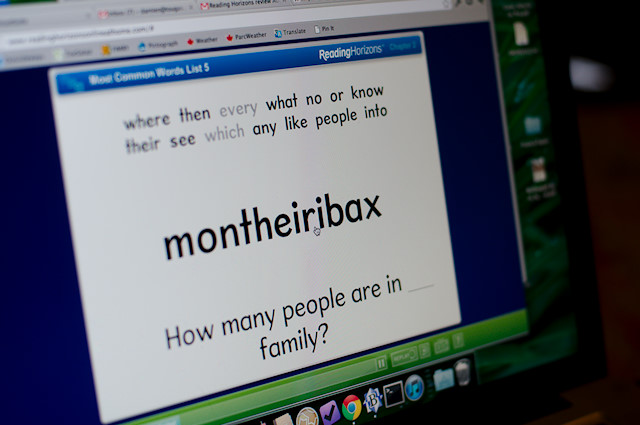 Giveaway
This giveaway is now closed.
I'm so excited to partner with Reading Horizons to offer a giveaway of the online reading program for Ages 10 to Adult. The same product we've been using.
The winner of this giveaway will get a 180 day subscription to the program, a value of $179! This is fabulous deal.
Because this is an online program this giveaway is open to residents all over the world. Yippee for online resources!
To enter your name in the giveaway just leave a comment. Giveaway now closed.
Want to read more reviews?
I am writing this review in collaboration with some other wonderful homeschool bloggers. There are ten of us all together, sharing our experiences and offering the giveaway.
Each of these homeschool bloggers offer her own unique perspective on the Reading Horizons At-Home Solutions for reading instruction. So, if you're not sure this is the right program for your family, check out what the other homeschoolers have to say.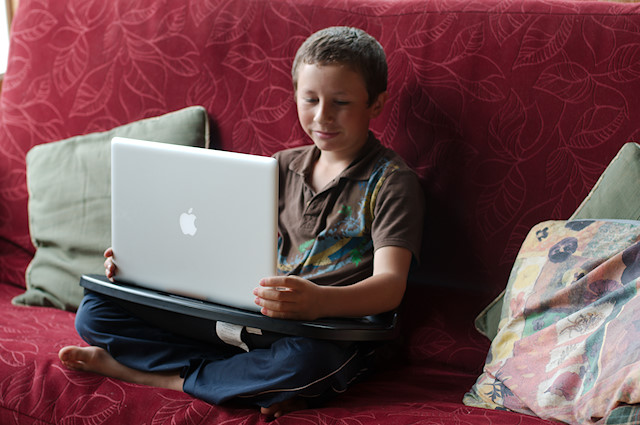 As I mentioned already, I was given Reading Horizons for review. I was also compensated for my time in writing this review. I just signed on as a Reading Horizons affiliate. (I was pleasantly surprised to find out they had an affiliate program. I love being an affiliate for products and services our family uses and recommends.) You can read my full disclosure and privacy policy here.
Filed Under
Resource Library
You can subscribe to comments on this article using this form.
If you have already commented on this article, you do not need to do this, as you were automatically subscribed.