New Art Supplies and Drawing with Children
September 17, 2009
New Art Supplies
I'm excited to share with you the most recent additions to our homeschool art supplies, which we are building up slowly bit by bit (as with everything in our lives).
Last year's start-of-the-school-year purchases were Prismacolor markers, colored pencils, watercolor colored pencils, artstix and pastels. By far the items that have been used the most have been the markers and colored pencils. The rest, not so much, but they don't "go stale" so when the inspiration strikes at least the tools will be at hand.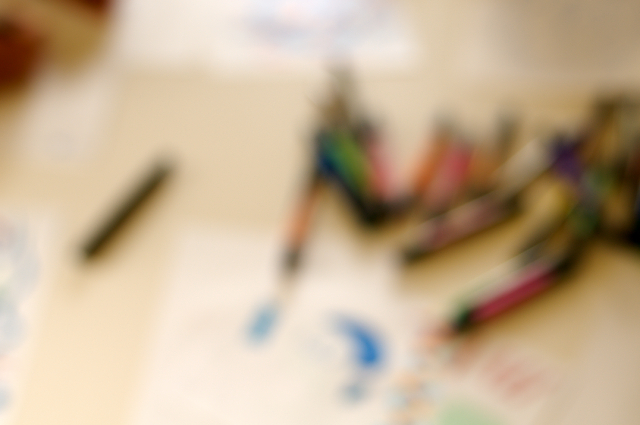 For the past 6 months I've kept a running list of supplies I've wanted to buy after reading blogs and seeing what cool art kids and mamas are creating. This list informed my purchases this time around. 
If you are local you should check out Spiller's Art Supplies in Lisbon. I haven't shopped around a great deal but for the little I have done I thought the prices on these items were fantastic, plus great service and no shipping! I recommend a trip there if you are in the "market for art".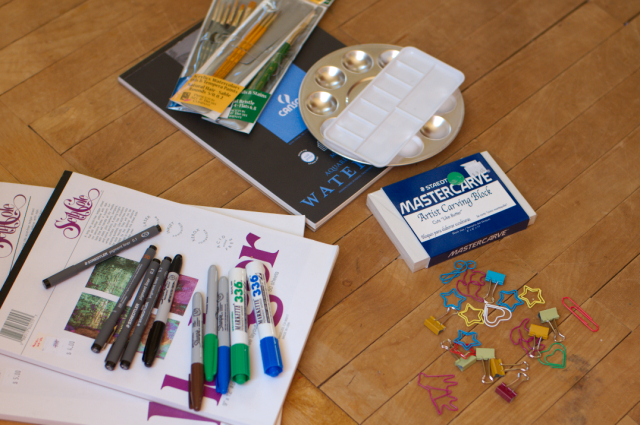 Painting
misc paint brushes
watercolor paint trays - you could use recycled yogurt lids but we don't eat yogurt and these are prettier
Canson Montval Aquarelle Watercolor 140lb Paper
I used Handmade Homeschool's supply list to get me started.
Miscellaneous
Staedtler Artist Carving Block because some cold winter day I want to do this
Paper clips! (from Staples) These were Brienne's reward for reading 3 books. My kids LOVE craft and paper supplies.
Drawing
Seth Cole brand (it was what the art store had) archival paper pads
Staedtler fine-tipped black markers
Extra green, brown and blue markers - these are smelly I wish I choose differently
These supplies were all bought in preparation for our weekly drawing lessons which we start next week.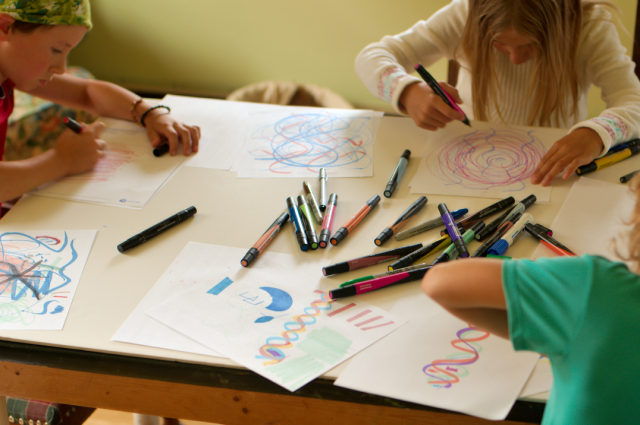 Drawing Lessons
I don't know who is more excited about these lessons, the kids or myself.
You see, I AM LEARNING how to draw too. Me, the person who has always said "I can't draw to save my life". Well I refuse to believe that anymore. And I figure what better place to start then with a drawing book for children.
I am using the book Drawing with Children by Mona Brookes to teach us all how to draw.
These are sit down lessons I am doing with the children every Thursday afternoon, and I can see already this will be one of the highlights of our week. It's so peaceful, creative and we are all doing it together.
(Post-Script: I've added this note years after using this book with my kids. In this post I originally linked to a lesson-plan structure I followed to teach the book content. I didn't find the book lessons to be very user-friendly. Unfortunately, that link is no longer valid but I've found these sources which you may find helpful if you decide to try "Drawing with Children". Using Drawing with Children and Drawing with Children using the Monart Method.
For the record, we didn't continue with drawing lessons for many months. Like many of my "lesson-based" homeschool ideas, I found the lessons difficult to maintain, over the course of months.)
This book has been recommended to me by friends and in on-line research and its basic premise is anyone, even you, can learn how to draw. Well, when I read that I said "sign me up, I'm ready". This was the book I reading, by the way, in August (while at the beach with the kiddos) that got me fired up for a new school year.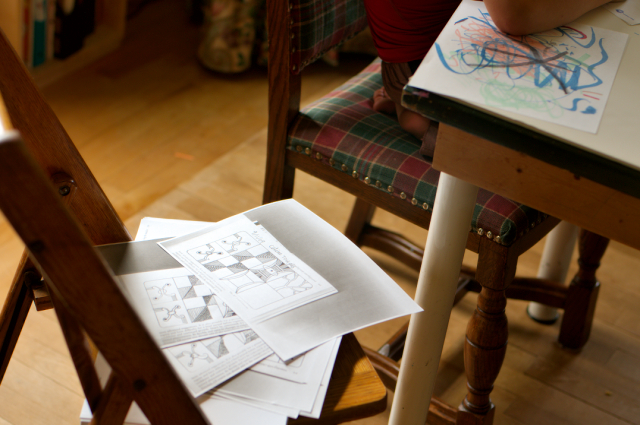 Last week was our first lesson and I will be sure to let you know how it goes. Laurent is already an amazing artist, for his age. But even people without innate artistic talent can draw (beyond stick figures) if they learn the basic elements of shape and how to put them together.
So this is where we are at for art supplies and art practice. The freedom to explore these interests and spend time together drawing is just one of the things I love about homeschooling.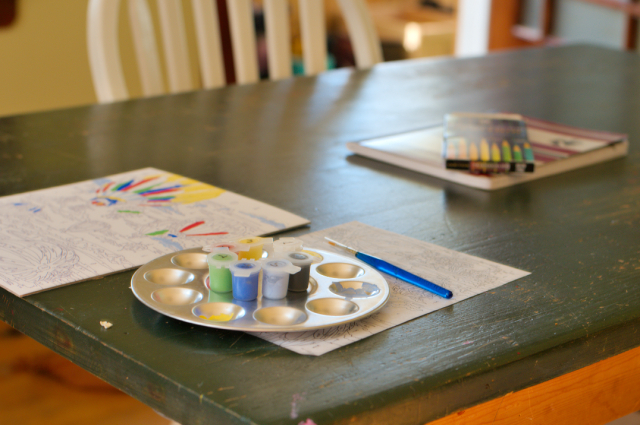 How about you? What creativity are you enjoying these days?
Filed Under
Resource Library
You can subscribe to comments on this article using this form.
If you have already commented on this article, you do not need to do this, as you were automatically subscribed.