My No-Nonsense Strategy for Picky Eaters
September 6, 2011
I have been asked more and more these days, partly because of my participation at 30 Day Vegan, about picky eaters. What we did as a family and if I have any tips or tricks to share.
I have shared my parenting experience in this matter in face to face conversations with those who exclaim, "What good eaters your kids are!" And I have also left a fair number of comments on (mommy blogger) blog posts. You know those posts, the ones where mamas discuss clever strategies for how to get kids to eat vegetables.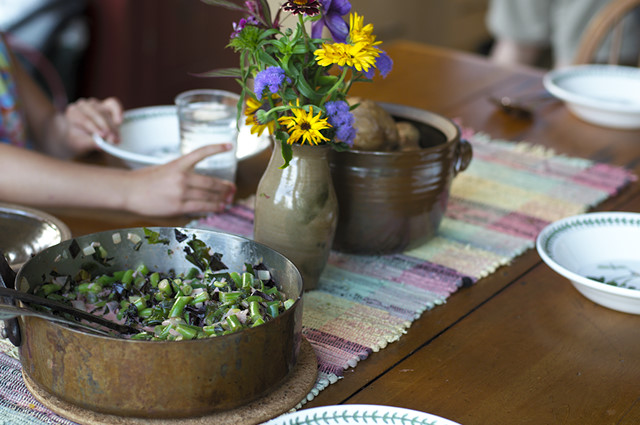 But I have been avoiding writing about this topic here at FIMBY. 
It's quite easy for me to leave my opinion (on possibly contentious issues) sprinkled here and there, on other people's blogs. It's another matter entirely for me to post my thoughts on my own blog, opening myself up to criticism for being a mean mother (I prefer the label bad ass).
Here's the reason for my insecurity in writing about this. I'm a no-nonsense mother. A bit of a traditionalist (ESTJ, if you must know) - no sassing, no whining, eat your veggies. That sort of thing.
I'm afraid you'll interpret that as "bad mother", certainly not very politically correct or attachment-ish. 
I have one more fear to share with you (sigh). I'm afraid that by telling you our family's approach to this subject you'll think I'm passing judgement on you if your kids are picky. So know this - I'm not.
Each family needs to do what works for them, make their own household rules, and live according to their values. In case you needed that permission (smile).
So now that I've cleared everyone from the room, or at least had you squirm in your seats as I reveal my mothering insecurities, let's get to the nitty gritty of the topic.
What I'm going to share with you is what our family has done. It is not my perscription for picky eaters and in fact if your children are older this probably won't work. This advice, or rather experience, is more useful for families with wee ones - the age at which we addressed the picky eater issue.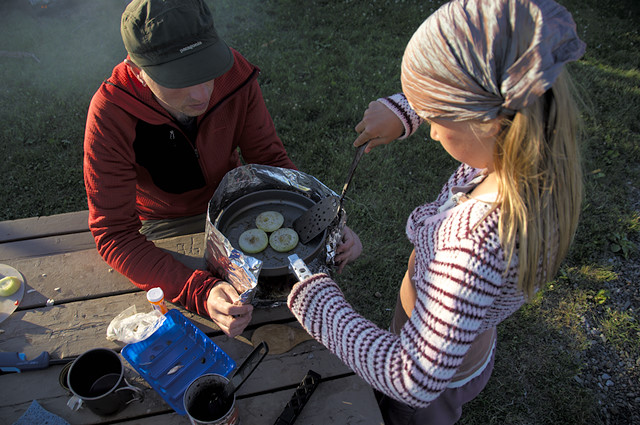 When Celine (now 12) was a baby, and probably even before that, we determined that we (Damien and I are on the same page) were not going to have a family restaurant. By restaurant I mean we were not going to offer children different food from what the adults were eating.
Looking around the world at what people eat it was clear to me that children will eat whatever their "norm" is. Spicy foods in Asia, insects, grubs, little rodents(?) in the Amazon, cow blood in certain African tribes. We're talking some weird stuff from the North American perspective.
Let's talk choice for a minute (never mind the lack of "food groups" in these cultures). Many children around the world have no choice about what to eat. There is either very little variety or very little to eat. Period. 
And here we are wringing our hands and writing books about how to get kids to eat vegetables?
Eating what's served
We decided that in our home what is served is what is available to eat.
When we sit down to eat a family meal, you get to eat what's on the table, whether you're 2, 12, 42. Damien regularly adds more frozen vegetables to his meal but I don't consider this a problem.
If you don't like supper you're not offered crackers from pantry. Or toast and peanut butter because "this isn't junior's favorite". And you certainly don't get served the frozen un-chicken nuggets kept in freezer, "just in case the kids don't like this meal".
So here's the question. If our kids didn't like the meal what's to stop them from holding out till snack time when they could eat that toast and peanut butter? (Back when toast was served for snack. Nowadays snack is one of these options).
Here's how we addressed that. If one of our children refused to eat something (almost always it was a supper meal - some kind of mushy soup or stew) that was fine. There was no pleading, whining, yelling, cajoling, punishment or consequences. We smiled and said, "you can eat it when you're hungry". And we meant it.
The food went into the fridge and re-appeared at snack or the next meal, whichever was first. In fact, that same food kept showing up until they ate it.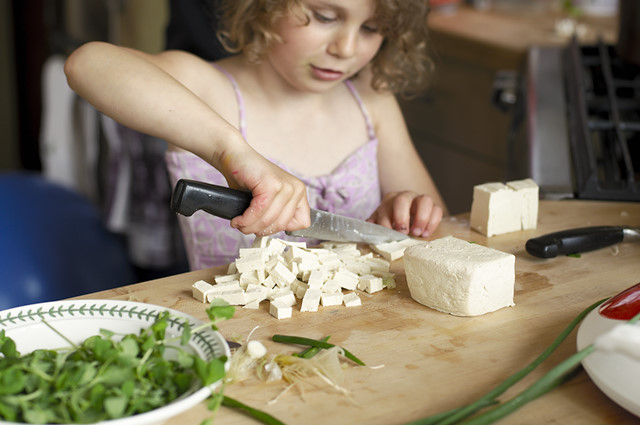 Somewhere between the age of 18 months to 3.5 years old each of our children walked up to edge of this family food rule and tested it. Two of our children "fasted", obviously they were drinking water, for a day before they decided it was a losing battle. They ate the two tablespoons (which is all it was when they were this little) of whatever the offending food was and gladly moved on to more palatable (to them) fare.
I only recall having to do this once with each child. Of course, memory probably fails me and we might have had to do this twice. But our children knew that when we said "no other food till you finish this serving" we meant it.
By the time Brienne came along, our most strong willed child, the stage was set. The older children, and of course us as parents, modeled the expected behavior. Interestingly, Brienne had the most sensitive gag reflex and those mushy veggies were never her favorite. But to see her now at age 8, scarfing down eggplant un-parmigan, zucchini stir fry, etc. you never would know.
Keep in mind our children were very young when we laid this foundation. We were serving them tablespoons of food. If they didn't particularly like something there was only a couple tablespoons to eat, which they learned tasted better the first time it appeared.
Giving our kids a bit of choice
I'm not totally a mean mother. We do give our kids some choice. Because our meals almost always feature a variety of veggies, mostly all served together in one pot, we allow our kids to remove one veggie variety they don't like.
And because I know my kids don't particularly like mushy veggies (ie: zucchini) I do my best to cook meals that don't include all mushy veggies.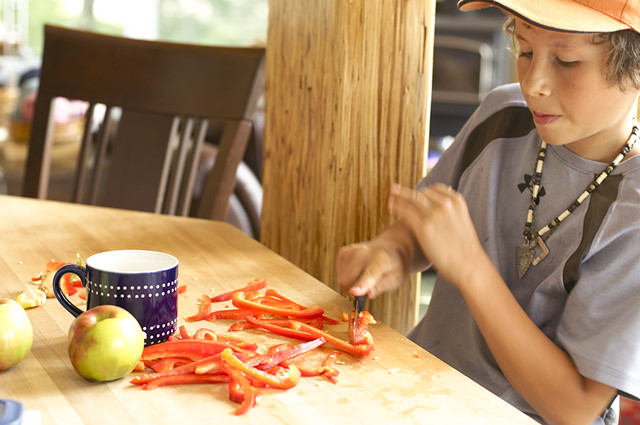 Laurent has never liked fresh tomatoes. Brienne is just leaving the zucchini dislike stage. Eggplant has never been popular but the tide is starting to turn on that one also.
They were, and still are, allowed to leave one thing that they absolutely don't like. Granted nowadays, at 12, 10 & 8, they rarely leave anything and will eat heaps and heaps of beans, grains, veggies, whatever is served.
Celine has never been a picky eater but I very clearly recall the lentil soup fast she took. We laugh about it now as she heartily eats and enjoys all manner of legumes.
I can honestly say we have not had many food battles. We didn't allow food to become a battle zone in our house. "This is supper, this is what you eat" was pretty much our philosophy.
With regards to other meals, it's much the same, with the exception of breakfast. Currently Celine (12) often makes her own breakfast with fruits and nuts because she doesn't like soft cooked grains, like oatmeal (we eat lots of hot cereal).
As the kids have grown there are some meals they don't eat as much of, but they eat what I cook (or this summer, eat what Nana cooks). There is also a lot of variety in our meals because I like to experiment and don't like to exactly follow recipes. Chances are if you didn't like tonight's meal I probably won't repeat it.
I have always tried to make food my family will enjoy, not just choke down. It's not like I'm thinking, "ha, ha, let's load this entree with zucchini and watch my children gag". I love it when my family raves over a meal I make. But I determined long ago I wasn't going to be a short order cook just to keep the troops happy.
I like what Jennifer at Kidoing has to say about the feeding kids and her rebuttal to getting kids to eat veggies. I asked her to share a bit of her philosophy here at FIMBY. This is what she has to say:
I treat my kids as people when cooking for them...not their own species! They eat almost anything I put in front of them when it's cooked with fresh wholesome ingredients and lots of love. Of course, there are always exceptions, but who doesn't have an off day when you just don't feel like eating what's on your plate? Cooking (and eating) in our home is enjoyable and a top priority every day.
Love it. I also really like what Erika from Mud Spice says about how to get your kids to eat vegetables. I agree, if they are really hungry, they'll eat.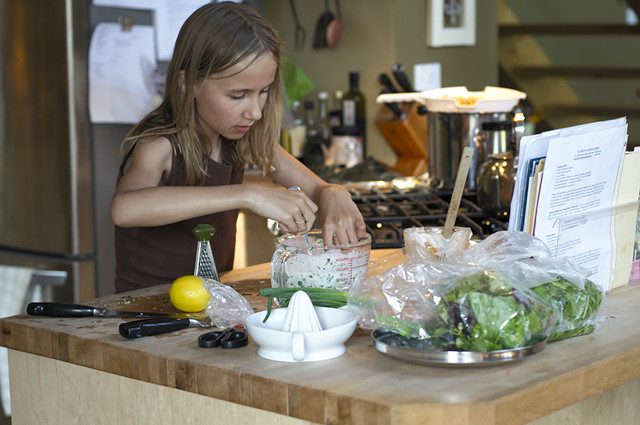 A few last thoughts on raising hearty eaters:
If one of the adults of the household is picky eater you can expect the kids to follow suit. So much about what we want to teach our kids is modeled, not spoken. Neither Damien or I are picky eaters. Damien has always eaten, and never complained (the same cannot be said for me), about a meal I've cooked. And I've cooked some "interesting" stuff.
I don't believe in hiding veggies from my kids. We enjoy sauces, smoothies, etc.. but not as a way to "mask" an offending fruit or vegetable.
I don't make veggies fun. Veggies, like other foods are just that, food. I like to cook with intention and love and prepare my family's favorites but except for the odd snowman pancake I don't dress up food as fun or un-fun.
When my children were too young to dish up their own meal (now they serve themselves and are expected to eat what they dish up) I didn't serve them large portions of food I knew they disliked. We wanted to set our kids up for success, not failure. And of course none of this applies to when kids are sick, when their appetites are low or they're throwing up all the time (in case you were worried).
If I make something really weird and wacky (outside their normal grid) we always give our kids the option to eat just the blandest part of that. For example, serving sushi the first time I probably offered the kids plain ol' rice and tofu. Though, for as long as I can recall my kids have eaten sushi like there is no tomorrow.
If you are changing your family diet with older children this article I wrote on helping children embrace lifestyle change might be useful.
My kids have been in the kitchen and garden with me from the very start. They know and understand food. Where it comes from, the effort it takes to prepare it. I don't know to what extent that has helped them be hearty eaters, probably some. 
As much as it might seen otherwise, I believe it's very important to listen to our children and what their bodies are telling them. We have never forced our children to eat but when they are hungry they are expected to eat what has been cooked and what is served. If they don't like it, there's not a more tasty option waiting in the pantry or freezer, which is pretty much the gist of this post.
But that doesn't mean we are encouraging them to ignore their body's signals. We have tweaked and adjusted our children's diets over the years in response to how their bodies feel after eating. Tummy aches, skin rashes, behavior problems, bowel problems, itchy mouths & throats - all of these (and more) are potential signs of auto-immune responses to food. We do not ignore these. We are a "food sensitivity" aware family.
I think that pretty much covers it - my offfical, no holds barred response to the oft asked question "How do you get your kids to eat all those one pot meals and veggies?" 
I will now slink back to random commenter on other people's blogs.
Filed Under
Part of Series
Resource Library
You can subscribe to comments on this article using this form.
If you have already commented on this article, you do not need to do this, as you were automatically subscribed.