Making Sweater Mittens and Other Birthday Treasures
December 6, 2011
Last Friday was my birthday and what a special day it was. I feel so blessed simply being loved.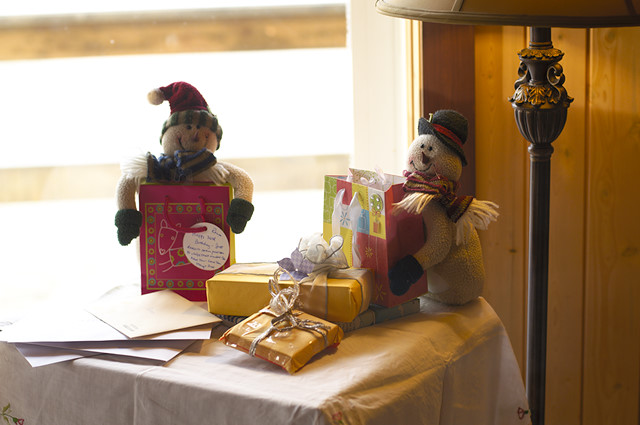 The eve before the "big day" I was banished to our bedroom (there isn't much secret space in our little chalet), while the kids stayed up extra late to set the table and lay out presents and cards. They wanted to make my birthday morning special, they way I work to make their birthday mornings special.
I'm always pleasantly surprised when my children treat me like a queen on my birthday, and not because I've said "treat me like a queen" (ok, maybe just a bit of that, I am explicit about not wanting to spend the day in the kitchen).
They have a genuine and honest desire to treat me well. I don't know why this surprises me, they are generous and affectionate by nature but usually the tables are turned - I'm the one serving them. So to be served, surprised and catered to for a day is really the best gift of all.
Gift giving is not my love language. Service is. My family spoke my love language on my birthday and that made the day so very sweet.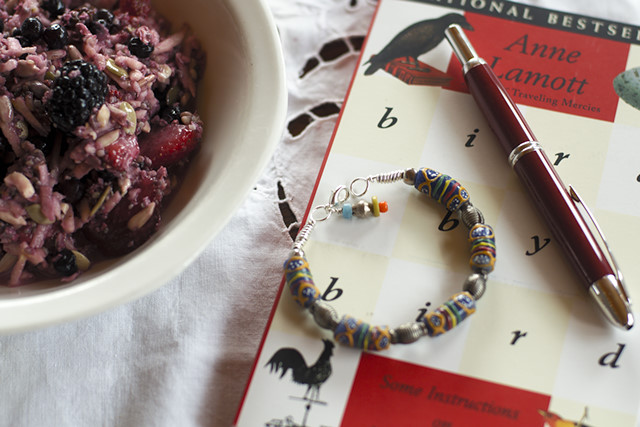 There were a few wrapped gifts as well. I'm a fairly simple gal in my tastes and needs. I like nice, or rather quality things, but I don't need many. A couple good knives, a good cup of morning coffee ... and now a good pen.
Damien has a "thing" for high quality pens. He has ever since I met him way back when in university. Something to do with his technical, precise, yet artistic brain. He's been turning me into a pen snob over the years and I think my transformation from "take the free promotional pen offered by the insurance agent/dentist/electrician" to "I only write with quality pen and ink" is nearly complete.
So now I have a pen in my grasp that I don't dare lose (quality fountain pens aren't cheap). A pen that is requiring me to slow down and relearn some of my writing habits. A pen to replace the five Pilot roller ball pens I always have on the go - stashed here, there and everywhere around the house.
A pen that will (ahem) release the creative writing genius within (smile). But seriously it's a gorgeous pen. I was complicit to its purchase, choosing the color and consenting to spend that much for a birthday present. Now I just need to learn how to write well with it.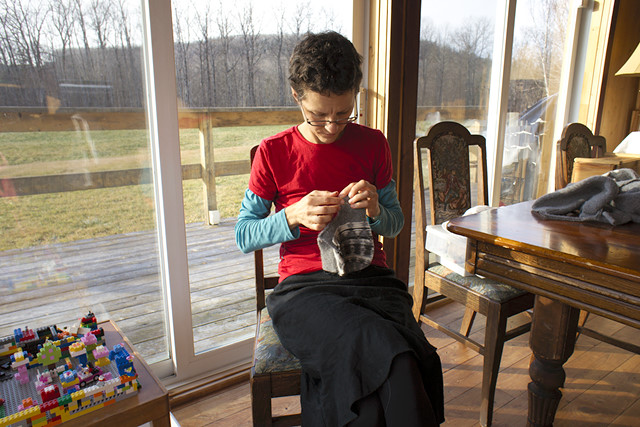 One of the best gifts of the day was giving myself time to create - just for me. I needed a new pair of mitts. I have thin gloves and really heavy duty winter mitts for the coming months. But nothing in between. I needed a pair of mitts that could fit over the gloves, to layer for warmth. Or could be worn on their own.
I had just the idea in mind of how I could make myself such a pair of mitts, given a few extra hours, and my birthday was the perfect time to do this.
Enter the felted sweater.
Remember this sweater? Looks like you could call it my "reading sweater" (both of these photos are from last February). Reading on winter afternoons is one of life's sweet, sweet pleasures. But I digress.
The sweater was a hand-me-down given to the girls last winter. Fortunately, because of my small stature I can sometimes wear the girls' hand-me-downs. As was the case with this sweater.
It was a teensy bit short in the torso for my tastes but so warm and lovely. At the end of the winter, packing up for our move, I determined not to keep anything in my wardrobe that I didn't absolutely love or truly need. Lots went out the door (my wardrobe now is very small) but this wool/angora mix sweater was hard to part. I kept it hoping maybe Celine might wear it, but it's not her style.
What to do with such a gorgeous sweater?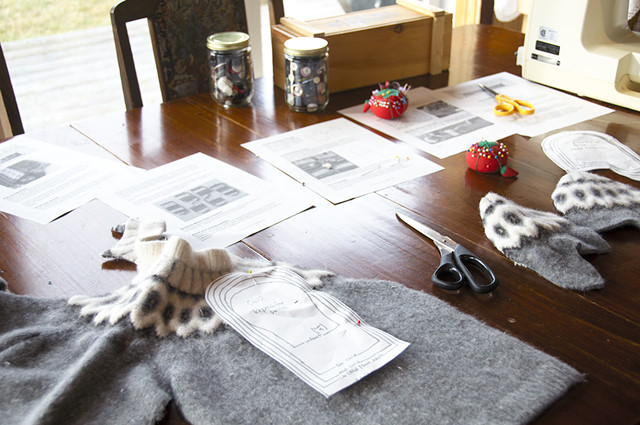 Make mittens of course! Something I actually need.
Having determined my course of action I started by felting the sweater - washing with hot water, soap and lots of agitation and then putting it in the dryer on hot. Having taken extra care last winter to not do these very things, I had to keep reminding myself it was ok to do this, that I wanted to felt this wool.
With felted sweater at hand I went to work. I used this great tutorial and pattern from Five Green Acres (googled "sweater mittens" and this came up). I am so thankful for people who take the time to share their wisdom, for free, with the world at large.
I followed the pattern but didn't line them because the felted wool is very thick, warm and soft as is. Also, I didn't machine sew because the felted wool seams were just too thick.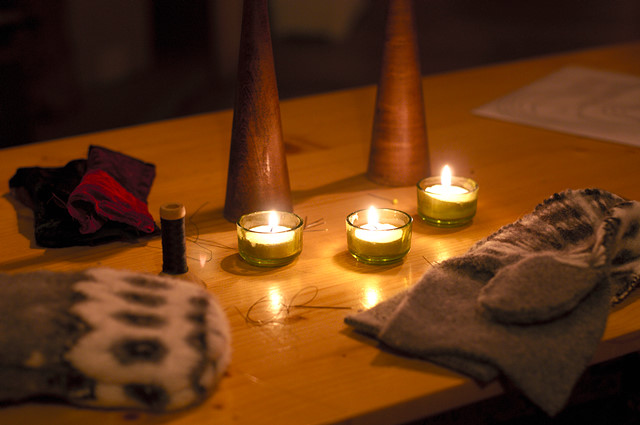 Because they aren't lined I wasn't sure how to finish the cuffs. Then I remembered another piece of clothing I didn't wear any longer but just couldn't part with and have carried around for nearly 18 years!
A scarf given to me, as a young woman, from a close friend and the maid of honor at my wedding. Not a homemade scarf even, a store bought special, but part of my youth I wasn't ready to part with. You can see the scarf in the Young Love, circa 1995 photo in this post.
Anyway, I still have that scarf, and during our move it was relocated from the back my closet to the fabric supply for crafting. It was time to let it go, or so I thought.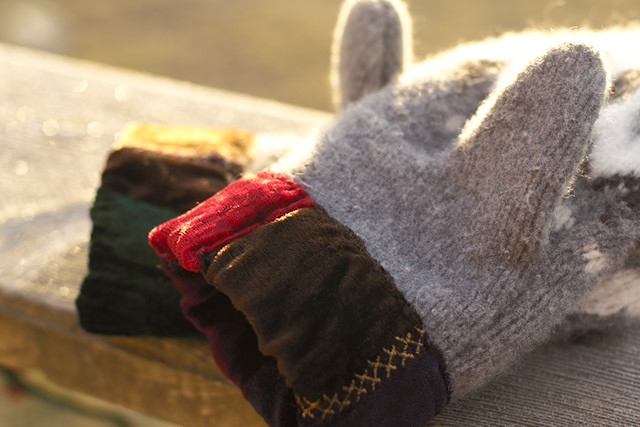 When I got to those rough unfinished edges of the mitts I knew exactly what I wanted to finish them with. The scarf was perfect. Turns out I didn't have to let it go. And half of it still remains for other craft projects for the kids.
By the end of Saturday (I didn't quite get them finished on my birthday) they were done. That's my kind of project - finished. And ready for Sunday's hike.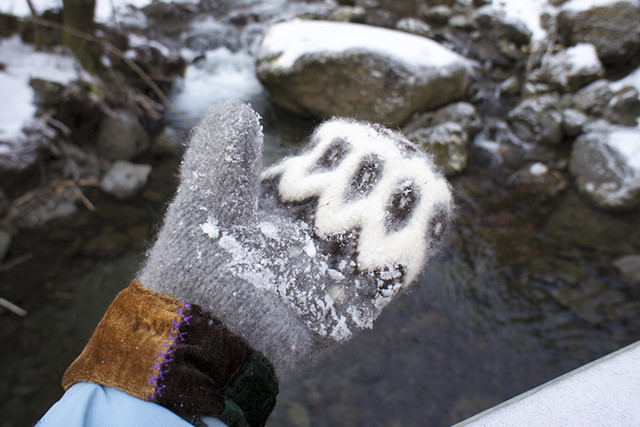 And that's the story of how a sweater became mitts and why I'm now using one pen instead of five. What a gift it is to be loved by your family, to craft on your birthday, and how satisfying it is to re-purpose treasures past their useful lifespan into something beautiful and lovely.
PS. I'm still asking for contributions of reader's handmade shops and stores for a linky round-up at FIMBY in time for holiday shopping. A resource for those of us not quite done with our shopping and/or not inclined to make everything ourselves. I'd love to promote your craft and business. Leave a link in the comments. 
Filed Under
Resource Library
You can subscribe to comments on this article using this form.
If you have already commented on this article, you do not need to do this, as you were automatically subscribed.