Living in a "Doll" House
December 23, 2011
No, I don't mean we live in a small house. I've already talked all about that.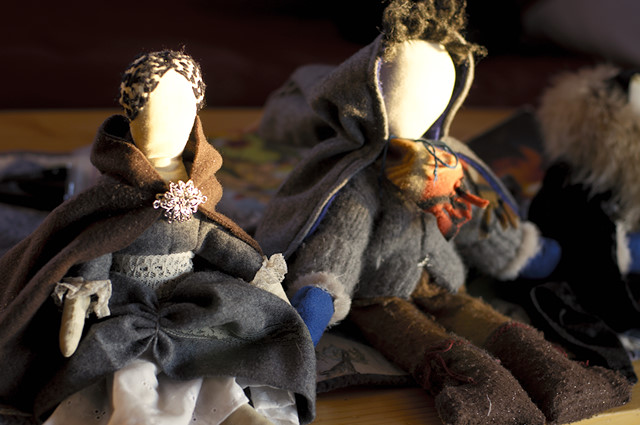 And no, I not referring to these doll houses and miniature medieval castles. Those are currently still stored in the black trailer in our yard because there is "no room at the inn" (sorry, couldn't help myself) for both them and a Christmas tree. Floor space is at a premium in this small chalet.
What I mean by living in a doll house is that my children, all of them, love dolls. Even my growing into a young woman child. The day will come when she outgrows playing with dolls but given her talent and interest it just may be that creating dolls and their clothes remains with her as a potential business or simply a pleasurable hobby for quite a few years yet.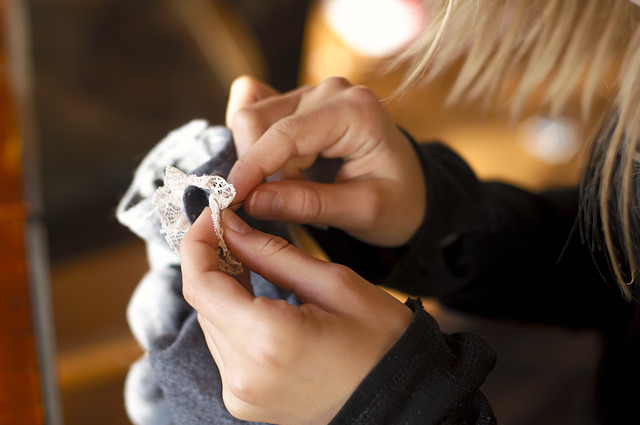 Tristan
Laurent, happily sandwiched between his sisters in birth order, also loves dolls.
Last, last year (we're so near the end of this one it feels like last year is really the one still on the calendar) I made Laurent a cloth doll. He desperately needed a more "grown up" doll in addition to the first doll I made him - his beloved Rick - who I sewed six years ago, when Laurent was just four years old.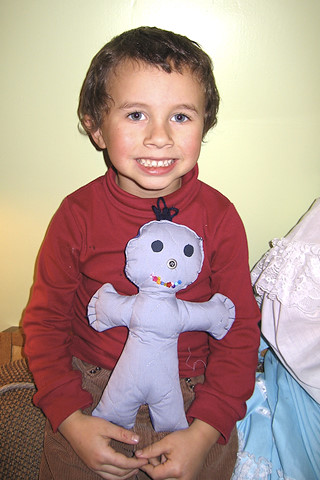 Laurent still plays with Rick. Unbelievable, especially considering how hideous - in a weird and loveable way - he looks. Whatever possessed me to sew a blue purple doll? Who knows.
Anyway, a couple years ago now I sewed Laurent his "newest" doll, named Tristan. Last Christmas Celine outfitted Tristan with a complete wardrobe.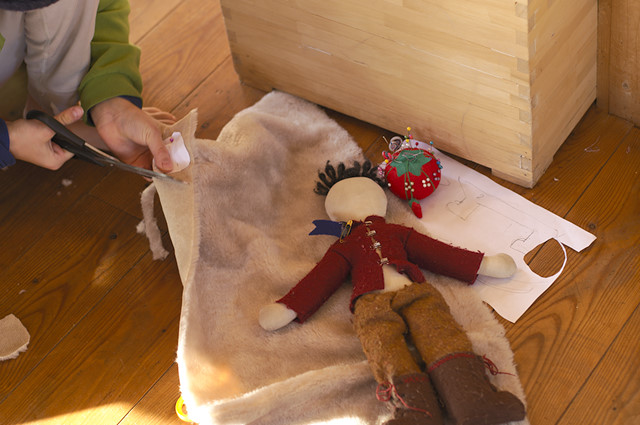 Something about the crafting groove during the month of December always brings my kids back to their dolls and this month Laurent decided Tristan needed new clothes. Celine, Laurent and I have been sewing Tristan a few items to round out his wardrobe.
A sweater (made with leftover wool felt from my mitten project), blue fleece mittens, a scarf, and (not pictured, but so cute) new camo pj bottoms.
It is so much fun to mother these creative kiddos!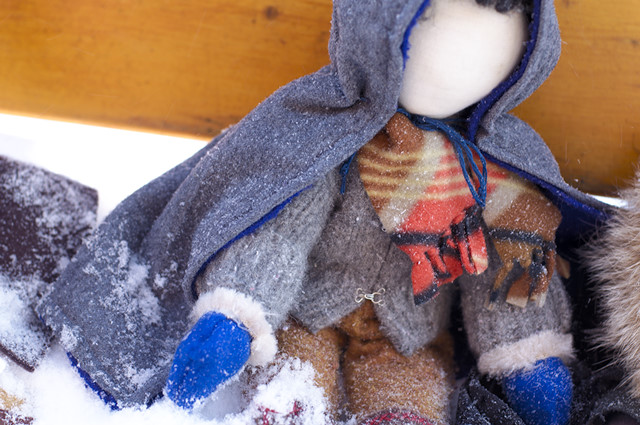 Isabella
Three and half years ago Celine made Isabella.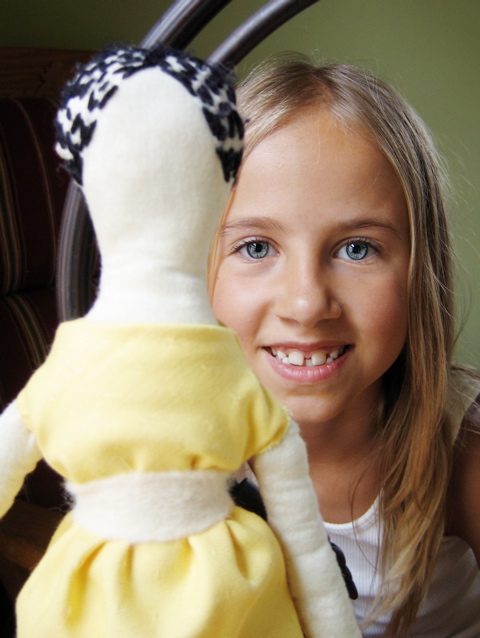 This photo from the summer when Celine was nine melts my heart. My talented daughter, who faces life straight on with confidence and those big blue eyes.
Isabella was in need of a wardrobe update, happens somewhat frequently around these parts. This month it was a grey wool winter dress with colonial style, lace trimmed sleeves and eyelet petticoat. A lace sash around the waist adds the finishing touch.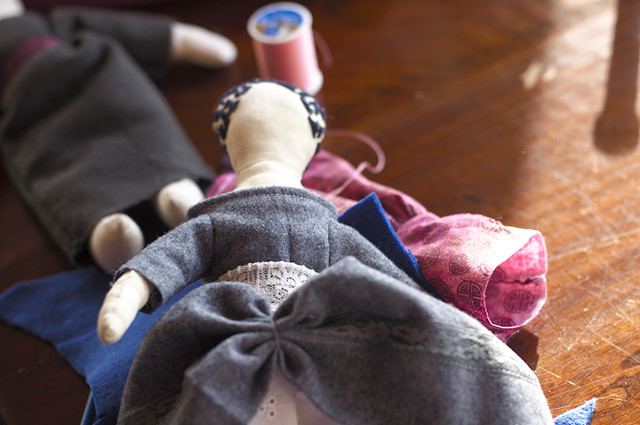 Of course a doll needs a winter cloak. Celine fashioned Isabella's out of brown fleece, finishing it with a silver broach fastened with a cleverly disguised safety pin.
Eleanor
Brienne, happily (for me at least) still all child, has the most dolls of all the kids.
There's her Bitty Twins - Adeline and Joah (ssh...don't tell but they are getting etsy-found clothes this Christmas). In addition to the twins there is Eleanor, Annabelle (purchased at Common Ground Fair two years ago, handcrafted by an eleven year old boy) and Rose the Raggedy Ann doll.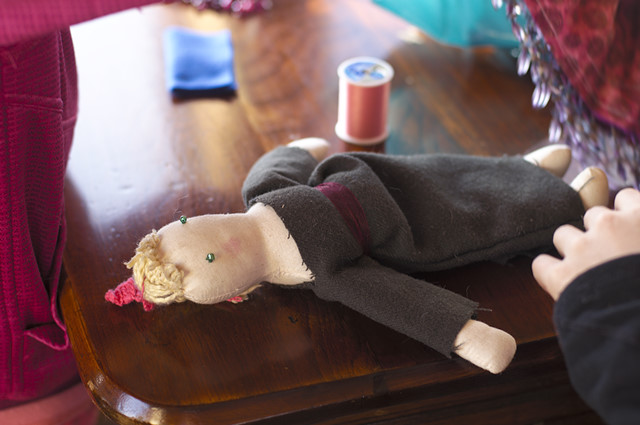 Eleanor's wardrobe has been lacking the flair Brienne likes in clothing. She purchased this sparkling pink fabric and trim months ago and had been begging Celine and I to help her turn it into something beautiful. This month we relented.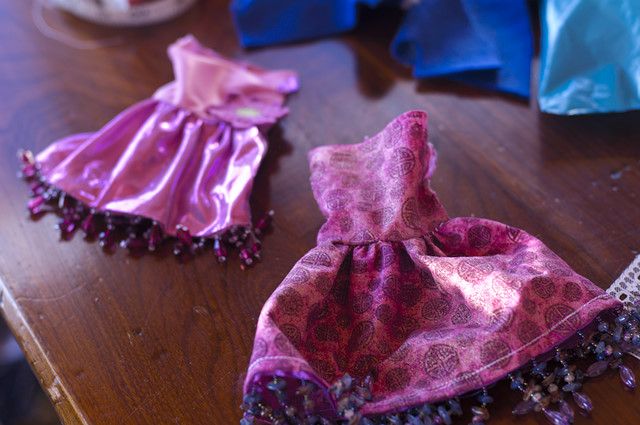 Celine helped with the pattern and I helped with the sewing.
And what's winter without a fur edged crushed velvet cloak? Cold! Especially in these parts.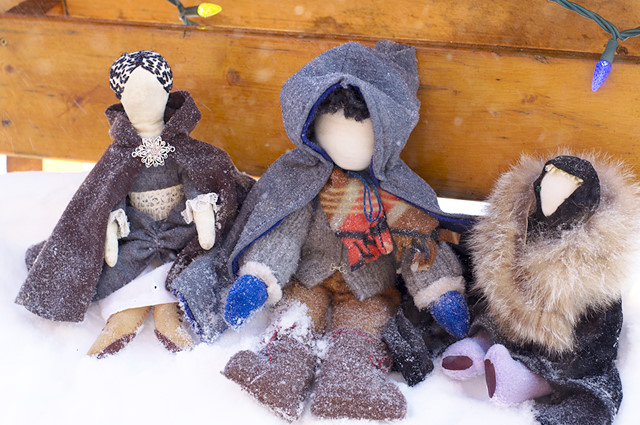 Wanting to get in on all the doll making (and bless my doll-loving littlest one), I am sewing Brienne one of these Pocket Pixies for Christmas. And now that we own the pattern the kids can make as many as they like.
A few notes about doll making
Making dolls with my children was something that naturally evolved. I didn't start my parenting journey with a doll making intention, it just kind of happened.
I find it interesting that my kids naturally gravitate to crafting dolls without faces. Especially considering I knew nothing about the "waldorfy-ness" of this doll style till fairly recently. As Celine says, without a face, "you can imagine what the doll looks like. She might be smiling, sleeping or frowning. Brown eyed, green eyed or black eyed". Brienne adds, "or purple eyed!" (smile). The kids all want to add, "If you make a face on the doll it might not turn out the way you want and might ruin your imagination of the doll".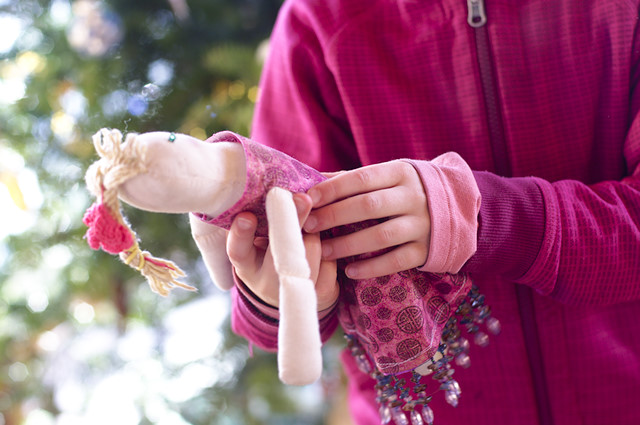 Someday I hope to write a "supplies you need to stock for sewing with your kids" post, a follow up to this paper craft post. In the meantime I'll just say felt and fleece are wonderful materials to work with. And our children return to those fabrics again and again.
Socks are the best place to start if you want to make dolls with little ones. Google it to find a pattern, there's got to be ton of crafty blogs out there with free tutorials for sock dolls. I wish I had kept track of the books we borrowed from the library when we needed doll making inspiration. Alas, I didn't. But I'm pretty sure this is the book we used for making Tristan.
When kids start making dolls, or inexperienced adults for that matter (Rick being case in point) they can look kind of wonky, to say the least. This is all part of the fun and great memories. The kids laugh their heads off (with fond memories) at their early sock dolls. Dolls lovingly stitched with their pudgy three and four year old hands. And my heart does a little lurch at those memories.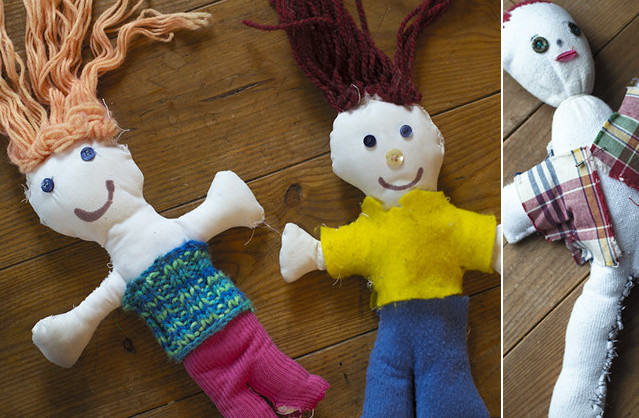 More doll-related posts (peeks into our past) from the FIMBY archives
It's time for me to go finish that doll I'm making for Brienne. The kids (and their dolls) are bouncing off the chalet walls. They can hardly wait for the arrival of my parents tonight which will get the Christmas celebrations under way.
I'll be back on Christmas Eve Day to share some photos with you. If you're too busy to make it back here tomorrow I wish you (and your dolls) a Merry Christmas.
Published later: Doll Making ~ Your Questions Answered with Celine.
Filed Under
Resource Library
You can subscribe to comments on this article using this form.
If you have already commented on this article, you do not need to do this, as you were automatically subscribed.