Does This Mean We're Minimalists? ~ A Tour of Our Chalet
December 21, 2011
Now that we are all settled into our chalet I thought I'd take you on a visual tour of our home. You can the see the before and getting organized photos here & here.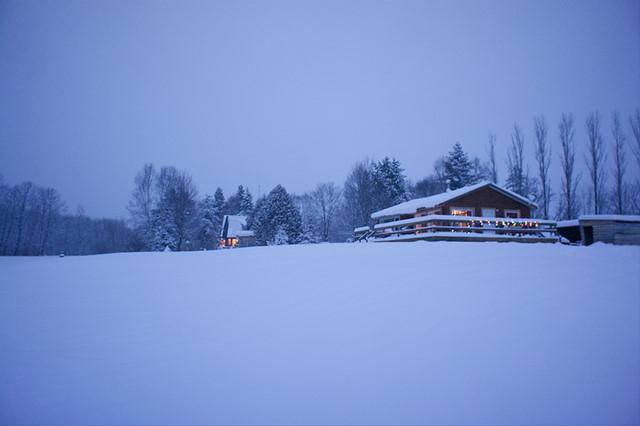 To say we love this space is putting it mildly.
When Damien and I found the chalet in early October we told the landlord on the spot, "we'll take it - now". As we walked through the space together that fateful October day (indeed, it was fate or God, as we believe, who led us to this sweet cabin) we had visions of what living here might look like. So far the chalet has been everything we'd hoped for and more.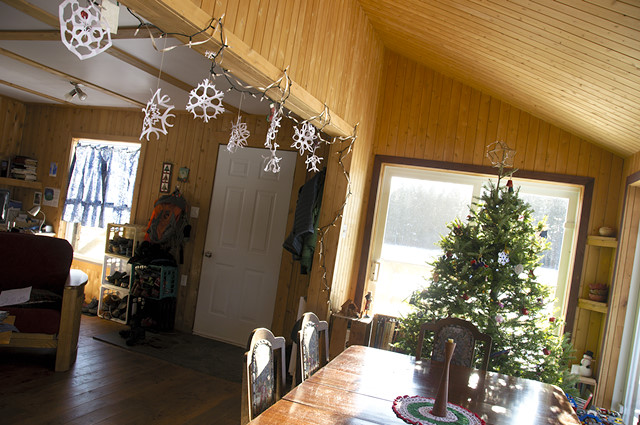 A few facts about the chalet and the area:
Damien paced the side and front of the perfectly rectangular chalet and determined the area to be approximately 750 square feet. Not the most precise measurement so let's say 700-800 square feet of living space.
For the first time in six years I have dryer. And I use it. There is not much space in this little house for hang drying laundry and no outdoor line (and no, we're not rigging something up for the few months we're living here). I love that dryer. Even so, we have a drying rack set up for all the wet winter gear that needs to dry each day after being outdoors. You'll see it in the photos. 
However, the dishwasher serves as storage space and is used on special occasions only, like post-Christmas dinner. Our small kitchen space does not allow tons of dishes to be stored so we keep out only what we need, five of everything, and wash up right after meals. I LOVE this system. It's what we were trying to achieve over one year ago when we started hand washing our dishes (we stopped that during the winter months of 2011, getting ready for our move).
The transition to a smaller space has not been without bumps. Being in such close proximity with each other, all day, brings differing personality and character traits into sharp relief. We all rub edges sometimes but we honestly feel that this is a good thing. Learning to treat each other with love, respect and kindness, regardless of circumstance, are some of our core family values. We get to practice those each and every day! I don't want to speak on behalf of our children, that is their story to tell, but Damien and I believe this character refining process and working out systems of small space living is very valuable for our family.
We live 10 minutes from the centre-ville of the biggest town in the area. We are not isolated in the back woods somewhere, though we are surrounded by field, wood and river, with lots of space to roam.
The chalet is actually located in a small village consisting of a post office, fishing outfitter and museum (salmon fishing is big around here), a couple churches, an outdoors store/cafe, a bar, a greenhouse/nursery, a balsam wreath maker (don't ask me what they do in summer), town hall, the Legion, a couple other at-home businesses and altogether maybe 700 souls who call this place home.
We are only here for the winter, till the end of May, since this chalet is used heavily as a summer rental for all the tourists that come to this gorgeous area.
On with the tour
A lot of the minimalist stuff you see out there - people who whittle their personal belongings down to 100 items (huh?) and live in a white Ikea-like cubicle and eat out all the time because they have no kitchen, etc. - seems just so not family friendly.
I mean, really - we are a family of five creative and active individuals. We craft, learn, work, cook and eat at home. Every day. We make mess, all the time. How can you truly live (love, eat, create) without making mess?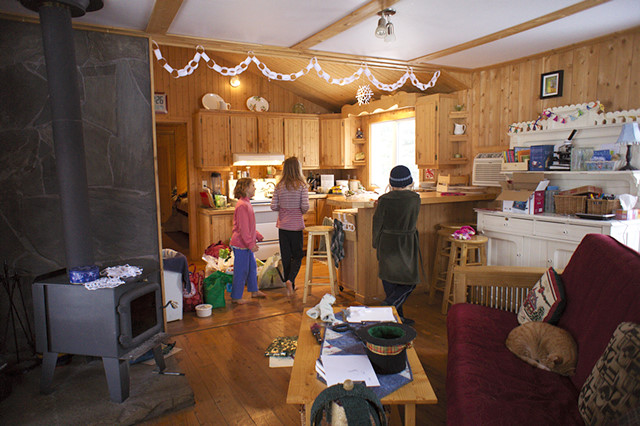 In a small space this reality is simply amplified. Coming to terms with the creative clutter is one of my life lessons in this move. There is no separate studio space for sewing. Games, crafting, "school" activities, they all happen right where we live. It's truly a "living room".
What this means practically is that the dining room table never looks like this.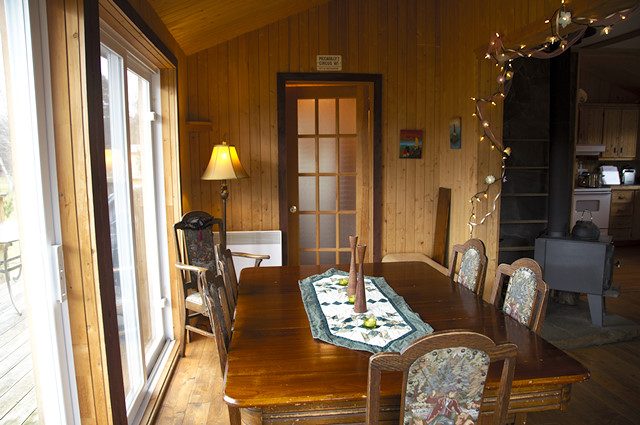 Except maybe at the end of the day. Often, the whole day it will be full of "life" and we'll eat our lunch at the tiny peninsula in the kitchen instead. You learn to roll with it.
Bins. Bins are my friends. I'd love to have all natural baskets in some beautiful shelf, but there isn't even any wall space for a shelf like that so we adapt. We keep bins under the kids' beds and a stack like this in their room.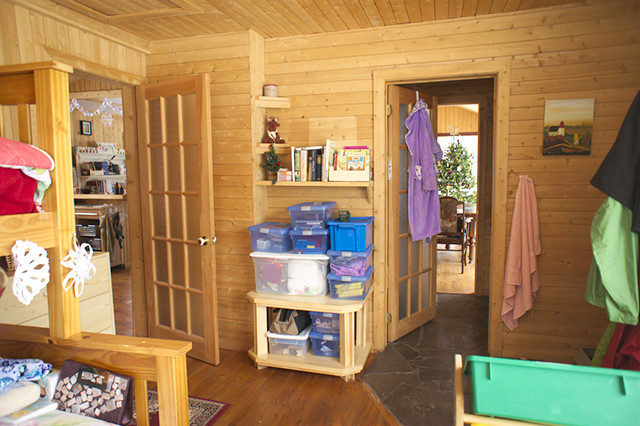 All of the kids stuff is stored in bins - crafts, toys, activities. They can bring out what they need for the day or a few days but everything has a home in a bin.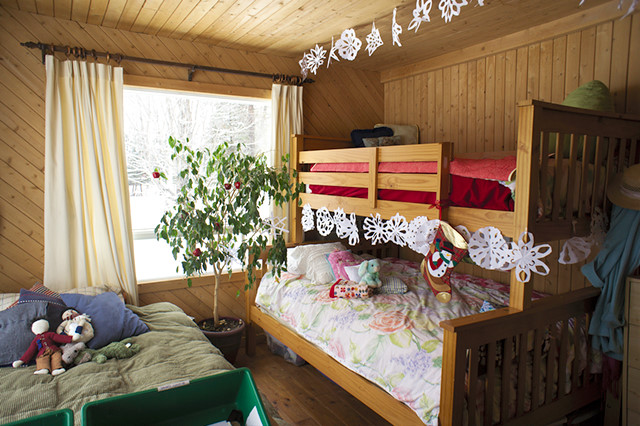 If we lived in this space permanently we would arrange the beds differently. Essentially the kids bedroom has 2 double beds taking up floor space. Which is overkill for their small bodies. But this isn't permanent so we make do.
I plan to write a separate post in the new year about book storage. For now, I'll tease you with this - we are creative in how we set up bookshelves.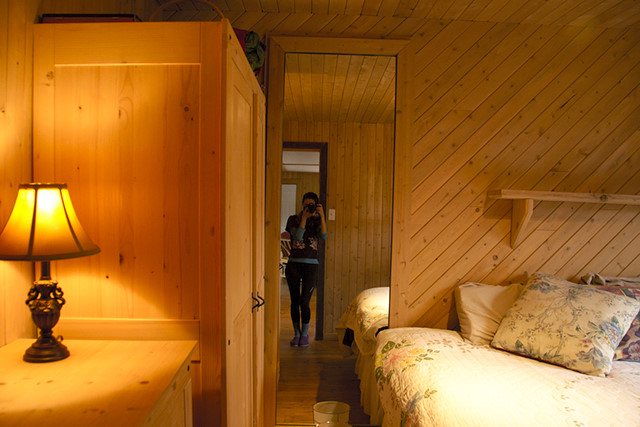 Our bedroom is where Damien's "office" is but the details of that are also saved for another post, probably at Toe Salad. His office takes up about 18 sq. ft. at the end of our bed. And get this... he exercises while he works.
Intrigued yet? If you ask in comments I'll give you a hint of how he does that. And no, it has nothing to do with that adult activity that is usually reserved for bedrooms (though can you imagine working while doing that? Talk about multitasking...).
In our bedroom, in the dresser and wardrobe (pictured above), is where we store most of the craft supplies. This is also where Damien and I keep our clothes. Just to be clear, there are more craft supplies than clothes. Which is just fine with us.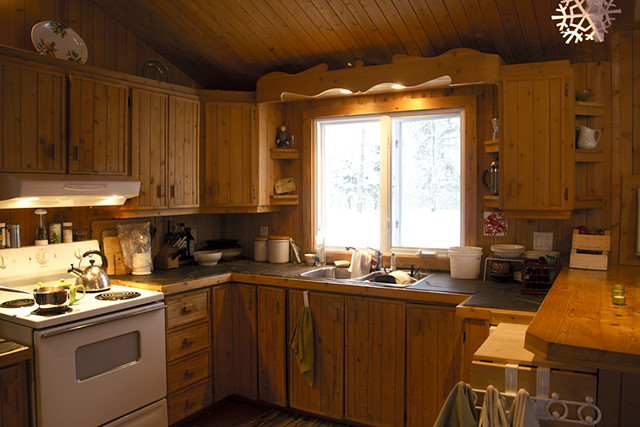 This is our kitchen. I love it, especially that window over the sink.
I had no idea how huge my kitchen in Maine really was. This kitchen is easily half that amount of space. Which has caused us to simplify our kitchen goods - yipee! That whole bank of cupboards above the stove is pantry space. I value food more than tons of dishes.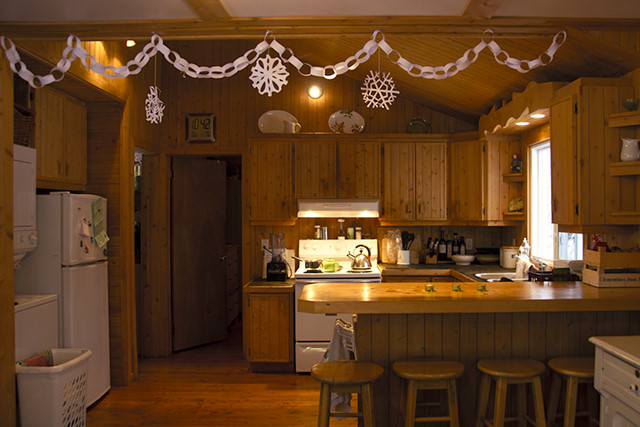 I keep all my herbal and soap making stuff above the fridge. I am so thankful for that deep cupboard up there.
School stuff (and some other miscellaneous craft and technology gear) is stored in the white hutch you see behind Celine in this photo below.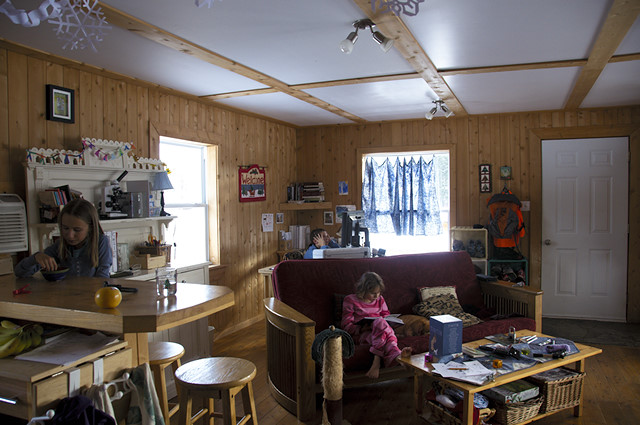 Next to the hutch and behind the futon is my desk and computer - command central. This is where I keep all my home management stuff. Files. Binders. My books.
I love this desk. I look out the window on the field and woods while I write. Very inspiring.
It's key feature - it's centrality - is also a pain when I need quiet for writing. One reason for getting up early. Ear plugs is also a good solution. Or, on the weekend I will use Damien's laptop and hole up for a couple hours in the bedroom.
Our shoes & boots are kept by the front door in 5 (one for each of us) not-so-pretty and cleverly stacked crates. Our winter gear goes in a chest behind the couch. Adult jackets hang on hooks by the door and the kids use a coat tree in their room.
Wow, this sounds like we're kind of (cosy and creative) minimalists.
Ha! See that black trailer out there?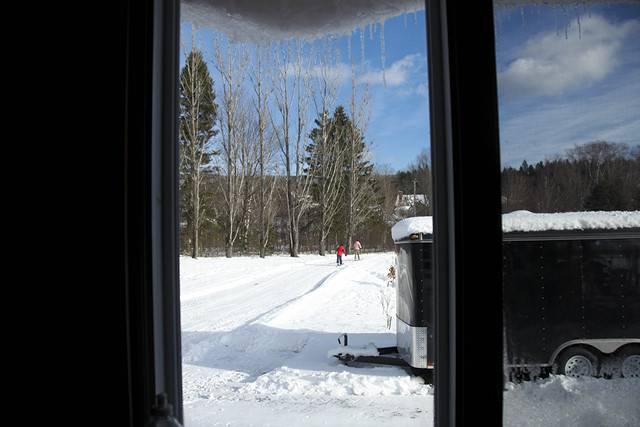 This is where "the rest" of our stuff is stored! There is no storage space in our chalet. No closets, no eaves, no basement. Well, there is a "trap door" type cellar but we're not storing stuff down there.
The trailer is where we keep outdoor gear not used all the time - tents, sleeping bags, etc... In the trailer we also keep our boxes of photo & memory albums, extra guest bedding and linens (a bin or two of those), Damien's tools, our goodwill donation bags and boxes (quite a few of those), and other stuff I can't remember right now. As well as all the stuff we took out of the chalet, as it came with a fully furnished kitchen and we removed that to move our stuff in.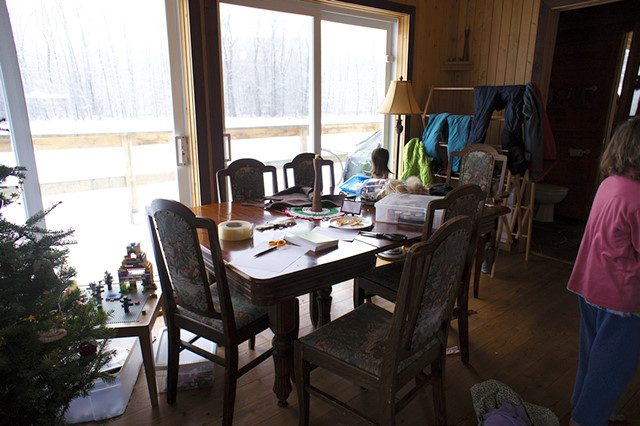 So, are we minimalists? I don't think so. But that's never been the goal.
A journey towards lighter living is our goal. Living in a small home in a beautiful place - adventuring, learning, working, creating together - that's the goal. And if we have to store extra stuff in a big black trailer in our driveway that's ok.
PS. The bathroom is between the kids' room and the dining room. And we are bathroom minimalists. Everything we use and need, except toilet paper, fits into one small vanity cupboard.
Filed Under
Resource Library
You can subscribe to comments on this article using this form.
If you have already commented on this article, you do not need to do this, as you were automatically subscribed.