Learning to Read Part 1
October 21, 2010
I had intended to publish one reading post but when it was all said and done, hours and hours of writing and editing later, it was very long so I decided to publish it as two separate posts.
Here is the second post.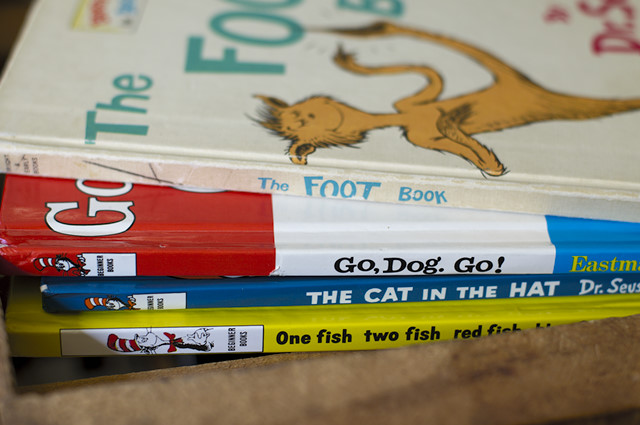 My Background:
I went to university to learn how to be a teacher. But I stayed well clear of the elementary education route, focusing instead on secondary biology and math, for a couple reasons. Firstly, large groups of small children say, more than four, overwhelm me. Secondly, I was totally freaked out by the idea of teaching children to read.
No thank you, I'd rather wait till all the basics of behavior and academics were well established and then teach the in-depth and nitty gritty of high school math and biology.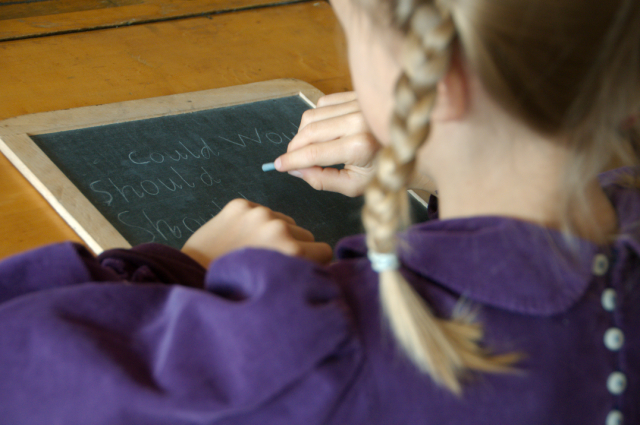 A couple things happened early on in my university career that side-tracked this plan.
I met a marriage-material young man who wanted to homeschool his future children. A couple years later I became his wife. We decided to have children while we were young, ie: soon after graduating, which meant I didn't start a teaching career since we were dedicated to me being home with our babes.
I realized that being a public school teacher meant dealing with a lot of stuff outside the realm of actual teaching. "Classroom management", unions, school politics, and extracurricular activities. I wasn't cut out for that. I loved helping students learn, the rest I could do without. Also, being a good public school teacher (I have utmost respect for good classroom teachers) takes an incredible amount of effort and love. More than this homemaker-at-heart was willing to give to be quite honest.
All of that to say I never did enter the teaching establishment, though I value my university education and did teach in private, small group settings throughout my six years in school (I took it slow to work part-time, save money and get married to my sweetie). And I'm sure by the time my kiddos get around to high school sciences and math I will have forgotten most of what I once studied to teach. 
But to cut to the chase, although I have a Bachelor's degree in Education I didn't learn a lick about teaching someone to read.
In fact, this most foundational piece of education, learning to read, was what worried me most about homeschooling. Intuitively I knew it would unfold naturally and I would find the resources I needed when I needed them but I still wondered how I would do this most fundamental task - teach a child to read.
Before I share our experience with teaching our children to read, which will be in the next post, I need to lay out my philosophy because it has informed our methodology.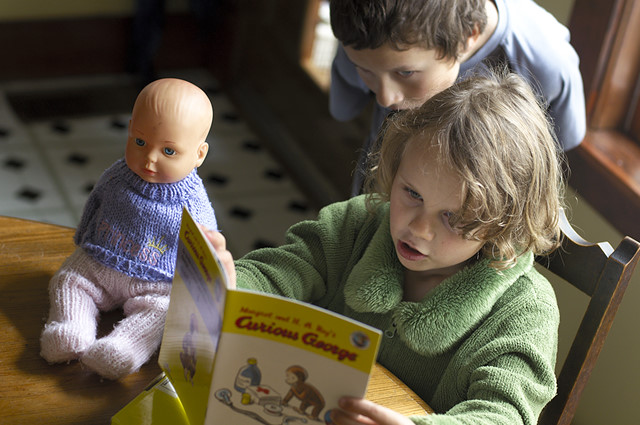 My Philosophy:
In no particular order here are some of my thoughts about reading.
My long term goal is to raise children who know and appreciate that the answers to many of life's questions can be found in the written word. And I don't just mean books, technology is changing and reading is available in ever emerging mediums. I want my children to know that reading will help them understand the world, understand themselves, and help them develop their relationship with God through the written word of the Bible.
For a child reading should be a very pleasurable experience. It should for adults also but we learn to apply ourselves to non-pleasure reading (like my camera manual) in order to reach our goals. Childhood memories of reading should be of morning cuddles on the couch, sunlit reading corners, quiet afternoons spent with books, and snuggly stories before bed. 
Children should read for their own learning, not for someone else. Ie: If I want to know what happened in the war of 1812 I can read about it myself, I needn't ask my daughter (who could care less) to read about it and tell me. It's her learning for pete's sake.
In our society good reading and comprehension skills are foundational to successful learning in many academic and artistic disciplines.
Reading is a lifetime endeavor. It is not a now or never skill. If you don't learn to read by 8, 9 or 12 you haven't missed the boat.
Reading is not all there is. Yes, reading unlocks many mysteries of the world but there is also art, music, nature, dance, numbers, etc... Given the right learning environment children who are slow to read can immerse themselves in other ways of understanding the world and develop insights and geniuses many fluent readers do not.
There is no one right way to learn to read. I am very pragmatic about many educational matters, do whatever works. We are all hardwired differently.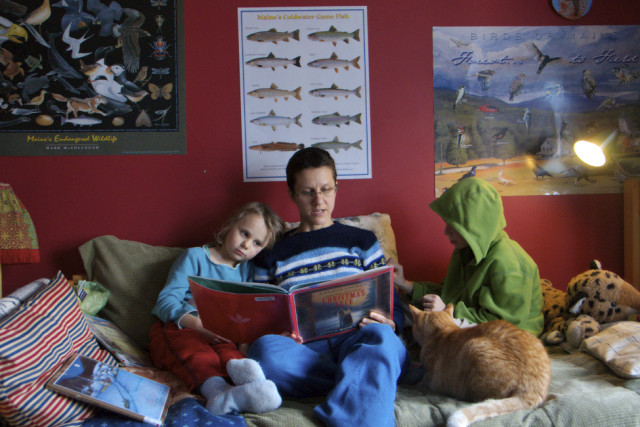 photo credit Celine
Please remember these are just my opinions, as is everything I write on this blog.
As I said earlier I have not a lick of training in teaching literacy, I also have very little experience with learning disabilities. I have nothing besides my own observations and deeply held convictions to back any of these ideas up.
Feeling as I do about the importance of both literacy and the emotions of early childhood reading I had initial anxieties about teaching our children to read.
How do you teach someone to read? What if I messed up? What if they just didn't "get it"? 
Stay tuned for my next post on this topic where I discuss how we've taught and are teaching our children to read. Hope you can wait a couple weeks.
Filed Under
Resource Library
You can subscribe to comments on this article using this form.
If you have already commented on this article, you do not need to do this, as you were automatically subscribed.